Mothers, doctors, politicians, police officers and people of all ages and professions attended a summit meeting Wednesday with one goal in mind: ending the opioid epidemic.
The City of Columbia Boone County Department of Public Health and Human Services and the Missouri Department of Public Health and Senior Services hosted a summit in Columbia for the central Missouri region Wednesday as part of Gov. Eric Greitens' initiative to deal with the complex opioid epidemic. The summit had a full house with 330 registered attendants and was sold out, said spokesman Eric Stann.
"For the first time ever, opioid overdoses have exceeded traffic fatalities," Columbia Mayor Brian Treece said.
Missouri's Department of Health and Senior Services reported 733 opioid overdose deaths across the state as of Aug. 31, while the Missouri State Highway Patrol has recorded 591 traffic-related deaths, according to the Associated Press.
"No matter how you cut it, opioid addiction and overdose and abuse is a national emergency. It's a statewide crisis and right here it's a local epidemic," Treece said.
One out of three families are affected by the opioid crisis, said Dr. Randall Williams, director of the Missouri Department of Health and Senior Services.
In July of 2017, Greitens signed an executive order to create a statewide prescription drug monitoring program with a goal of tracking over-prescribers in an effort to reduce opioid addiction.
So far, 48 jurisdictions and 77 percent of all Missouri residents fall under the St. Louis County's prescription drug monitoring program, according to a Columbia/Boone County Public Health and Human Services Department news release. The Boone County prescription drug monitoring program has had a positive response from both pharmacists and physicians, according to previous Missourian reporting.
For every 100,000 people, there are 89,000 prescriptions for narcotics, Williams said. From 2012–2016, 43 people died from a cause related to opioids in Boone County. Last year, 908 people died of opioid related overdoses in Missouri — a 35 percent increase from the year before.
This is a conservative estimate, as it only includes fatal opioid overdoses and not complications as a result of opioid addiction, such as Hepatitis C or injury related to drug use, said Dr. Rachel Winograd, who works for the Missouri Institute on Mental Health in St. Louis.
"The state of Missouri tends to hover around 17th or 18th in terms of overdose death rates nationally," Winograd said.
Nearly 70 percent of opioid overdose deaths from 2012–16 occurred in the eastern region of the state, mostly in St. Louis city and St. Louis County, Winograd said. Most deaths in this region involved fentanyl or heroin, not prescription opioids.
"There are a lot of reasons to use drugs," Winograd said. "Let's be honest — people are desperate."
Although the epidemic is far-reaching, those who are affected the most are people of low economic standing, Winograd said.
"In Missouri, black people are twice as likely to die of an opioid overdose than white people," she said. The room bristled with discomfort, but Winograd pushed on.
"The poor people of color in the city are still suffering and we need to make sure they have access to good care," she said.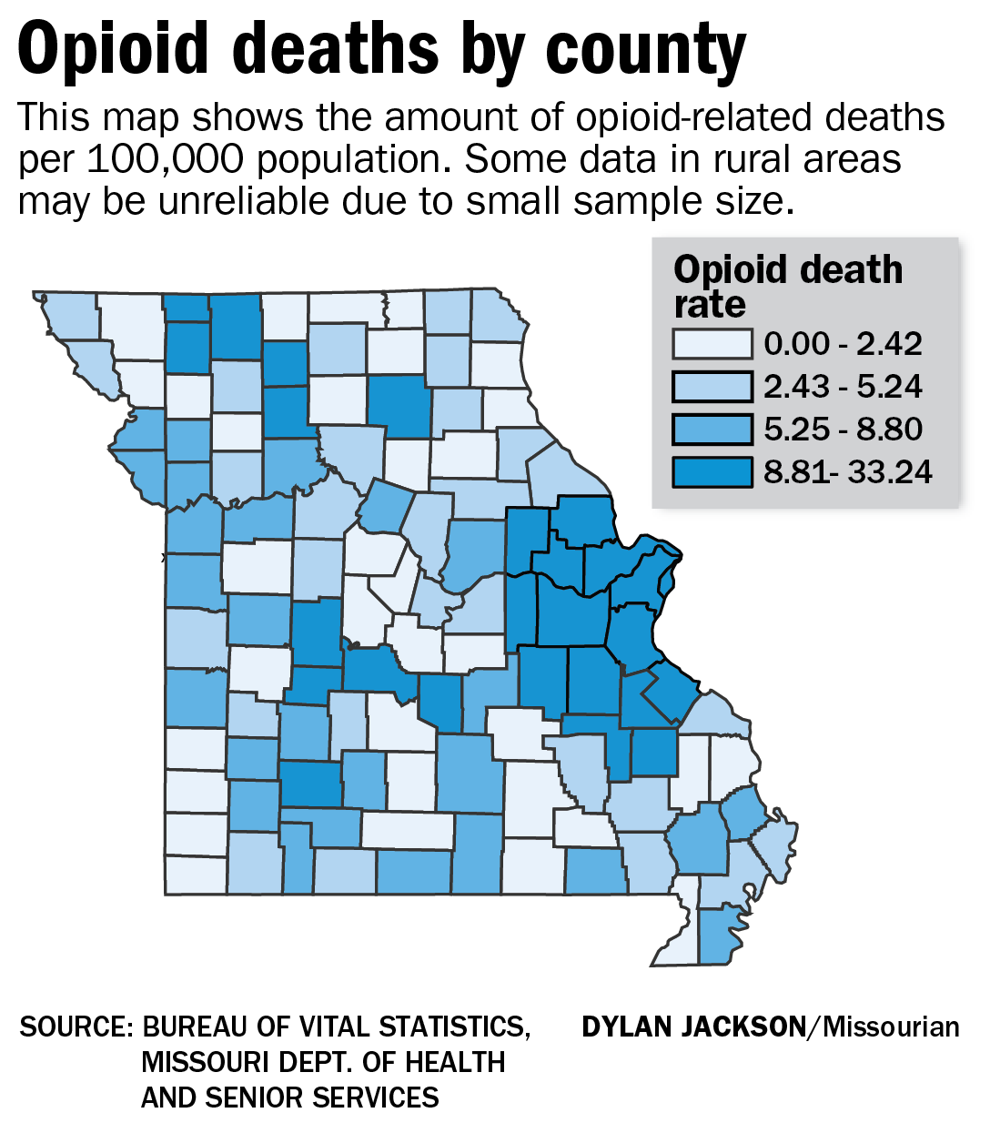 Treatment and harm reduction
Many would assume that prescribing an opioid addict medicine that could produce a high would lead to prolonged addiction or cause no change in their maladaptive routines, but that's not the case.
"We're trying to increase access to methadone, buprenorphine and naltrexone," Winograd said.
These medication-assisted treatments have been proven to be more effective than traditional inpatient care with no medication-assisted treatments, Winograd said. These medications allow for the persistent thought of obtaining drugs to leave the addict's mind, which allows them to make less impulsive decisions.
"Being alive is about more than not being dead," she said.
Winograd also promotes the use of harm reduction treatment, which she says focuses on reducing the negative stigmas or consequences of opioid use.
A key part of harm reduction would be to increase the availability of naloxone, said Winograd. Naloxone, also known as NARCAN, is a medication used to restore regular respiration to to someone who has overdosed — it reverses the opioid overdose, according to the National Institute on Drug Abuse.
Harm reduction measures include:
Syringe access or needle exchange
Safe consumption spaces
Distribution of naloxone
Good Samaritan laws
A Good Samaritan Law was passed in Missouri last August in Senate Bill 501 that allows for individuals to call 911 when they or another person may be overdosing without the risk of arrest even if they have consumed drugs or alcohol, according to previous Missourian reporting.
"This law came about because we were seeing a lot of body dumping," she said. "People were dumping bodies on the side of the road or in hospital parking lots because they were scared they were gonna get in trouble — and that's not right."
Those who practice harm reduction measures are five times more likely to seek treatment, Winograd said. When individuals are arrested, many don't receive adequate counseling when they are released back into society, she said.
The underlying causes
There are many underlying factors involved in the use of opioids and the rationale behind using, which makes it a very complicated puzzle.
"There's been heroin crises in the past, but this is arguably the most severe we've ever experienced," Dr. Theodore Cicero, who has worked at Washington University in St. Louis for nearly 50 years, said with respect to how pervasive the issue has become within both rural and suburban communities.
"We're five percent of the world's population but we consume 97 percent of the world's opioids," Cicero, a professor of psychiatry, said about the U.S. The entire room took a collective gasp — the number simply seemed incomprehensible.
Cicero found that only 10 percent of people have a "truly rewarding experience" when they are prescribed opioids — these are the people that are at high risk for addiction. He wanted to know what made the drug feel "reinforcing."
Cicero found that 85 percent of the 25,000 people he interviewed in a study on heroin use had a diagnosable psychiatric disorder. People are self-medicating as a means of dealing with their undiagnosed mental illnesses, Cicero said.
Early brain development in adverse childhood experiences set addictive behaviors and pathologies in motion, Randall Williams, director of the Missouri Department of Health and Senior Services, said.
Adverse childhood experiences, or ACEs, are traumatic events that impact children and can include the death of a parent or guardian or being treated or judged unfairly often due to race or ethnicity, according to previous Missourian reporting.
Nearly half of all children in Missouri have had at least one adverse childhood experience, according to the 2016 National Survey of Children's Health.
"(We are) working at a very young age with our educators and others to make sure that we identify or prevent those patterns of development to seek drugs," Williams said.