COLUMBIA — William "Justin" Jones died on a furniture pad on Bill and Sheila Thompson's driveway, eight days after his 42nd birthday.  
The symptoms started about 20 minutes after Jones smoked K2, a drug purported to be a synthetic cannabinoid. His best friend, Bobby Loux, saw the whole thing.
"(He) took one hit, and it just folded him over the back seat of my van," Loux said. "He started breathing real heavy, and he started foaming out of the mouth, like a dog having rabies."
Loux turned his friend's head to the side to help him breathe. Jones choked and coughed. 
"I was freakin' out," Loux said. "His face was all purple, and I looked in his eyes, and they was dilating, like the size of a quarter."
Jones was slipping out of consciousness. Loux shook his shoulders. He tried talking to him. Anything to wake him up.
Loux got in the van and drove to the nearby home of his caseworker, Bill Thompson. He banged on the door for help. Bill wasn't home, but his wife, Sheila Thompson, a counselor at Phoenix Health Programs, hurried outside to help.
While Loux phoned 911, Sheila Thompson got in the van to check on Jones. She found no pulse.
"I told Bobby we needed to lay him out flat so I could start CPR," Sheila Thompson said. She ran inside and got the furniture pad to put between Jones' body and the cold ground.
Loux watched as paramedics tried but failed to revive his friend.
Jones' death was the third in less than three months in which authorities suspect a K2 overdose was the killer. The drug has become a scourge in the North Central Columbia homeless community. Volunteers who work with homeless people at Wilkes Boulevard United Methodist Church say K2 overdoses are common.
K2, though, has become more of a collective slang term than a reference to any specific chemical strain. The synthetic cannabinoids available today are a far cry from the concoctions legally marketed just a few years ago. Chemical changes have made the drug more potent, more toxic and nothing like marijuana. Users often have no idea what they're getting. Finding treatment for them is a challenge because of the lack of detox beds.
Legislators have tried to get a handle on the problem by making synthetic cannabinoids illegal, but the continued evolution of the drug makes tailoring laws against it difficult. Police are trying to crack down on the sale of K2, but prosecutors can have trouble charging dealers, given the array of chemicals — some legal, some not — that might be present in any particular batch.
"It is a real problem," said Carl Stacy, chief medical examiner for Boone and Callaway counties. "In the medical examiner's office, I am sure we are just seeing the tip of the iceberg." 
Four days after Jones' death, Pastor Meg Hegemann knelt at the altar of Wilkes Boulevard United Methodist Church. Friends embraced, and people sang:
"If you're tired of the same old story, turn some pages."
For more than a year, Hegemann has seen K2 attack the community her church seeks to help.
"It's maddening," Hegemann said. "You try to provide services to help people turn their lives around, and they are surrounded at every corner by people who want to tear them apart."
Hegemann said K2 had been a problem in the community before, but its presence had dissipated. "And then it just came back with a fury." Neighbors of the church have said they see people passed out or clearly high on the drug more than four times a day, sometimes in their yards.
Police say they are aware of between five and 10 K2 overdoses so far this year.
KJ Thunder, a volunteer at Wilkes Boulevard United Methodist Church, said it's worse than that. She said she witnessed seven overdoses within the North Central homeless community that required paramedic attention from Jan. 23 to Jan. 28, the day Jones died.
K2-style drugs have proved to be the cause of death in at least two local cases over the past two years, Stacy said. And there are at least three open cases, including Jones', in which the scene of death indicates a synthetic cannabinoid might be to blame. Stacy is waiting for toxicology reports on those deaths.
"I don't know if his use increased or not, but I know he was going through at least $75 worth a day, which blew my mind," Shane Kelley, a homeless Columbia man, said. "We all knew what was going on. He just had no desire to stop."
Paul David, Turnbow's friend who camped near him, said Turnbow struggled with mental illness and seemed to be having thoughts of suicide. "It could have been with K2, I don't know, but I think he'd just had enough," David said. "I get it. It's so hard out here."
Jones, too, had exhibited signs of depression. Hegemann said he had told her stories of people he loved who didn't love him back and about the health problems he suffered. Jones told Hegemann he drank so he could forget things.
"And I thought, well, so would I," Hegemann said. "Honestly, the stuff that people go through living on the streets, …  it's complete hypocrisy for me to think that I would handle it any differently."
The consensus around Wilkes Boulevard is that K2 is being sold to the homeless through street dealers and convenience stores.
Online and in stores, K2 can cost as much as $70 per pack. Dealers will break the pack up into joints cut with tobacco or another filler, and sell them for $10 to $15 a piece. 
"In some sense, it's like shooting fish in a barrel," Hegemann said. "You have people who are in need, so they come here for services, but then those who are predators know where to find them."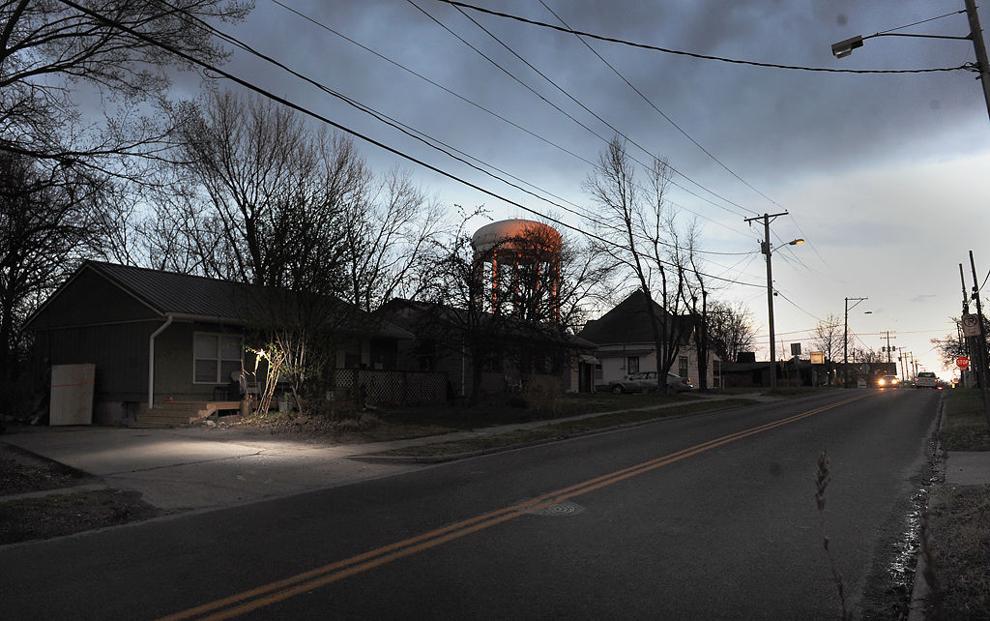 Jones and his Bernese mountain dog, Bruce, were regulars at the Wilkes Boulevard Church. Other homeless people, though, have begun to fear going to the church because the drug is so prevalent in the neighborhood.  
"I know that the people who are not doing it are really pissed off at the people who are, but we also all know that it's an addiction," Hegemann said. "It's not like you just walk away from it. …. I know in different regions there are different drugs that are an issue, but this one is preying on us, literally."
Falling through the cracks
Sgt. Michael Hestir, a member of the Columbia Police Department's community outreach unit, is trying to connect K2 users with treatment. He said there are numerous charitable and other organizations that can help.  
"There's just a disconnect between the police response," Hestir said. "We want to knit those things together by being a first line. If we can fish somebody out of that vicious cycle, it's saving money, and it's doing the right thing."
Phoenix Health Programs is one agency police try to connect substance abusers with. Getting into the program, though, requires that a person be clean and sober for 24 hours.
Phoenix has five detox beds and can sometimes allocate more, but it's full most of the time. It has a state contract to provide free services to low-income drug users. 
"When we say we don't have a bed, what we're really saying is we don't have the treatment dollars for that bed," said Michael Trapp, director of Phoenix Health Programs and city councilman for the Second Ward. Phoenix has to budget its contract dollars to last all year.  
Trapp said detox and treatment patients can't be housed together because their needs are so different. "If we did more detox, we'd have to do less treatment, and that's just not a trade-off we're willing to make."
"Even if we made 60 detox beds, they would all fill up. I know no limit to the demand."
Users who are veterans can get detox beds at Truman Memorial Veterans Hospital. If they're turned away from both Phoenix and the veterans hospital, they can fall through the cracks.
"There's not much else we can do at that point," Hestir said. "At best we can take them to the emergency room."
Hegemann said she doesn't know how her community can kick K2 without detox services. "I have talked to people who have given up cocaine and heroin, and they have expressed that K2 is harder to quit."
 Loux said he tried K2 twice but disliked it.
"It's … almost like when you drink too much alcohol when you black out, where your body's here, but your mind ain't," he said. "You don't know what you did, where you went. You don't know how to think on it or function whatsoever. It just cuts you totally, completely out of reality."
Trapp said the withdrawal symptoms he's witnessed in detox patients suggest the street-term K2 encompasses a lot more than synthetic cannabinoids. Symptoms often mimic those in patients who have abused opiates such as heroin.
"Sometimes it looks like a stimulant; it's cocaine-like in its presentation," Trapp said. "Some are even more like severe marijuana withdrawal, where in high doses you might see PCP-like effects."
Hestir said pegging K2 as synthetic marijuana is "completely erroneous."
"It's a horrible drug. It's closer to PCP than marijuana."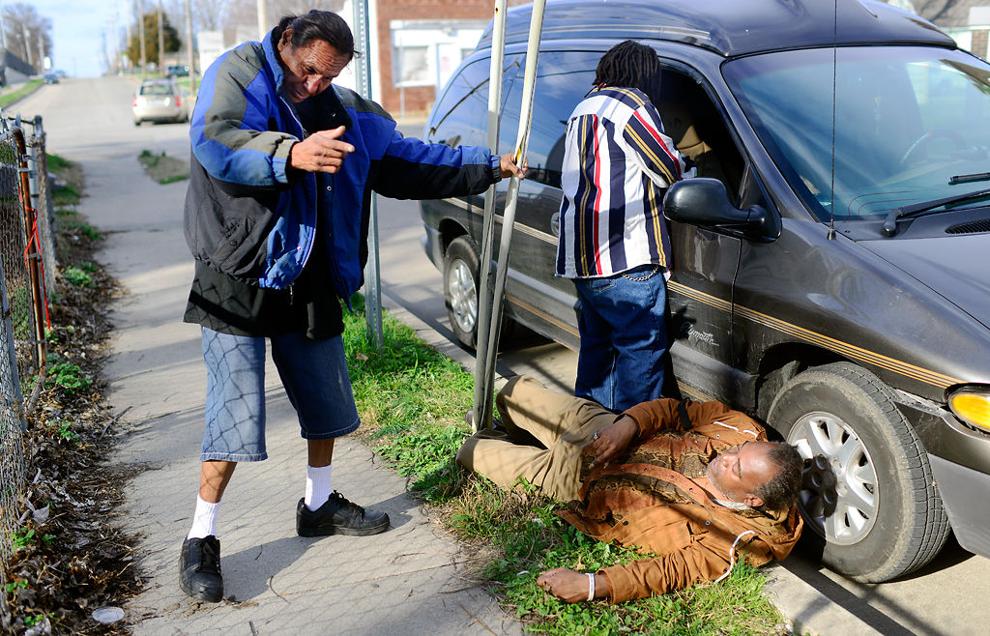 Narcotics detectives say the primary physical side effects they see with the drug are seizures, tremors, loss of consciousness, incoherence, chest pain, high blood pressure and extremely rapid heart rate. Psychological side effects include anxiety, aggression, paranoia, panic attacks and intense hallucinations.
Thunder sees the worst of it when she monitors the doors for the church's nightly meal ministry, Loaves and Fishes. She's watched people pass out on the drug, and she said she saw two overdoses in a single night.
Columbia Police Lt. Jason Jones said the recent spate of medical calls involving K2 has made it a high priority. Police are investigating several incidents but have to wait for lab results from the Missouri State Highway Patrol to determine whether the substances they seize are actually illegal.   
"We investigate the distribution of narcotics of all kinds," Jason Jones said. "Obviously the narcotics that are causing imminent harm to people in the community are of the utmost importance."
Police executed a search warrant Feb. 19 at the Ultra Mart on Paris Road after receiving several tips that it was selling K2 under the table. They seized "a significant amount" of what they believe to be the drug and sent it off for analysis.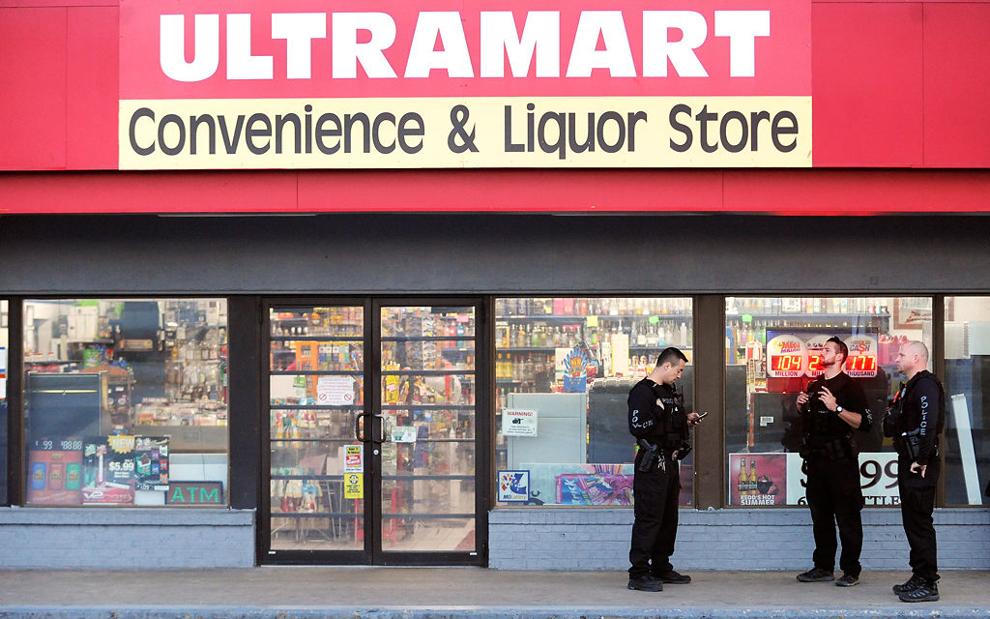 "We began to start looking into where this is coming from, and so that's our goal — to try to identify the sources of where it is being distributed," Jason Jones said. "It's part of the overall battle."
Loux, however, worries police are missing the small-scale dealers like the one who sold the drugs he believes killed his friend.
"I swear I've seen him here selling almost every other day I'm here," Loux said. "He's not even homeless. I've reported him, pointed him out. I don't know what else I've got to do."
The slang term K2 comes from the brand name of an early synthetic cannabinoid that all 50 states had outlawed, along with Spice, by December 2011. In the North Central Columbia homeless community, any substance purporting to be a synthetic cannabinoid is known as K2.
John Huffman, an organic chemist at Clemson University, began developing more than 470 cannabinoid strains in 1984 for medical research funded by the National Institute on Drug Abuse. The institute wanted to know how cannabinoid receptors in the brain could affect medications for patients with multiple sclerosis or HIV, or who were undergoing chemotherapy.
The chemicals weren't called synthetic cannabinoids because they mimic marijuana. Their name comes from the way they interact with cannabinoid receptors in the brain. 
Twenty-four years later, the 18th strain Huffman made, known as JWH-018, turned up as an active ingredient in Spice, a marijuana alternative being sold as potpourri.
JWH-018 was one of the first strains of JWH series chemicals to be outlawed in most countries, but chemists had at least 469 more strains with which to work around the bans — at least for a few years. JWH chemicals, however, aren't the only ones being incorporated into synthetic cannabinoid strains anymore.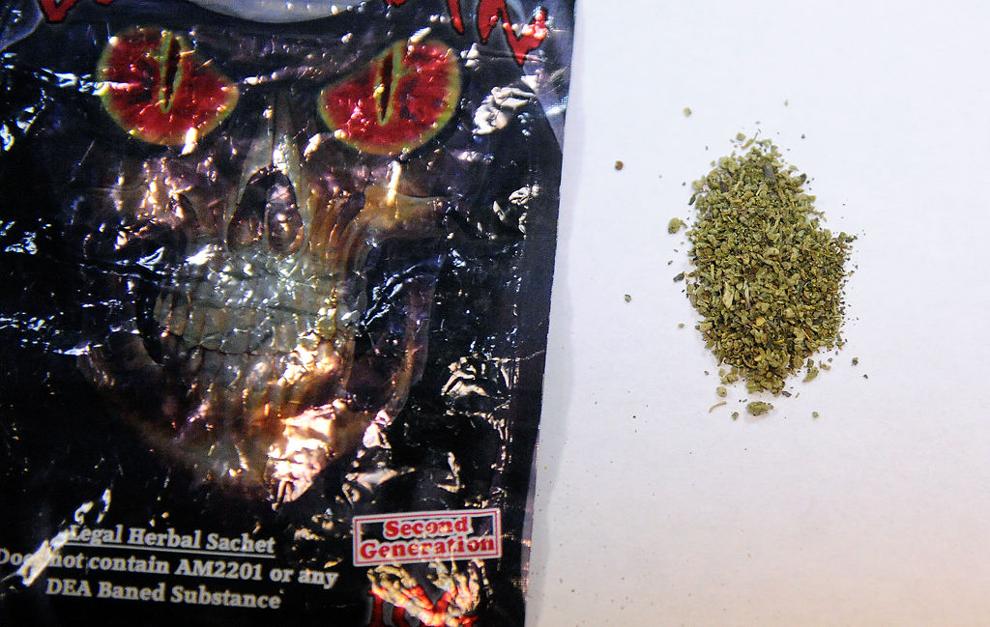 Lawmakers and law enforcement believe new strains come from surreptitious laboratories outside the United States. The brands that market the products don't typically make their ingredient lists public. Some sites will claim the mixes are natural, or list several illegal chemicals the product does not contain, giving the drugs the appearance of being safe.
Other strains of K2-style drugs contain neurotoxins that are lethal to animals and are often active ingredients in plant fertilizers. And the K2 recipe is devoid of consistency. As little as two tablespoons of a cannabinoid chemical is enough to cover a baby pool's worth of dried plant material when sprinkled on with a solvent such as acetone.
"The acetone evaporates, and then you're left with the plant material and the K2," Hestir said. "So, just like when you're putting Parmesan cheese on your spaghetti, sometimes you get heavy spots."
That makes K2's potency vary from batch to batch and overdosing easy to do.
Stacy describes K2 simply: "It's a poison." He said calling the drug a synthetic cannabinoid is a mistake because its effects have nothing to do with THC, the psychoactive chemical compound in marijuana.
"These 'drugs' basically poison synapses in the brain," Stacy said. "It can affect neurotransmitters in the peripheral nervous system. I believe some of them can directly poison the heart."
If the medical examiner's office receives information that K2 might have been involved in a death, they have to send off samples for specialized testing at a lab in Pennsylvania.
"Many months may elapse before confirmatory testing for the new compound is widely available. By that time, clandestine illicit laboratories have moved on to a newer compound," a New England Journal of Medicine article said. "As a result, cases of (synthetic cannabinoid) intoxication, fatalities from (synthetic cannabinoid) misuse, and outbreaks of severe illness associated with new or particularly toxic compounds are most likely under-recognized."
The researchers behind that article found three cases of severe toxic effects associated with synthetic cannabinoids in St. Louis in August 2014 and one case in Springfield two months later that resulted in death.
They also said that, unlike opioid drugs such as heroin and morphine, there is no available antidote for synthetic cannabinoid poisoning. "Treatment of the often unpredictable and severe adverse health effects is largely supportive," the article said, "with some users dying before they could reach an emergency department."
Stacy said different levels of K2 intoxication affect people in different ways. "There's so many different chemicals. It's one of the designer drugs, and there's hundreds of them."
"Including but not limited to"
Former state Rep. Ward Franz of West Plains spearheaded Missouri's legislation against synthetic cannabinoids after Shawn Rhoads, a West Plains police investigator, told him about the drugs.
"He was having people on probation come to him and say: 'Hey man, we're off marijuana. You don't have to worry about it anymore because there's a new thing out,'" Franz said. "As we started looking into it, we started seeing the dangers."
Franz's bill, passed in 2010, only banned active ingredients in K2 brands that were being sold at the time.
"We really didn't know," Franz said. "We were thinking: Let's outlaw the K2 compound, and then it's good, but as far as the new stuff out there, we were afraid that we would be outlawing other things or have unintended consequences if we were too vague."
New strains came out less than a year after Franz's bill became law, and in 2011 the House revisited the bill, classifying synthetic cannabinoids as marijuana and outlawing substances sold as "bath salts." The chemical-by-chemical ban still was insufficient to keep the designer drugs out of Missouri.
Rhoads took Franz's seat in the House of Representatives in 2012. He tried to carry the legislation forward but failed.
Stephanie Morrell, a Boone County assistant prosecutor, handles cases that involve felony possession or sale of synthetic cannabinoids.
She said that under the "old version" of the law, which will remain in place in Missouri until Jan. 1, possession of fewer than 35 grams of a synthetic cannabinoid is looked at the same way as marijuana. Punishment ranges from a fine to up to a year in prison.
Under the new code, penalties for possessing synthetic cannabinoids will still mirror those for marijuana. Possession of fewer than 10 grams of either substance will be a Class D misdemeanor that will carry a fine of up to $500.
The current law outlaws several known synthetic cannabinoid strains with the magic phrase "including but not limited to," in an attempt to retrofit the chemical-by-chemical law to act like a blanket ban. Rhoads said that should suffice, but prosecution varies.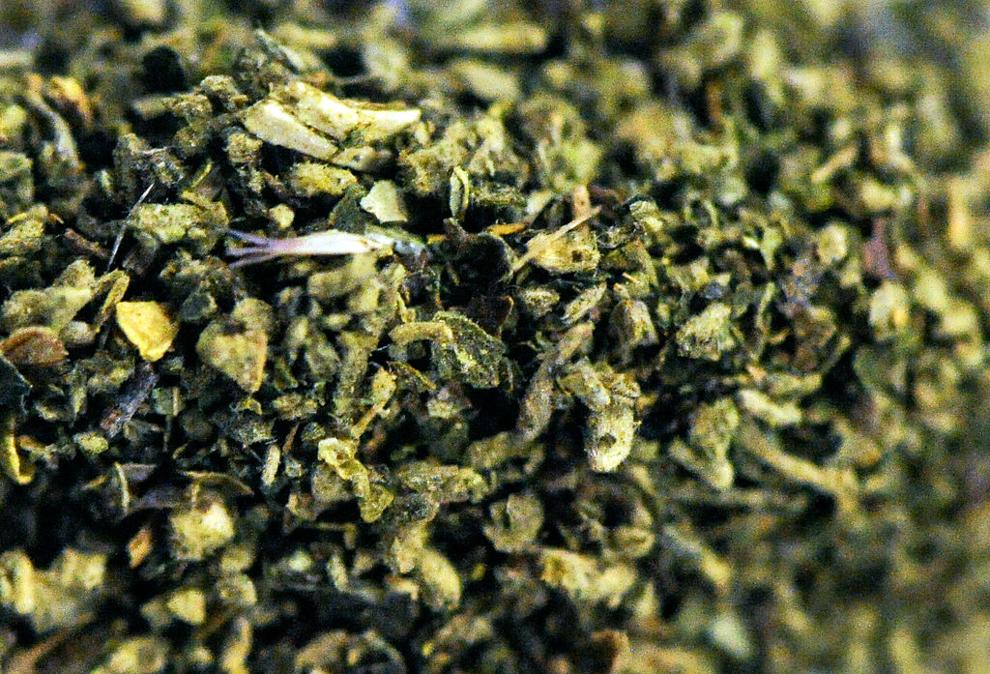 "You're also looking at uncharted water in the fact that no one's ever prosecuted, say, on this chemical or that chemical, and that's where the prosecutors are really having a hard time," Rhoads said.
In order to make a case, prosecutors first have to establish that a substance is classified as a synthetic cannabinoid under the law and that the subject knowingly possessed it.
Morrell said she doesn't know of any Boone County case in which the chemical involved wouldn't be covered.
"We have discretion on what we do and don't proceed on," Morrell said. "If we have a referral for a case, and we believe that the evidence supports filing that charge, we will file it."
But there's a disparity across counties. Morgan County prosecutor Dustin Dunklee estimates at least half the analyses coming back from the Highway Patrol lab aren't something he can prosecute.
Morrell said Boone County has a strategy for dealing with that. "If we can establish under the law that it is structurally similar and has the same effects as something that is listed, then that is considered a controlled substance analogue, and we can pursue those."
A week and a half after William Jones' death, several of his friends lined up to speak at a memorial service held at Wilkes Boulevard United Methodist Church.
"He was a brother I never had before," Loux said. "I'm not gonna watch his pain; that's been taken care of. He's in a better place than we are, so I am just going to miss him."
Hegemann pleaded with her congregation to stop using K2 and to compel others to do the same. 
"I'm torn between the desire to comfort you and the desire to light a fire in you so that this story changes and we don't have to do this again," she said.
Hegemann bowed her head and sighed. She's exhausted. The injuries, the medical calls, the overdoses and the resulting losses are wearing the community thin. Yet there appears to be no end in sight to K2 use and addiction.
 "I'm angry that Justin's life was cut so short. I'm angry that the people who are dealing seem to have no repercussions," she said. "If Justin is the one to inspire you to stand together and speak together, and to love each other that much, then his death won't have been in vain."