A new park is bringing a pop of color back to the Business Loop.
On Friday, the Community Pop-up Park had a ribbon cutting ceremony to celebrate the work that was put into the project.
"It's really exciting for The Loop," said Tyson Hunt, co-owner of Logboat Brewery, who served drinks at the event. "I know there's been a ton of work put into this project, trying to revamp this part of town."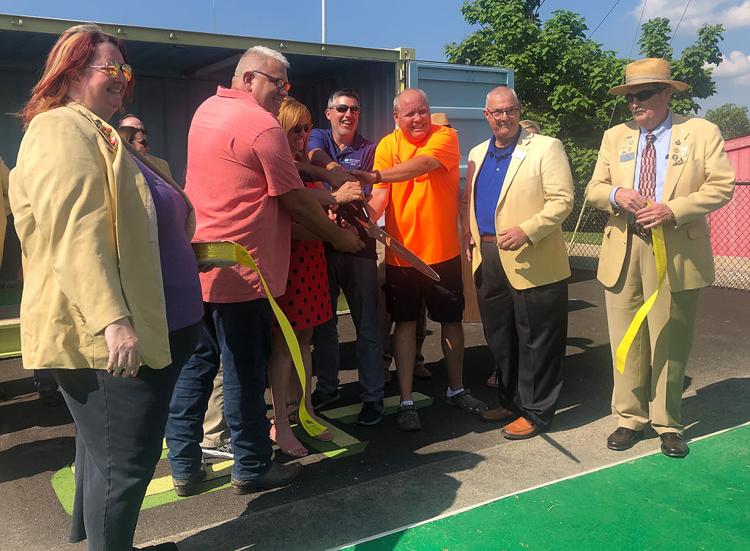 Back in late April, volunteers from Trinity Community Church, LegacyPoint Church and The Crossing built the park with help from The Loop Community Improvement District. The land was donated by Boone Electric.
Around 40 community members gathered around the light blue shipping container that acted as a make shift stage for live music at the event. Food was served by Big Daddy's BBQ, a local food truck, and Just Jeff's hot dog stand. Adults played corn-hole while children played giant Jenga on picnic tables.
"I love seeing the kids out here playing games," said James Roark-Gruender, chair of The Loop CID. "It's really neat to see that energy on the Business Loop because it's been missing for awhile."
The project is a part of The Loop corridor plan, which is a 10-year-long plan to help create a welcoming, attractive and economically vital street as an entrance to Columbia, according to The Loop website. Another part of this plan also includes putting in sidewalks and bike lanes, Roark-Gruender said.
"I grew up here in Columbia and I remember what the Business Loop was and watched it continue to struggle to be a viable place to attract business," Jonathan Sessions, a member of the Columbia School Board, said. "Our whole community knows that this is an area of Columbia that we have neglected and let become something that none of us are particularly proud of."
The area is free to use from 9 a.m. to 7 p.m. every day.
"We now have a place for the neighborhoods to come and gather for people who live around here because there's no public space on the Business Loop," Roark-Gruender said.
The park is located in the lot adjacent to Dave Griggs' Flooring America at 807 Business Loop 70.
Supervising editor is Libby Stanford.