Eid prayers are the highlight of Mariya and Dhuha Karaghool's day because they get to dress up and meet new people.
"It's basically like Coachella, but like modest Coachella," Mariya said in reference to the popular spring arts and music festival held in California's Colorado Desert. The sisters moved here from Baghdad with their family five years ago.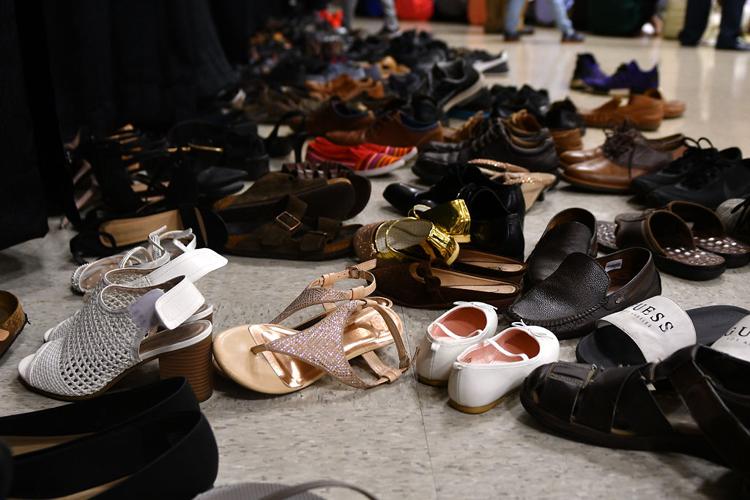 Although prayers were scheduled to start at 8 a.m. Sunday, people continued filing into a banquet room at the Holiday Inn Executive Center 20 minutes later. They needed the large banquet hall because the Islamic Center of Central Missouri is the only mosque in Columbia. Muslims of all nationalities were found greeting, hugging and wishing each other "Eid Mubarak," or "Blessed Eid."
"I think at one point we counted about 45 nationalities," Shakir Hamoodi said of the diversity in the community.
Hamoodi himself moved to Columbia from Iraq in 1985, a newlywed at the time who was pursuing a doctorate in nuclear engineering at MU. His five children were born and raised here, and now he considers himself a Missourian. He serves the Muslim community by managing outreach at the Islamic Center and leading the prayers.
"I love this town," he said. "I really love this town."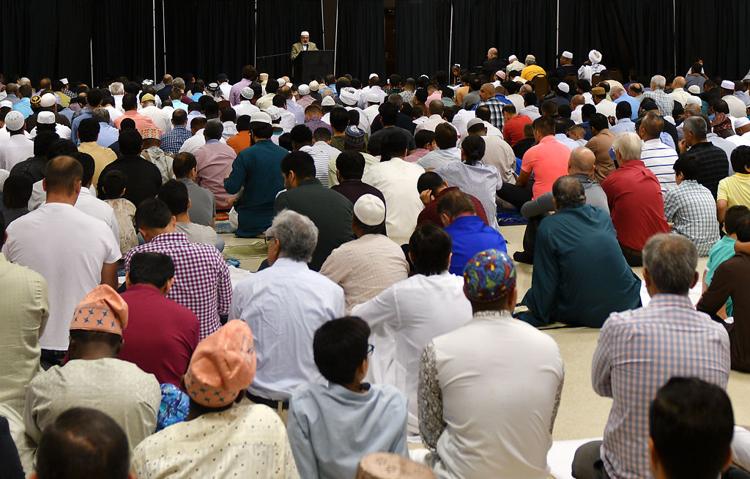 Women at the back of the hall and men at the front placed prayer rugs on the floor or spread out white sheets. Hamoodi told the gathering to fill the gaps, as the men and women formed rows and prepared to pray. The prayers began, and everyone fell silent, except for the crying children who didn't quite understand what was happening. A toddler in a white shirt and suspenders clutched his mother's yellow shirt while she prayed. She steadied him with one hand while going through her movements with the other.
A few members of the crowd left at the conclusion of the prayers, but most stayed for Hamoodi's sermon, which revolved around the topic of "Labaik," or, as he describes it, "Allah, we are answering your call."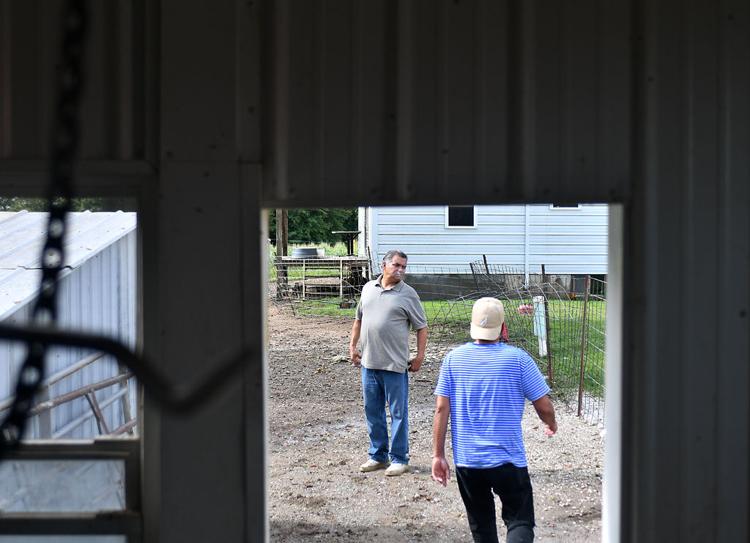 Muslims around the world celebrate Eid al-Adha, which begins in the middle of Hajj, an annual pilgrimage to the holy city of Mecca, Saudi Arabia. The festival honors Prophet Abraham's submission to God's word when he was commanded to sacrifice one of his sons, although God eventually allowed him to sacrifice a lamb instead.
In remembrance, Muslims also sacrifice either a goat, cow, sheep or camel on Eid al-Adha and distribute the meat among their immediate family, relatives, friends and the needy. As the sermon ended, people mingled with friends throughout the hall.
Muna Sherif came all the way from Kansas City but used to live in Columbia and taught mathematics at Hickman High School. She has family and friends here and looks forward to the morning prayer. She doesn't concern herself with the sacrifice, though, letting her husband manage it. Back home in Philadelphia, where her parents live, they used to go to a farm, buy a goat and carry out the sacrifice. Here, her Eid revolves around her 7-year-old daughter.
"The whole day is basically whatever she wants to do," Sherif says.
Amna Faisal, 29, has been in Columbia for over two years with her husband and a baby boy. She originally came from Faisalabad, Pakistan. She likes the Islamic Center's arrangements, but on Eid, "I always, always, always miss my family, my in-laws." Faisal's Eid is mostly spent talking on Skype with everyone back home.
Alp Kahveci and Salah Daghlas said Eid is usually a day to relax with family. They've always lived in Columbia, and people visit on Eid from out of state.
"It's a nice way to catch up with your friends again," Kahveci says.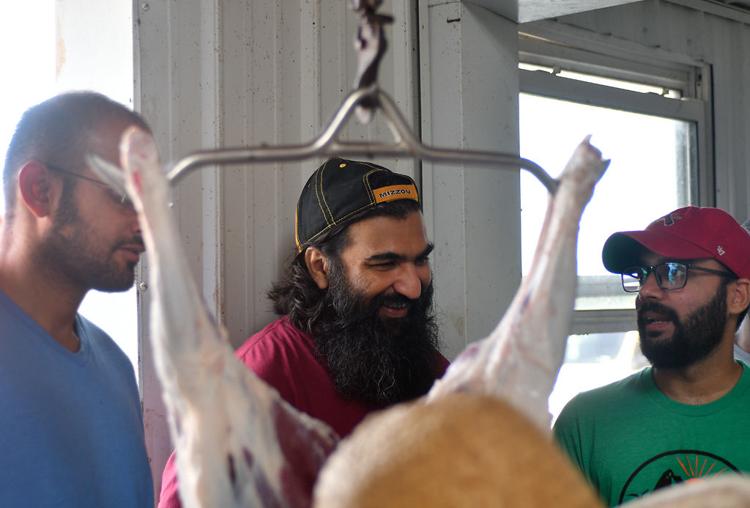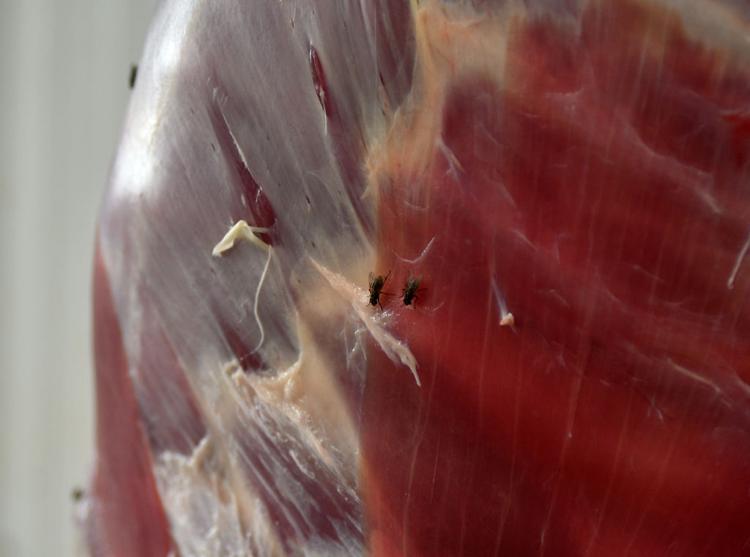 Sacrifice: An exercise in faith
The Muslim men have been here since 7:30 a.m., their five cars parked around the scattered buildings of the Amish farm near Sturgeon in northern Boone County. Horses peek out from their stables at strangers, while their tails swat at flies. Meanwhile, the Amish are having breakfast inside, the men are passing around cookies, apples and bananas outside, cracking jokes in Urdu and Punjabi.
Some of the men are relatives. Afzal Choudhry is lounging on a chair, his white hair sticking to his forehead because of the heat. He's there with his son, Arif Choudhry, and three other family members. There are his two brothers, Akhtar Choudhry and Akram Choudhry, and Akram's son, Amir Choudhry.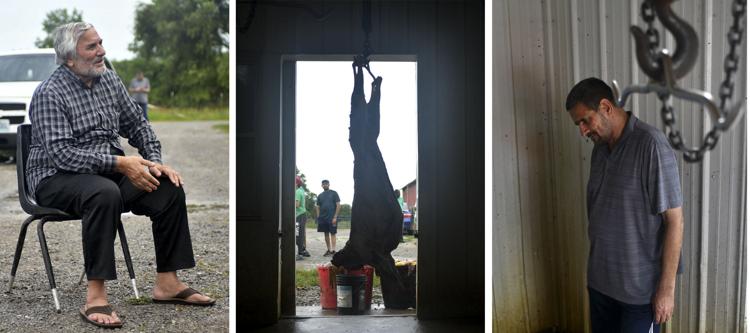 Enjoying his life of retirement, Afzal Choudhry has lived in Columbia since 2004 but regularly visits his hometown of Faisalabad, Pakistan. Amir Choudhry, his nephew, walks around in beige pants stained with the blood of their sacrificed goat, already hanging upside down inside the slaughterhouse.
There are two rooms inside. One has sinks for washing and cleaning and a machine for cutting the meat, and the other has hooks and pulleys, with carcasses hanging from the ceiling. A few goats, with their throats slit, lie on the ground. Outside the slaughterhouse, a red bucket and a black one are overflowing with the animal parts that nobody wants — intestines, hooves, fur and the like.
Which part of the animal you take home depends on what country you're from, because everyone has their own food preferences, Vakil Ahmad said. He's 38 and from Chiniot, Pakistan, but he's been in Columbia for the past five years.
Ahmad is completing a postdoctorate in biological sciences at MU. Every year he comes to the Amish farm for the sacrifice. Afterward, he gives the meat to the Islamic Center, which asks people to donate some of their meat every Eid al-Adha. This meat is then cooked into meals, which are delivered to prisons as community service. The Choudhrys will also give meat to the Islamic Center.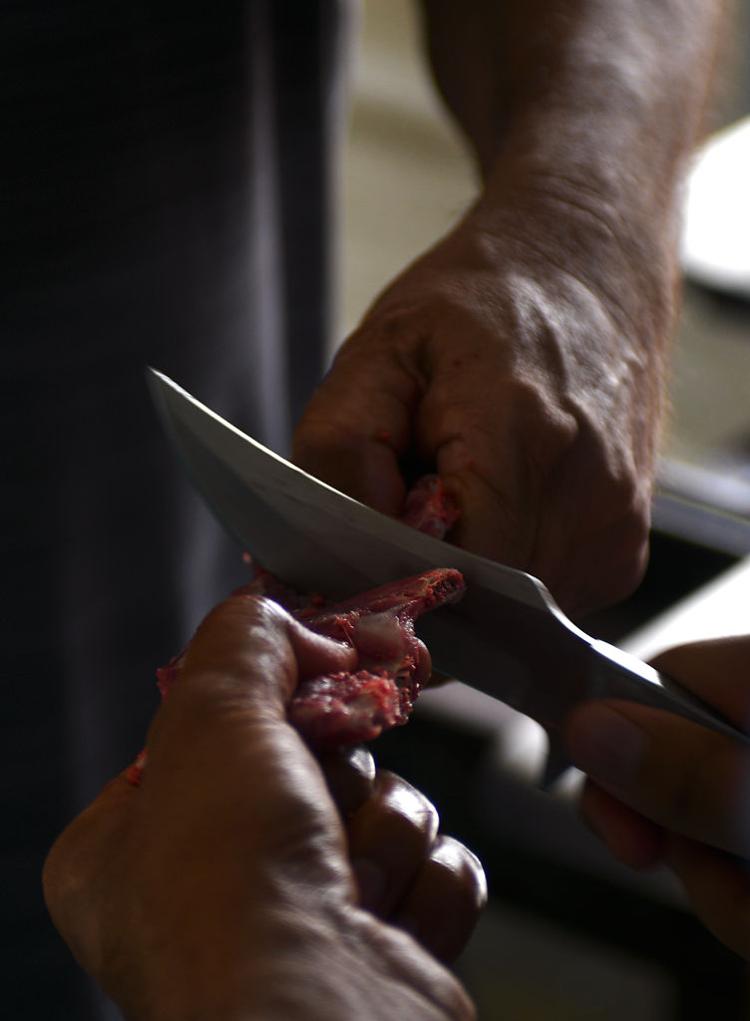 Usually, the men visit the Amish about a week before Eid al-Adha and pick their animals. This year, the goats and sheep cost between $150 and $200, depending on their size and age. The men said the farm on Monday was booked through 6 p.m.
Around 9 a.m., an Amish farmer and his son were in the room with the carcasses holding down a brown goat as Suhail Khan, another Pakistani customer, ran a knife over its neck, in accordance with the Halal way. It requires not only that animals be killed with a knife to the throat but also that God is praised while the sacrifice is made.
In the other room, Afzal Choudhry and his son, Arif Choudhry, are trimming meat. The Amish help them with preliminary butchering and load the meat into blue shopping bags. Father and son then carry the bags to their car, where they put them into cartons and drive away.
Kahveci said he and his family used to sacrifice with the Amish, but now they donate money to organizations that do it on their behalf.
Fatten Elkomy came to the United States from Egypt in 1983 and also takes care of her sacrifice online. She feels Columbia is blessed, and she'd rather her meat go to more disadvantaged communities. She said it's difficult to visit the slaughterhouse and manage the sacrifice all by herself.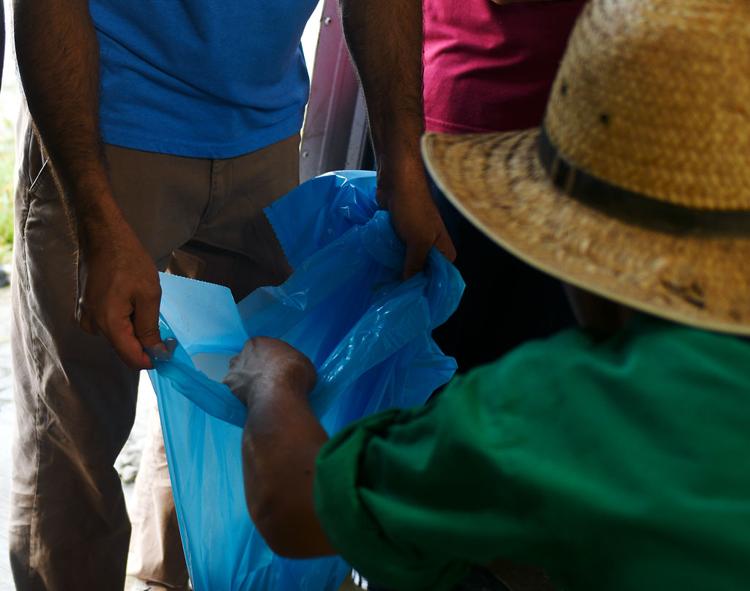 Rashed Nizam, an opthalmologist from Bangladesh, moved to Columbia in 1997. For him, Eid is an opportunity to get together and worship God. The manner of the sacrifice depends on each family, he said. He knows of 21 families who are sacrificing three cows. Each cow will be shared seven ways.
Dina Hossain grew up in Texas and moved to Columbia in 2008. Last year, her family did the sacrifice with the Amish, but this year they're donating meat to the Rohingya refugees through a friend.
"So we basically spend the whole day eating. We go from house to house to house," she said.
The festival of Eid al-Adha will carry on until sunset Wednesday, as the Muslims of Columbia meet up with family and friends for dinner, take their children to the park, sacrifice animals in the name of God and distribute meat to the needy.