Potholes exist to ruin your daily commute, and they've been doing a good job of that for Columbia drivers this year.
With a particularly harsh winter that saw temperatures bounce above and below freezing and a series of snow and ice storms, commuters have had to deal with a proliferation of potholes — not only in Columbia, but across the Midwest.
Potholes form when water seeps into the pavement. The moisture expands in freezing temperatures, pushing the pavement upward. When the weather warms up, the ice melts, leaving behind a pocket in the road where the ice once was. When cars drive over these areas, they crush and loosen the pavement, creating potholes.
As the process repeats, potholes become bigger and more dangerous. And hitting one with your car can cause significant damage.
Brandan Winfrey, manager of the Business Loop 70 Firestone, said he has seen an uptick in damage caused by drivers losing control of their vehicles after hitting a pothole.
"We've seen definitely an increase in that type of repair," Winfrey said. "Usually, it's people sliding into curbs and the potholes around here, it seems like. But, definitely, we've seen more of that this winter compared to the prior few winters."
Pothole perils
MU student Edgar Flotron said he's noticed potholes on almost all of the main roads.
"On my way to work, I have five really bad spots I can think of off the top of my head where you can just hear your car breaking down," Flotron said.
He worries that repeated jolts to his 2002 Ford Expedition, a large SUV, might doom it.
Flotron said that when he hit a pothole on U.S. 63 while driving home one night, a piece broke off from underneath his car. He worried the repair would be expensive, but he didn't need to pay for any repairs.
The state spends an average of $604 per person each year to fix damage caused by potholes, which is more than the national average of $533, according to the American Society of Civil Engineers. That's because funding constraints limit Missouri's ability to fix roads and highways.
"I get really annoyed because I don't understand how the problem is still around," Flotron said. "I don't understand how a city authority drives over that one time and doesn't get it fixed. Makes you really think about how tax dollars are spent."
Expensive undertaking
Columbia's Public Works Department budgets about $2.73 million a year for pavement management, according to a department report. That's about $2.1 million below what the staff believes would be full funding.
Most Columbia streets are rated in "good" condition now, according to the report. But if funding remains at the current level, most would be just "fair" to "poor" by 2028.
Even a moderate boost of $238,000 per year could keep those ratings at "good" or "fair" on average, the report says. Full funding of about $4.84 million a year would see them rated from "good" to "very good."
One idea being floated in the Public Works Department is cost-sharing street repairs with individual neighborhoods. Richard Stone, engineering and operations manager for the department, said that might require setting up neighborhood improvement districts. No specific neighborhood has been approached.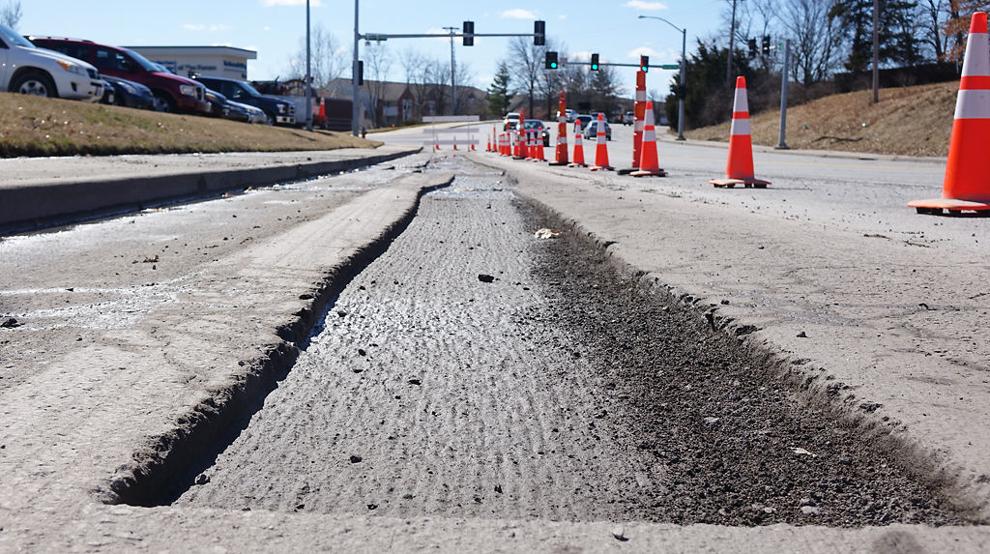 It's a state problem, too
Not all streets in Columbia are under the Public Works Department's jurisdiction. Some major streets — including Providence Road, Stadium Boulevard and Business Loop 70 — are the responsibility of the Missouri Department of Transportation.
MoDOT has deployed about 300 patching crews to fix potholes across the state this year. In the first two months of 2019, they patched 400,000 potholes. In contrast, they filled approximately 619,000 all of last year, according to a MoDOT news release.
Missouri does not score well on most road condition metrics. The American Society of Civil Engineers gave Missouri a D+ for roads on its annual infrastructure report card. Missouri spends 43 percent of the national average for road maintenance, making the state 47th overall in revenue per mile spending.
Since November of last year, the city has received more than 200 individual reports of potholes. The street with the most reports by far was Forum Boulevard, with 33. Several others drew multiple complaints, including Smiley Lane, Worley Street, Vandiver Drive, Broadway and Stadium Boulevard.
Service crews fix hundreds of potholes each year that aren't reported, Public Works spokesman Barry Dalton said.
"Just as an example, let's say a crew is sent out to repair a reported pothole. But in that same area, there are dozens of other potholes," Dalton said. "They routinely fill those potholes as well. They don't skip over them because they weren't reported."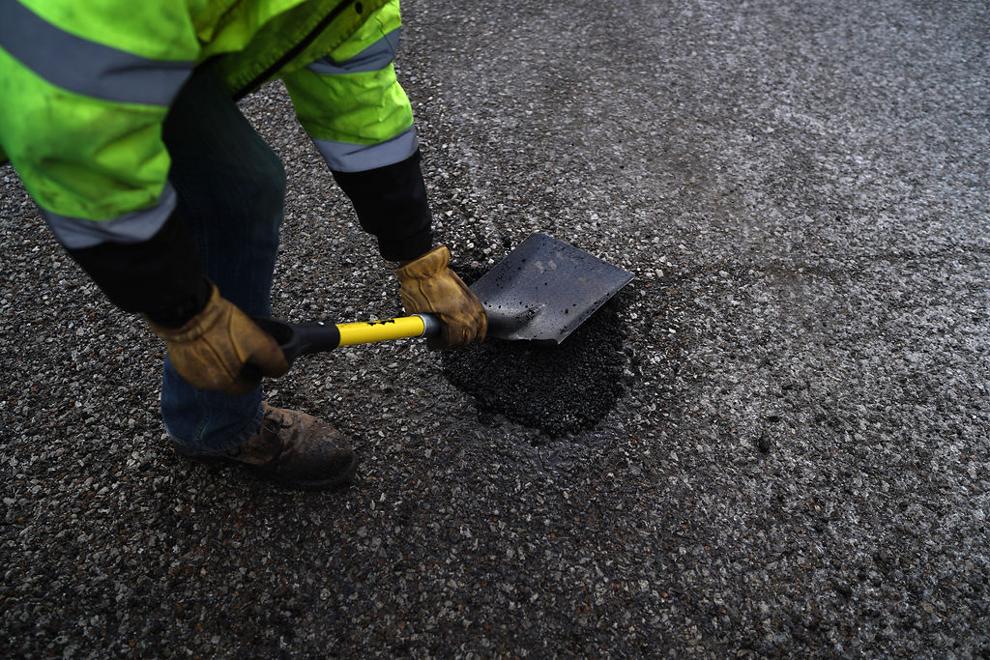 Hot and cold solutions
Historically, Columbia has spent $30,000 to $40,000 on cold asphalt mix to fix potholes after winter. This year, Stone said, the department has spent $60,000.
The city also is experimenting with a new method. On a brisk March morning, a five-person road crew dressed in neon yellow vests made its way to Port Way near the Bull Run Drive roundabout. After blasting loose gravel out of the pockmarked concrete, a street sweeper came along and finished cleaning up the area.
The crew poured a sticky black liquid called tack into each pothole. The tack helped the hot asphalt mix, waiting in the hot box behind the crew, adhere better to the street. With shovels and rakes they pulled the thick, steaming mix out and dumped it in the potholes before a small steamroller smoothed the surface. They repeated the process all the way up the street, filling too many potholes to count.
This is the first year the city has used the hot mix, which is made from recycled asphalt kept at 350 degrees.
"Filling potholes is an important part of our mission to maintain city streets," crew supervisor Matt McCracken said. "These two machines make the pothole patching process more effective. The hot mix is more durable than the cold mix asphalt."
The city estimates the new mix will reduce the cost of pothole repairs by 40 percent. The process, however, requires more prep time and can't always be accomplished on a road crew's busy schedule. So hot mix won't entirely replace the cold mix.
The goal of Columbia's Street Division is to fill potholes within 24 hours of being notified of them.
Despite the nuisances potholes pose, some Missourians have found that the best way to cope with them is to swerve and then make jokes on Twitter.
"Thank you Missouri roads for all the free nascar lessons," Twitter user @McKenna___ wrote. "These car sized potholes make for great practice!"
Thank you Missouri roads for all the free nascar lessons - these car sized potholes make for great practice!

— McKenna McGuire (@McKenna___) March 13, 2019
Dear Kirkwood Missouri Police Department, If you see me swerving while in Kirkwood, I'm not drunk...just avoiding the potholes! 🙄

— Sam Molner 🌻 (@sammolner1) April 3, 2019