COLUMBIA — Elizabeth Kennedy is going to be 90 years old in May, and she believes that Dolly, a 12-year-old Boston terrier, is the last dog she'll ever have. For the last six years, Dolly has been one of her best friends. 
Kennedy and Dolly live together at TigerPlace, a retirement community that helps residents care for their pets as both age. Researchers say pets benefit their owners' mental and physical health in several ways, although it can be difficult for aging adults to care for pets.
Kennedy has no immediate family in Columbia and has lived alone since her parents died 20 years ago. Dolly has become more than a companion, Kennedy said — she's like a family member.
When her last dog died six years ago, Kennedy looked for an older dog, and eventually, they came together to TigerPlace.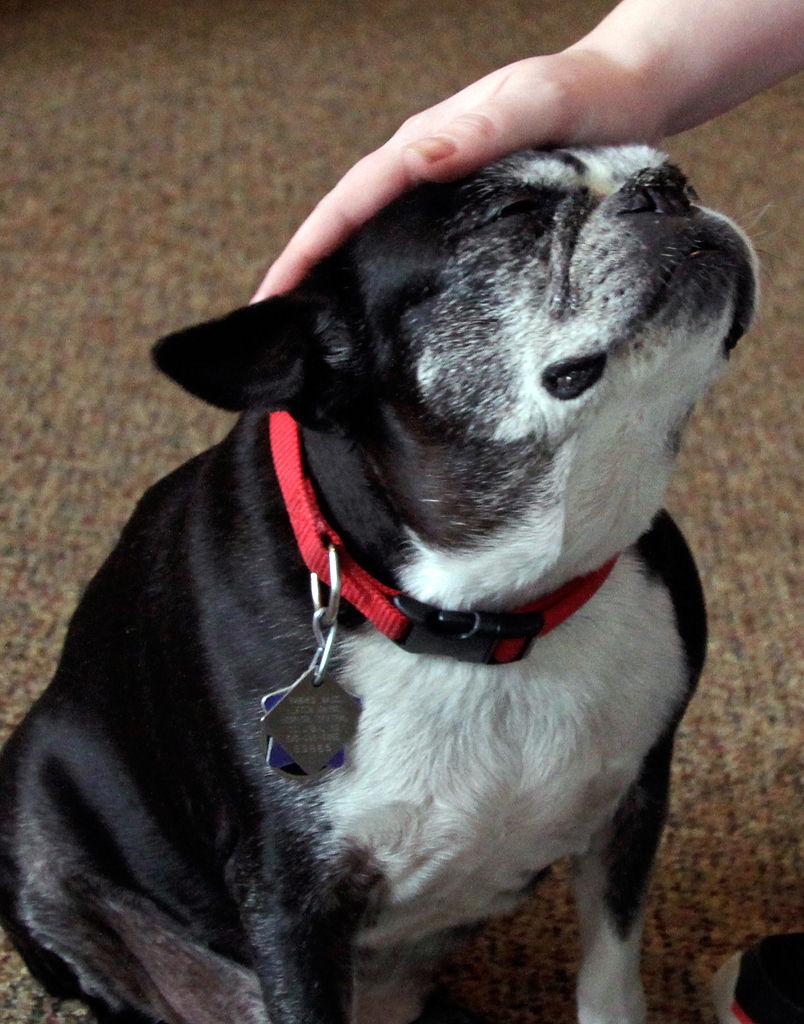 "One reason I came here is I could bring (Dolly)," Kennedy said. "She's too old to start over with somebody new or go to a shelter." 
A growing trend among retirement communities is offering pet-care services, according to Rebecca Johnson, director of the Research Center for Human-Animal Interaction based at the College of Veterinary Medicine.
She's also the Millsap Professor of Gerontological Nursing and Public Policy at the Sinclair School of Nursing at MU. TigerPlace, built by Americare Systems, Inc., is operated in collaboration with the School of Nursing. It has 90 residents. 
"TigerPlace is pet-encouraging, while other facilities are pet-tolerating," Johnson said.
She studies the interactions between people and pets, focusing on how those interactions affect life transitions for older adults. According to her research, pets provide mental and physical benefits to older people, such as lessening loneliness and increasing healthy behaviors like walking.
"One thing that is beautiful about dogs and cats is that they're not judgmental," said Sandra Crowder, pet-care coordinator at TigerPlace. "They don't care if you're in a wheelchair; they don't care if you wear glasses; they don't care if you can't hear anymore. They're going to love and accept you no matter what."
Staying active
Having a dog helps Kennedy stick to a schedule. The Boston terrier sleeps with her every night and helps her get up in the morning. 
"She keeps me on schedule, and there's a sense of responsibility that she needs to be fed and cared for, which is always good," Kennedy said. "Sometimes when I'm not out of bed, she'll bark at me."
Having a pet also benefits older people psychosocially, Johnson said. Pets give their owners something to talk about with others. When people see a pet and its owner, they're more likely to engage, Johnson said.
"(Dolly) loves it here. Everybody stops, plays with her and pets her," Kennedy said. "She thinks it's the best place she's ever been."
Sometimes neighbors will borrow Dolly so they can a take nap with the cuddly Boston terrier. 
"She's almost a therapy dog," Kennedy said.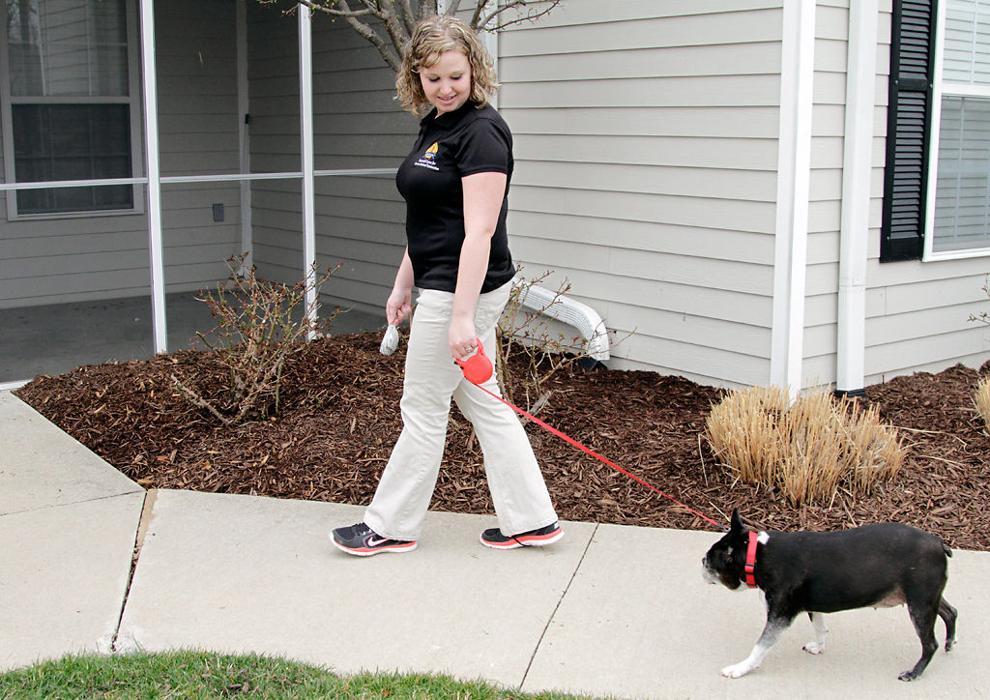 But Kennedy is beginning to need help taking care of Dolly's growing needs. The dog is getting gray and needs medicine twice a day because of an enlarged heart, Kennedy said. Having people like Sandra Crowder to help care for Dolly makes her life easier, she said. 
Crowder is one of two dog walkers who help at TigerPlace. She and a colleague take care of all five dogs and 11 cats in TigerPlace. Every weekday, they take the dogs for about a 15-minute walk around the outside of the building. Some dog owners occasionally walk their dogs themselves if their health is good and weather permits, Crowder said.
"I think it's very important that we help them because a lot of pets that live with older adults are extremely overweight," Crowder said. Older adults often don't walk enough for their dogs to get the exercise they need."
The two dog walkers check on each pet daily and help with basic chores, like refilling food and water bowls, buying pet food and delivering it. Owners with cats get help with litter boxes.
These services are included in the residents' rent, but some additional services, including bathing, trips to the veterinarian and weekend walks, cost extra.
"I'm very connected and bonded to these animals. When one of them gets sick, I can feel it like an owner," Crowder said. "All of our pet-care assistants feel a bond and a responsibility to them."
Friends for life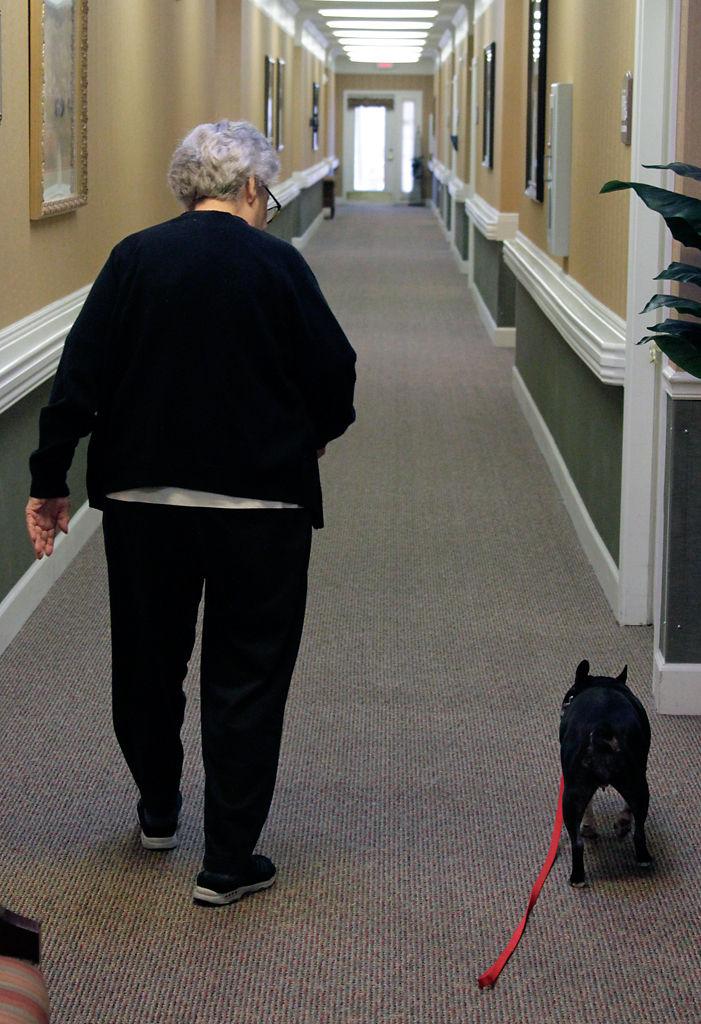 As an owner's health declines, pets often stay with them until their final day. The pet's presence gives the owner a sense of comfort until his or her last moments, Crowder said.
If a resident dies, Johnson's research center will take care of the pets or find a new owner. Sometimes, an owner's neighbor will adopt the animal, Johnson said. 
When a pet dies, the center will help take care of its remains and organize a funeral. Social workers are also made available to help the owner process the loss, Johnson said. 
"It hurts no matter how old you are," she said. "But what happens is that if you're older and you have fewer friends or fewer family members, then you feel more alone."
Most residents who lose a pet want a new one right away, and the center aims to help residents get one, Johnson said. Others will wait or never want a pet again because the death affected them so deeply, she said.
Kennedy said she's being realistic about possibly leaving Dolly behind. She's already made arrangements to have a friend take over Dolly's care, if need be.
"As long as I can take care of her, I'll keep her," Kennedy said.