COLUMBIA — A new analysis of Columbia Police data shows that black drivers were found with "illegal goods" at roughly half the rate of white drivers in consent searches, though they were searched twice as often when stopped.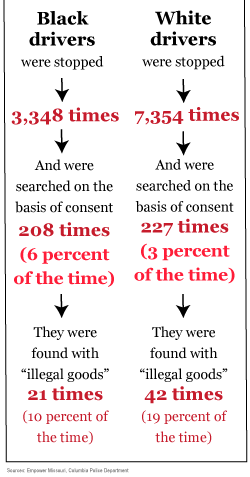 Black drivers were also five times more likely than white drivers to be searched on reasonable suspicion of being armed or dangerous, though white drivers were about four times as likely to be caught breaking the law in those searches.
Black drivers were also stopped at three times the rate of white drivers, according to data released by the Attorney General's office this summer.
The analysis was conducted by Don Love, co-chair of the Empower Missouri Human Rights Task Force, using numbers provided by the police department. Love is a retired math teacher, and Empower Missouri is a statewide social justice organization with five chapters.
Tara Warne-Griggs, of Race Matters, Friends, presented the new numbers to the Columbia City Council on Oct. 17. The council did not discuss them during the meeting.
Racial discrepancies in policing have previously been discussed by the council. Fourth Ward Councilman Ian Thomas said in an interview that "community-driven concerns and pressure are having a positive impact" on the police department. He cited three new developments:
But Thomas said the search data raises serious questions. He wondered aloud whether the data was reflecting the actions of particular officers and said the police department would need to do more work to determine if that's the case. He said potential solutions would probably take the form of additional training, different recruitment practices or new police policies.
Consent searches are being used at an unjustifiably high rate, Love said. The new numbers "tell you a lot more about what minority drivers are experiencing," he said. Love said the consent search data tells him that police officers are much more suspicious of black drivers without good reason.
The police department met with Empower Missouri regarding the new analysis Oct. 26.
Consent search data
Officers must typically have a warrant or probable cause to search a driver's vehicle. The other option is a consent search, in which a driver agrees to allow an officer to search his or her vehicle.
Black drivers are searched more frequently than white drivers in each of four age categories and are less likely to be found with anything illegal in every age group.
Disparities sharply climb in the over-40 category. Black drivers in that age group who were stopped by police were more than twice as likely to be searched. They were found to be breaking the law only twice in 50 searches, or at one-fifth the rate of white drivers.
The Columbia Police Department has implemented a plan to require the driver's written authorization in consent searches. That policy went into effect Oct. 1.
Love said he hoped the new policy would decrease the number of consent searches by the police department.
Terry searches
Terry searches, in which officers pat down people before making an arrest, are legally allowed when there is a reason to believe the suspect is armed or dangerous. These searches are known as Terry searches, named for a Supreme Court case, Terry v. Ohio (1968), that set the legal precedent.
The Empower Missouri analysis shows that black drivers were searched for weapons on the basis of reasonable suspicion 47 times, compared to 20 times in the white population. Black drivers were found to be breaking the law six times. White drivers? Eleven.
Between the ages of 18 and 29, black drivers were seven times as likely to be searched on reasonable suspicion of having weapons. They were found to be breaking the law at half the rate of white drivers.
The Terry search data does not include pedestrian stops, as that data is not kept by the police department.
Police response
Deputy Chief Jill Schlude said in an interview last week that data alone doesn't prove someone is biased, but consent search data more effectively reflects disparity than traffic stop data. The police department is committed to following the data to find out what is causing the disparity and address it, she said.
Schlude said some of the racial discrepancy may be due to the police department's saturation patrols and focused deterrence efforts. Saturation patrols are police efforts to permeate areas where crimes have recently occurred. Focused deterrence is a tactic in which police officers attempt to target repeat offenders and known gang members in order to help prevent further crime.
The police department is now trying to determine what a typical beat officer's disparity rate is, Schlude said. She said a typical beat officer has the most latitude in his or her work and should be studied for evidence of bias in the department. 
Schlude said the saturation policing and focused deterrence tactics were effective enough to be worthwhile. She said she hoped the department's new consent search policy would help to further data collection efforts and compel officers to reflect more carefully on why they are asking for consent to search a vehicle.
Schlude said she hopes police officers don't racially profile, but didn't know if that was the case.
"We work with human beings," Schlude said.
Police staff will continue to meet with Empower Missouri and other community groups to pursue further data analysis, she said.
"The real important thing is everyone's committed to putting aside any personal theories or hypotheses and going where the data leads us," Schlude said.