The Timber View Tree Farm won't open this winter for the first time in 50 years.
Daryll and Mary Lou Raitt started the farm in 1969, when they dug up a small patch of dirt in Ashland and buried a single pine tree seed. They never expected it would grow into something so meaningful.
It lasted five decades, to be exact, long enough for the Raitts to see three generations of families come to the farm to get their Christmas tree. That tradition got cut short when a disease killed more pine trees than they had anticipated last season.
"I'd say probably a couple of thousand," Daryll said.
The fungus was first reported in the United States in the 1970s and since then has spread to 31 states and more than 40 countries, according to the European Mediterranean Plant Protection Organization. In the United States, the southern states have the most suitable climates for the disease to thrive.
"It's always been an issue down south," said Hank Stelzer, a forestry expert at MU Extension.
Blight strikes hard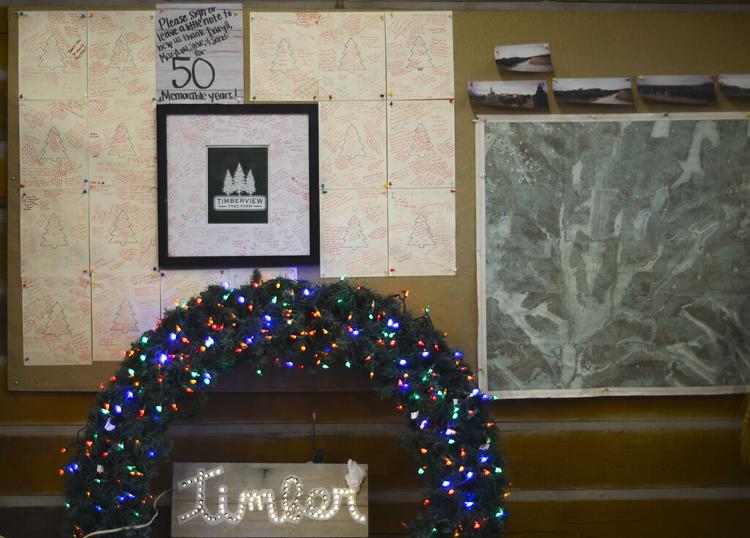 Daryll first noticed something was wrong three years ago. The family mowed, watered and scurried to prepare for another holiday season until they found something they had never seen. Lines of yellow covered the needles on the bottom of the trees early in the summer. Toward the end of the summer, small brown spots appeared.
Not long after, the needles died and fell from the trees, which had suffered from the fungus lecanosticta acicola, a pathogen that leads to brown spot needle blight. The fungus thrives in warm and wet weather, allowing it to spread quickly and infect the whole farm.
"It seemed like it would keep getting worse," Daryll said.
It starts with the pathogen finding a good environment, which for this one is newly emerging needles in the spring and a warm environment.
"Once the fungus gets into the needles it spreads rapidly, and then it will produce more spores in a relatively short period of time," Stelzer said.
That is how brown spot needle blight is born. To avoid a disaster, experts recommend farmers spray their pine tree needles with preventative chemicals while they're just half grown.
"We didn't get the spraying done. That and the fact that we had a lot of rain just decimated the trees with the brown spot," Daryll said.
Rain causes what Stelzer called "rain splash."
"The force of the raindrops hitting those infected needles can actually throw the spores upward onto the next needles higher up, so you get this creep up the tree."
The year before the Raitts saw brown spot needle blight spread on the farm, Missouri had seen its wettest June since 1981, with rain falling heavily over east central and west central Missouri.
From there, the pines became weak.
"That tree can no longer photosynthesize, and you just lose those needles," Stelzer said. "As you lose needles you lose food reserves, and so the tree will eventually die without treatment."
He said it can spread from other infected trees in the area or even from farmers failing to sanitizing their tools. The impact can be devastating, as the Raitts learned.
50 years of hard work comes to an end
Despite the loss of thousands of trees, the Raitts were looking forward to at least a few more years of business. Then COVID-19 struck. The Raitts didn't want to risk being exposed and decided they would rather close their business a few years early.
These days, if you head down the long gravel road to the tree farm, you won't find Daryll and Mary Lou scurrying to harvest trees with their family. You won't see toddlers sipping hot cocoa or the line of a family's feet dangling off the side of the red tractor as they anticipate picking out a tree. You won't see Daryll snipping and hammering together fresh pine wreaths.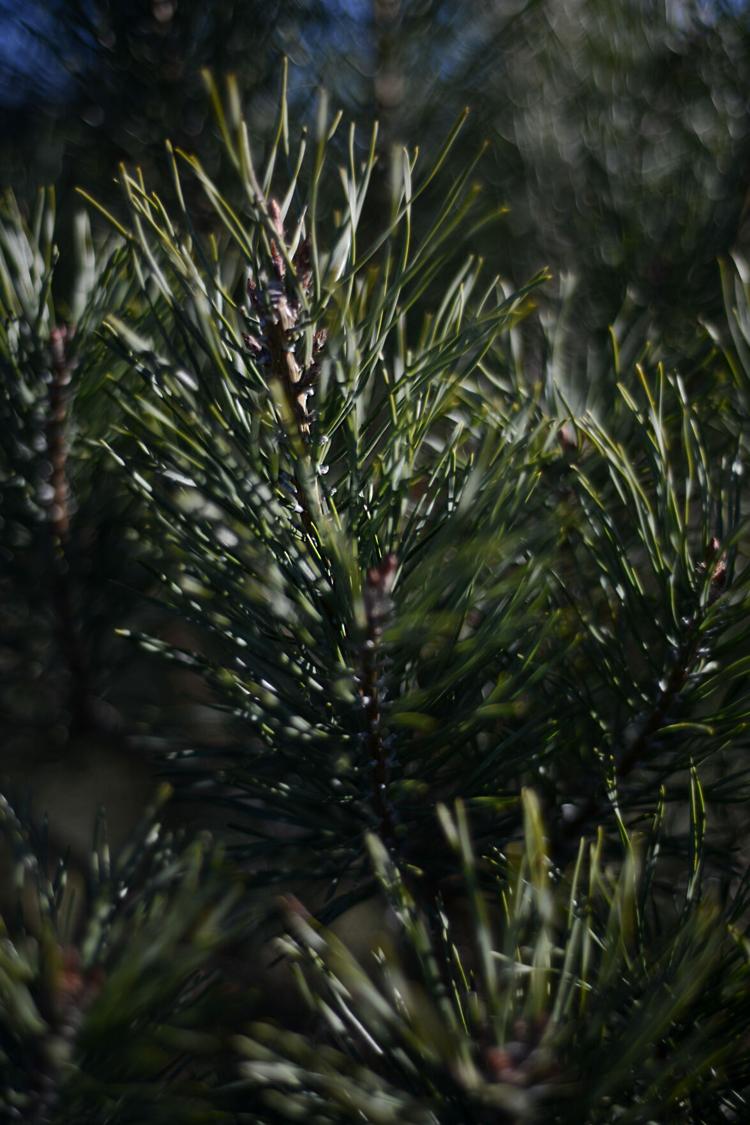 Instead you'll find the Raitts sitting comfortably at each other's sides, sheltered from the cold by the barn they built from the lumber of trees on their property. They might be dropping freshly cut logs into their wood-burning stove.
They are learning to accept the end of an era.
"I try to tell myself it is time. It was such a happy time of year. I will miss that," Mary Lou said.
There are plenty of memories to keep. Mary Lou recalled walking into a neighbor's home and seeing the joy on their faces as they pointed out the line of photographs sitting on top of their piano.
"They had pictures of every year that they had brought their family out to get a tree for I don't know how many years," Mary Lou said.
They weren't the only ones who cherished their trips to the tree farm. Hanging on the barn wall is a framed logo of the Timber View Tree Farm with its white border covered in red ink.
If you look closer, the ink is messages from families giving their thanks to the Raitts for 50 years of memories. One reads: "Thank you so much. I've grown up coming here and I've gotten to bring my own kids. It's a memory I will treasure forever."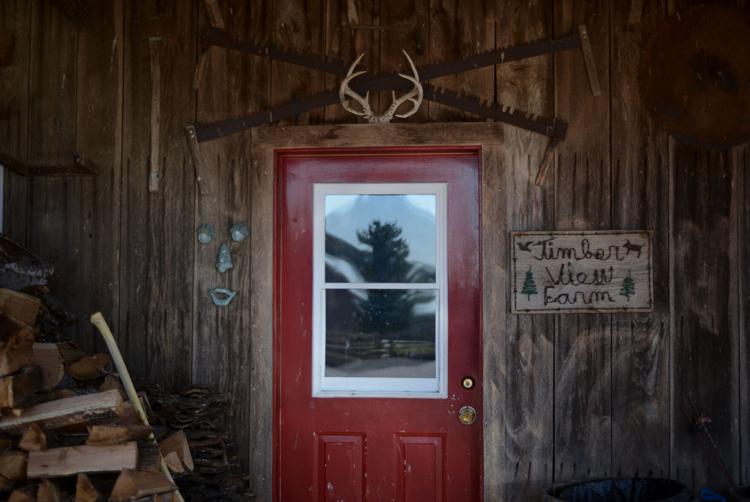 The frame wasn't big enough to hold all of those thank-yous, and the ink extends onto 17 more sheets of paper.
Having those memories to cling to made closing the farm for good a little easier. As brown spot needle blight took over, Daryll and Mary Lou knew it was time for someone else to start planting pine trees on a different farm if they didn't want to see a holiday tradition die. They say the decision of who was best to carry it on was easy.
"There's a fella down the road," Daryll said. "He worked for us as a kid."
It was Zach Diederich, who was once Raitt's helping hand.
"We knew their family from church," Mary Lou said. "We remember him from when he was tiny and have watched him grow up. They're just a good hard-working family, the Diederich's are."
Now, it's the Diederich family's turn to cultivate trees — and memories.
Pumpkin Patch expands
Zach and Erin Diederich opened Lloyd's Pumpkin Patch seven years ago. It's a popular fall attraction around Ashland, known for its kiddie bicycles, cozy hay rides and variety of pumpkins.
About 30 yards from their barn, 10,000 strawberries grow in preparation for their spring business. Starting their family business in Ashland was something they dreamed of for years.
"Finally we pulled our money together and started it and did it and just kind of never looked back," Zach said. "It was more or less just taking the jump and doing it."
Their schedule has been full ever since. Despite the hard work, the couple has always wanted to add another element to the farm: Christmas trees.
"We had a desire in doing it anyways," Zach said. But with their friends the Raitts just down the road, the Diederichs didn't want to compete. They wanted to wait until the time was right.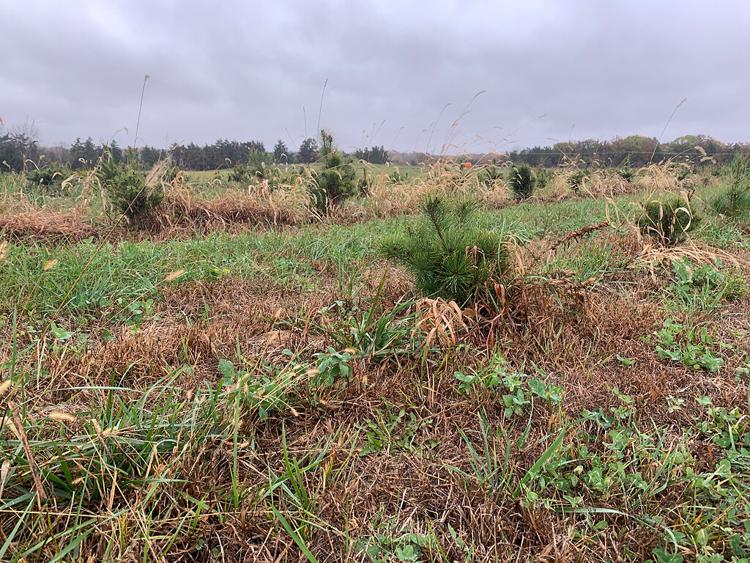 That day came in 2016 when the Raitts' son-in-law, Steve Wyatt, saw the Diederichs at the Timber View Tree Farm.
"We were sitting on the wagon, and he walked by and said: 'Hey, I've got to talk to you about something after Christmas,' and at the end of January he called me," Zach said. "I talked to Erin, and we kind of went back and forth, and by that January we were ordering trees."
Erin, Zach and their three children have been preparing to open ever since. They immediately planted seeds row by row just to the right of their bright red barn.
"The first year we planted 4,000 trees, and it was pretty overwhelming," Zach said. "We had no idea what to base it off of, and so we kind of based off of what (the Raitts) said. You get to thinking: 'What are we doing here?'"
Mowing and watering weekly, the job ahead looked tough. They have also had to consider how to avoid losing trees to brown spot needle blight.
"It unfortunately will be a problem but hopefully not a big problem for a few years," Zach said. Spring will be a busy time as the family starts selling strawberries while trying to keep up with spraying preventative chemicals on every needle.
"It is a worry of mine, but like all problems we will continue to learn and take care of them the best we can," Zach said.
Now, the pines on Lloyd's Family Farm stand about two feet tall, not quite ready to be featured in someone's home for the holidays. The growth is on track for the original opening date in a few more years. But when the Raitts were forced to close their business, the Diederichs knew they couldn't wait to expand their own.
"We felt like we needed to do it because they're closing. We want to open, and we want the customers to transition here," Zach said.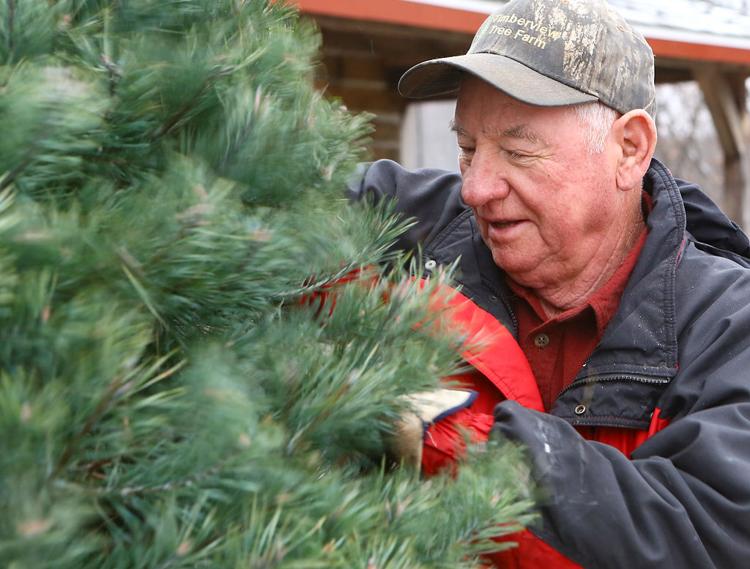 The family was up for the challenge. When they weren't checking on pumpkins and strawberries, Erin and Zach hustled to perfect their new business before opening day.
"The whole idea of selling Christmas trees has really only started since August," Zach said.
This year, they shipped trees in from Canada. They put some wreaths together to cozy up the barn and started decorating as soon as the pumpkin patch closed.
It hasn't been easy, and Zach says the job would be impossible without Erin.
"A lot of times people will walk up and ask how are your trees doing, or how are your pumpkins doing," Zach said. "It all balances out, and there's no way it would work any other way."
Building something to last
It's always memorable when the kids get out on the farm to help.
"Erin's driving the tractor with Opie sleeping in her arms, both of them sweating, and Elsie is on the back crying because a pumpkin rolled down and jabbed into her thigh, and Hattie's crying like crazy because she wants to be up on the tractor with mommy," Zach said with a smile. "It wasn't a warm and fuzzy memory, but we were all together doing it."
Zach said he and Erin can take pride in their accomplishment.
"The first year that we opened the pumpkin patch, at the end of the day, (Erin's dad) approached us and said: 'You guys have created something that you'll be able to pass onto your kids,'" Zach said. "We've built this, and we've done this, and we want it to become theirs."
When the Raitts planted that first pine tree in 1969, they sowed what would become 50 years of memories. The Diederichs plan to do the same. Their two-foot pines could grow into another half-century tradition that touches as many lives as the Timber View Tree Farm did.
Grace Taylor wrote and helped photograph this story as a student in Science Writing for Journalism and Strategic Communication, taught by Associate Professor Sara Shipley Hiles.