COLUMBIA — Despite fat-bellied clouds, there was no rain Monday during the Central Missouri Events Center Review Committee's trip west. There was a torrential downpour, but it wasn't rain — it was information.
Monday was an opportunity for Boone County Presiding Commissioner Dan Atwill to go west and try to extract a thorn yanking the county's sleeve: the future of the Central Missouri Events Center, simply known as "the fairgrounds." The county closed the events center in January after voters last year rejected a sales tax to keep it open. Since then, only the Boone County Fair has used the site — and officials have told the Boone County Fair Board to look elsewhere for next year. 
A little more than two weeks after organizers cleared the last of the fair from its traditional digs, a delegation of prominent Boone County residents drafted by Atwill — along with a retinue of a couple dozen county employees, city workers and members of the public — boarded a white MO-X bus for a field trip to suburban Kansas City.
The aim of the journey was to look at sports and entertainment venues that have generated enough revenue to sustain themselves in the hopes of bringing some ideas back to Boone County.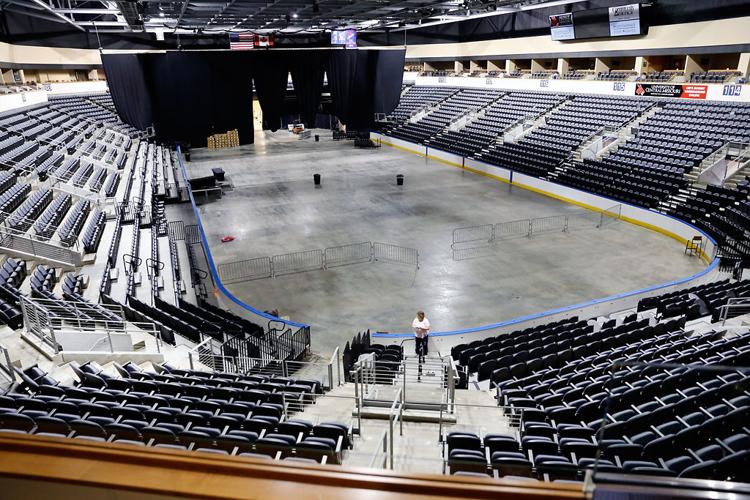 The Independence Events Center
The trip's first stop was the Independence Events Center, an 18-acre arena in Independence, Missouri, with 5,800 permanent seats. It opened in November 2009 and hosts home games for the Missouri Mavericks, a minor league hockey team affiliated with the NHL's New York Islanders.
The Independence arena hosts more than sports; in February it was the first location for singer Ariana Grande's world tour. September's calendar features a Papa Roach concert and the "Independence Fire & Ice BBQ" competition, and the metal skeletons of boxing rings from last weekend's Ringside World Championships were being dismantled as the group entered the arena.
The arena was constructed at a cost of about $60 million, Independence City Manager Ron Heacock said. To build it, the city of Independence took on debt, which was financed by a community improvement district sales tax. First set at a half-cent, the tax was bumped up in August 2011 to three-quarters of a cent.
The first step for Independence was a feasibility study in 2007, which found that Independence should be able to support a mid-sized arena. Heacock said the arena has brought the equivalent of 90 full-time jobs to the area and said it filled a niche because there were no other sheets of ice in eastern Jackson County. The city is guaranteed a minimum of $80,000 from the events center, with Spectra Venue Management absorbing the brunt if the arena were to lose money.
Heacock advised the review committee to "nail down an anchor tenant" if possible and to expect "pushback" if it decides to pursue a similar route to Independence's CID sales tax.
"Money for this kind of project always requires public participation and public funding," Atwill said later. While he has acknowledged putting another tax on the ballot is unpopular, he wouldn't rule out the possibility.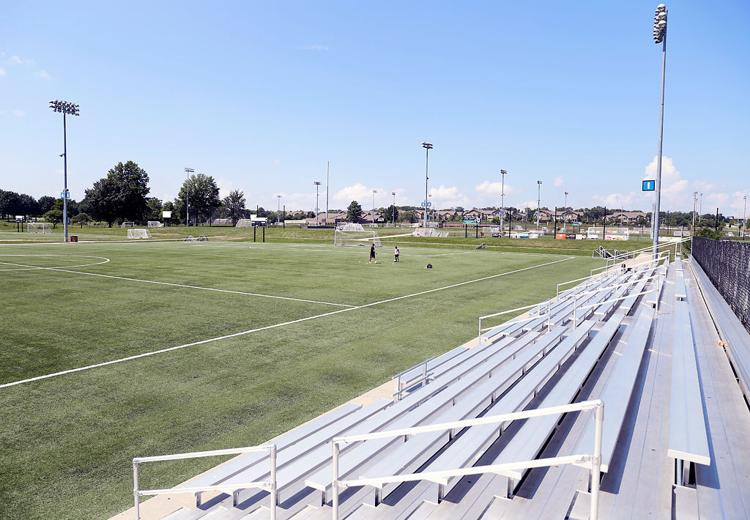 After a barbecue lunch, it was back on the bus and west across the state line to explore the Scheels Overland Park Soccer Complex in Overland Park, Kansas. The venue has a dozen regulation soccer fields made of synthetic turf, video boards, administrative offices, cafes and locker rooms. It opened in September 2009 with a $32 million price tag.
Atwill indicated before the tour that he was particularly interested in the complex's "stay-to-play" arrangement with the Overland Park Convention and Visitors Bureau. It requires out-of-town teams to prove that they are staying in an Overland Park hotel. There are 35 hotels "within minutes" of the soccer park, according to the city's website.
Complex manager Mike Laplante led the tour onto Field 1, the largest of the Overland Park dozen, while a young girl in a lavender tank-top dribbled a soccer ball through orange cones on the other side of the field. He estimated the soccer fields made up about 80 of the complex's 96 acres and said they have also been used for youth football, lacrosse and Ultimate Frisbee events.
After Laplante's explanation, Alden walked over to a nearby concession stand to scope out the costs of hot dogs and sodas. He praised the decision to make fields available for multiple sports. And, he said as he photographed the menu, while synthetic turfs require more money upfront, they can provide more long-term benefits.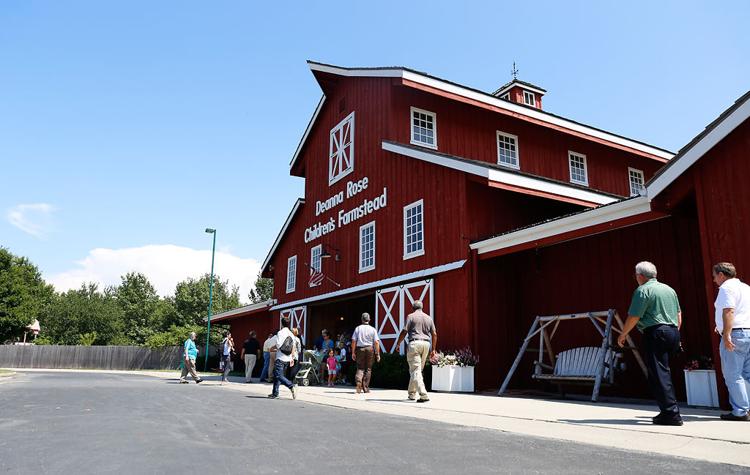 Next to the soccer complex is the Deanna Rose Children's Farmstead, a museum designed as a tribute to Kansas at the turn of the 20th century. Its 12 acres host gardens, a fishing pond, an antiquated country schoolhouse and hundreds of animals.
The Boone group heard yet another presentation, this time from Overland Park assistant director of park supervision Bryan Toben and Farmstead Superintendent Virgil Miles. Toben said it's a popular destination for school field trips, with attendance often topping out at 4,000.
Entry to the farm was free, though each visitor was counted by Jerry Browning, a former MU professor of physical therapy in his first year of volunteering at Deanna Rose. Browning was putting in a few of the 24,000 volunteer hours, to which Toben credits the farmette's success.
To the ballpark ... and back home
The final stop was the 130-acre Blue Valley Recreation Complex. Complex manager Steve Herrig was on hand to discuss the sprawling collection of 24 ballparks and its almost 2,000 parking spaces.
Herrig said the complex hosted about 40 tournaments this year, including three college softball tournaments. While there were no hotels in the immediate vicinity, he said, the complex still had "a pretty good draw" outside of a 60-mile radius, including hosting Little League World Series games.
While there might not be room for dozens of baseball fields at the fairgrounds, there are already five fields at nearby Atkins Memorial Park. Columbia Park Services Manager Gabe Huffington said the city plans to add two more if voters renew the city's Park Sales Tax in November.
Before the review committee goes after funding or starts drawing up designs, it has to determine a direction for developing the events center's 129 acres.
Paul Land of Plaza Commercial Realty was on hand Monday to brief the committee on zoning designations in the county and the city, as well as to present property values of nearby tracts on the market.
"At some point in time, you folks are going to have to get an appraisal done," Land said.
Chad Sayre of Allstate Consultants was also aboard the bus. In January, he presented a plan for "new net revenues" to a group of equestrian enthusiasts, and he revised his plan for the review committee. His plan hinges on cooperation between the city, the county and MU's College of Agriculture, Food and Natural Resources to develop the land — and to provide a "financial backstop" similar to the Columbia Regional Airport's revenue guarantee plan. 
Alden downplayed Sayre's notions for an equestrian facility, saying that equestrian sports have been mired as an NCAA "emerging sport" for over a decade. He emphasized creating venues that could have multiple purposes.
Just outside of Boone County on the way back, former Gov. Roger Wilson made sure to point out "before the press gets off the bus — the Boone County Fair is not being left in the dust."
Whether a consultant is hired or a feasibility study is commissioned has not been determined. Atwill said that a tour to the fairgrounds was in the near future. After 11 hours, the committee had no stated objective but had plenty of new information.