COLUMBIA — A controversial development project near Ridgefield Road was approved at Thursday's meeting of the Planning and Zoning Commission, leaving the final decision on the development to the discretion of the City Council.
The commission approved the request, which will connect Ridgefield Road to Ridgemont Road, 6-3. The lack of a 7-2 vote means the council must hold a public hearing on the matter.
The proposal faced public backlash from citizens of the surrounding neighborhood, who turned out in droves to speak out against the possible development, namely for the traffic problems they say it would cause.
The development was not approved without modifications. While the city's original recommendation consisted of installing two speed tables, the measure was deemed insufficient for dealing with traffic. Instead, two "offsite traffic-calming devices" equivalent to the cost of the speed tables must be negotiated with the city's traffic engineering department. Two more devices would also be placed at the entrance to the development at Ridgefield and Ridgemont road.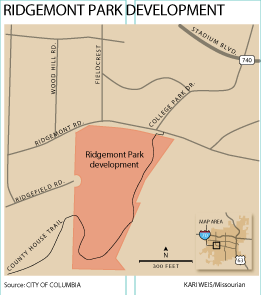 If approved by the council, the development will contain 25 single-family lots and two lots for green space and stormwater alleviation. A large sector of land will be donated to the Parks and Recreation Department.
Such a development requires R-1 zoning for residential development. The 25 lots on the property all meet the 7,000-square-foot requirement for R-1 classification.