The Route AC bridge over U.S. 63 at Grindstone Parkway will be closed for two months this summer for necessary rehabilitation.
Beginning June 10, drivers will need to adjust their routes to avoid the construction. Originally, the bridge was to close Monday, but the project was postponed because of weather concerns.
The project is one of seven in the Missouri Department of Transportation's summer bridge rehabilitation efforts. The construction of the other six bridges along U.S. 63 will unfold throughout the year, according to MoDOT's website.
It's a $3.9 million undertaking across Boone and Callaway counties. The other six bridges are the northbound bridge over Bonne Femme Creek; the southbound bridge over Cedar Creek; the northbound bridge over Turkey Creek; the northbound bridge over the Katy Trail and the northbound and southbound bridges over Gans Creek.
During construction of these bridges, one lane of traffic will remain open to drivers.
The Grindstone bridge is the first project on the construction schedule, and access to the bridge will be completely blocked — though the ramps will remain open for access to U.S. 63, the parkway and Route AC. Drivers will be able to follow detours along Stadium Boulevard and Discovery Parkway.
Melissa Wilbers, transportation project manager for MoDOT, said removing the surface and replacing the bridge deck is considered preventative maintenance.
"When bridges reach a certain condition, they're scheduled for this type of rehab to extend the life of the bridge," Wilbers said.
These rehabilitation projects typically increase the life of a bridge by 10 to 15 years, she said.
MoDOT strategically chose summertime construction, she said, hoping fewer students in town and on the road will mean minimal traffic impact.
MoDOT's contractor, Capital Paving and Construction, will have 60 days before the bridge reopens at the resumption of school in the fall, unless weather causes significant delays.
Wilbers said the contract builds in delays for inclement weather, but there is also potential for a longer closure time.
"We understand it'll be an impact for the traveling public," she said. "The closure allows the work to be performed more quickly than if we were to leave it open one lane at time. And it will provide a safer environment for employees and the traveling public."
Tabia Jones, mother and business owner, lives east of the bridge and called the impact "terrible" for people who live off New Haven Road.
"It'll probably add 10 minutes anywhere we want to go, dependent on traffic," Jones said.
She worries that the commute could even add an additional half hour, depending on traffic flow.
Getting to the nearby gas station could also pose an inconvenience, she said. The Petro Mart at 3300 Falling Leaf Lane is only three minutes from her home, Jones said, but dodging construction will potentially make it quicker to use a different station altogether.
"It could make people late for jobs, appointments," Jones said. "Even going to Walmart will be a hassle, and I'm there almost every day because I have two kids who need things."
Traveling east on Grindstone to go north, take southbound U.S. 63 up to the Discovery Parkway exit and then a U-turn onto northbound U.S. 63.
Traveling east on Grindstone to go south, take southbound U.S. 63.
Traveling west on New Haven to go north, take northbound U.S. 63.
Traveling west on New Haven to go south, take northbound U.S. 63 to Stadium Boulevard and then make a U-turn onto southbound 63.
For those traveling north from New Haven Road, Lemone Industrial Boulevard becomes Maguire Boulevard and continues up to Stadium Boulevard.
The Columbia Fire Department Station 8 has already reworked its routes to accommodate residents impacted by traffic, Assistant Fire Chief Brad Fraizer said. There is still a possibility the construction could delay emergency response time, he added.
"The bridge closure will affect Station 8," Fraizer said. "As a result, we are redistributing some of the areas they're responsible for to adjacent stations to compensate for the closure."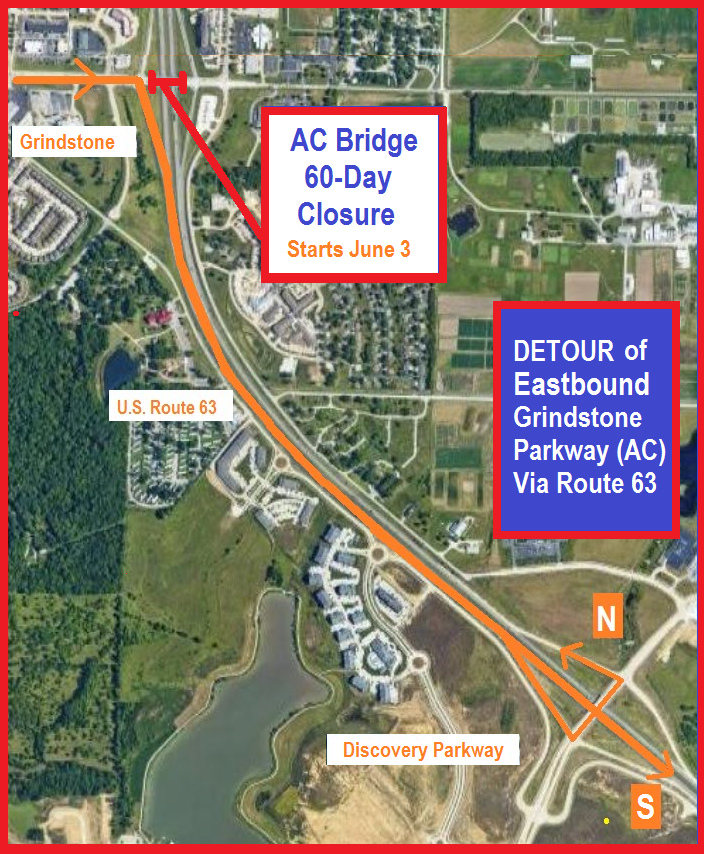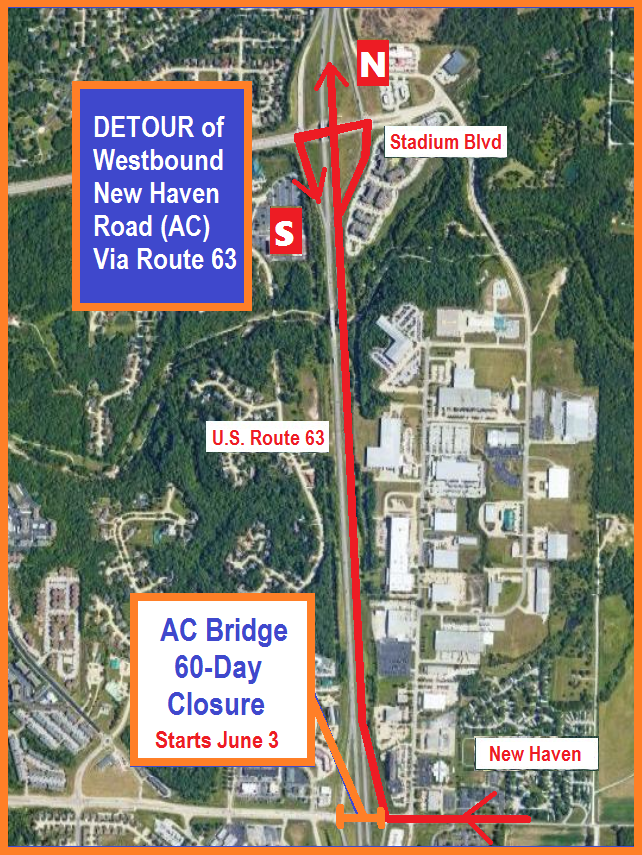 Woodstock Mobile Home Park property manager Larry Brown, who typically has a 10-minute commute to work, said he has mapped out multiple detours for personal travel. He estimated any route will take an additional 10 minutes.
The mobile home park sits off East New Haven Road at the corner of South Warren Drive, only a few minutes east of the bridge.
"I'm in pretty good shape to get here and home," Brown said. "It's not a tremendous hindrance."
Even though construction projects inevitably cause delays, Brown is optimistic.
"Nothing in Columbia is really far," Brown said. "If it helps in the long run, it's OK."
For the Boone County History and Culture Center south of the bridge on Ponderosa Street, there seems to be a silver lining.
Mary Ellen Lohmann, administrative services manager, said detours will lead drivers onto new routes and possibly introduce them to the center.
"We think people driving on Ponderosa will actually be benefited," she said.
"Hopefully we will adjust, and the next 60 days we'll be discovering parts of Columbia we didn't know before," Lohmann said.
Supervising editor is Jeanne Abbott.