A stable Missouri black bear population spurred the Missouri Conservation Commission on Friday morning to approve plans for a highly regulated 10-day hunting season proposed by staff of the Missouri Department of Conservation.
The Conservation Department hopes to encourage local residents and landowners to "participate in the sustainable harvest of a valuable natural resource," Laura Conlee, a Conservation Department furbearer biologist said.
If the season is officially approved by the commission, a bear hunting season could, at the earliest, occur in October 2021. It would be open only to Missouri residents. The commission is requesting a final round of public input Oct. 16 through Nov. 14.
Because of overhunting and large-scale habitat changes, black bear populations in Missouri dwindled to nearly zero in the early 1900s. But in the last 50 years, populations in the Missouri Ozarks have been steadily increasing. Black bears have been migrating into Missouri naturally from Arkansas and Oklahoma.
Since the Conservation Department's initial bear management plan was instituted in 2008, the black bear population has been steadily expanding to reflect 350 bears in 2012 (including cubs) and approximately 540 to 840 bears in 2019.
Conlee believes there will be double the black bears on the landscape of Missouri by 2029 given the steady population growth rate of 9%.
"Now we're switching to a more active management type phase," Conlee said, describing the updated science-based Black Bear Management Plan the Conservation Department has designed to guide and manage the population of bears as a native species.
"This action plan is really designed to guide bear management over the next 10 years," Conlee said, illustrating that the plan will ensure continued research efforts to monitor the bears' population size.
The plan will also focus on spreading awareness about Missouri's black bears while proactively minimizing conflicts between humans and bears.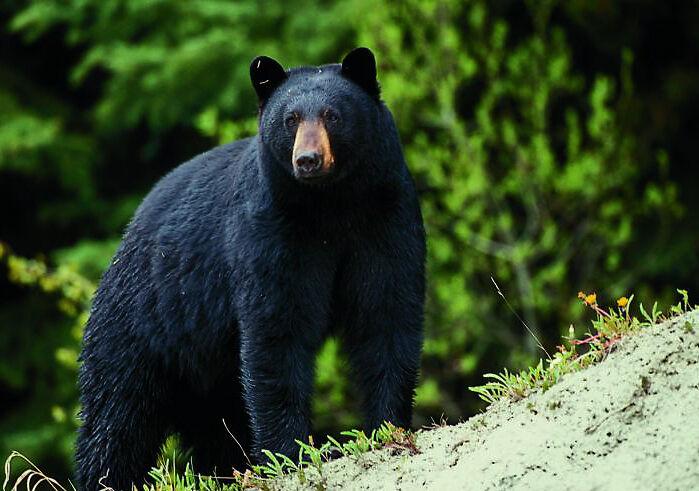 Public comment at open houses in 2019 revealed that 87% of people who attended were in favor of a highly regulated, limited hunting season if the population exceeded 500 bears.
Some members of the public, however, harbored concerns about how the hunting season would affect the bear population.
"I find it irresponsible for a wildlife agency to elicit the hunting of a species whose population is estimated to only be at 540 to 840 black bears after decades of recovery time," Jessica Albright, a public speaker opposed to the proposed bear hunting season, told the four-member Conservation Commission.
"Missourians highly value black bears and don't want to see them trophy hunted," Amanda Good, the Missouri and Arkansas state director of the Humane Society, said on behalf of the nonprofit.
She said Missouri's black bear population pales in comparison to states such as Florida and Wisconsin.
Albright also believes, as mid-October is peak hiking time for Missourians, it would be unsafe to have hunters in the woods simultaneously.
Bear hunting season would open on the third Monday in October and run for 10 consecutive days in three bear management zones located south of the Missouri River and demarcated by major roads and highways under the plan commissioners approved unanimously.
Hunting hours would be a half-hour before sunrise until a half-hour after sunset, just like the whitetail deer season.
Hunting quotas would be determined each spring by the Conservation Commission based on data from the Conservation Department, however, quotas have not yet been established for a first season. If the quota within the bear management zones hits or exceeds 80%, the season may be closed to limit the chance the quota may be exceeded accidentally, Conlee said.
During the season, hunters would be required to only hunt lone bears and use the same methods allowed for deer and for elk.
They would be prohibited from using bait or dogs and required to wear hunter orange. They also would be required to use commonly edible portions of any bear they kill to prevent people from hunting bears solely for sport and trophies.
Hunters would have to check their bears using the Conservation Department's telecheck system by 10 p.m. on the day of the kill.
The Conservation Department is also requiring hunters to submit bears' premolars so that biologists can collect data to determine the age structure of the population and put that information into the population model.
Applications for bear hunting permits would be available online from May 1 to 31 for a $10 fee with randomly selected permit allocations available by July 1. Those selected would be eligible to buy $25 permits.
Ten percent of the permits allocated would be to landowners in the three bear management zones. Young hunters from 11 years old and up would need to complete hunter education training before being eligible to buy a permit.
The commission's proposed regulations for the hunting framework will be published in the October release of the Missouri Register.
Public comments will be presented at the commission's December meeting. If approved, regulations will go into effect Feb. 28.