COLUMBIA — July 18, 1993, was Rick Strait's 20th birthday. It was also the day he planned to end his life.
After his younger brother, Mathias, 17, died in a car crash in March 1993, Strait started having suicidal thoughts — how to end the pain. In April, they were infrequent. In May, they increased. June was horrible. By July, he was obsessing about the idea.
He couldn't take it anymore. He focused on his 20th birthday.
In the week leading up to that day, Strait, a Marine in North Carolina at the time, sought help twice. He talked to a pastor at his church, and the pastor said he would pray for him. He tried a military chaplain next. The man told him people had harder lives and they got through it.
"So after those two, I was like, 'I'm done'," he said. "It made me feel weaker because they kind of just blew it off."
Looking back now, Strait, 43, realizes that the people he spoke to in North Carolina weren't trained to recognize suicide warning signs or risk.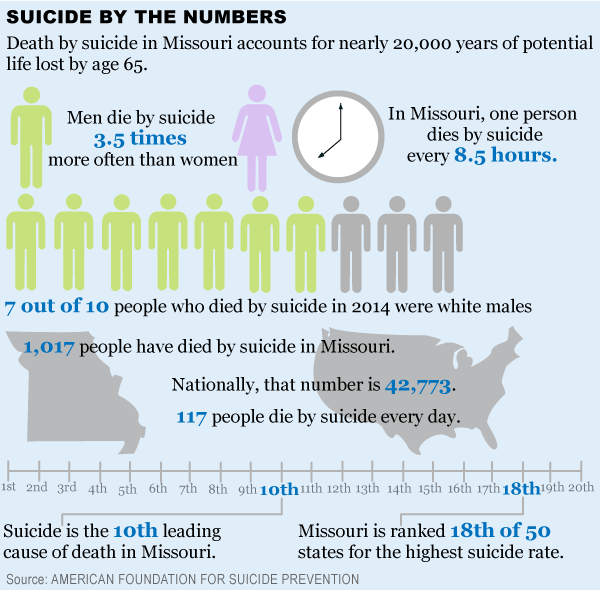 Mental health professionals in Missouri, which has the 18th highest suicide rate in the country, don't necessarily receive this training, either. The state does not require psychologists, marital and family therapists, social workers or professional counselors to receive training in suicide assessment, treatment and management. While the state does require those professionals to complete continuing education every two years, it does not require them to report, according to the Missouri Department of Insurance, Financial Institutions & Professional Registration.
"Clinicians don't want to work with people at risk (of suicide) because they don't have the training and are afraid of the liability," said Dr. Bart Andrews, vice president of clinical practice and evaluation at Behavioral Health Response based in St. Louis, which provides confidential telephone counseling to people in mental health crises.
Graduate programs don't require it either. MU offers no specific course on suicidality. University of Missouri-St. Louis, University of Missouri-Kansas City, Washington University and Southeast Missouri State say they provide training as part of a course or students' clinical training.
Only five states — Kentucky, Nevada, New Hampshire, Utah and Washington — have fairly recently enacted laws requiring training for mental health professionals, according to the American Foundation for Suicide Prevention. Illinois, Louisiana and Montana recommend training, but don't require it.
Where Missouri stands
The evening of July 18, 1993, arrived and Strait tried to take his own life. When he woke up the next morning, he was grateful to be alive. He decided then and there that he would never attempt suicide again.
Thoughts of suicide would occasionally enter his mind in the years after, but he told himself he wasn't going to do it.
Mental health professionals face a risk of losing their job if they are open about their own struggles with mental health or suicide. Some say it makes them unqualified, while others see it as a gift that strengthens their work. 
Jennifer Cagle-Huffman lost her mother and confidante to suicide in 1998. Since then, she has discovered a new self and mission in life.
"I knew at that point that it was just never going to happen again," Strait said.
Each year 42,773 Americans die by suicide, according to the foundation. That makes suicide the country's 10th leading cause of death.
"More people die by suicide than by car wrecks" in Missouri, said Debbie Fitzgerald, coordinator of crisis services at Ozark Center in Joplin.
The Show-Me state's fatal car crash rate was 1.1 per 1 million people in 2014, according to Missouri State Highway Patrol data. Missouri's suicide rate is 16.31 per 100,000 people. That's 148 times more than the number of people who die in car crashes.
Brent McGinty believes that the key to reducing that rate is enacting laws requiring mental health professionals to undergo specific suicide prevention training. McGinty is the president and CEO of Missouri Coalition for Community Behavioral Healthcare in Jefferson City.
Washington state passed a law in 2012, which went into effect in 2014, requiring licensed social workers to complete six hours of training every six years to keep their license. It is too early to collect statistical evidence on whether the law is working, but there is anecdotal evidence suggesting it is, said Sue Eastgard, interim director of training and school programs at Forefront.
"We're seeing much more confidence in doing the suicide assessments when social workers have been trained," she said.
The training involves learning how to assess patients and their risk for suicide, including what questions to ask, and how to work with them to keep them safe, whether they're cooperative or not.
Zero Suicide
Zero Suicide is a national initiative to lower the suicide rate and better prepare mental health professionals to treat patients with suicidal thoughts. It encourages mental health centers to re-evaluate their policies and training, screen every patient for suicide and talk more openly about suicide with patients and employees.
The initiative also encourages:
including survivors of suicide and suicide loss in planning and leadership of the center;
training the entire workforce;
ensuring every patient has a safety plan that works for them;
using effective, evidence-based treatments;
providing continuous support after acute care;
constantly reassessing internal policies and improving them if needed.
McGinty, Fitzgerald and Andrews are all working on establishing Zero Suicide in Missouri.
"We want to increase mental health professionals' awareness and comfort level with suicide," McGinty said.
Missouri had its first Zero Suicide conference in April and plans to have another one in March 2017. Seventeen community mental health centers attended the inaugural conference, including New Horizons from Columbia and Compass Health Network from Jefferson City.
The plan is to eventually get all community mental health centers in the state to implement Zero Suicide, McGinty said.
Strait attended the conference and has since implemented the program at the Community Counseling Center, where he is a counselor, in Cape Girardeau, Missouri. He likes that Zero Suicide places a lot of emphasis on lived experience. It helped him accept his.
"It went, for me, from something I used to be ashamed of; I used to view it as my curse to viewing it as actually a gift," he said.
He's seen great improvements at his work.
"Everything we look at, we ask 'How do we make sure our clients are safe?' And all of our clients. Not just the ones that we know," he said. "Because there's sometimes people that die that are just overlooked."
One of the most beneficial changes, he said, is the "no show" letters the center sends after a patient has missed an appointment. Those letters used to just warn the patient that he or she would be discharged if another appointment was skipped.
"If you're depressed, you might miss an appointment," Strait said. "Then you're going to say 'OK, I'm not going back'."
With Zero Suicide, the letters now read like: Hope things are going well. We're here if you need us.
Implementing Zero Suicide, speaking more openly about suicide and mental health and changing the stigma will help drive the suicide rate down statewide and nationally, Fitzgerald said. Then hopefully, she said, Missouri will drop in the suicide rate rankings.
"I don't want to be 16th, 17th or 18th," she said. "I want to be 50th."