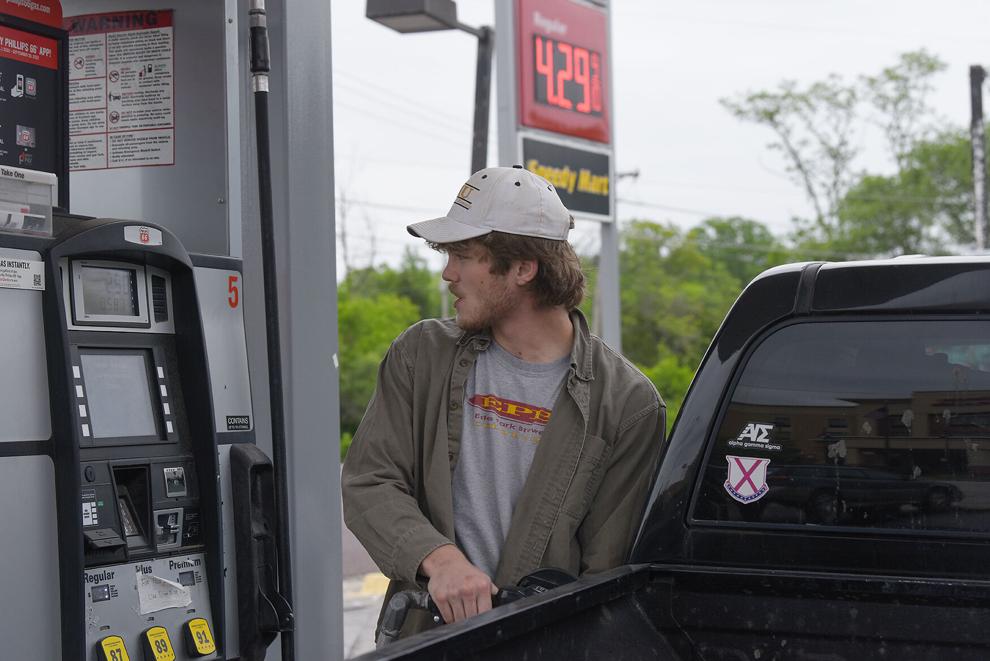 Missourians are feeling the burn of record-high gas prices with Memorial Day travel ramping up.
While expensive, average Missouri fuel costs still have some ground to cover before setting an inflation-adjusted record.
The average price for regular gas in Missouri stands at $4.17 per gallon — a 53% increase from the same time last year. Missouri has set record gas prices every day since May 11, according to AAA.
The phrasing of "record" gas prices can be misleading without proper context, said Victor McFarland, an associate professor of history at MU specializing in the global oil market.
"These gas prices aren't really historic highs," McFarland said.
Real record gas prices in Missouri were set on July 16, 2008. The average inflation-adjusted price that day for regular gas in Missouri was $5.29 per gallon.
"Right now, inflation-adjusted gas prices are still lower than that ," McFarland said.
Zack Miller, associate chair of the MU economics department, concurred that drivers have paid more in net value at the pump before. But he said the higher prices point to a more significant concern over rising inflation.
"In some sense, that dollar amount is going to increase simply because the value of $1 is unfortunately decreasing," he said.
That sentiment was reflected at gas pumps Wednesday in Columbia.
Bill Williamson, a medical courier based in Jefferson City, said he has seen the effects of this rapid increase firsthand. Filling his tank at a QuickTrip off Old Highway 63, Williamson explained that elevated gas prices will make working some side jobs difficult unless they raise their rates.
"It's like, you want me to come do this (delivery) in Columbia? I'm not," Williamson said. "I might make five bucks. Unless I'm going for two or three or four sets (of deliveries). I make nothing on one run."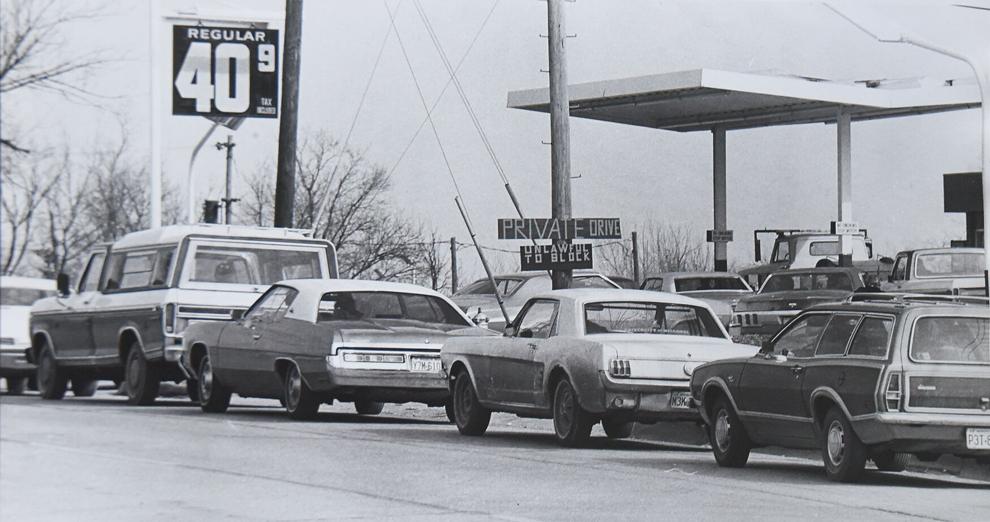 Oil and gas price volatility have been typical for the American economy since the 1970's, when gas shortages arose in 1973-74 and 1979.
Then, a 55 mph speed limit was imposed nationally to curb gas use and many gas stations flew red, yellow and green flags to indicate if they had no, some or plenty of gas. Some states imposed restrictions on purchases, limiting them to even or odd days of the month based on the final numeral on license plates.
Those scenes are not being repeated now.
And similar price swings on gasoline have occurred in 2008 and 2014. But the COVID-19 pandemic, and global shutdowns, presented a market shock unprecedented in peacetime, McFarland said.
Missouri's average gas price plummeted from $2.31 per gallon in February 2020 to a four-year-low $1.44 per gallon in April 2020. Refineries across the country closed permanently, or switched operations in response to decreased demand.
"The pandemic was a very unusual situation, and so those super-low gas prices in early 2020 were very unusual," McFarland said.
The history professor explained the rapid shift back to high gas prices in 2022 is an indication market demand has recovered.
"It's still a very serious situation for a lot of people," McFarland said. "The swing has been dramatic. But this is a product of the bounce-back from the pandemic that was going to drive demand up sooner or later."
He said he has seen some yearly household estimates for gasoline jump from $2,800 to over $5,000.
"There is no doubt that we'll see the impacts of these price increases on household budgets, and consumers will feel it," McFarland said.
Miller said current conditions reminds him of the 2008 gas price spikes, but consumers need not panic.
"When prices are high, they do go down," Miller said. "It may not be soon, but prices do fluctuate."
The bounce-back in gas prices is not expected to put a damper on Memorial Day festivities.
AAA is expecting 790,000 Missourians to travel during the weekend, 700,000 by car. While these numbers are down 12% from pre-pandemic Memorial Day travel levels, they are up 10% from 2021.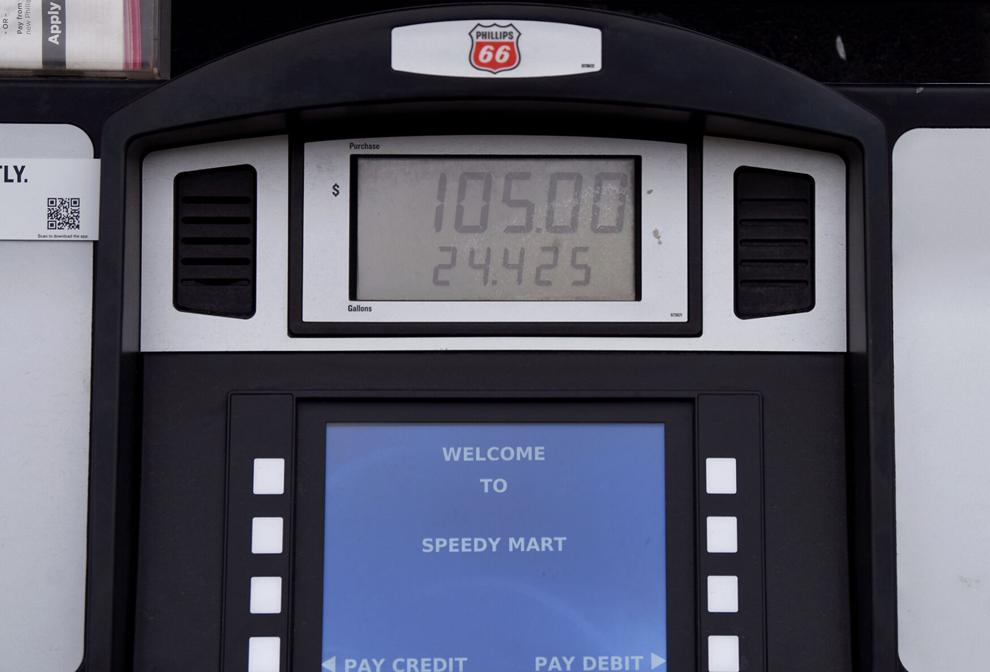 "There are people who will change, cancel or delay their plans," McFarland said. "But many have been planning to travel for two years, and I doubt this increase will stop them."
Nikki Quint was gassing up her car Wednesday for Memorial Day camping with friends in Eldon. She said that it cost $15 to fill up her car in 2020, and it's almost $50 now.
"It's not like we can't afford it. But I mean, it is impacting everything," Quint said. "Like, how far do we want to go for camping?"
"I mean, you're doing something fun for the weekend right?" she said. "Maybe we won't be driving to Florida."
And despite reservations, Williamson said his wife may get them out of town for the weekend. "It'll probably be within 100 miles," he said.
Ed Hassinger, chief engineer of MODOT, said the department has been seeing close to pre-pandemic levels of traffic on Missouri roads in recent weeks.
The department is expecting a heavy holiday rush, and MODOT will be shutting down temporary work zones from Friday afternoon through Monday.