On a Sunday morning in St. Louis, a crowd of churchgoers was singing hymns to the sound of organs and a piano.
But perhaps the most spirited accompaniment was coming from the fifth row, where Will Lyons, then 9, was beating on the pews with pens and pencils.
This was no rebellious child, but an aspiring musician getting his first taste of drumming.
Graduating from thumping pews to banging pots and pans with a wooden spoon, Lyons began to cultivate the love of music and faith he has brought to the Columbia community.
Lyons, now 26, can still be found in churches across Columbia, playing music in a more traditional fashion.
Firefighter by day, musician by night, Lyons divides his free time between the choir at United Community Cathedral and a performing arts ministry.
The ministry, called Instruments of Praise, is a group of 25 performers who incorporate song, dance, theater and spoken word to tell biblical stories, mostly in churches around Columbia.
The group is based at The Crossing, a large evangelical congregation off Grindstone Parkway, but it performs with other church groups and also travels to the South Hampton Place nursing home once a month to perform.
"There's an old song by The Consolers that says, 'may the works I've done speak for me' and that's something that I live by," Lyons said.
A different kind of instrument
Lyons was playing at The Crossing last year for a gospel performance when church member AnDrea Jackson, moved by his talent, asked him to start a choir with her.
The Crossing houses several music-oriented groups for men, women and youth, but Lyons and Jackson wanted to form something that defied a category. After months of planning the music, recruiting members through Facebook and inviting churchgoers to an informal practice, Instruments of Praise was born.
"It took a lot of prayer and fasting, and the Lord kind of revealed as to what He wanted us to do and how we should go forth with it," Lyons said.
The result was a performing arts ministry with an emphasis on diversity at every level — from the makeup of the ensemble to the types of songs performed, from traditional gospel to contemporary. Its application seeks visual artists, Christian rappers, actors and sign-language interpreters.
Some members have been in church choirs all their lives, while others had never sung publicly before. A few joined the group for comfort after a death in the family, and some were simply moved by a performance they saw.
"We want to be able to reach out to different people through many different avenues because we know not everyone can be reached through music," Lyons said.
Weekly rehearsals are forums for discussion about personal hardships or successes, often including tears, laughter and, always, song. Volume and individual freedom of expression are encouraged. Unconventional practices, such as forgoing sheet music, are intended to develop a more authentic choir experience.
"We learn by listening, repeating and feeling," said member Jan Ritter. "We use our talents, backgrounds and stories to contribute in our own way."
The group worked for five months on a show in early November at The Crossing called, "Let There Be Worship." They generated so much interest that a Praise and Graze event was held to give new members a taste of the experience.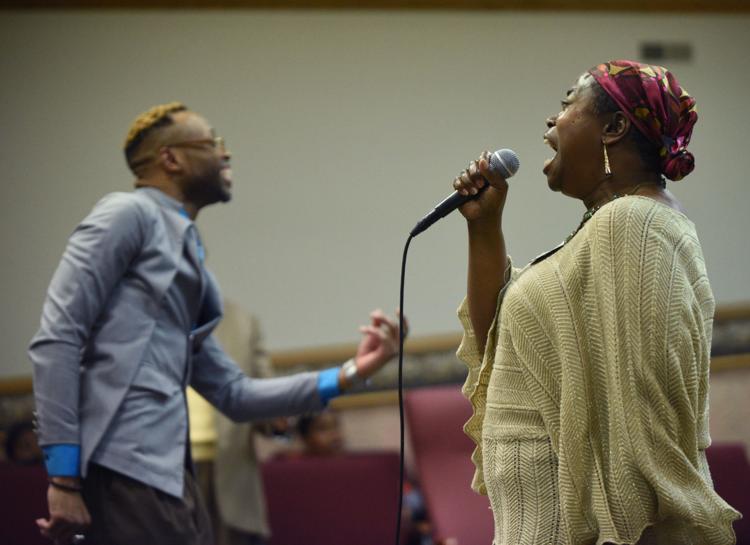 "I consider it an honor and a privilege just to be used by God for this work," Lyons said. "I think it's phenomenal, and I always tell the members of IOP to embrace this moment because God could've chose anybody, but He chose us to do this."
The music man
Lyons grew up in St. Louis in a church led by his pastor father. After experimenting with drums while his mother sang in the church choir, Lyons began playing every Sunday.
"It was that moment that I first just kind of sat down and did it," he said. "I never had a lesson or anything like that. It was just kind of there."
Playing drums developed into learning piano, organ and bass guitar, cycling through several instruments in an effort to refine his skills.
"My grandfather, he led a great big band in St. Louis, and he's a trumpet player. He's always like, 'You know, you make sure you stay up on your craft, practice your craft and you'll be good at what you do,'" Lyons said.
When it came time to choose a college, he decided on MU and gravitated to the only thing he had ever known: music.
He immersed himself in several aspects of the program. He was a member of the Marching Mizzou drumline, then a drum major during his junior year. He also played in the percussion ensemble, jazz band and piano for the Legion of Black Collegians' gospel choir.
"It really kind of strengthened my leadership because it takes a special person to lead, you know, 300, 350 people," he said about his role as drum major. "That's 300 different personalities you have to deal with ... at one time."
He credits mentorship, practice and exposure to a variety of different musical genres for his leadership skills. But Lyons admits it takes more than sheer faith to get a steady presence in a small-town music scene.
"It doesn't come by osmosis or anything like that," Lyons said. "You're never going to wake up and say, 'Oh, I can do this now.' It takes work."
A second act
On March 3, 2000, Lyons' childhood home in St. Louis caught fire, and the family almost lost everything. It was an event that motivated his interest in firefighting.
"(The fire) has always kind of been in the back of my mind. But I had never considered it until I started working in the health care field," he said. "I always want to be at a place or a job where I don't want to wake up and say, 'Ugh, I do not want to go to work today.'"
He was recently certified as a probationary firefighter, an accomplishment that makes him proud. He admits his plate has never been fuller.
Any given day can include working at the fire station, learning new music at United Community Cathedral and leading Instruments of Praise meetings. He also spends time with his 3-year-old son, Will III, and reads Scripture regularly.
Lyons said his two biggest passions feed one another, making the transition from saving lives to playing music easier on a busy work day. But being a firefighter can take its toll.
"(Music is) what keeps my head level. Working in this field you see a lot of stuff, and it can kind of screw with your head a little bit," he said. "But given the background I have in church and in the ministry and in my faith and everything, I always have the Lord to depend on. As the Scripture says, 'Trust in him at all times,'" he said.
The musical gene is still very much alive, he points out. He watched his son pick up a set of drumsticks when he was 2 while the radio was playing in the car.
"That's amazing for him to pick up on that at his age," Lyons said with a laugh.
"I'm definitely going to capitalize on that, and we're going to start him playing here really soon. Starting out young, he'll be better than me by the time he gets to my age."