CENTRALIA — Associate Pastor Scott Westfall believes in being prepared for the worst.
Westfall, associate pastor at First Baptist Church of Centralia, is no stranger to church violence. In 2009, the pastor who officiated at a friend's wedding was murdered by a gunman at the First Baptist Church in Maryville, Illinois, during Sunday services.
After Sunday's massacre at a church in Sutherland Springs, Texas, Westfall said his church began looking into safety training for churches. The congregation already has safety protocols in place in collaboration with both local schools and the nearby police station.
But Westfall is committed to a closer evaluation of the church's current safety plans.
"Evil is real, and bad things happen all the time," he said. "But we can't just stick our heads in the sand and expect that it won't ever happen here."
Bill Schnackenberg, pastor of Centralia United Methodist Church, said his church has yet to make any decisions on updating security protocol in the wake of the shooting in Texas. They are working on orchestrating a workshop, however, in order to create dialogue on the issue.
Area churches take a wide variety of approaches to security.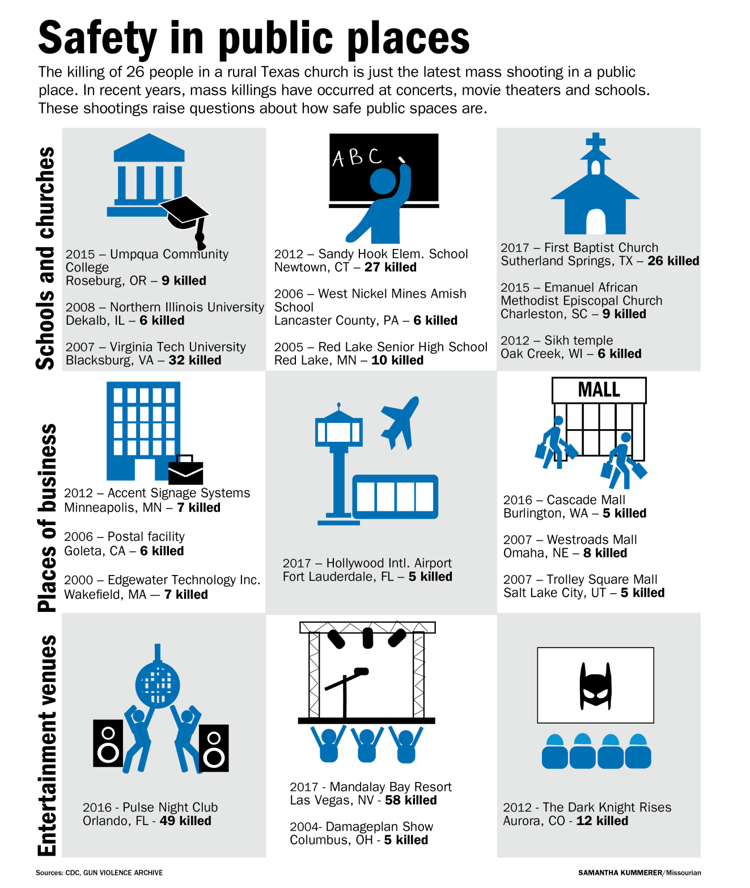 the staff is looking into reinforcing existing security policies, said office manager Adriene Floyd. That includes an active-shooter protocol that involves locking down the building.
First Baptist Church in Fulton has made security a priority for several years, said Pastor Gary Shultz.
Shultz said the church has several members who are military veterans or highway patrol officers, and one or two members during each service is tasked with keeping an eye out for potential problems. 
They greet people at the door before going into church, Schultz said, and they know what things to be aware of. He added that no one in his congregation has expressed concern about attending church.
Mark Tisch, pastor of Moberly's Central Christian Church, said an attack like the one Sunday won't keep people from coming to church.
"They still see church as a place that's very important to their lives and their spiritual lives — and a very important place for hope to be found."
Tisch did say churchgoers have begun to think about how to make churches more secure.
"We started looking at them over the summer, and this is going to be another impetus in trying to restart that effort and be more proactive to prevent something like this," he said.