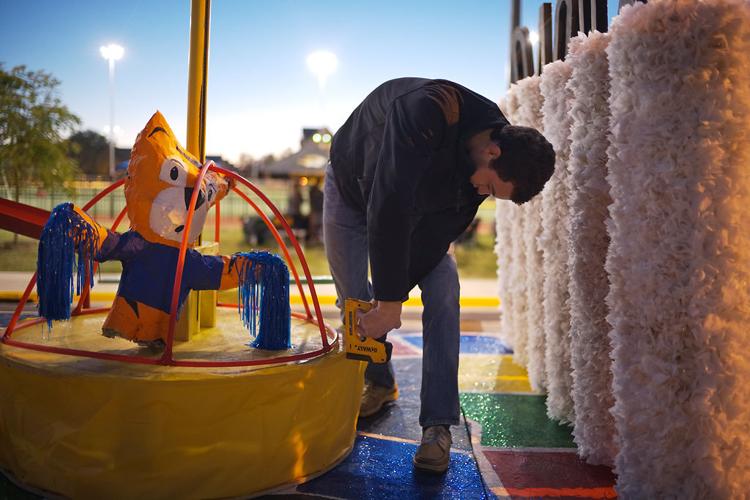 1. Campus DecorationsCheck out Greektown as it transforms into a showcase of different movie displays, from "Shrek" to "Titanic." Pairs of sororities and fraternities will perform short skits and have different activities for children. Food trucks will also be in Greektown, offering up a taste of Columbia until 9 p.m.
When: 6 to 9:30 p.m. Friday.
2. South End Zone Open HouseThe football team's new $98 million home will be open to the public for tours. Get a glimpse of the locker room, weight room and training room.
When: 7 to 9 p.m. Friday.
Where: Memorial Stadium's South End Zone.
3. Homecoming Step Show
Come watch Pan-Hellenic Council organizations battle it out for the top skit, step and stroll routines. They will also be featuring performances from dance groups FYE and Main Attraction. Tickets can be purchased at the MU box office.
Cost: $10 for students, $12 for nonstudents.
4. Midway Area Garage SalesIn need of some new furniture? Clothing? Appliances? Midway Family Child Care is hosting a variety of garage sales this weekend.
When: 7 a.m. to 2 p.m. Saturday and Sunday.
Where: Midway Crossing and Trails West neighborhoods.
5. Hartsburg Pumpkin FestivalIf homecoming tailgates and football games aren't your thing, head on over to Hartsburg for its annual pumpkin festival. The event kicks off with a parade Saturday morning. Activities include fall classics such as hayrides, pumpkin carving and a straw maze.
When: 9 a.m. to 5 p.m. Saturday and Sunday.
Where: Hartsburg, access via U.S. 63.
6. Homecoming ParadeThe streets of downtown Columbia will be taken over with floats from organizations across Columbia and performances from local marching bands. Get there early to secure a prime candy-grabbing spot!
Where: Downtown Columbia.
7. Missouri Homecoming Football GameCatch the Mizzou Tigers as they take on Ole Miss in the big game. Marching Mizzou will perform at halftime, and the 2019 Homecoming Royalty will be announced.
8. Rhett's Run Mountain Bike RaceRhett's Run Mountain Bike Race is celebrating its 20th anniversary. After being postponed in September, the weather is looking better for this weekend's race. Preregister online or stop by at 8 a.m. for race-day registration.
Where: Columbia Cosmopolitan Recreation Area, 1615 Business Loop 70 W.
9. Halloween Pet PicturesTime for your pet's close-up! Lizzi & Rocco's Nifong location is hosting a Halloween photo shoot. The proceeds of the event will be donated to Unchained Melodies Dog Rescue.
When: Noon to 4 p.m. Sunday.
Where: Lizzi & Rocco's Natural Pet Market, 503 E. Nifong Blvd.
10. Blues Jams on the RiverEnjoy the view of the river while you jam to some blues. Musicians Kenny Hunt, Johnnie D and Jake Hanselman will be performing. Plus, Gator Wagon will be there serving up delicious food, including alligator.
When: 4 to 8 p.m. Sunday.
Where: Cooper's Landing, 11505 S. Smith Hatchery Road.