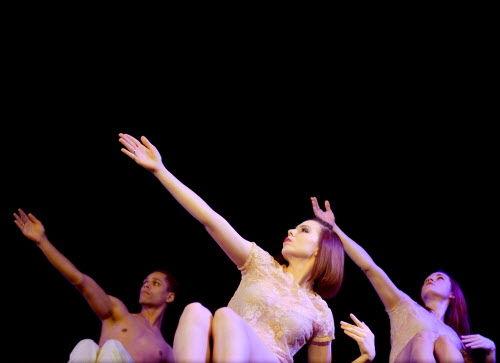 Take advantage of special deals, gourmet chocolate samples and more at Les Bourgeois Vineyards Tasting Room & Gift Shop this weekend.
When: 10 a.m. to 8 p.m. Friday and Saturday, 10 a.m. to 6 p.m. Sunday. 
Where: Les Bourgeois Vineyards Tasting Room & Gift Shop, 12847 W. Route BB, Rocheport.
Start your holiday shopping early at this annual sale hosted by the Columbia Weavers and Spinners' Guild. Find handwoven and hand-dyed scarves, luxurious shawls, cozy baby blankets and more.
When: 5:30 to 8 p.m. Friday, 9 a.m. to 4 p.m. Saturday and 11 a.m. to 3 p.m. Sunday.
Where: Boone County History & Culture Center, 3801 Ponderosa St.
Enjoy a night at the 14th annual fall performance inspired by the challenges of human interaction because of expanding technology. See the beauty of cultural uniqueness, personal connections and diversity in "Dialed Out."
When: 7 p.m. Friday and Saturday.
Enjoy this riveting musical about the struggles and successes of a fictional, black female R&B group, The Dreamettes. This musical is filled with powerhouse vocals and tells a story of female empowerment.
When: 7:30 p.m. Friday and Saturday, 2 p.m. Sunday.
Where: Columbia Entertainment Company. 
Cost: $14 adults, $12 for children, students and seniors. 
Find yourself somewhere over the rainbow in this modern retelling of the classic children's story "The Wizard of Oz," which reflects contemporary African American music. This musical is great for audiences of all ages.
When: 7:30 p.m. Friday and Saturday, 2 p.m. Sunday.
Where: Rhynsburger Theatre.
Kick back and relax with this weekend film. In the newest adventure of this film franchise, the Men in Black will take on their biggest threat yet when they realize someone in their organization is a mole.
Where: Wrench Auditorium.
Support the Central Missouri Honor Flight by joining them for a delicious breakfast this Veterans Day weekend. Donations are accepted and appreciated.
When: 8 to 10 a.m. Saturday.
Where: Fraternal Order of Eagles Aerie 2730, 2513 N. Stadium Blvd. 
Cost: $5, free for veterans.
Check out this out-of-this-world event with science activities and planetarium shows that the whole family will enjoy. Attendees can look at the sun, learn about volcanoes and see live reptiles. Tickets can be reserved online.
When: 11 a.m. to 4 p.m. Saturday.
Where: CPS Planetarium, 4303 S. Providence Road.
Cost: Free, but $5 per person donations are encouraged.
Don't miss this country music duo as they make a stop in CoMo. Country singer and songwriter Drew Baldridge will be featured as the special guest. Doors open at 8 p.m.
Cost: $26 in advance, $28 day of show.
Cuddle up with cats during this sensory-friendly event. The café will provide a calm setting with limited stimuli distractions to make a positive, therapeutic environment. Also, 10% of the proceeds will go to MU's Thompson Center for Autism and Neurodevelopmental Disorders when you mention this event.
When: 1 to 4 p.m. Sunday.