What is the right way to protest?
Whether one kneels during the national anthem, holds vigils, blocks traffic, damages property or registers to vote, local business owner Roy Lovelady — who helps People's Defense organize peaceful protests in Columbia — understands the competing and overlapping visions of what a protest ought to look like.
For more than two weeks now, online and in Columbia's streets, residents and students have come together to revisit their experiences of what it means to be black in America as they mark the death of George Floyd at the hands of a white Minneapolis police officer.
Several individuals, each driven by their own experience and resolve, have stepped forward to help make the peaceful protests something meaningful and lasting.
"We have people that just want to be heard," Lovelady said. "I know the racism that exists in this world exists in my own backyard."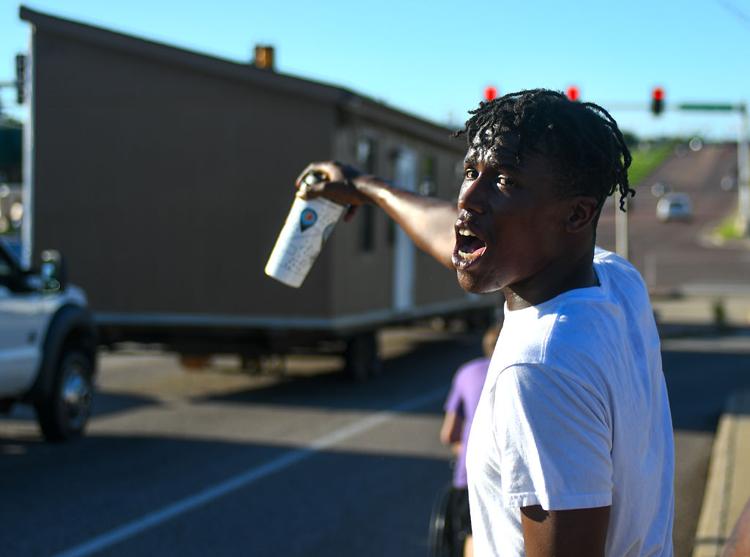 DeMarco Winston — who helped start People's Defense, a local organization aiming to "Protest police brutality, racial injustice and inequality in the criminal justice system against blacks in America" — began walking downtown after Floyd's May 25 death in search of people protesting the mistreatment of black bodies by police.
"I came down here (downtown Columbia) on a Friday, and nobody was down here," Winston recalled. "Come down Saturday — nobody. I just kept coming down. Saw a girl down (Monday) when I showed up, and I tried to help her … . And from there, I saw how the crowd was."
He moved with the crowd that June 1 night toward the police station, where protesters met officers at the base of the building's parking lot ramp. Tension rose as protesters began making their way up the incline. They were met with threats of pepper spray from one officer.
"Gary Lewis, who really was motivation throughout the whole process, when we first got up there, he's the one that initiated, 'Hey, let's take a knee with them (police),'" Winston said. "And when we took that knee, I think it was a very important moment. And from that point, I kind of just felt like, 'Hey, I think I have a voice here, and I can help.'
"I honestly do feel like I belong in this place (protesting), like this is what I'm supposed to do," he said. "I wanna make a difference. I wanna help people change their mindsets.
"You know, if people are angry, I want to help them find a way to show their anger in better ways," Winston added. "That's why I'm here."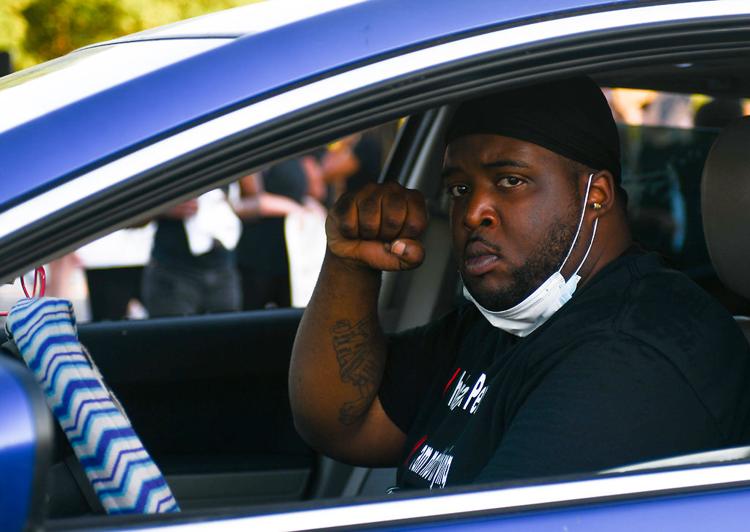 As COVID-19 drives unemployment and keeps people socially distant from each other, while disproportionately affecting black Americans, protests surround the bereaved with the living so they do not dwell on the dead.
Dr. Cal Spinks, a mental health practitioner based in St. Louis, spoke in a virtual interview with the Missourian to how the backdrop of the pandemic works against people's grieving processes and time-honored rituals.
"If you think about the pandemic, now over (110,000) folks are dying, or have died," Spinks said. "So that's already a huge community trauma. I think, unfortunately, the pandemic has worked against this (grieving) process, because it's been keeping us separate from folks for the most part.
"Grief responds to awareness, attention and expression," Spinks said. "One thing that people need to be mindful of is when someone else is grieving. Sometimes it brings the emotions out in us that we don't want to feel, right? So we don't want to have those conversations, or we minimize it."
Outpourings of grief spill out into communal spaces where residents can mourn with each other.
"They are angry at the government," he said. "They're angry at the virus. It's very critical for folks to get these feelings outside of them."
Historically, the right to protest has been challenged in different ways.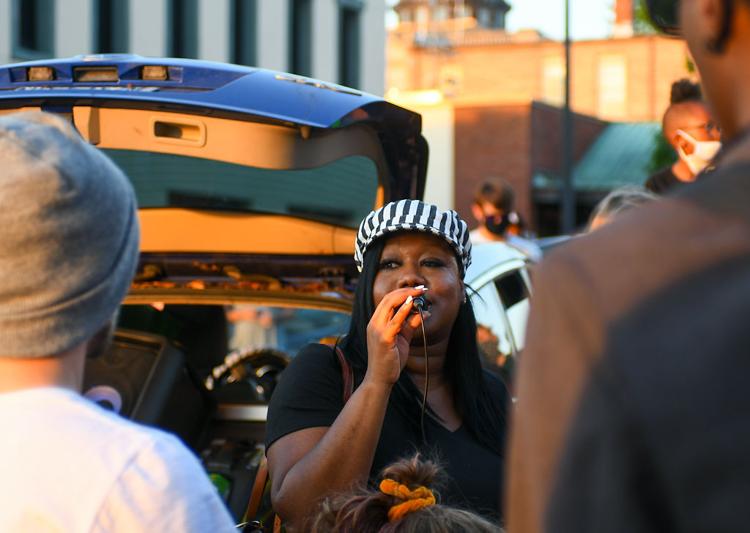 Last week, local lawyer Robin Winn, who is also on the executive committee for the local NAACP chapter, recognized the moment to help coordinate with organizers after the tense Monday night situation at police headquarters. By the next morning, several organizers, including Lovelady, Winston and Lewis, met at her office, signaling a new and cooperative vision to crowdsource and amplify the community's message to their city under People's Defense.
The loose group of organizers tied to the community held a rally that Tuesday evening with that same, focused frame.
"I have a really big concern, of course, with police brutality," Winn said as she introduced herself to the crowd that gathered near the Boone County Courthouse. "As a criminal defense lawyer, I see it on every level — the systemic racism we all know exists that our country is being pressed to acknowledge right now."
Informing protesters of their constitutional rights to gather in protest and dispel their concerns about legality of their actions was an additional motivation for Winn.
"That was another reason I came out here," she said. "I just wanted to let them know their rights while protesting — what they can do lawfully, and what would be considered unlawful.
"The amount of people, the demographic, you know, different ethnicities, the age group, just seeing how we really just came together in that moment," Winn said, "everybody felt it. You know what I mean? I felt (Floyd's) pain and understood the cause."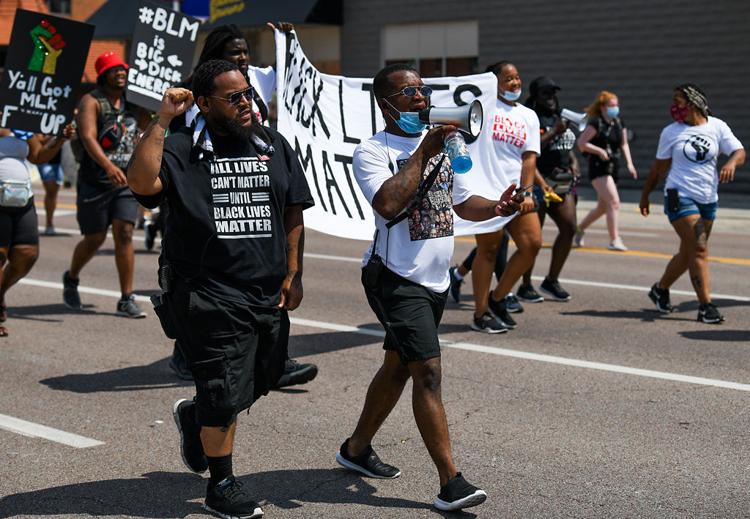 Markiez Smith, who organized Columbia's largest protest so far last Sunday, described the turnout of more than 1,000 as "wonderful."
"I'm coming out here because I want ya'll to be aware," Smith said in an interview with the Missourian. "They're killing us. We didn't ask for that. And so we don't need — I don't need — permission to come out here to put something together.
"I just wanted to pop in, and I wanted to show out," he said with a tender fervor.
Over the past two weeks, the Columbia Police Department has escorted the marchers and at times individual officers have taken knees to "recognize their message," Community Relations Officer Mike Hestir said. But there has been community concern about the lack of information from police about the disposition of cases regarding several individuals who drove vehicles that struck protesters or attempted to enter areas police had set aside for protesters. On June 4, police detained a protester who was walking outside a road lane police designated for demonstrators.
Lovelady hopes the community's efforts continue to evolve into a sustained movement as demonstrations shift to a calmer, but no less determined, focus on addressing racial injustice. The desire is for real, tangible changes to be discussed and implemented at a table. Such a session has been offered this coming Thursday by the police department to protesters.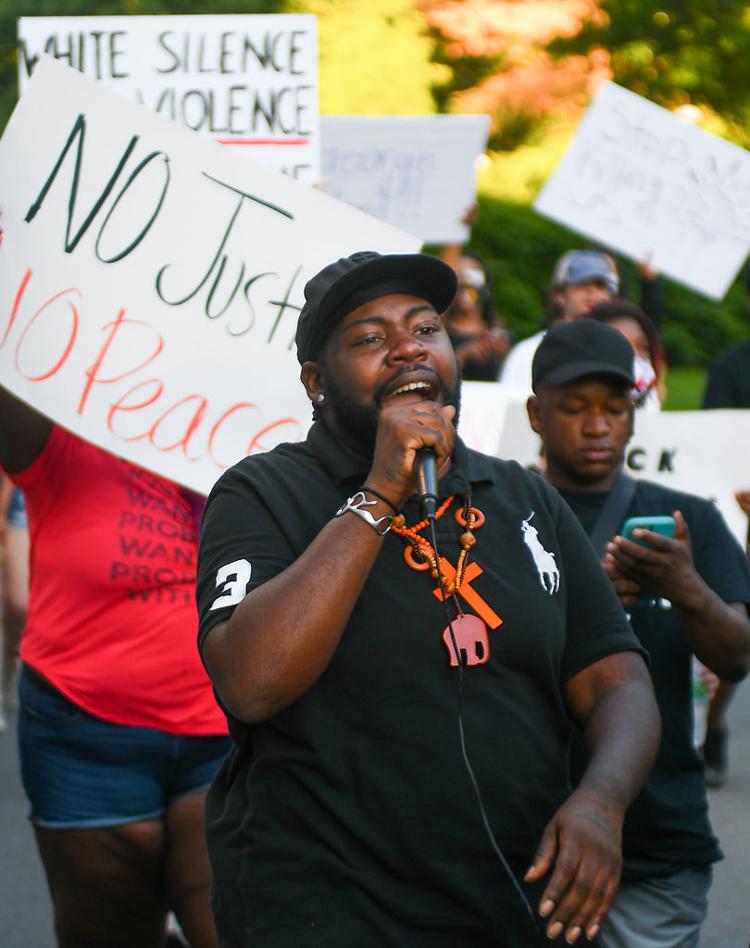 The role of the organizers has evolved and includes details such as protocols for chants, Lovelady said. Whoever is at the front says a chant five times repetitively "so everyone ends up on one chord."
"Now to me, because I see problem-solution, the problem was the police officers were not arrested," he said. "The solution is now they got arrested. So now we feel like we have to change our chants and different stuff like that."
Lovelady added that the next step is that "we need a conviction."
"Now it's time to move on to petitions," he said. "We need to petition the courts to make sure they do what is right this time."
Spinks notes that "a lot of people think the end of the grieving process is acceptance. But resiliency comes when you can find meaning out of it and take action."
At last Sunday's protest, over a thousand gathered around the amphitheater to serenade, "Lift Every Voice and Sing."
The words "Let us march on 'til victory is won," filled the air before marchers took to the streets.