As one of the most chronically underfunded government agencies, the Missouri Department of Transportation has been spending cash balances that have built up over time to pay for basic maintenance of Missouri roads.
The members of a task force charged with finding a source of funding for roads and bridges in Missouri are strongly considering an increase in the gas and diesel tax.
The 21st Century Missouri Transportation System Task Force, a group comprised of lawmakers and private citizens, discussed several options that would increase MoDOT's funding at a meeting on Oct. 11 in Jefferson City.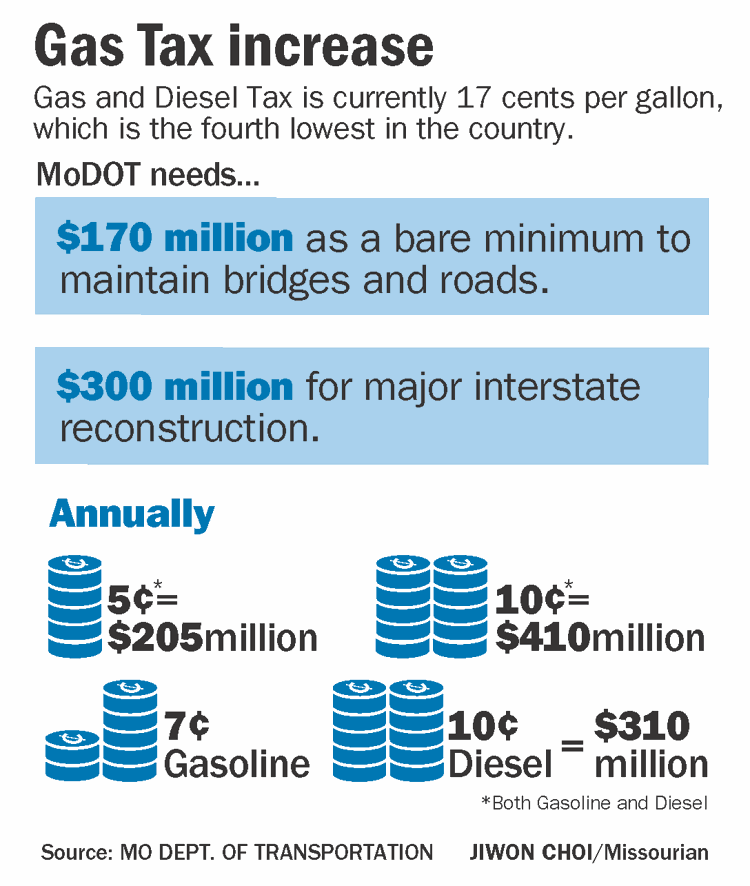 Most members of the task force, including its vice chairman, Sen. David Schatz, R-Sullivan, supported a solution involving some sort of increase in the fuel tax, which hasn't been raised since 1996. Since the Hancock Amendment prevents the legislature from raising the tax more than about 2 cents per gallon, the task force largely agreed that a referendum on the tax would be the most viable option.
One of Gov. Eric Greitens' appointees to the task force, David Hogan, had perhaps the strongest position in favor of raising the fuel tax. As the president of Hogan Transport, a St. Louis-based trucking company, Hogan stands to gain financially from lower fuel prices, but said the dilapidated state of Missouri's roads and bridges warrants an increase in the tax that has been static for more than two decades.
"I'm a business person. I'm not for higher taxes, believe me. But, let's not forget that the Missouri fuel tax is one of the lowest in the country," Hogan said. "We're 47th (when comparing fuel taxes), and we're arguing over do we raise it or not. It's kind of an embarrassment that we're not responsible enough to come up with a solution to fix the infrastructure in this state. We owe it to the citizens, and if we all got behind it, the citizens would approve it."
However, not everyone was on board with raising the fuel tax. Sen. Bill Eigel, R-St. Charles, said he would never support an increase in taxes, preferring instead a broader tax reform that would move more of the state's revenue to transportation needs. Money from the state's general revenue makes up less than 1 percent of MoDOT's total revenue. Sixty-two percent of the department's revenue comes from user fees — like motor vehicle registration fees — and the gas tax.
"As long as we're in an environment where the people of Missouri are already sending record amounts of revenue to Jefferson City, I will not support tax increases," Eigel said. "The effort of getting any kind of tax increase through the General Assembly could be challenging, and the people have already been faced with a question of whether they want increased taxes to pay for roads and they overwhelmingly said 'no.'"
Eigel referenced a 2014 ballot initiative known as Amendment 7, which Missouri voters rejected by an 18-point margin. The amendment would have raised sales and use taxes to pay for the state's transportation needs.
Hogan said he believes that previous measures like Amendment 7 have failed because voters were skeptical about where the money would actually be used. With a fuel tax, it would be clear that the new revenue would be allocated to fund roads and bridges.
The numbers
Missouri has the fourth lowest fuel tax in the country at 17 cents per gallon. MoDOT spokesman Bob Brendel said the department built and repaired many roads and highways shortly after the tax was initially raised, but has seen its productivity and purchasing power drop off in recent years due to inflation.
A 2 cent per gallon increase in the fuel tax would generate about $82 million in revenue annually, while a 10 cent hike would bring in about $410 million. The task force has also explored raising the gas tax by 7 cents and the diesel tax by 10 cents, which would generate an estimated $310 million. Of that money, the state would receive 70 percent, and the county and city where the driver buys their gas would each receive 15 percent, according to MoDOT.
MoDOT requires $170 million in additional funding to keep roads and bridges in their current condition, however the department has identified $655 million in other high-priority unfunded needs, according to the department's "Citizen's Guide to Transportation Funding in Missouri." Rebuilding Interstate 70, which the department characterizes as a "long overdue" improvement, is at the top of the list.
In total, the department has calculated that the average Missouri driver would have to pay an additional $16 per month to fund all the needs.
The task force will meet in St. Louis Wednesday to discuss a potential fee for owners of electric and hybrid vehicles, who would otherwise circumvent the fuel tax. The task force must make its final proposal to the legislature before Jan. 1.