City officials including the city manager, mayor and council members were tight-lipped Thursday about the reason Police Chief Ken Burton had been placed on paid administrative leave.
Publicly debated issues, such as community policing, have caused tension between the chief, some city officials and community leaders. But emails obtained by the Missourian through a Sunshine Law request indicate that Acting City Manager John Glascock and Mayor Brian Treece had issues with the chief's work habits.
Missourian reporting suggests the police chief's work schedule wasn't consistent with what he pledged to the city manager.
The announcement that Burton had been placed on leave was made via email to city staff and news release Thursday morning. Deputy Police Chief Jill Schlude was named acting police chief. She has been with the department for more than 13 years.
Burton has had his ups and downs since he became chief in 2009, taking heat for low officer morale, too little action on racial profiling in traffic stops and, most recently, little enthusiasm for citywide community policing. After City Manager Mike Matthes resigned Nov. 20, speculation increased that Burton might not endure until his projected retirement in 2020.
In a Nov. 28 email, Glascock told Burton he was "disappointed" the chief had not attended a community breakfast. He followed that up stating that he needed to know if Burton planned to be out of the office "for more than a couple of hours" and asked to be provided with Burton's regular office hours.
Burton responded by saying "no problem" and that he "will generally be in the office from 8-4 p.m." and seldom went out to lunch.
The Missourian has been monitoring Burton's arrival and departure at police headquarters over the past few weeks. On multiple occasions, Burton arrived well after 8 a.m., usually between 9:45 a.m. and 10:30 a.m. On some occasions his vehicle was not at the station by 11 a.m. It is not clear where he was prior to his arrival or whether he was working on city business elsewhere.
In another email obtained by the Missourian, Treece expresses displeasure that Burton did not attend the ribbon-cutting for a new substation. Burton responded that he had been doing media interviews on downtown shootings. In the mayor's email, he notes that "I did observe the Police Chief at the bar of Flat Branch Brewery at approximately 4:53 p.m. this afternoon."
In addition to monitoring the chief's arrival at the police department, the Missourian also had reporters at Flat Branch Pub & Brewing starting around 4 p.m. on multiple occasions from Oct. 31 to early December. On more than half a dozen occasions, reporters observed Burton arriving shortly after 4 p.m., sitting at the bar and drinking alcohol.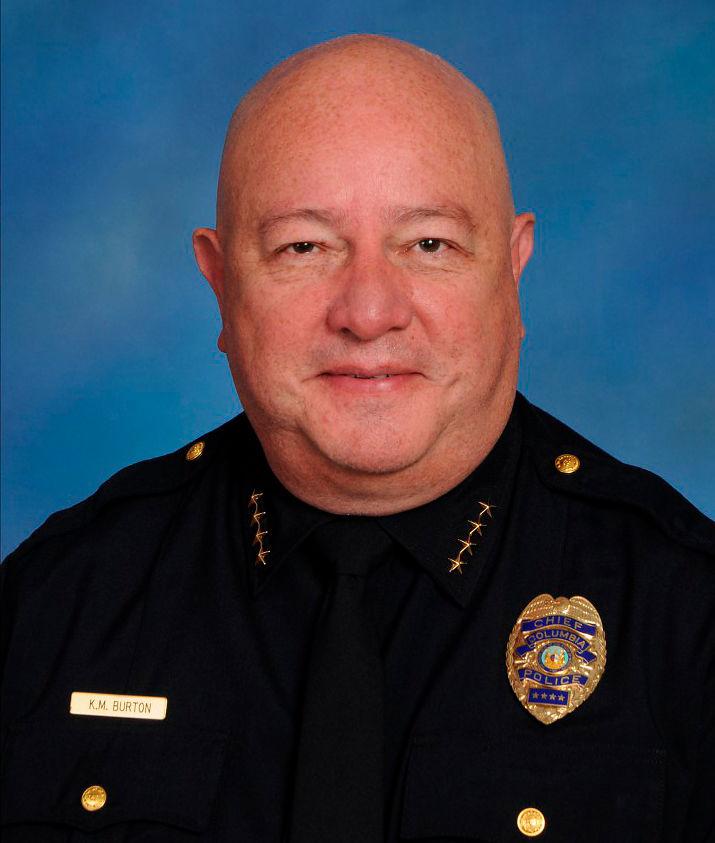 Although Glascock did not return calls Thursday for comment about his reasons for placing Burton on leave, in an interview with the Missourian on Dec. 12, Glascock said he had been evaluating all department heads, including Burton, regarding department performance. He said whether the chief would remain in his post was "up to Chief Burton."
Treece said Thursday morning that he learned about Burton's change of job status from Glascock's email to city staff and that according to the City Charter, it was the city manager's decision to make. He also said he didn't know what Glascock's reasons were for placing the chief on leave but added, "You can look over the last year of issues there."
"Glascock is a strong leader with high expectations," Treece said.
He said that human resources rules prohibited him from saying more about Burton's job status.
"At this point, it's an HR issue, and one has an expectation of privacy," he said.
Treece was also circumspect about the choice of Schlude as acting chief.
"I think she's been handling a lot of day-to-day operations of the police department," he said.
But he again emphasized that it was the city manager's decision and that he had confidence in Glascock.
Burton, 63, was selected to head the department in February 2009 after a lengthly process and began serving as chief in April 2009. His seven years of experience as a police chief in Haltom City and Bryan, Texas, and his emphasis on community policing were key to his selection. He had served in law enforcement for 28 years when he was hired for the Columbia job.
The job description composed for the position explicitly noted a desire on the part of the community and then-City Manager Bill Watkins to develop "a more comprehensive community policing program."
In recent months, Burton has been criticized by community members and Fourth Ward Council member Ian Thomas for his lack of enthusiasm for citywide community policing. After Matthes' resignation, Thomas has advocated for a "change in leadership" at the police department.
At the Columbia City Council's meeting on Nov. 19, Thomas described Burton's vision for the police department as "particularly bleak."
"I am now convinced that we will not make any further progress towards community-oriented policing as long as this city manager and this police chief are in office," he said, referring to Burton and Matthes.
"Beyond that," he said, "I believe the failure of leadership at CPD and the inability of the city manager to intervene is creating a threat to public safety."
Burton specifically faced criticism for his public comments after the department announced changes to community policing strategies.
"The people that are police officers signed on to be police officers, OK? They want to do police work as well as engage in community policing. If you're on the Community Outreach Unit, you're doing nothing but … just community policing," Burton said at a Citizens Police Review Board in November.
"You're not doing any kind of enforcement action and things like that," he said. "So people tend to get bored with it."
Burton and Matthes worked closely together on Columbia's community policing strategy. Matthes co-authored a report on the subject with Burton-appointee Sgt. Robert Fox, and when the report was released in August, it was panned by the grassroots social equity group Race Matters, Friends.
Reactions to the news Thursday morning from City Council members were guarded.
Thomas said in a statement via email: "Personnel decisions regarding the Police Chief are made by the City Manager or Interim City Manager, and not the City Council. In this case, Interim City Manager John Glascock has placed Chief Burton on paid administrative leave, and I support his decision."
Reached by phone, Fifth Ward Council member Matt Pitzer said he didn't know why Burton was placed on leave.
"It's an HR issue right now. ... There must be some reason that he is on leave, and the city manager is going to handle it appropriately."
Other City Council members could not be reached. Burton did not return a call for comment Thursday.
Reporter Claire Mitzel and other students in the journalism school's investigative reporting class contributed to this report.