COLUMBIA — "Are you David Farrier?"
The woman approached New Zealand director David Farrier at a True/False Film Fest filmmakers' event in an art gallery on Saturday. Farrier had had a busy day and was "keen to relax," he wrote in an email. He thought the woman was simply a fan of his documentary, "Tickled," which was screened for the first time at the festival on Friday night.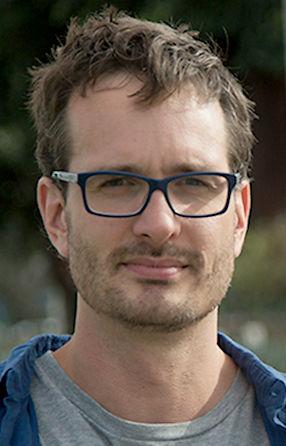 She was not a fan. She served Farrier with legal papers.
"Quite a fast and weird experience," Farrier wrote in an email, on his way out of town.
Turns out that the elusive subject of Farrier's film — a notoriously litigious New Yorker who, according to the film, produces videos of athletic men being tickled and harasses the men online — has sued Farrier in Boone County.
The film makes the case that David D'Amato is the mastermind behind the global tickling video production operation spanning back to the 1990s, including owning Jane O'Brien Media. The film also strongly suggests that D'Amato is responsible for employing an array of harassment techniques against those who speak out or refuse to make more tickling videos.
D'Amato used the address of his St. Louis attorney to file a defamation lawsuit on Wednesday in Boone County against Farrier; his co-director, Dylan Reeve; producer Carthew Neal; executive producer Justin Pemberton; David Starr, a former tickling video casting agent interviewed in the film; and production and distribution firm MPI Media Group.
The lawsuit claims that the filmmakers have caused D'Amato to suffer "medically diagnosable and significant emotional distress" by saying in the film that he owns Jane O'Brien Media and that he seeks merciless retribution, along with eight other allegations.
The film opens with Farrier, when he was working as a journalist, stumbling upon online videos of "competitive endurance tickling." The videos present it as a sport in which participants are strapped to a table and tickled, on camera, for as long as they can stand it.
After reaching out to Jane O'Brien Media, the company ostensibly behind the videos, Farrier begins receiving homophobic and foreboding messages, emails and phone calls. Representatives from Jane O'Brien Media eventually make what's portrayed as a threatening visit to Farrier and his co-director, Reeve, in New Zealand.
Farrier said he couldn't comment on the legal issues surrounding the film but that the weekend had an "added level of oddness" for him.
True/False "co-conspirator" David Wilson said Monday that the intrigue around "Tickled" was the first of its kind in the festival's 13-year history. "The movie makes a case in a strong, compelling way," he said. "It's a movie we're proud to support."
The removal of two people from a screening of "Tickled" on Friday night at The Tiger Hotel's Forrest Theater by Columbia police now seems to be linked to the lawsuit. They were believed to have been secretly recording the film, potentially for Jane O'Brien Media, and Farrier wrote in an email that he knew representatives of Jane O'Brien Media were present at True/False.
They were also present at the Sundance Film Festival, Farrier said. A Jane O'Brien Media representative was spotted in the audience scrawling notes on a legal pad at a showing of the film there in late January. 
Farrier said he chose not to say anything during the True/False screenings about the presence of Jane O'Brien Media representatives.
"I figured if people noticed, then they'd notice," Farrier said in an email. "And hey, everyone is entitled to watch the film, you know? It's good that it has its fans!"