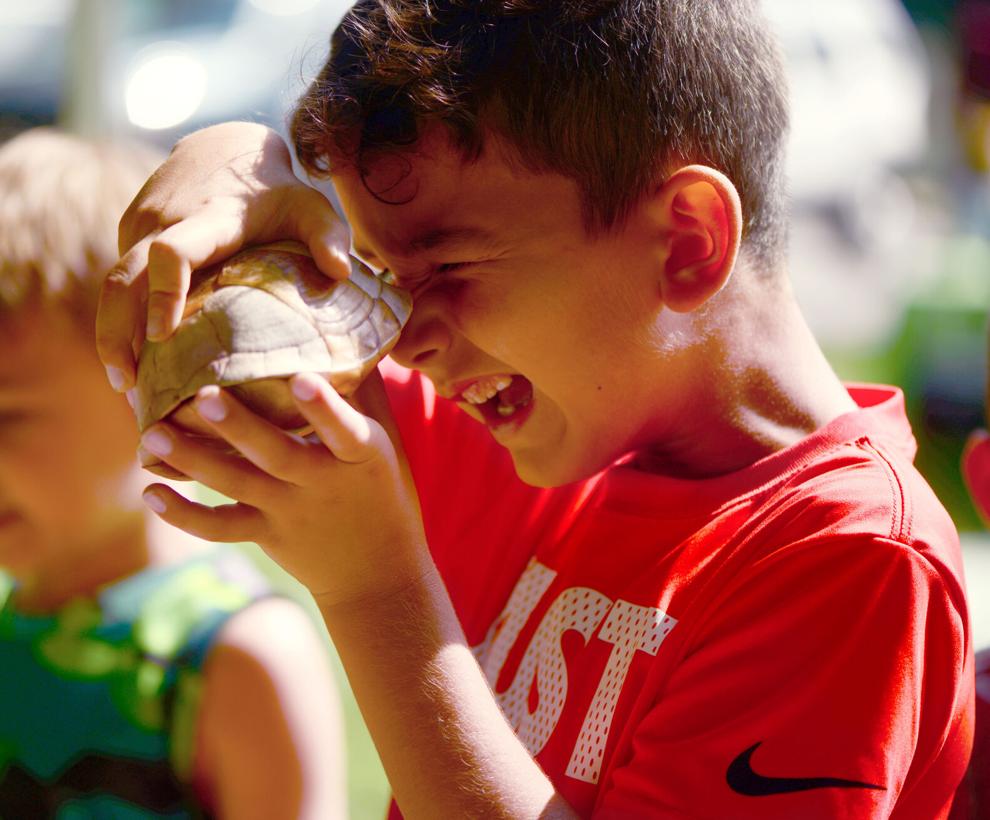 Colorful watercolor paintings, made with water from Gans Creek, whip in the wind on a laundry line tied between two trees early Saturday morning. Down the path, children search the creek's edge for rocks and critters.
The sun beats down on another day at the Devil's Icebox trailhead, marking the beginning of Rock Bridge Memorial State Park's 2021 Water Festival.
The annual event educates children and their families about the impact of waterways and the importance of keeping them clean.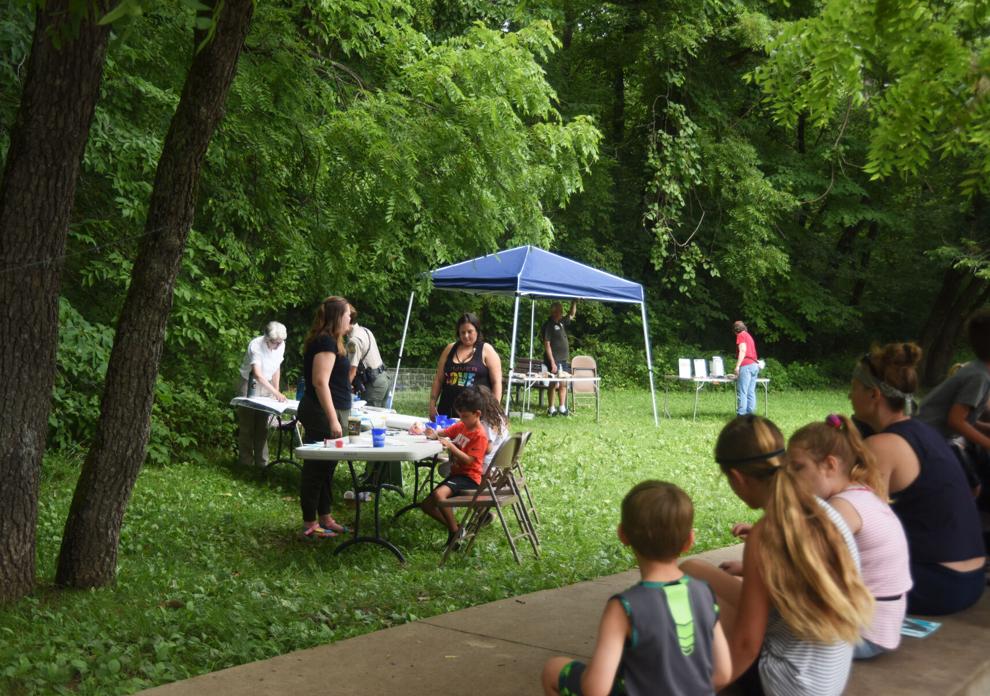 "Everyone lives downstream," said Boone County Stormwater Educator Michele Woolbright about showing connectivity between residents and their local bodies of waters.
Missouri River Relief, Missouri Stream Teams, the Missouri Department of Conservation and Friends of Rock Bridge Memorial State Park hosted the event in partnership with Boone County.
Each organization set up its own booth. At one station, children built their own streams and creeks with malleable material and plastic houses to learn about natural topography. Another offered kids' coloring books about streams. Nearby, volunteers from Missouri State Parks greeted visitors with a three-toed box turtle.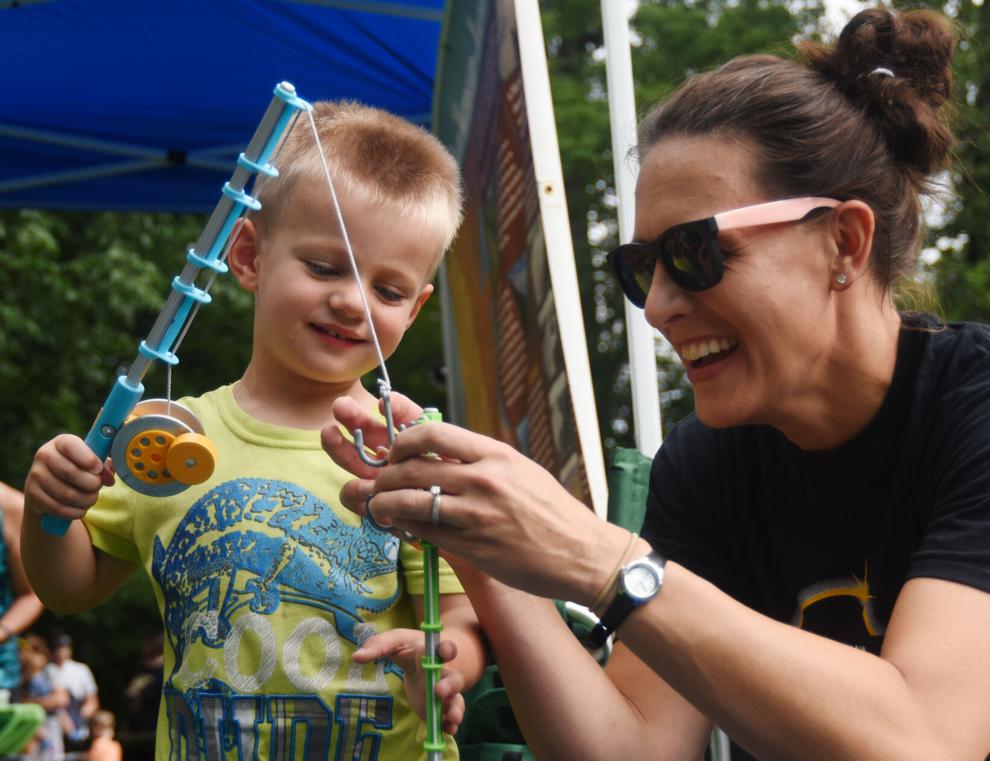 One booth advocated for the Bonne Femme Watershed Project, a proposal for a watershed-based plan that would restore and protect water quality. The current draft of the plan recommends updating the 100-year flood-plain maps and regulations, purchasing and correcting structures that flood and limiting construction near streams.
Another popular attraction was Missouri Stream Team's tray of critters. The array included scuds, mayfly nymphs, crawfish, common backswimmers and water scorpions.
"They can bite, so don't stick your finger in there," Stream Team biologist Amy Meier warned kids poking at the water scorpions.
The exhibit illustrated how water insects frequently act as water quality indicators. Bugs such as scuds and mayfly nymphs get oxygen directly from water — their absence indicates an unhealthy waterway.
Meier coordinates Stream Teams in the northwest, northeast, central and Kansas City regions of Missouri. The organization trains people as stewards of river conservation and frequently cleans waterways. Participants can join a team and even "adopt" a stream or lake access point to care for.
People should be diligent about dumping things in the river, Meier said. Over the past 30 years, more than 13,000 tons of waste has been removed from Missouri waterways.
Missouri River Relief's booth displayed some of this waste. Volunteer crew members Barney Combs and Lynn Malley said they educate people about pollution with cleanup events and river boat rides.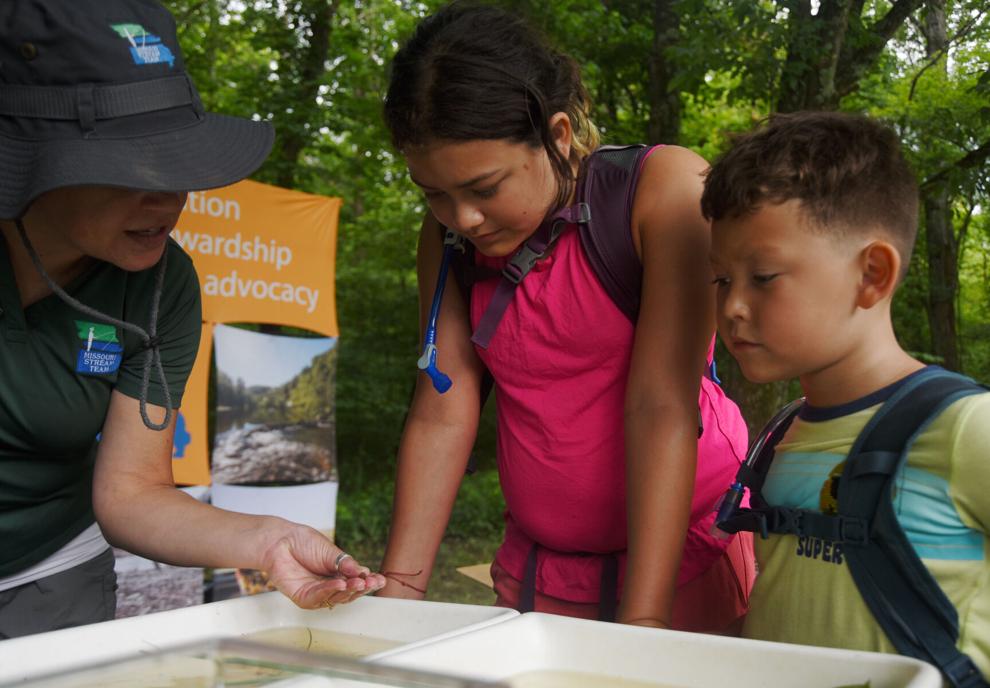 "We like to connect people to the river," Combs said. "Get them right down in it to experience it firsthand."
Payton Reed, 6, visited the festival with her brother and family after they heard about it from Facebook. Her father, Jim, said he wanted to expose the kids to nature and local waterways.
After visiting the River Relief booth, Payton stopped by the creek. When she found a piece of glass in the water, she ran back to the booth to add it to their collection of "river treasures."
"She got the message," Malley said with a smile on her face. "It doesn't always happen that quick!"
Combs said it's important to engage children in nature early on so they're passionate about caring for the environment when they're older.
"They're the future," he said. "We're the past."