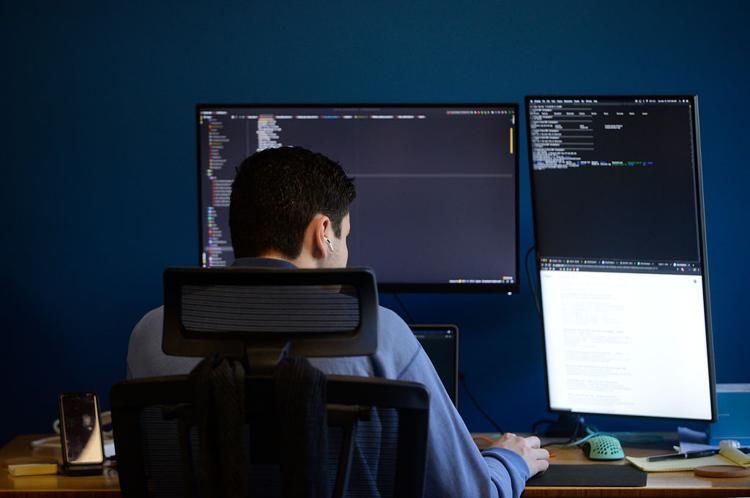 Most people probably wouldn't view Missouri as a hub for software development and cutting-edge technology.
However, according to a September study by MOSourceLink, called the "Show Me Jobs" report, job creation in technology startups has seen significant growth in recent years.
The number of jobs created by Missouri tech startups has steadily increased since 2014. They created 7,549 jobs from 2014 to 2018, according to the report.
This trend may be intensifying: In 2018 alone, new tech firms created 2,141 jobs. This was higher than the state average of 1,529 new tech jobs each year from 2014 to 2018.
Identifying this trend in Columbia
According to the report, "While population centers account for the largest numbers of startups, startup activity can be found in all corners of the state." Columbia is home to both new and old tech companies.
QuarkWorks, founded in 2010, is a tech company headquartered downtown on South Ninth Street above what used to be the Copeland Law Firm. It expanded to a second space adjacent to it in December. The company is a software development agency that specializes in apps and website building and also does design work.
"We're mainly involved in consulting right now," QuarkWorks Marketing Lead Hannah Pratte said. "Whatever client we notice has a problem or an issue, we come in and try to solve that."
Pratte said this might mean building a mobile app for a company that has only a website and vice versa. Most of its products are consumer-facing and have to do with ticket sales and festivals.
One of QuarkWorks' first clients was Roots N Blues. Its engineers built the Roots N Blues app and update it every year, Pratte said. That could mean updating the code, making it more sleek-looking or updating the artists list and time slots. Other companies it has worked with include Reprotech Limited, Eventbrite and Handshake.
Pratte said the company started as a two-person operation and has expanded a lot over the past two or three years. It moved out of its space above Lakota Coffee to its current location, where it ran out of room again. It recently hired its 23rd employee.
QuarkWorks was founded nine years ago by CEO Bryan Pratte and CTO Brett Koonce. Bryan Pratte was an MU engineering student and was born and raised here, so Columbia was "a good spot for him to be at the time," Hannah Pratte said. Bryan Pratte later moved to San Francisco, where there were more opportunities to find clients. However, Hannah Pratte said the core of the company remains here in Columbia.
QuarkWorks has brought a touch of San Francisco here, though, as far as the design of the office goes.
"It's a neat little area, very rustic and eclectic looking, very much like the startup feel," Hannah Pratte said. "So if you Google startups in San Francisco, it looks very similar to some of the office spaces out there. We try to keep with that feeling of very modern and up-to-date and techy."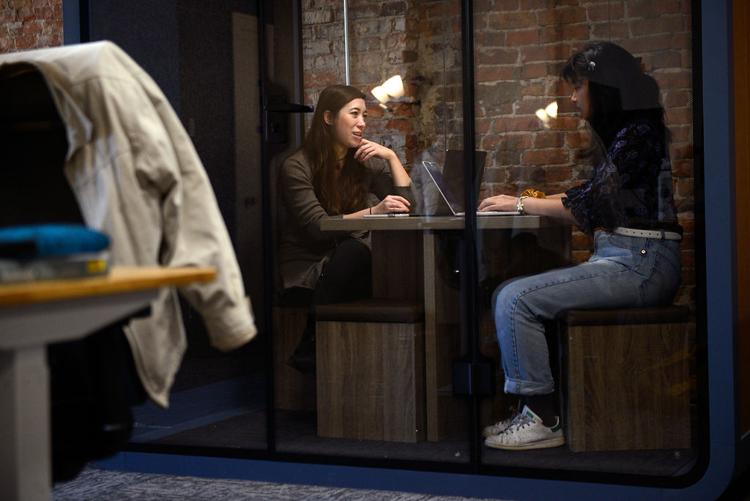 While QuarkWorks is mainly involved in consulting right now, its eventual goal is to create its own products, Hannah Pratte said. In the meantime, it's "waiting for the right idea."
Columbia tech startups yield success
While recent Missouri trends suggest an overall increase in tech startup activity, tech startups are not new to Columbia.
"I think they've been here for a while," said Collin Bunch, former entrepreneurship coordinator at Regional Economic Development Inc., a nonprofit, public/private partnership that works to grow business in Columbia and Boone County. "I think we've gotten better at identifying them, helping them get connected to resources or each other. I think you're seeing people develop a little faster maybe or sticking around."
Jim Gann, director of MU's Venture Mentoring Service, said Columbia's tech startup industry expanded when Bill Turpin, MU interim associate vice chancellor for economic development and president of the Missouri Innovation Center, came to town in 2014. His background is in tech startups around software and information technology, Gann said.
"His knowledge has brought to bear a different kind of support in the companies that he works with," Gann said. "On his initiative, the Missouri Innovation Center raised a fund to help finance those IT-based companies with early stage capital. So that's been a substantial change over time, but it's been more of an expansion rather than a change."
The Missouri Innovation Center supports business growth in mid-Missouri. It launched the Mid-MO Tech Accelerator program in 2016, the goal of which is to support local technology companies through investment funding, business services and mentoring at the Mid-MO Tech Incubator.
Bunch has seen other Columbia companies with a similar model to QuarkWorks, involving working with people in Silicon Valley and building a team here, in the REDI Innovation Hub, he said. He described the hub as "an open, collaborative co-working space" with about 20 companies as clients. Some companies work in the hub every day as they grow their teams, he said, while others use the space more sporadically in order to collaborate with others.
Columbia has an unusual startup environment because of its diversity, Bunch said. Nationally successful companies that have come out of Columbia include EquipmentShare, Veterans United, SuretyBonds.com, Newsy and Beyond Meat.
"So that's kind of innovation in a lot of different areas," Bunch said. "There's a lot of schools in the area, beyond Mizzou, even, there's just a lot of specific kinds of interest and backgrounds."
Bunch also pointed out the difficulty of not being located in a population center of the state, which he sees as both a strength and a weakness. On one hand, investors are harder to come by. But on the other hand, Columbia's location forces companies to think bigger.
"I think for a lot of tech companies, it's easy to go to Kansas City or St. Louis. But I think strategically, something that helps and hurts is that we're not always big enough to have enough customers or investors for some companies. So by default, they have to think more statewide or nationally," Bunch said.
Numbers aside, "successful" may be a good word to use to describe Columbia's tech startups.
"I think an important story about tech entrepreneurship that is lost sometimes is that Columbia performs actually pretty good on a per-capita basis nationwide," Gann said.
EquipmentShare, a construction technology solutions company, and Zapier, an online automation tool, are both approaching billion-dollar valuations, and they are both a product of Columbia Startup Weekend. The weekend is an annual event in which teams explore business ideas with the help of mentors, culminating in presentations in front of a panel of judges.
Having two Columbia-native companies that have risen to that high of a status "is incredibly significant for a community of this size," Gann said. "There are much larger communities with robust entrepreneurial support programs that can't say that."
On the capital investment side of things, support is continuing to grow, Bunch said. The Women's Investment Network for Entrepreneurs is a Columbia investment group that helps grow women-led companies. It formed last year.
While Columbia is no San Francisco, tech startups still play a significant role in the community.
"I think sometimes people might think that these kinds of things only happen in Silicon Valley or in Boston, and in truth, it happens here," Gann said.