Leigh Lockhart worked her way through a pile of dried chili peppers. She opened each one, spilling the seeds onto the counter of the kitchen of Comedor Popular at Centro Latino.
By the time she reached the end, her fingers were orange, and the small kitchen was filled with a spicy scent strong enough to penetrate a mask.
"You don't just put the chilies in the pot, you've got to go through the process of opening them up and deveining them and getting the seeds out. Otherwise, they'll be super spicy," she explained.
"And my fear is, if somebody's not properly trained (to do that), the product won't be good, and then who would buy it?"
That includes classes in Spanish and English. It also provides legal services, basic medical resources, free after-school meals for kids and whatever else the community needs.
Comedor Popular, or People's Diner, is one of Centro's programs. Director and founder Eduardo Crespi started the initiative in 2012 as a way to promote food access and educate people on healthy eating. Lockhart is going to head this effort.
She's a strong believer in social justice of all kinds, but as a cook, the issue of food inequity hits close to home. After years of using her free time to volunteer in the community, Lockhart wanted to do more. Centro Latino is giving her the opportunity to help provide food and resources to the community, while also beginning a new business venture of her own.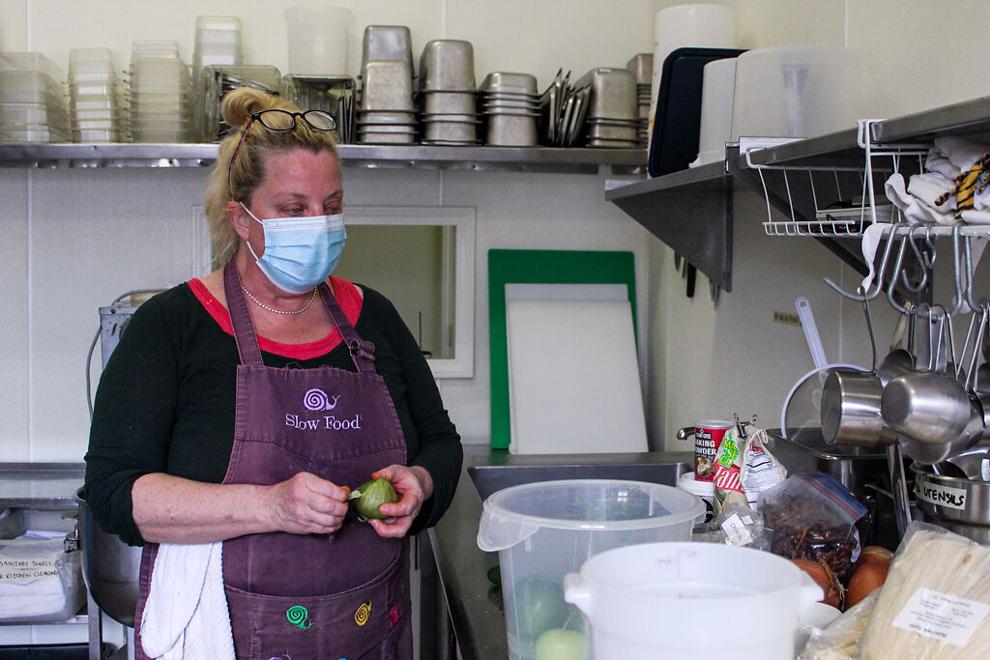 Developing tamale recipes was the next step on Lockhart's checklist of things to do to get the project at Centro Latino up and running. She began by cleaning the place, repainting the dining room a shade of avocado green and lining the windows with plants.
Next, she'll start making and selling plant-based tamales, offering cooking classes, running affordable produce stands and launching a plant-based ice cream business.
Main Squeeze put tamales on its menu this past week as a special to start the fundraising for Centro Latino. Later this spring, Lockhart hopes to make them a regular item.
After that, she wants to start making her plant-based ice cream. A year from now, she wants to have created a community area, bringing in funds and even renting out the kitchen as an event space.
Her ideas are ambitious, but they don't seem much further out of her reach than ingredients at her fingertips.
'Level up'
Lockhart, 56, knew Main Squeeze wasn't the end of all of her life plans. It's grown into a successful business, but she was ready to try something new and itching to do more work with the community. She began looking for her next endeavor, something she could really throw her passion into.
Meanwhile, Crespi was searching for someone to help transform Comedor Popular into a regular program, one that brought in money for the rest of Centro Latino's services.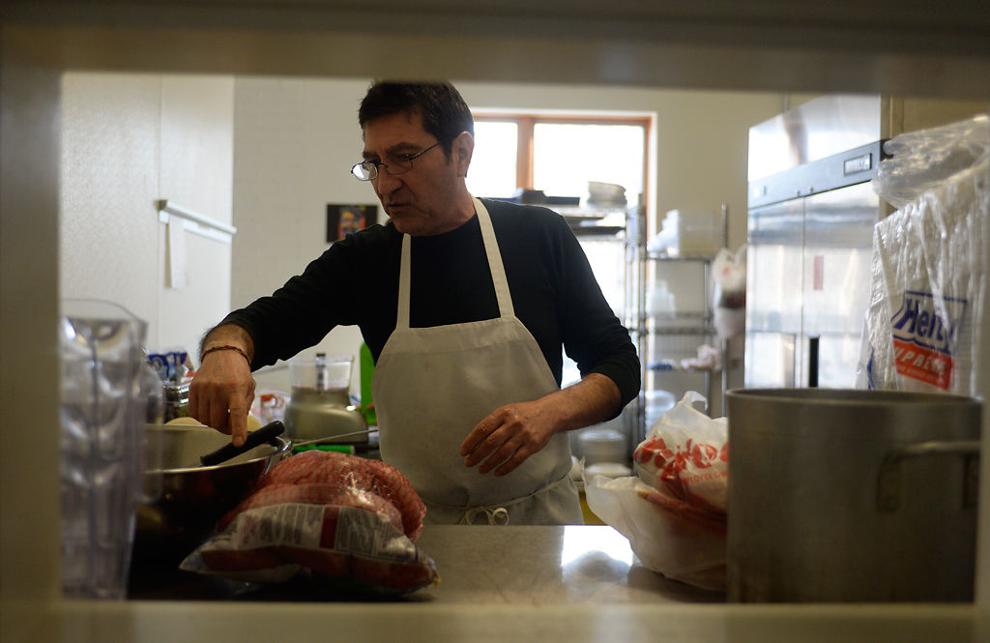 Crespi and Lockhart are longtime friends who share similar values, including an understanding of the importance of healthy eating, a passion for plant-based foods and a desire to help the community. They're also similar in their openness about their lives and passions, their easy laughs and their drive to help people in need.
There was no single moment when Crespi decided who would run the kitchen, he said. It all came down to the perfect timing of Lockhart needing something new just as he had begun looking for more help.
"Leigh has the experience in vegetarian cooking, and she's a businesswoman who knows what she's doing," Crespi said. "She's been around for many years, working hard. And we did collaborate in the past. Not at this level, but if I was going to offer the kitchen, I always offer it to friends first."
Lockhart plans to balance the two businesses, using Main Squeeze to help sell tamales and ice cream and drum up some interest so she has a solid place to land when she decides to move on from the restaurant.
After nearly 25 years running Main Squeeze, it'll be a sad goodbye. However, Lockhart called the move a "level up" on both fronts: She's ready to do more to help the community, and Centro Latino will benefit from the revenue she helps bring in.
"It's great to be in the restaurant business, and I feel really good about being a vegetarian place because it totally jibes with my values," she said. "But when you see hungry people — and when you own a restaurant, you see a lot of hungry people, it's kind of ironic — and when you realize there is a tremendous problem with hunger … I just want to see if there's some small way that I can do something about it."
Lockhart's way of helping comes in the form of food, whether that's providing it or showing other people how to make it.
"That's all I know how to do," she said.
"I'm not going to cure cancer or anything, but I can show people how to cook dry beans and season them so they like how they taste."
Mission tamale
Tamales are the key to the whole operation. The plan is to assemble a team of volunteers to make plant-based tamales, which she can then sell at Main Squeeze and anywhere else willing to participate. The proceeds will go back into Centro Latino.
Why tamales? For one, they're delicious. She pulled a big pot down from a shelf, along with a metal insert filled with holes. She fills the bottom of the pot with water, fits a steamer basket on top and in go the tamales.
And they're fun to make with people, Lockhart said. "And I think it's something that, once you show people a good system and have enough people, it makes pretty quick work of it."
She'd love to pay people to do the work, but for now, there's no way to do it while also raising enough money to make a meaningful difference for Centro Latino.
A whiteboard in the kitchen reads, "Thank you volunteers!" It's a tribute to Centro Latino's base of MU students and community members who do everything from teaching language classes to helping dole out after-school snacks to kids.
Lockhart hopes to train enough people for the tamale production to become self sufficient.
"It's important to me because I won't be around forever, and I can't be there all the time to supervise tamale-making," she said. "So the goal for me would be to find responsible people who are passionate and care and want to be trained as — I need a good name for tamale supervisors — people who can work with a group, cranking out 100 tamales for a good cause. And I think it's doable."
Ice cream


Once the tamales are underway, Lockhart can begin her other project: launching her own line of plant-based ice cream.
She painted a back room of Centro Latino bubblegum pink in preparation. It looks exactly like the kind of place someone would make ice cream. Now all she needs is the machine itself — or, as she calls it, her wedding dress, since it cost her about the equivalent.
The business is something she's been dreaming up for years. Lockhart has never had a shortage of ambitions, but nothing revs her up quite like the idea of making her own ice cream. With her running Comedor Popular, Crespi agreed to let her use a room at Centro Latino to finally get it started.
"There are just so many good plant-based products out there, and ice cream is just a frontier that hasn't really been tapped in Columbia," she said.
Ice cream is her favorite dessert, but she's new to making it. That doesn't bother her; she's approaching the process with an open mind and empty stomach so she can do lots of taste-testing.
"I have always had a lot of confidence in my ideas and my determination, so I'm not super worried," she said. "I'm really not super worried about anything."
She hopes the business will blossom into an independent venture, though she will continue contributing a portion of what she makes to local causes and charities.
"I'm not trying to be, like, Ben & Jerry's or anything like that," she said. "I just want it to be some cool thing that some lactose intolerant person in Columbia got and was really excited about and thought was super tasty."
'Bringing light'


That's not the end of Lockhart's plans for the place. She can talk for hours about her ideas, like a vibrant patio with live music and renting out the dining room as a community space. She even knows which flavors of ice cream she wants to try making first: lemon, coffee, carrot ginger coconut and a chocolate flavor she's already named "death metal by chocolate."
One idea already underway is using Centro Latino's kitchen as a commissary. Gina Overshiner will make the kitchen as a home base for her new food truck, Gina's Vegan A Go Go.
"It was very fortuitous as far as the timing," Overshiner said. "And at Centro Latino, there will be more access (than with other options)." She was also excited to find an all-vegetarian kitchen to use.
All of Lockhart's ideas center on helping people. This drives home one central point: Centro Latino is about more than the food.
"We're bringing light to the neighborhood as well," Crespi said. "People walk by, and they peek in the windows. Depending on what they see inside is the way they feel. If they see a place that is dark, nothing is happening… ugh, you know? But if someone peeks in and sees color and something going on, it's a good feeling."
At the end of the day, Crespi and Lockhart have the same goal: to give people access to good food and a good place to be. Whether it's tamales or ice cream, straight from the kitchen or from a produce tent, they want people to have access to affordable, healthy foods.
"I think the best thing you can do to improve someone's quality of life, besides shelter," Lockhart said, "is to provide them with good food."