Making croissants is hard work.
The process of creating the flaky French delicacy takes three days.
On Day 1, the dough is made and must be chilled. Day 2 consists of making a sheet of butter that must be incorporated into the dough. On Day 3, the dough is stretched and layered with the butter to make 12 layers. The croissants are then rolled into shape and proofed for two hours before they are finally baked.
This is how Julie Hutton, owner of the local one-person bakery business Frenchy Treats, spends much of her time.
"It takes a lot of good technique and a lot of time to prepare to be sure that they're authentic," Hutton said.
Between making croissants and macarons, which Hutton said are also "famously difficult," she spends six to nine hours a day six days a week baking in her rented kitchen space in B&B Bagel Company's south location on East Nifong Boulevard.
Frenchy Treats has been around since February. Hutton grew up in France, and her French roots, combined with her previous experience working in the travel industry, helped inspire her to start a business specializing in bringing a taste of French culture to Americans.
"I wanted to go on my own and be my own boss and start something from scratch," Hutton said. "I've always had a passion for baking, and I just was missing certain French products so much that I decided to try and learn how to make them."
Frenchy Treats sells croissants, which come in plain and chocolate, and macarons, which come in six different flavors: dark chocolate, hazelnut chocolate, raspberry, vanilla, coffee and coconut. Personally, Hutton likes the coconut macarons the best, but the raspberry macarons are a hit among children at the Columbia Farmers Market, Hutton said.
"If you ask any kid at the farmers market, the raspberry is going to be their choice," she said. "And I make it all from scratch. So the raspberry, when you bite into it, it's very, very sharp raspberry jam, and you can see in their faces — it's the cutest thing."
The name Frenchy Treats comes from a simple life philosophy, highlighting the quality of the luxury items it offers: "Treat yourself."
Aside from orders from its website and special events like baby showers, Frenchy Treats' products are available regularly two days a week. Hutton brings her treats to the Columbia Farmers Market on Saturdays and holds a pop-up shop every Friday morning at Plume, 5751 S. Route K. While the croissants are only sold on Fridays and Saturdays, Plume sells the business's macarons all week. The reason for this is croissants do not keep and are best eaten the same day they are made, Hutton said.
The process of making croissants is not just long, it's also physically demanding. The physicality involved with stretching the croissant dough in the kitchen for all those hours each week is the toughest part of the business, she said.
"It's like going to the gym when you stretch the dough — it's really physical," she said. "It's just a fun challenge."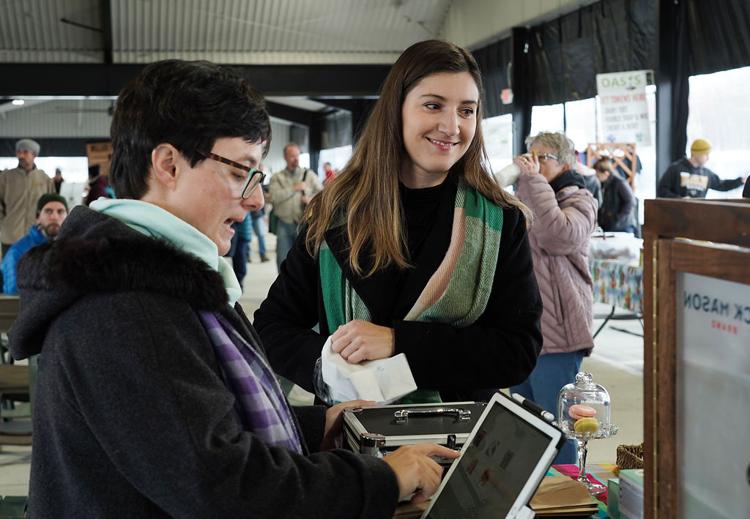 From blog to bakery
Frenchy Treats has evolved since its conception. The baking component of the business started in Hutton's kitchen at home and was meant to be accompanied by a blog.
"At first, I started as a website that would be focused on a little bit of a blog that would be for American people interested in food and travel and in the French languages," Hutton said.
She also pondered including an online store with imported French products. Hutton later realized she was much more interested in the baking part of the business, since "it takes a certain talent to write," leading her to move out of her home kitchen and into B&B Bagel.
Her interest in baking has been around since she was a kid, when she made treats with her mom like meringue, cakes and madeleines. This past summer, she took a macaron class in France to make sure she had the proper technique down before scaling up her business. Taking classes like this is common in France.
"You have those cooking classes back in France that are just open to anyone on specific dishes," Hutton said. "It's super fun. It's like a three- or four-hour-long experience, and you do it all."
As far as croissants go, Hutton is self-taught. She has used a variety of resources in the past year to learn how to make them, ranging from YouTube videos to professional manuals sent to her by her mom from France.
After some experimentation, she found the right recipe.
"I just wanted to have the right taste, and it took me, I don't know, maybe five different recipes to get to the one that I like the most," Hutton said.
Road to Columbia
Hutton has had experience in the travel industry in a variety of locations and positions.
She has lived in California, Paris, the Caribbean, Miami and Vietnam, and she's worked as a project manager for a travel agency, a butler in a five-star hotel and a concierge.
During her time in California, she attended the University of California, Santa Barbara and obtained undergraduate degrees in law and political science. That's also where she met her husband, Chris Hutton, who is currently completing his residency at University Hospital. Her husband's job is the reason Hutton has lived in many different places.
"It really forced me to find jobs everywhere we went and to adapt and to start over again every single time, which was such a fun challenge," Hutton said. "So it basically is one of the reasons for this business happening."
Workers at University Hospital were the first ones to taste-test Frenchy Treats' products. When she was still baking out of her home kitchen, Hutton sent her husband to work with croissants to share with his colleagues. That was the first way people started hearing about her business, and she received some orders from people at the hospital.
"They were the first ones to try out my goods and give me some feedback, so I'm also very thankful for that," Hutton said.
Hutton has lived in Columbia for two years now. She said she benefits from guidance from B&B Bagel and the other restaurants she shares a kitchen with: Camacho Coffee; The Crepe Cart of Columbia, MO; and 12 Baskets Kitchen. She has received support from the city as well.
"You really feel when you're starting a business that good support is so important, and you can feel drowned in all the procedures and the process to be legal and inspected," Hutton said, "but it's nice people at the city hall and really nice people everywhere that have been helping me build this up."
She hopes to extend Frenchy Treats' sales beyond the farmers market and Plume, possibly working with The Tiger Hotel and Lucky's Market, which she said has a similar clientele that appreciates local business and handcrafted products.
The owner of Plume, Kelly Gilion, views her gift shop's relationship with Frenchy Treats as "synergistic." When customers come into Plume to pick up Frenchy Treats' products, the idea is that when they are there they will buy other things, too. It also works the opposite way, Gilion said — Plume customers will see the macarons when they come in to shop and might purchase them.
"Hopefully, it's a win-win," Gilion said. "Hopefully, it is a very synergistic relationship, and so far it seems that that is definitely the case."
While it holds relationships with other shops, Frenchy Treats will, for now, remain a one-person operation.
"I don't think I am ready yet to start employing people," Hutton said, "and also this is a perfect kitchen for me to test out this business, so I don't want to outgrow it just yet."
Supervising editor is Pete Bland.