Taylor Surprenant, 11, began receiving music therapy at Giving Song in Columbia when he was 5 years old.
His grandparents, Randy and Johnna Carrender, noticed his response to music at home and thought it could be a motivational tool to address his developmental skills.
"It seems like every goal we've tried to accomplish with Taylor we've tied it to music," Johnna said. "It's just the center of his world."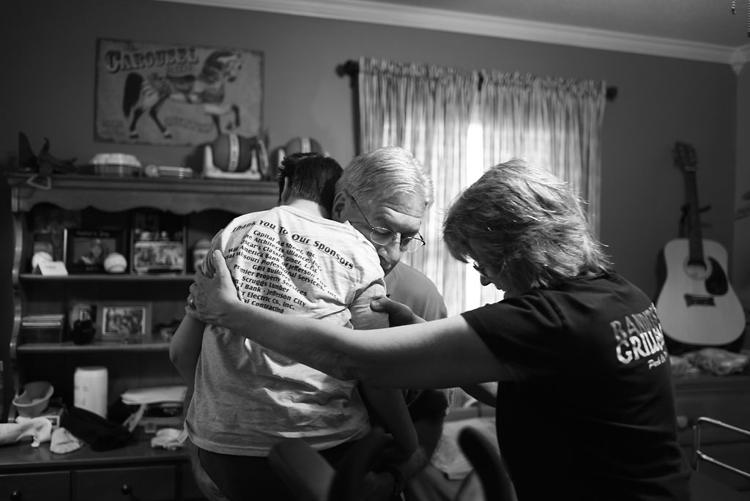 Giving Song provides musical therapy to a variety of people, from unborn babies to those at the end of life. The company began in 2010 with Giving Song's owner, Kristin Veteto, treating six children at the Delmar Cobble School for the Severely Disabled. It has since expanded to include a team of five therapists serving a 100-mile radius around Columbia.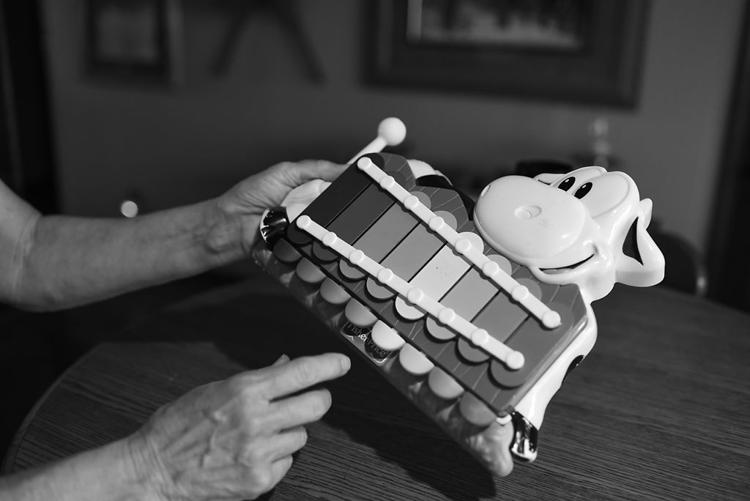 Therapists serve in patient homes, in the Giving Song clinic on Towne Drive, during after-school programs and in public schools. Because music therapists work with such a diverse group, they are trained to assist in a wide range of treatments, including speech, language, physical, motor and cognitive skills across the lifespan.
Giving Song treats primarily children with developmental disabilities like Taylor's.
He has lived with his grandparents in Jefferson City since he was about 7 months old, after he was injured by a family member and diagnosed with Shaken Baby Syndrome.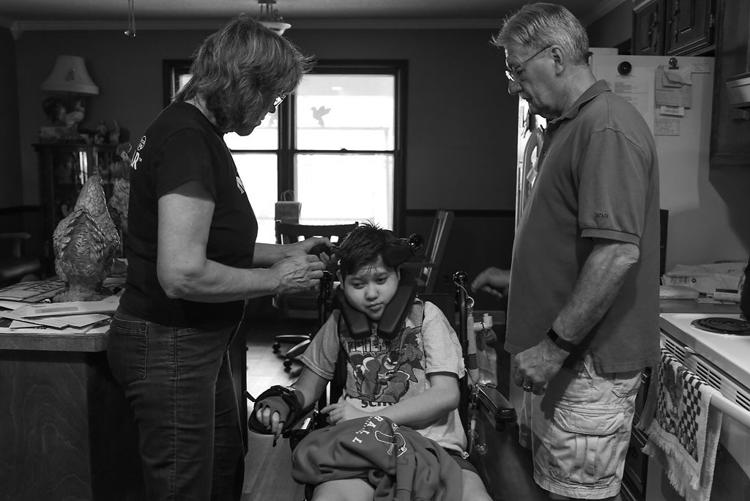 Initially, doctors believed Taylor wouldn't survive his injury. He was in the hospital for two months struggling with seizures and extreme sensitivity to light and noise.
His nurses discouraged Taylor's family from touching him, so Johnna found CDs that played quiet, soothing music and kept it playing for most of his hospital stay. The music seemed to relax him.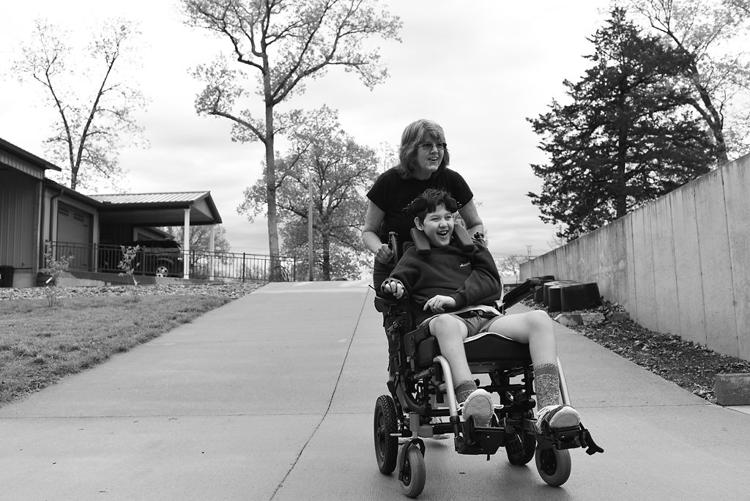 It was trial and error for the Carrenders to find things Taylor enjoyed once he got home, but what pacified him and brought him joy had to do with music in one form or another. When Taylor got a little older, his grandparents turned to music therapy, which proved to be a useful teaching tool.
Music therapy can be a productive treatment because of the way music is processed in the brain, Veteto said. When melody and rhythm are present during the learning process, the information essentially attaches itself to the music and the brain processes it more efficiently.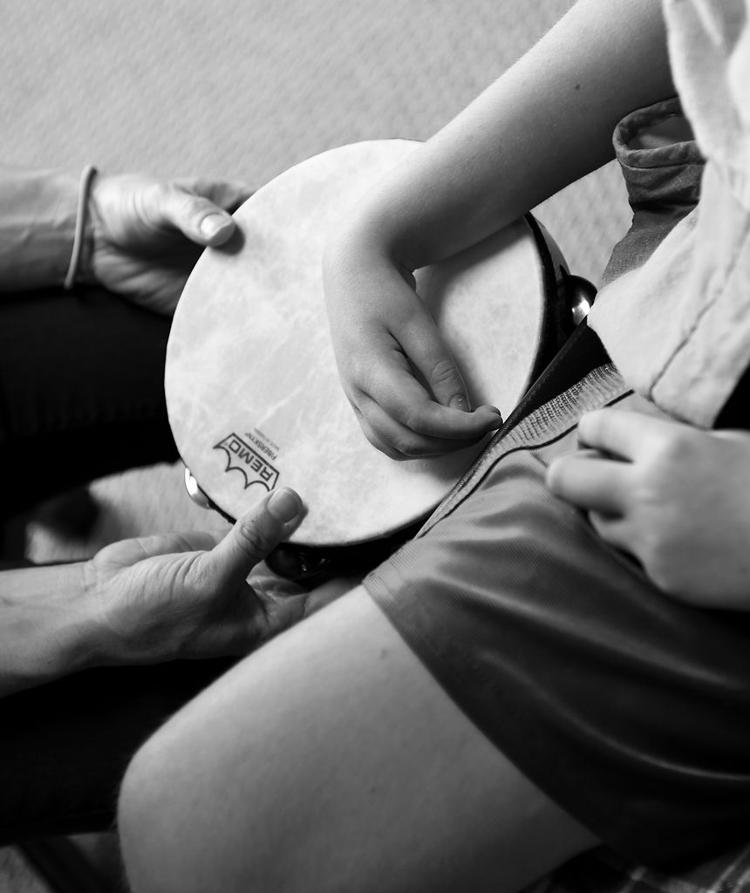 That's why memories that are connected in some way to music are the last to be forgotten, even among patients with Alzheimer's disease.When treating patients with developmental disabilities like Taylor, music therapists tend to work within treatment teams to reach a set of goals. According to a study published by The New York Academy of Sciences, music is beneficial for learning and understanding actions, as well as predicting the actions of others.
Taylor has cortical blindness because of his injury, meaning his eyes work, but the area of the brain that interprets what his eyes are seeing has been damaged. It's common for those who have visual impairments to let their head fall to one side rather than sitting straight.
Taylor's therapist, Holly Pering, has used music to teach Taylor to keep his head up by reinforcing the action with celebratory music.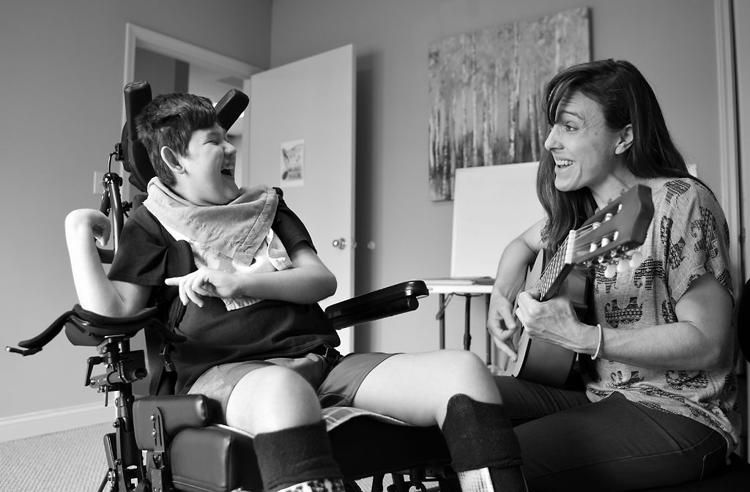 When his head hangs to the side, Pering waits in silence. Taylor then lifts his head and is rewarded with music for as long as he can hold it up. The goal of the exercise is to eventually strengthen Taylor's neck so he can keep his head upright for an extended period of time until the posture becomes natural for him.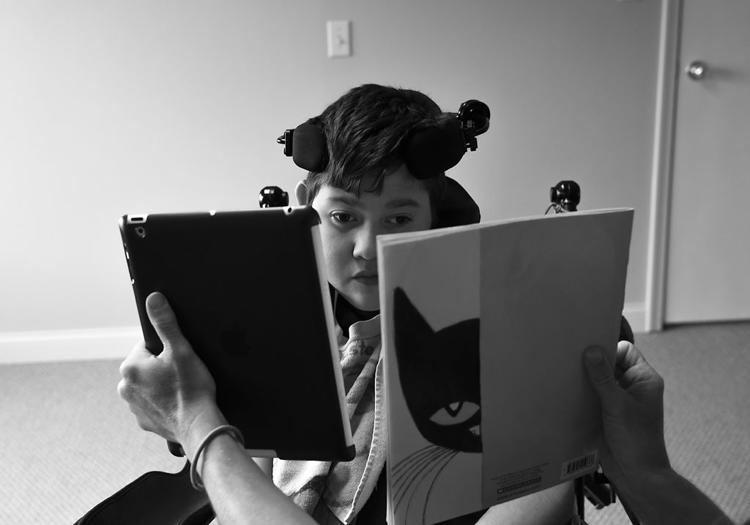 Music has also taught Taylor how to take turns. When he started therapy at Giving Song, if an instrument was taken away from him, he would throw a fit and cry. Now he understands that if something is taken away from him, it can come back later.
Since Taylor is unable to speak intelligibly, he and his grandparents tend to communicate with each other in song.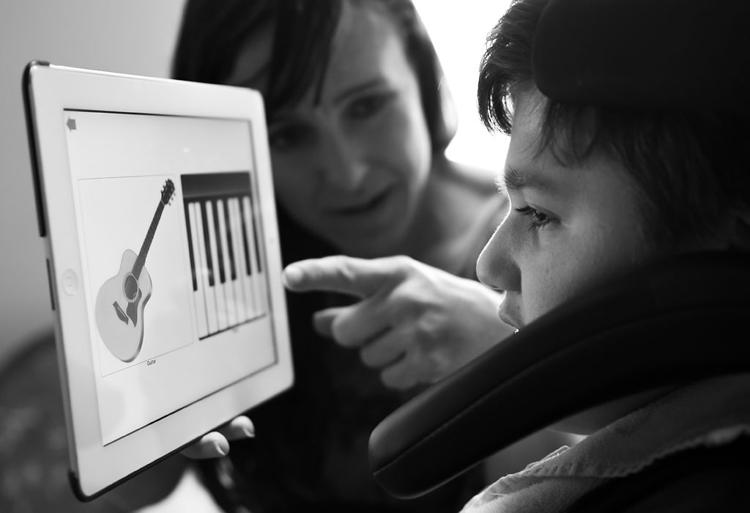 According to an article published by the American Music Therapy Association, musical interactions create new methods of communication for people with disabilities and develop social closeness with their loved ones. The Carrenders' home is almost always filled with some sort of music, and it has created a bond between Taylor and his grandparents.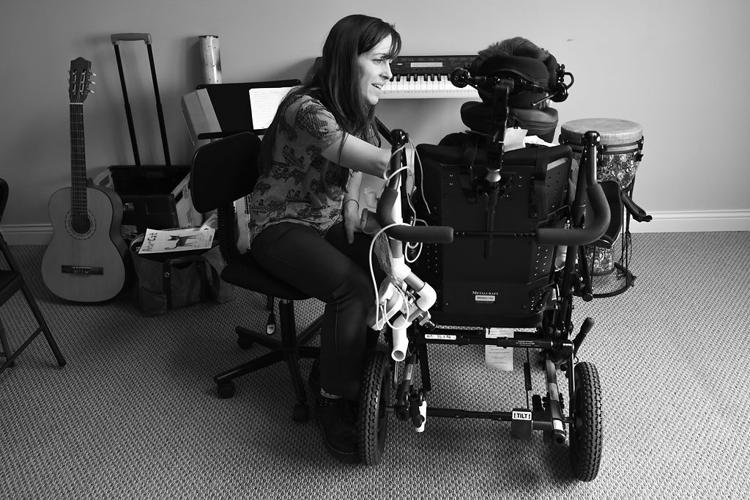 When Randy walks into the room, Taylor begins to sing a song he associates with his "Papa." He sings different songs for Johnna.
"Singing back and forth is kind of how we learned to interact with each other since we can't really carry on what you'd call a meaningful conversation," Johnna said.
Before Taylor came into her life, she wouldn't have sung in front of anyone.
"But not anymore. It's all about Taylor," she said.
"So the rest of you are just going to have to get over it because even my terrible singing is music to Taylor's ears."