An Illinois-based internet provider has a lofty task ahead: expanding broadband availability across the Midwest.
After winning an August auction, Wisper ISP Inc. is set to receive over $176 million from the Federal Communication Commission's Connect America Fund, or CAF, over the next 10 years to spur broadband development in 65 Missouri counties.
The company will also receive FCC funding to develop connectivity in Arkansas, Illinois, Indiana and Kansas. Missouri is the company's largest project.
"What excites me the most is that this has been our strategic plan, to grow across Missouri and southern Illinois," Wisper CEO Nathan Stooke said. "Now that we've won CAF, we have the cash to build the network we have always wanted to. It's something we've been dreaming about for 15 years."
What to expect
Wisper will begin to receive the funding in the next four to six months, Stooke said.
Like other CAF recipients, Wisper must build out 40 percent of its assigned areas within three years of being eligible to receive support, according to an FCC news release. Then, the company must increase its development by 20 percent each year until the project is complete. The deadline is the end of the sixth year.
Stooke and others with Wisper said the projects are still in the early planning stages, but he anticipates needing support from the communities involved.
Malinda Heuring, marketing director at Wisper, said the company will need help locating areas to install the technology and "in getting the word out to potential customers that we have completed the build out."
Stooke said the company will provide up to 100 megabits per second service but will also offer 25 Mbps and 50 Mbps plans. This way, people who have never had high-speed internet can have different options, he said.
The FCC recommends a speed of 1 Mbps for general internet browsing, according to its broadband speed guide. For students, the commission recommends a minimum speed of anywhere from 5 to 25 Mbps. To download files, someone would need at least 10 Mbps.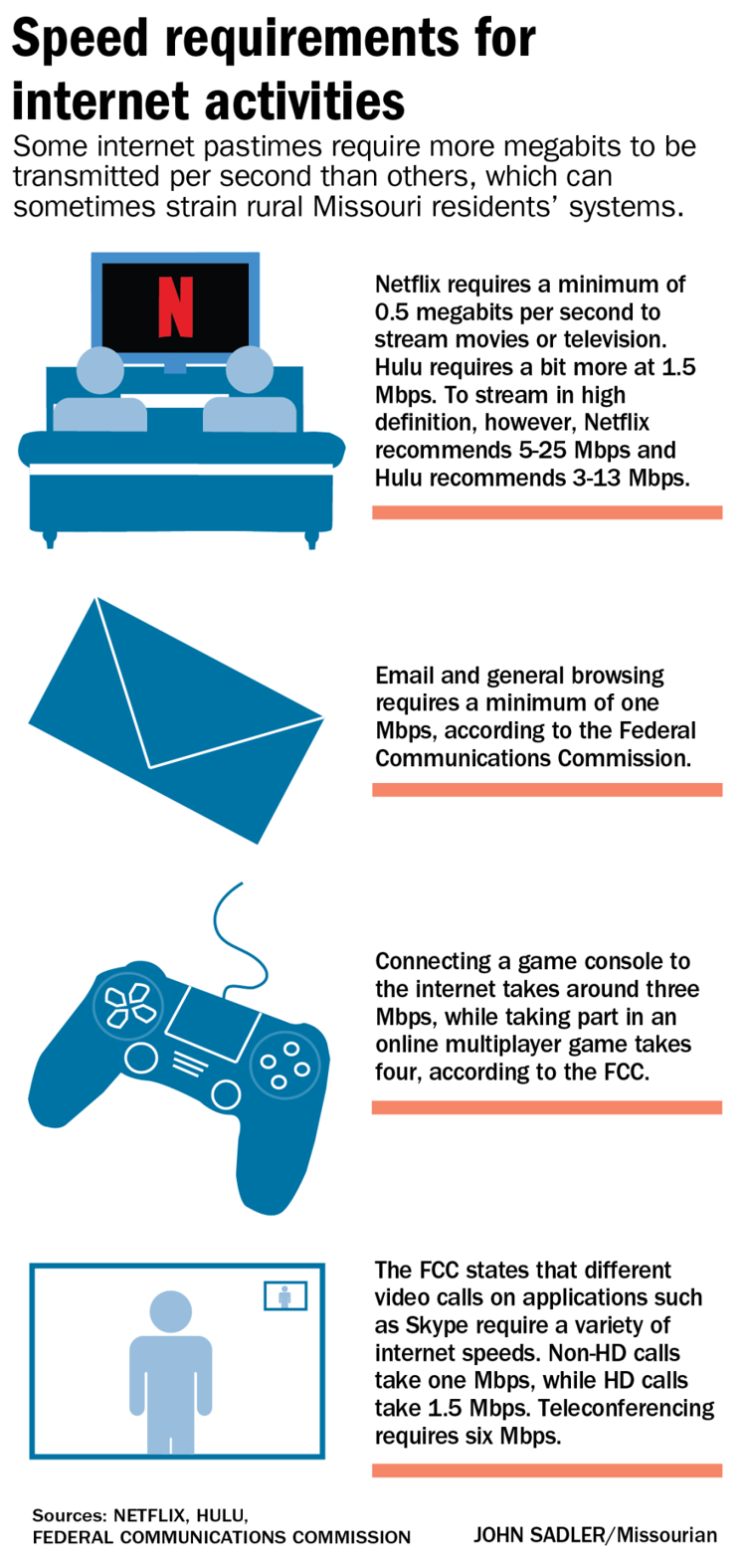 Overall, the FCC set a benchmark of 25 Mbps download speed and 3 Mbps upload speed in a 2018 report.
Broadband connection can come in many forms, including through a digital subscriber line, cable modem, fiber, wireless or satellite service. Stooke said Wisper will use wireless technology that requires line-of-sight connectivity, as well as other forms of service.
Stooke said the company will also be laying fiber-optic cable in many of its projects. Heuring was unable to provide an estimate of how much the fiber technology will cost because many of the targeted areas have "difficult terrain, making fiber more expensive to run," she said.
Wisper will also hire between 300 and 400 employees to help with the project, which is Stooke's main concern.
"We know we can build the network; we're already doing that today," Stooke said. "But can we hire enough high quality people for the time frame we have?"
Targeted counties
Wisper will make its mark in 65 Missouri counties over the next six to 10 years. Its top three counties of interest are Franklin, Madison and Perry — all in mid-eastern Missouri.
Franklin County is slated to receive development worth almost $10.8 million, and Madison County will see over $9.7 million worth of activity. Perry County is close behind with an investment of $9.6 million.
Government officials in several counties were unaware of the CAF-funded projects when the Missourian requested an interview.
In Hickory County, rural businesses are affected by the lack of reliable broadband. Rufus Harris, who competes in auto auctions online for a living, often wakes up in the early hours of the morning to try to connect to the internet before the rest of the area is awake.
When that doesn't work, he said he often travels to the nearest Super 8 and pays for a motel room to have access to somewhat reliable Wi-Fi. Harris is just one example of how not having broadband makes it harder to compete in today's world.
Wisper will receive over $1.3 million to expand into Hickory County, according to the FCC news release.
"I still have a lot of problems with trying to work live auctions due to the horribly slow speed that CenturyLink provides," Harris said in a recent interview. "I hope the new internet provider you mentioned hurries to Hickory County — we could use some high-grade competition."
Telehealth services also rely on internet access to conduct sessions, which is important for Pulaski County residents. Over $545,000 will be allocated for expansion in the area.
Wisper will also use over $443,000 in Boone County.
Statewide, the federal commission is allocating a total of $254.7 million to 11 providers. The auction in August was intended to target areas of Missouri that otherwise would not receive economic assistance for broadband expansion, according to previous Missourian reporting. More than 95,000 homes and small business in Missouri could gain access to high-speed internet.
The program will distribute $1.48 billion nationally to 103 providers in 45 states. Missouri was allocated more funding than any other state, and 90 of the state's 114 counties were targeted by the fund.