JEFFERSON CITY — The bells summoning lawmakers to vote were chiming non-stop throughout the halls of the Capitol on Friday as lawmakers raced to push legislation across the finish line in the final hours of the legislative session.
Undeterred by a months-long investigation into Gov. Eric Greitens, the General Assembly was hyperproductive in the session's closing week and hours. Overall, lawmakers passed 148 bills and resolutions, nearly double the amount compared to last year.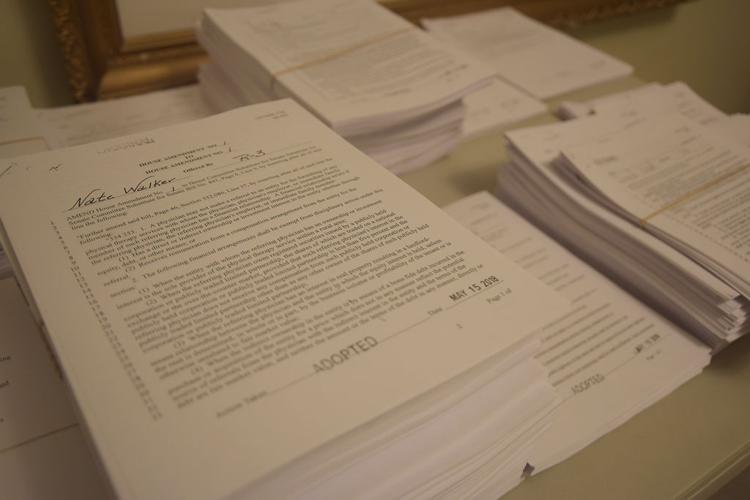 The legislature worked late Thursday night to pass a pared-down version of a tax cut bill, and the House moved at lightning speed Friday. Almost 40 bills were given final approval Friday in a span of seven hours.
The Republican-controlled legislature passed several key priorities that quickly emerged from the depths of more than 2,000 bills that were filed, including regulations on labor unions and moving a "right-to-work" referendum to the August ballot. It missed the mark in other areas, though.
Ethics reform died yet again, as bills in both the House and Senate failed to move. An early proposal from Rep. Justin Alferman, R-Hermann, passed the House in the first two weeks of the session but sat dormant in the Senate since March. A Senate version from Sen. Jason Holsman, D-Kansas City, would have put a lobbyist gift ban and change in term limits on the November ballot, but it came to a halt in the House less than 30 minutes before the end of the session.
House Speaker Todd Richardson, R-Poplar Bluff, praised the work of House Republicans after the end of the session Friday.
"They put their head down and focused on an active policy that will make Missouri the most competitive economic environment in the country," Richardson said. "They made sure that nothing could stand in the way of their goals of spurring investment in the state and bringing good paying jobs to hardworking men and women of Missouri."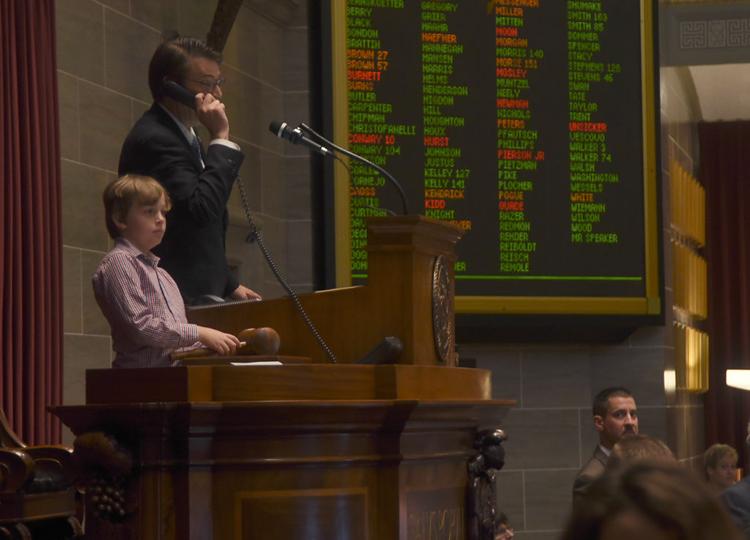 House Democrats saw it differently, as Minority Leader Gail McCann Beatty said Republicans exploited the sex scandal surrounding Greitens.
"From the beginning, the 2018 legislative session has been a session of scandal and with near-daily revelations of alleged wrongdoing by Eric Greitens," Beatty said. "Unfortunately, with Missourians' attention diverted by this sordid saga, Greitens' party used the opportunity to enact an insidious, anti-worker agenda."
Senate president pro tem Ron Richard was one of several legislative leaders who is finishing his time in office. At a post-session news conference he said it is "time for new blood and fresh faces."
Richard spoke proudly of lawmakers' work during the regular session. "I've been hanging around this place for almost 20 years. I've never seen the quality of the legislation passed this year by my chairman and members of both parties. I think we're going to be getting high marks for generations to come."
Majority floor leader Mike Kehoe, who is also facing term limits, said that the distractions of the governor's scandal this session may have even served as an extra incentive to work together.
Richard said that the budget and the legislation passed was the work of legislators, not the governor.
"We work pretty well by ourselves," Richard said.
Education
Education was a focal point during the budget process, as legislators had two goals: restore funding to higher education and fully fund the K-12 foundation formula. They achieved both.
The General Assembly fully funded the formula for the second consecutive year and increased funding for K-12 education by nearly $125 million. Lawmakers also added $10 million to the K-12 transportation budget, which has been underfunded for the past several years.
The General Assembly pushed back hard when Greitens proposed cutting $68 million in higher education from last year's budget, and legislators worked all session to restore the cuts.
It required concessions from state universities, as Rep. Scott Fitzpatrick, R-Shell Knob, worked out a deal to cap tuition hikes at 1 percent. The University of Missouri System also received 60 percent funding for five cooperative programs, including a clinical campus in Springfield operated through the MU School of Medicine.
An omnibus education bill, Senate Bill 807, won approval on Friday and will allow universities to raise tuition by the rate of inflation plus up to 5 percent if state funding was cut the previous year.
"We are looking for a fix," said Rep. Donna Lichtenegger, R-Jackson, who carried the bill in the House. "We don't want the students to take the load of this, but that being said, somebody, you know, always ends up paying for the bill."
Lichtenegger cited Missouri's relatively low tuition, noting "we are proud of that, and we want to keep it that way, and that being said, the legislature needs to do their job and support higher education instead of making it a ping-pong ball and removing it every year."
Rep. Chuck Basye, R-Rocheport, spoke up against the bill on the House floor.
"I find it pretty disgusting that they're going to allow any tuition increases at all, and I encourage this body to vote 'no' on this bill," Basye said.
The bill also requires college students to pass a civics exam with a score of at least 70 percent and allows community colleges to award bachelor's degrees.
Taxes, business and unions
Efforts to reduce state individual and business taxes ebbed and flowed throughout the session, but both passed. The House worked late Thursday night to finalize the individual income tax reduction, while the business tax rate reduction was passed Friday.
House Bill 2540 will reduce the current individual income tax rate of 5.9 percent to 5.5 percent in 2019 and then down to 5.1 percent over a period of years if the state hits revenue benchmarks. The tax cut is also contingent on a Supreme Court ruling allowing states to collect online sales tax.
The corporate tax rate bill, Senate Bill 884, will lower the corporate tax rate from 6.25 percent to 4 percent.
Building on key wins in last year's session, Republicans passed several pieces of legislation that concern business and union regulations.
Changes to the state's prevailing wage laws won approval on Friday, removing the requirement that public sector construction workers on public works projects be paid a minimum amount based on local wages. Proponents of the bill argue eliminating prevailing wage will boost job growth and create a business-friendly environment.
The General Assembly also placed more restrictions on public unions, requiring that they be re-certified every three years. The House bill also requires public unions to obtain consent from members every year to withhold money from paychecks to pay union dues and fees.
Voters will decide on an increase to the state's gas tax, which hasn't been raised since the 1990s. The Department of Transportation estimates the state needs more than $800 million to repair aging roads and bridges. If approved, the gas tax would increase from 17 cents to 27 cents per gallon over a four-year period — 2.5 cents every year.
No action
There were other areas where lawmakers had proposed legislation that fell short. These included:
Republican lawmakers had said that legislation favoring charter schools would be a priority, but no legislation was ultimately approved.
Efforts to approve medical marijuana fell short, though Missourians may get the opportunity to vote on the topic in November if several petitions submitted to the Secretary of State's Office are certified.
A bill that would have created a tiered system for punishing sex offenders was not adopted.
Few of the lawsuit reform bills that were proposed were adopted.
Missourian reporter Annika Merrilees and KBIA reporter Sarah Kellogg contributed to this report.