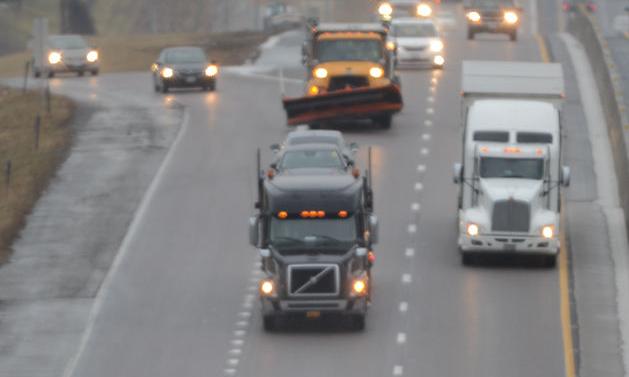 The number of fatalities from commercial vehicle crashes is on the rise in Missouri.
Almost 150 people were killed in traffic accidents involving commercial motor vehicles in the state in 2018, the most recent complete year for which data is available, according to Tracker, a Missouri Department of Transportation report published in July. The statistic represents an almost 30% increase between 2014 and 2018.
There is no single answer for the increasing fatalities. But experts said the average number of miles that commercial vehicles travel is growing to handle increasing shipments, in part a result of more online shopping.
Also, there are more and more distracted drivers on the road.
According to the report, the agency failed to meet its goal of decreasing fatalities by 9% in 2018. Instead, the department saw an increase of about 15%.
More fatal crashes
Fatal crashes — sometimes including multiple fatalities — that involve commercial vehicles have been steadily increasing in number since 2014. The total number was around 100 that year and had risen to 128 by 2018.
Commercial motor vehicles, according to the Missouri State Highway Patrol, include trucks with a gross vehicle weight of more than 10,000 pounds, vans with fewer than nine occupants and buses carrying 16 or more occupants. Trucks, especially semitrailers, were the most common vehicle type involved in crashes, data from the Missouri Statewide Traffic Accident Records System showed.
That does not mean, however, that trucks were always responsible for fatal crashes. In fact, more than 60% of commercial vehicle drivers were not at fault in such crashes, according to the statistics from MoDOT.
Factors commonly associated with fatal crashes are distraction, improper lane use or change and failure to yield. Angie Hoecker, commercial motor vehicle program manager with MoDOT, said distraction is probably the most prevalent circumstance and has been underreported in crash reports. The distractions usually come from cell phones. That's why MoDOT keeps working to educate drivers to put down phones while driving.
Joe Dunakey, a truck driver with 40 years of experience, said there are too many distractions in vehicles nowadays.
"Everybody's got their phones," Dunakey said. "They've got their GPS. They're doing the radio. It's just too much."
When drivers look down at the phone in their hands, he said, vehicles go "all over the lane."
More miles, more trucks, more risk
With commercial vehicles driving more and more miles, Hoecker said, there's a greater risk for crashes. In 2015, the average daily mileage was close to 27 million miles in Missouri. In 2018, the number was more than 30 million miles — an increase of 12%.
Brent Witte, president of Witte Bros. Exchange Inc., said the general hike in mileage is a direct reflection of the economy. When it is good, both businesses and individual consumers are buying more. That leads to more shipments and causes growth in the trucking industry in Missouri.
"More companies, more drivers and people like myself … we were growing, so we would put more trucks on the road," he said.
The Witte Bros. had about 170 drivers back in 2015, Witte said. Now, there are 215.
According to the Missouri Department of Revenue, the agency issued more than 22,700 new commercial driver's licenses in fiscal year 2019. That is 11% more than in fiscal year 2017.
Courtney Cothren, an assistant teaching professor in marketing at MU, said retail sales generally have been increasing over the past few years.
Take last year's Thanksgiving weekend, including Black Friday, as an example. Cothren said data from the National Retail Federation shows that total retail sales from Thanksgiving Day through Cyber Monday were 14% higher than over the same period in 2018. People also increased their purchase size. Shoppers spent $361.90 on average in 2019, which amounts to a growth of 16% when compared with 2018.
If the economy continues to do well, Cothren said, overall retail sales will keep growing. Also, the majority of the growth is coming from online shopping, even though about 90% of shopping still occurs in stores.
"Physical store shopping is still the biggest part, but it's projected to drop off, whereas online is projected to continue to rise," she said.
Tom Crawford, president and CEO of the Missouri Trucking Association,  said increased online shopping could be a factor contributing to the growing mileage of commercial vehicles. The younger generations that tend to buy online are growing while older generations that used to shop in-store every week are decreasing in size. Crawford said the change in behavior has led to more vehicles on the road, striving to meet expanding needs.
Taking action
When looking at commercial-vehicle-involved crashes by county, St. Louis County topped the state with 1,914 crashes from 2014 to 2018. Forty people died in those crashes, according to MoDOT data.
Sgt. Shanna Ostendorf of the St. Louis County Police Department said not only is the county a busy area, but also that it is a large hub for trucking. There are some major industrial parks. Also, a lot of products come from barges traveling on the Mississippi River. She said all of those factors have put commercial vehicles on the roadways and might have caused the higher number of crashes.
To handle this issue, MoDOT supported the St. Louis County Police Department in establishing a new Commercial Vehicle Enforcement unit in 2017. Ostendorf, who oversees the unit, said it has since expanded to have five full-time officers in the summer. They conduct roadside inspections and stop commercial vehicles for traffic violations.
Ostendorf said the officers conducted more than 1,500 inspections and discovered close to 5,200 violations in 2019. Most violations were related to improperly secured loads or lights that were not working properly.
Discussing the common contributing factors in St. Louis County crashes, Ostendorf said she believes distracted driving and lane violations by passenger vehicles tend to cause a lot of commercial-vehicle-involved crashes. Truck drivers involved in accident investigations have told officers the same thing.
"They say, 'I got cut off, and I couldn't stop in time,'" she said.
In 2018, new legislation took effect in Missouri that limits the power of law enforcement over commercial vehicles.
Under the new law, safety inspections are no longer allowed to be executed on the shoulder of a highway with a speed limit of over 40 mph. Hoecker said that covers almost all major highways in the state.
One potential drawback of the law is that greater visibility of law enforcement usually creates better driving behavior, Hoecker said, because drivers pay more attention to safety and keep hands free of phones even if they don't get pulled over.
Trucking companies are addressing safety issues by equipping their vehicles with more safety equipment. Witte said each of his company's trucks has lane-departure warning technology. If the vehicle is wandering out of its lane, the system beeps to alert the driver. This year, the trucks will be equipped with active lane-keeping assist, which will actually move the vehicle back into its lane.
One truck, without a trailer, could cost anywhere from $150,000 to $170,000, Witte said. The company has spent between $6,000 and $10,000 on every truck for the safety equipment. He also said the drivers are required to take monthly safety training. Subjects include driving through construction sites and taking precautions in winter road conditions.
Dunakey, also a trainer for Witte Bros., said he tells new drivers to watch the mirrors and pay attention to what's going on around the truck.
An example of the kind of actions he tells drivers they must take is to keep an appropriate distance from the vehicle in the front of them. Dunakey told his new colleagues to plan out their days on the road as well. He said figuring out in advance where to get fuel or stop to rest would reduce stress and therefore cut down the need to rush.
"Every second of the day you've just got to make good decisions," he said.
Supervising editor is Mark Horvit.