Editor's note: The in-person reporting for this story was conducted before Illinois and Missouri implemented stay-at-home orders because of the COVID-19 pandemic.
MURPHYSBORO, Ill. — Slot machine advertisements block out the windows of Chances Lounge, so you can't see who's inside. In the dim interior of the gaming parlor, soft music from five slot machines fills the room, formerly a small vape shop off the main strip of Murphysboro, Illinois. When players push the buttons, quiet bells chime and coins clink.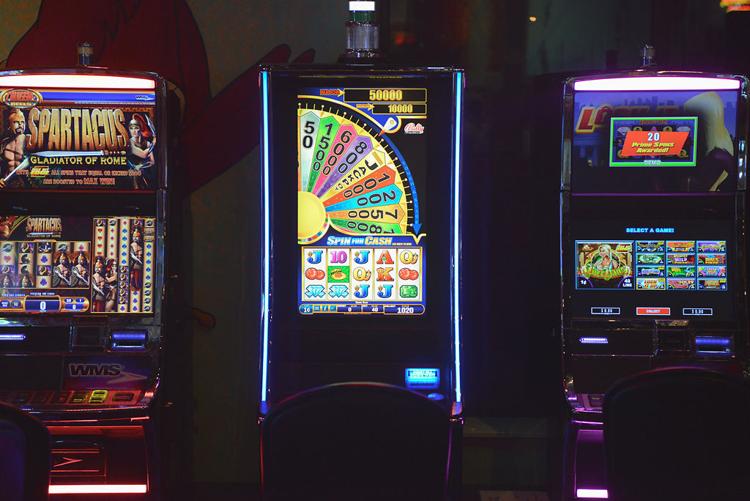 Players stare straight ahead in their high-backed chairs, only moving their fingers to push the buttons that place bets and spin the slots. Some of them have certain tics — tapping their fingers against the machine a certain number of times before pressing "spin" or mouthing words as they play.
Occasionally, they get up from their seats to withdraw cash from the in-house ATM, grab a free water bottle or bag of chips from the counter or go to the restroom. Then they return to their machine, insert more cash and spin again. And again. And again.
Since Illinois legalized video gaming terminals in 2009, the machines have spread across the state. Now, there are more places to gamble in Illinois than Nevada.
Gambling companies and the businesses that host the machines are making massive profits, but state and local governments have made less money in taxes than expected.
There are already 14,000 similar slot machines in Missouri, and lawmakers must decide what to do with them.
It's the same situation Illinois faced 11 years ago.
These "grey box" slot machines, often found in Missouri gas stations and truck stops, are essentially illegal under state law. The machine owners argue that the slots are legal because of technical differences between the gray box machines and regulated slot machines.
The Missouri Gaming Commission, however, still sees them as "gambling devices," which are considered illegal outside of licensed casinos. The gray boxes are unregulated and not taxed, and it's unclear whose job it is to seek out and remove them. The legislature must decide whether to enforce existing gambling regulations or change the law to allow video slot machines.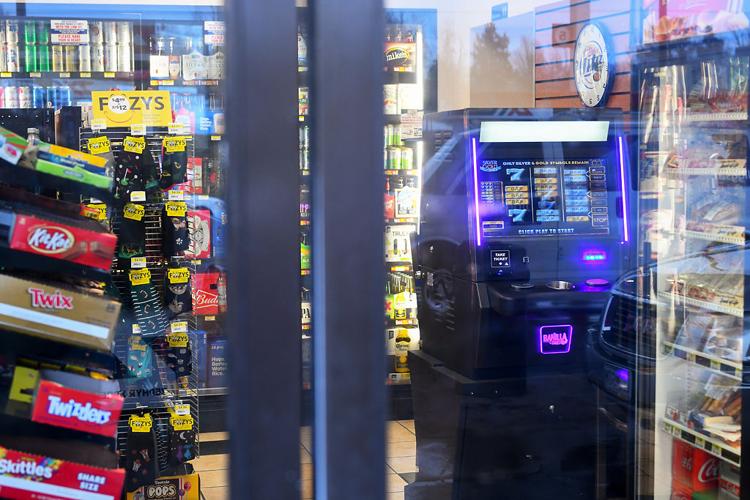 Legislation was making its way through the Missouri House and Senate, offering a path to legalization and regulation of video slots. But criticism from both parties, compounded by the session's abrupt shift in priorities because of COVID-19, has caused some roadblocks.
Supporters of the slot machines, however, still think they can accomplish what Illinois and other states have in the last decade.
Keeping business alive
Patrick's Bar & Grill doesn't look like much from the outside.
The two-story building's wooden siding is painted a simple beige. Faded signs advertising assorted beers — including one that reads, "Welcome to Granite City" — decorate the exterior walls. Neon signs hang in the windows, unplugged and unnoticeable against the dark room behind them. On a Saturday at lunchtime, few cars pass by the bar. Even fewer cars take up spaces in its parking lot.
It's hard to imagine that people gambled over $2 million at Patrick's in 2019.
Since video slot machines proliferated across the state, businesses have capitalized on the opportunity to increase profits. Along with drawing a bigger crowd of customers who might want to buy some food or drinks while gambling, a portion of the slot machine's revenue goes directly to the establishment.
For some business owners, this could mean extra change in their pockets. For others, like Patrick's, it can determine if a business keeps its doors open.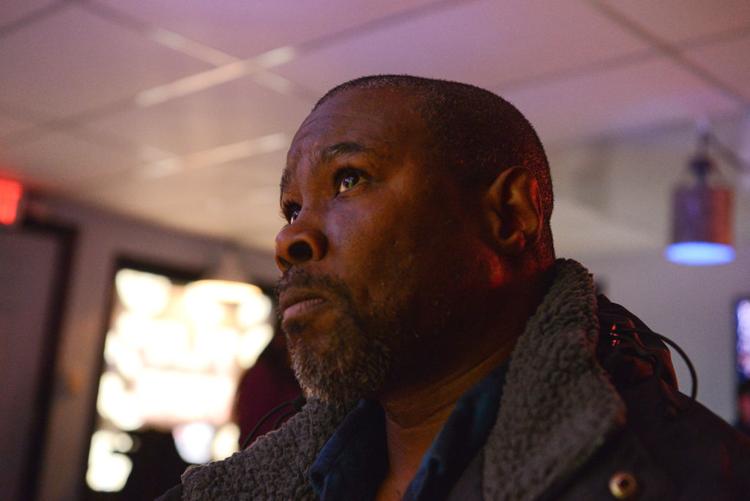 Doug Patrick bought the bar, then known as Eddie's, in July 2019. The machines were shut down for five months to have them re-licensed with the Illinois Gaming Commission under the new owners. Before that, however, $5.5 million was gambled in the bar in just 2018 — the second-highest amount in Granite City.
"It makes the difference between keeping businesses open and keeping businesses closed," Patrick said. He explained that the portion his business receives helps pay for the bar's utilities, payroll and other expenses. "This place would've never been bought if it weren't for the gambling machines."
Not only have existing businesses been able to profit off of video slot machines, but also an entire industry has emerged. Video gaming parlors, such as Chances, act as mini-casinos in the middle of town.
When video gaming terminals were first legalized, the net terminal income was divided equally between the state of Illinois, the video slot machine suppliers and the businesses that have them. Additionally, one-sixth of the state's cut would be allocated to the local governments where the terminal was located.
Missouri lawmakers have filed legislation that would tax and regulate the gray machines in the state over the last four years. During the 2020 legislative session, two bills with different tax systems were proposed in the House of Representatives, HB 2088 and HB 2030. Although these bills would have given the state, video slot machine suppliers, businesses and local municipalities a cut of the net revenue, slightly more would have been allocated to government resources — including education. Momentum on the bills halted during the pandemic-shortened legislative session, but the effort to expand video gambling will continue when lawmakers reconvene.
"This is a way to claim money that should be going to the state that's currently not," said Rep. Dan Shaul, R-Imperial, who is the sponsor of HB 2088. He said the estimated 14,000 rogue video slot machines currently in Missouri are siphoning money from the state budget and operating without regulations.
Because of COVID-19, Gov. Mike Parson has estimated that revenue in the coming year could be about $1 billion below expectations; the version of the new state budget passed by lawmakers cut about $700 million of that. Shaul said that because education funding is often affected by general revenue cuts, regulating video slot machines could help make up for that loss.
Illinois' goal when legalizing video slot machines was also to alleviate economic hardships. With the expansion, lawmakers expected additional funding for infrastructure projects while simultaneously creating jobs after the 2008 recession.
It was local businesses and machine terminal suppliers, however, that really hit the jackpot.
"I think that video gaming in Illinois has been the single biggest small business initiative in the history of Illinois," said Bob Willenborg, the CEO of J&J Ventures Gaming. The Illinois-based company is one of the largest video slot suppliers in the state, operating over 8,300 terminals prior to Illinois' shelter-in-place order March 21. Its signature yellow-and-red signs advertising "Video Gaming Here!" hang outside gas stations, bars and fraternal organizations throughout the state — an emblem of convenience gambling.
With video slot machines also in Indiana, Pennsylvania and Georgia, J&J Ventures Gaming has been looking to expand its business in Missouri for the last four years. The company has testified in support of legislation that regulates the gray machines.
"The vast majority of all the monies earned in video gaming in Illinois, and potentially in Missouri, stay within the state to buy cars, invest in charitable organizations and provide jobs," Willenborg said.
According to ProPublica, Illinois lawmakers projected earnings of $2.5 billion in taxes from video gaming terminals by November 2018 that would go toward state and local projects.
Instead, the state fell short, making just $1.4 billion by the projected target date. This is largely attributed to the relatively low tax rate and several municipalities banning video gaming terminals altogether, including Chicago, according to the Illinois Commission on Government Forecasting and Accountability.
In order to compensate for lost revenue in Illinois over the last decade, lawmakers expanded video gaming in 2019 by a number of measures. Most notably, taxes on net terminal income were increased to 33%. By June 2021, they will increase to 34%.
And while local businesses like Patrick's Bar & Grill will ultimately take a pay cut, Patrick still favors regulation, saying, "It's the best thing they could possibly do for a bar."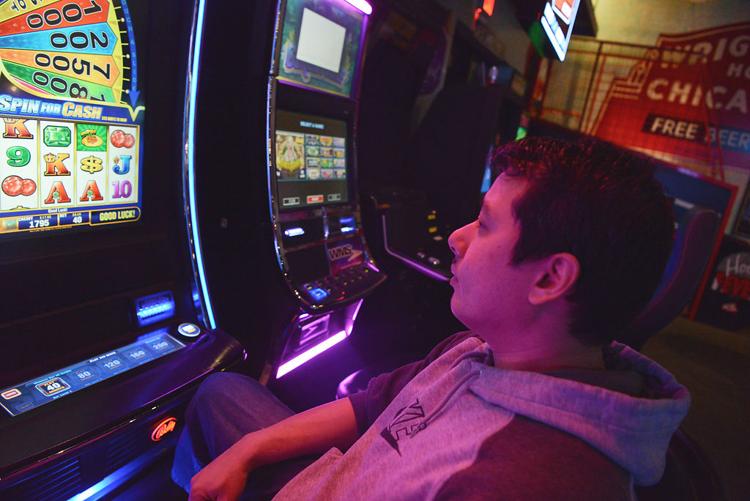 Lure of the big hit
Randy St. Clair and Randall Bain said they didn't gamble much until the slot machines showed up in their hometown of Marion, Illinois. Once slots took hold in Marion, however, they both started gambling every day.
Bain, 55, works maintenance at the Flying J in town, where he and St. Clair met.
The slot machines in the gas station are some of the most popular in the state, but employees can't gamble in their workplace, so Bain plays slots at other places around town.
On a Saturday afternoon in February, the two men were playing the slots in the back room of RollnUp, a liquor store across from the Flying J.
Swinging, saloon-style doors separate the gaming room from the sales floor. On this day, the doors were propped open, but the room remained dim.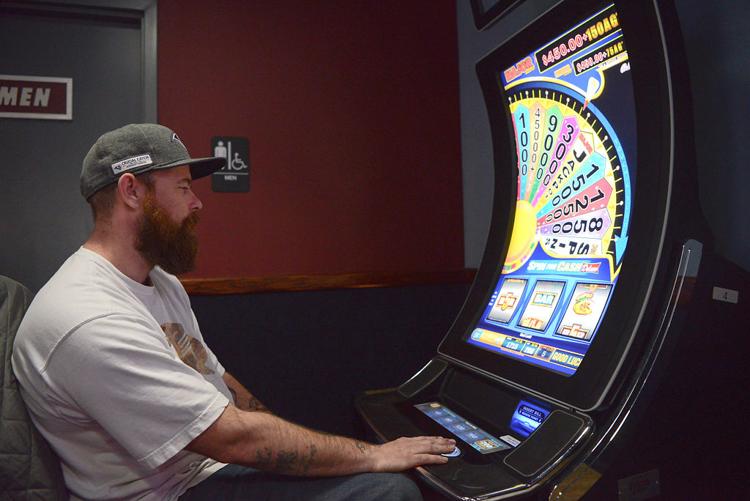 Bain compared the appeal of the machines to golf, playing as he spoke.
"You get out there and you hit that one big shot, and it keeps you coming back," he said, pushing the button to spin again.
He hit his first big shot six months ago. Then he started gambling every day.
In Marion, there are nearly 200 video slot machines. The slots in the Flying J alone brought in $1.35 million in net profits last year.
Those near the machines, including those who play them and employees of businesses that have the slots, said they've seen people from all walks of life spend entire paychecks in one sitting.
Rhonda Burbank, a cashier at the Curly's Corner Market in Granite City, said people will be waiting by the door to be let into the gaming room when she opens the store at 6 a.m.
"There are a lot of cons. I've seen people lose their whole paychecks," she said. Burbank said there are people who come in and spend their entire social security check in one sitting.
Areas for video slot machines are designed to encourage gamblers to stay. The chairs are often large and plush, and the dim lights and low volume make it easy to get sucked into a game.
The slots are inescapable in some places. They cluster along busy roads, and many gaming rooms are within walking distance of each other.
There are two other businesses with slot machines on the same corner as Curly's Corner Market.
Burbank said sometimes customers with gambling addictions ask her not to let them back into the gaming room. Even if she complies, there are plenty of other businesses that person could go to.
Many parlors, like Lucy's Place and Chances Lounge, offer free or cheap soft drinks and snacks to people playing the slots. Lucy's website states, "Our employees are trained to politely and unobtrusively serve our customers while preserving a quiet, relaxed environment."
Jason Lee, the manager and co-owner of Chances, opened his gaming parlor in December 2019 with his wife after seeing the kind of money other places were bringing in. Lee and other business owners said they are not responsible for gambling addictions. He compared his parlor to a bar — and bars aren't responsible for controlling alcoholism, he said.
"I think that just depends on how people look at it," he said. "They may think that I'm pandering to that thing, but it's just supply and demand."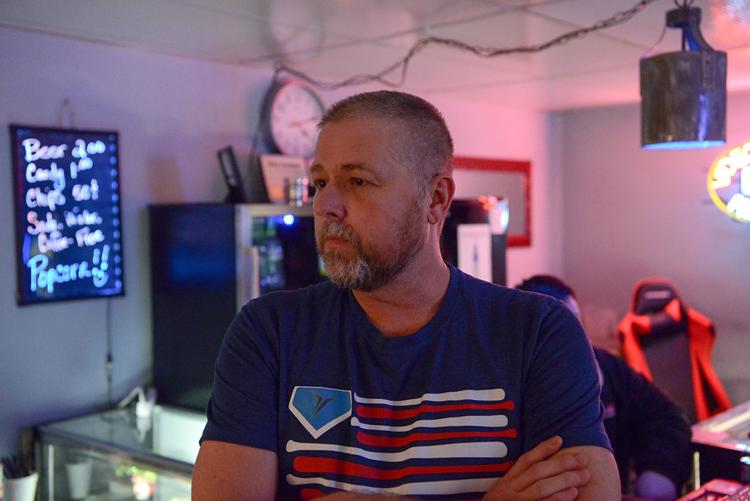 Many gamblers aren't addicts. Some, like Chris Holland, 36, who works in manufacturing, said he plays the slots a few times a month. He brings a set amount of money and leaves when it's spent.
He prefers the calm atmosphere of gaming rooms to the chaos of casinos. He doesn't like people watching over his back as he plays, he said.
Even though Holland estimated he's won around $4,500 from the video gaming machines, that isn't the only reason he likes them.
"I always say I'm a winner anyways," Holland said. "I never look at it as losing. I mean, I'm playing to have fun."
Some proponents of the video slot machines say gambling addictions have always been present but were previously limited to casinos. There's not necessarily more gambling addicts, they say; it's just that the addictions weren't as visible before.
Willenborg said that companies like J&J Ventures Gaming take problem gambling very seriously.
"We do not want to take people's rent money. We do not want to have people on the street," he said. "You know, can someone get in trouble (gambling)? Yeah, but they can drink three cases of beer in a day and get in their car and kill somebody."
Critics of the machines still say they have clearly caused an increase in problem gambling in the state. The Illinois Department of Human Services' Substance Use Prevention and Recovery unit agrees. The department gave $119,000 to Centerstone, an addiction resource provider, to expand services in southern Illinois, including Marion and Carbondale.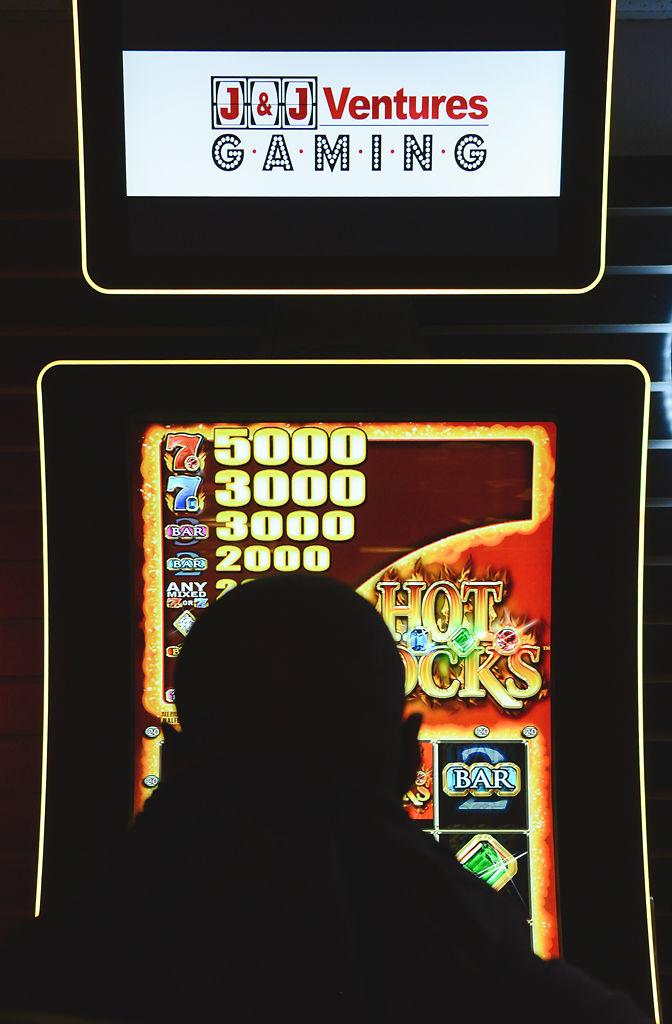 Marion Mayor Mike Absher knows addiction is a problem in his community.
In the 10 months since Absher took office, 12 residents have come to him to ask for help paying rent, he said.
"What's happening is they're gambling this money away," Absher said. "I see it disproportionately affecting some poor people."
Local control
Tax revenue is the legislative selling point for allowing video slots, but local governments in Illinois only see a small percentage of the revenue.
In Granite City, slot machines made $4.9 million in net profit last year. The city received about $245,000.
Granite City Mayor Ed Hagnauer said the city's share is "minuscule" compared to the profits made by businesses and gaming companies.
His city directs gambling revenue to police and fire pensions.
"It's very insignificant if you compare it to the amount we're behind on our pensions," Hagnauer said. "It makes very little impact."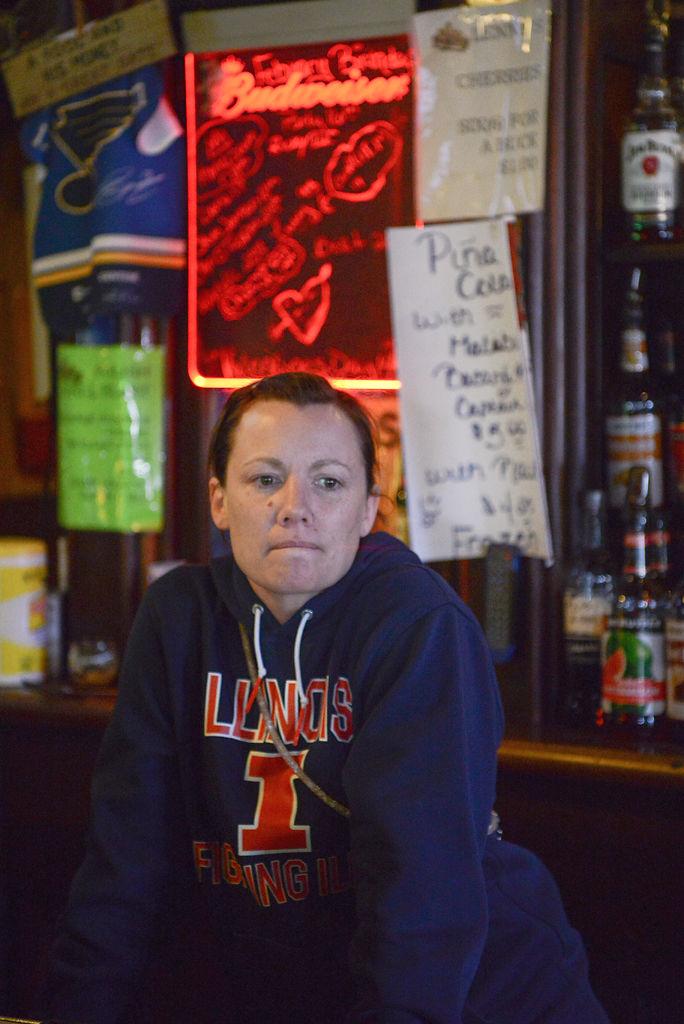 Illinois law allows video slot machines in any business with a Class A liquor license: truck stops, convenience and liquor stores, bars, some restaurants and fraternal organizations. Gaming parlors, like Chances and Lucy's, also have the licenses.
When the machines were first legalized, local Christian activists clashed with gaming companies, who had been lobbying the city to issue them gaming permits even prior to legalization.
"(The church's) concerns were families — husbands, wives — sitting around and playing games and basically losing their paycheck," Hagnauer said.
The city council decided on a compromise: only allowing the slots in bars and fraternal organizations, effectively barring them in truck stops and gaming parlors.
"We didn't wanna have them all over town," Hagnauer said. "We didn't want them in places where kids walk in, restaurants where people are eating. We just didn't feel that that was proper for us."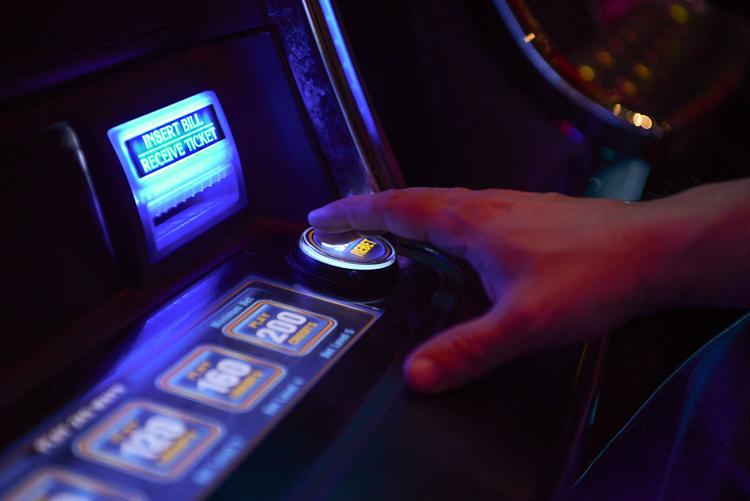 In Marion, the slots exist in businesses from parlors to hair salons, but the city has found other ways to regulate the machines.
Last year, the city doubled the fee it charges for slot machine licenses and decided to place a limit on the number of slot machines it would permit.
Overall, the city brought in about $376,000 from the machines last year, plus an additional $15,000 from the fees. In Marion, that income is going toward renovations of a community center and a senior center.
Absher said slot machines are concentrated near public housing units in Marion and suggested that municipal governments consider prohibiting slots within a certain distance of subsidized housing units.
"(Local governments) really need to understand that there are consequences, and those consequences are to those that can least afford it," Absher said.
Tipping the scales
Nestled on the banks of the Ohio River, Harrah's Casino towers over the desolate downtown of Metropolis, Illinois. Since 1993, the casino has boosted the state and town's revenue, while attracting gamblers from the Illinois and Kentucky sides of the river.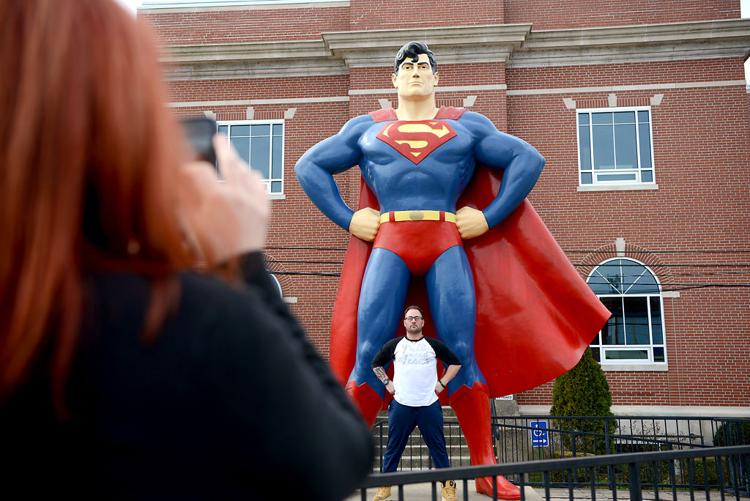 Even though the flashing lights still shine across the casino's entrance, it isn't what it used to be. Admissions have fallen, employment in casinos has dropped and revenue is falling short.
Just a few miles up the road is a different attraction, and part of what locals believe keeps Metropolis alive: Acee's Food & Fuel.
The gas station and convenience store sits off Interstate 24, just over a mile from the Kentucky border. But people don't travel there just for the food.
Acee's is one of Illinois' highest earners among video slot machine establishments, ranking No. 7 overall in net terminal income in 2018, when it brought in $1.4 million.
Meanwhile, Harrah's Casino experienced the worst revenue drop in the state.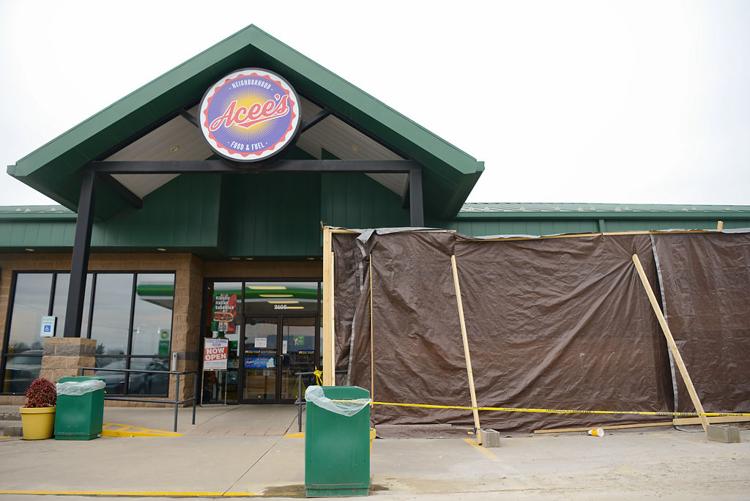 Gambling has become a hometown activity rather than a weekend destination.
Video slot machines have been recognized as serious competition for Illinois' 10 riverboat casinos since their regulation. Casinos are taxed at a much higher rate than noncasino slot machines — up to 50% — so governments lose money when people who usually gamble at casinos switch to truck stops and parlors.
In 2017, the revenue brought in from noncasino slot machines surpassed what casino slots earned for the first time. Although more money is coming in from video slot machines, their fixed tax rate isn't making up for the decrease in casino wagering and admission taxes.
This tipping scale has resulted in a significant loss of money for state and local projects. In Metropolis alone, the city lost over $300,000 in slot machine revenue because of the increased competition from establishments like Acee's.
As casino attendance and revenue have steadily declined in Illinois since the regulation of video gambling terminals, the industry in Missouri worries that legalization could trigger a similar response.
Mike Winter, executive director of the Missouri Gaming Association, said that he has had conversations with his counterpart in Illinois about the competition video slots machine pose. "We have opposed the bills, knowing now what the impact has been on the casinos in Illinois, and don't want to have that same experience here in Missouri."
According to the American Gaming Association, before COVID-19, Missouri's casino revenue had remained relatively steady for the last decade despite a 31% decrease in attendance since 2011. At the state level, taxes from casinos contributed over $27 million to public education, veterans programs, higher education scholarships and the compulsive gamblers fund.
Missouri cities have also relied on taxes from casino revenue to boost their economies. Isle of Capri in Boonville, for example, has long been one of the town's primary employers and economic contributors to its municipal budget. In the 2018-19 fiscal year, gaming tax revenue from Isle of Capri totaled one-sixth of the revenue the city collected, according to previous Missourian reporting.
Willenborg said he sees video slot machines as an evolution of an outdated business model. They make gambling, which has traditionally been off the beaten path in Illinois and Missouri, more accessible.
"We're not Ruth's Chris or Capital Grille … . We're McDonald's and Burger King," Willenborg said. "We're not a life-changing type of operation. We are something that if someone wants to go to their local VFW or a restaurant or their local watering hole, have a beer and throw 20 bucks in the game and play ... ."
Shaul said he understands why the Missouri casino industry does not want legal expansion of video gambling terminals in the state. He said that the loss in revenue from casinos can be attributed to the competition by the illegal machines.
"I think the discussion we have to have now is we have to regulate this industry that's out there," he said. "It's existing, people are using it. And an unregulated industry is going to certainly hurt the casinos more than a regulated one."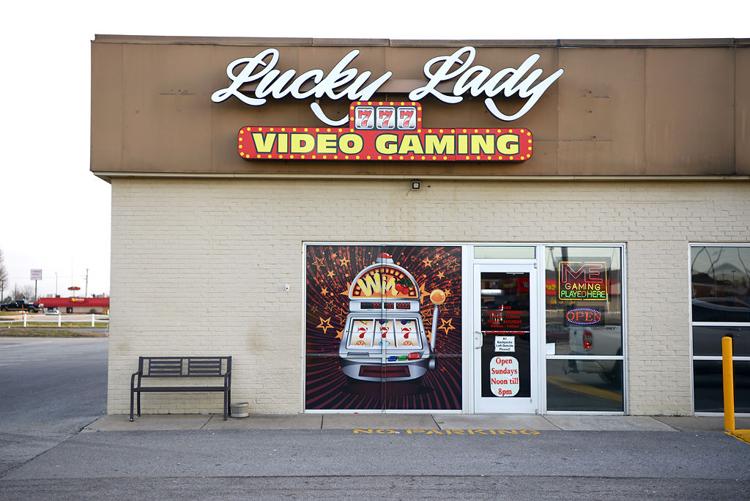 Absher, Marion's mayor, said governments need to have an "action plan" to tackle the downsides of a gambling expansion.
He said in Marion, the horse got out of the barn a long time ago, and he's still working on trying to rein it in.
"You've gotta build the fence before you let the horse out, and I don't think Illinois approached it that way."