When Gov. Eric Greitens made a statement about recent protests in St. Louis, he didn't include it on his official state website. Instead, he posted a short note directing Missourians to his Facebook page.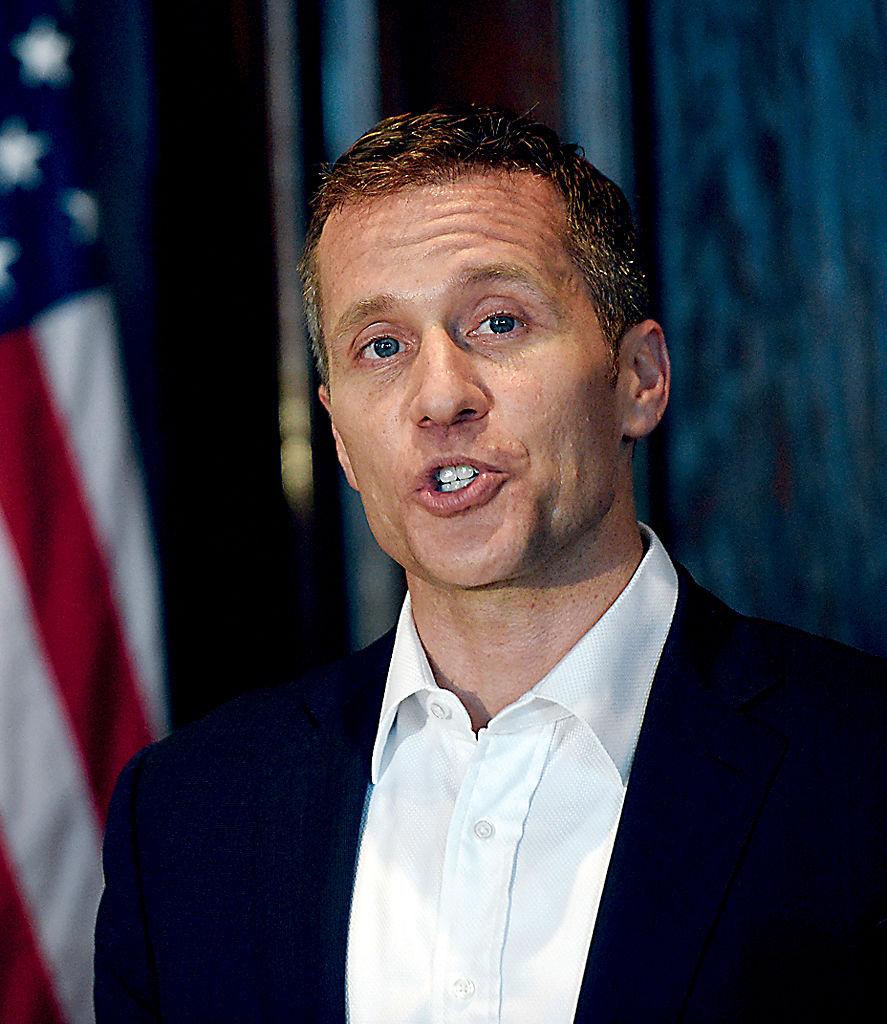 Greitens regularly posts videos to Facebook discussing state business and holds Facebook Live broadcasts, where he answers constituent questions and interacts with his audience of almost 400,000 followers.
For Missouri constituents, following Greitens on Twitter or liking his Facebook page are often better ways to stay in the loop compared with his state website, which sees less frequent updates.
And Greitens isn't alone. Governors and public officials across the country have taken to social media to live-stream news conferences and solicit constituent feedback directly.
The rise of elected officials' use of social media has raised the issue of free speech and First Amendment rights in the online realm. Officials have been criticized for "blocking" users on Facebook and Twitter, which restricts a user's ability to see and interact with content from the blocked account.
But while a number of governors and elected officials have publicly shared information such as the number of people they block from access to their accounts, Greitens' office is refusing.
In Maryland, the Washington Post reported that Republican Gov. Larry Hogan had blocked 450 people from his Facebook page over the course of the two years he's been in office. In Kentucky, the Courier-Journal discovered through a records request that Republican Gov. Matt Bevin was blocking nearly 600 users on his Facebook and Twitter. In California, the First Amendment Coalition threatened a lawsuit before Democrat Gov. Jerry Brown revealed he had been blocking over 1,500 accounts on Facebook and Twitter. And across the country, ProPublica reported that government officials at various levels were facing similar repercussions and lawsuits.
While lawsuits are pending, the issue is being parsed out in the courts as to whether the public has a right to know when their access to public officials' social media accounts is being restricted. Lyrissa Lidsky, dean of MU's School of Law and an expert in First Amendment law, believes the public does.
"I think there's a good First Amendment argument that they do," Lidsky said. "Because it's only with that kind of transparency that we can know if the First Amendment's being violated by government officials censoring voices of dissent."
The Missourian filed a records request under the Missouri Sunshine Law to find out if Greitens was blocking users on his social media accounts, obtain records of direct messages and get information related to the account's creation. Greitens' office refused to provide the information.
In the days following the request, the governor's office published a link to guidelines on how it monitors social media and appears to have launched new Facebook and Twitter accounts. The purpose of the new social media sites was not clear.
Sarah Madden, special counsel for the Governor's Office, rejected the Missourian's records request, in part because she said Greitens had created the Facebook and Twitter accounts before he took office. She wrote that as a result, "neither are considered official state accounts." She did not address the governor's use of those social media sites for town halls and official announcements.
Madden also wrote that "no individuals have been blocked from any official social media account administered by this office," but she did not list what accounts she was referring to.
The Missourian sent a list of questions to Parker Briden, the governor's spokesman. He did not address them directly but sent a short text.
"Like many governors around the country, Gov. Greitens uses social media to communicate with people," Briden said. "That includes accounts created long before he ever ran for office, and different state-maintained accounts — which have been in the works for some time."
Lidsky said that a social media account created by a private citizen who transitioned to an elected official doesn't necessarily prevent an account from being subject to public records law.
"Just because they were private at one point, doesn't mean they stay private forever," Lidsky said.
"The rules on existing First Amendment jurisprudence, or First Amendment case law, is that the status of the site — in this case the social media site — is determined by the government's intent," Lidsky said. "You might have started it as a purely private account, but if you begin using it as an interactive forum to engage with citizens, then a court could reasonably determine that the intent has changed and that the site is acting as a public forum and should be treated as such. So if it's treated as a public forum, you don't get to pick and choose which citizen comments you like and which you don't like."
Most recently, Greitens encouraged constituents to post questions during a "Facebook Live Q&A" on Aug. 23. A day before the livestream, Greitens solicited questions from users, posting, "We're doing another Facebook Live Q&A tomorrow at 11:30 AM. If you have questions, please comment below. Looking forward to it; hope you can tune in!"
When a user is banned from a page on Facebook, they can still share the page's content but cannot "publish to your Page, like or comment on your Page's posts, message your Page or like your Page," according to Facebook's Help Center. That means, anyone who might have been banned from Greitens' page during the Q&A would not have been able to ask questions.
Madden's letter declining to provide the list of blocked site users also states that "The Missouri Sunshine Law does not require a public governmental body to create new records upon request, but only to provide access to existing records held or maintained by the governmental body."
On Twitter, users can export a list of the accounts they have blocked into a spreadsheet, according to Twitter's Help Center. Whether exporting this list falls under the designation of an existing record, is unclear, Lidsky said.
On Tuesday, the day Greitens' office replied to The Missourian's records request, a "Social Media Moderation Policy" link was posted to the bottom of the official website for the Office of the Governor.
The policy states that the office views its social media platforms as "moderated online discussion sites" and informs individuals that any comments or posts that violate a set of listed guidelines may be removed without notice. The guidelines include posting profane language or content, spamming or trolling, encouraging illegal activity and more as reasons a user's comment or post may be removed.
The policy goes on to state that continued violations may result in "the restriction of the individual's right to comment on the official Governor's Office social media platform(s)." The official social media platforms the policy applies to are never referenced.
Establishing a social media moderation policy is important not only for the users but also for elected officials, Lidksy said.
"It's important to have a policy that defines why you're going to take down certain speech so that there is no implication that you're taking it down because you don't like the viewpoints or the content," Lidsky said. "The government is not allowed to censor based on viewpoint or content in a public forum. The policies protect the government because it dispels the notion that they would be censoring their citizens."
The new social media policy posted on the governor's website may still have flaws, Lidksy said. "That is problematic," Lidsky said of Greitens' policy to delete comments and posts without notice. "There very well may be a due process right not to have your speech taken down without notice."
The same day the social media moderation policy was added to the Office of the Governor's site, the links to the "@EricGreitens" Facebook and Twitter accounts started to be phased off the website.
The account links to the official Office of the Governor website, rather than the "Greitens for Governor" website his original Twitter account links to. The new account also explicitly lists Greitens' name as "Governor Greitens" rather than "Eric Greitens" and reads "Official Account of the 56th Governor of the State of Missouri" in the bio.
A different "Governor Eric Greitens" Facebook page with the handle "GovernorGreitens" appeared in a Facebook search Thursday afternoon. Although the page's information says it was "started on January 9," the page's profile picture and web address weren't updated until Monday afternoon to mirror the ones on the Twitter account.
As of Thursday evening, both accounts feature no tweets or posts.
Briden did not respond to questions concerning the alternate accounts.
While it's unclear the extent to which Greitens may have blocked users, some individuals have taken to social media to vent their frustrations toward being blocked from Greitens' accounts.
"I got blocked from Greitens Facebook page," Missouri resident Patsy Roach tweeted in July.
Roach said that when she would see Greitens post about right-to-work, she felt, as a union member, that she had to express her disagreement. But she said she never used profanity or made threats.
She became so frustrated that she decided to express her disapproval with a single emoji: the vomiting emoticon, which is a green grimacing face. "I thought, that says it all," Roach, 54, said.
When she went to comment again, she realized she had been blocked.
"I was mad," Roach said. "There was no warning."
If Greitens did block users or delete posts and comments without following an established policy, he could be vulnerable to lawsuits, Lidsky said.
"If they're blocking critical commentary based on content or viewpoint, it opens him up to a lawsuit alleging First Amendment violations," Lidsky said, adding, "In fact, government officials in other states have been sued precisely for that activity."
Roach said that she decided she wanted to find out why she had been blocked. She said she messaged Greitens' Facebook page a few times and received no response. She posted in a union page on Facebook and was told that more union members had also been blocked. Once when someone posted about their experience, she responded, "Welcome to the club."
She decided to send the governor a letter.
That worked. Roach said she received a voicemail from someone who said they were with the governor's office who explained to her that she had been blocked for posting the emoji.
"When he told me it was that, I sat at my desk and laughed out loud, because I said, 'That's why you blocked me?' I mean it's really funny in a way," Roach said.
But being blocked has left Roach with a lasting impression.
"I would just like to be able to voice my opinion," she said. "I mean, it's what our country's about."