Solving hunger should be as simple as the slice, smear and crunch of an apple with peanut butter. And in some ways, it is — for even a moment, a snack, a meal, takes care of the stomach's rumble.
But the wider problem of food insecurity, or the inability to consistently access nutritious food, is anything but. The real solution, if a single one exists, is as multilayered as the problem. For Jen Wood, research and development officer at the Southeast Missouri Food Bank, the fix requires two movements: getting hungry people fed today, and addressing the interlacing systems that led them there.
"There's that immediate need, and then there's that long-term need," Wood said. "Immediately, (people) need help right now, and food is something that can't wait."
Dotted across the country, community-sized, grassroots programs have cropped up to address both needs. They're not one-size-fits-all, but they offer postures as well as paradigms:
A job skills program that begins with a sack lunch and ends with employment for residents of extended-stays in Branson.
A "community food resource center" in Indiana that blends meals, workshops and advocacy (along with a book club that feeds the belly and the brain).
Small corner stores in Kansas City where, as if overnight, fruits and vegetables appear near shelves stocked with chips and candy.
These projects exist within the context of a long-standing anti-hunger movement.
The first Food Stamp Program began in 1939 in an attempt to connect surplus food with unemployed Americans during the Great Depression. The program, deemed no longer necessary when both conditions decreased, disbanded in 1943, only to return for good in the 1960s. The decade yielded more conversations and change across the country.
The first food bank, St. Mary's, was founded in 1967 in Phoenix by the man who would eventually create the national charitable food network now known as Feeding America. A year later, CBS broadcast a documentary called "Hunger in America," which seared watchers' eyes with the faces of malnourished American children.
Then, in 1969, former President Richard Nixon addressed the issue with Congress: "That hunger and malnutrition should persist in a land such as ours is embarrassing and intolerable. But it is an exceedingly complex problem, not at all susceptible to fast or easy solutions."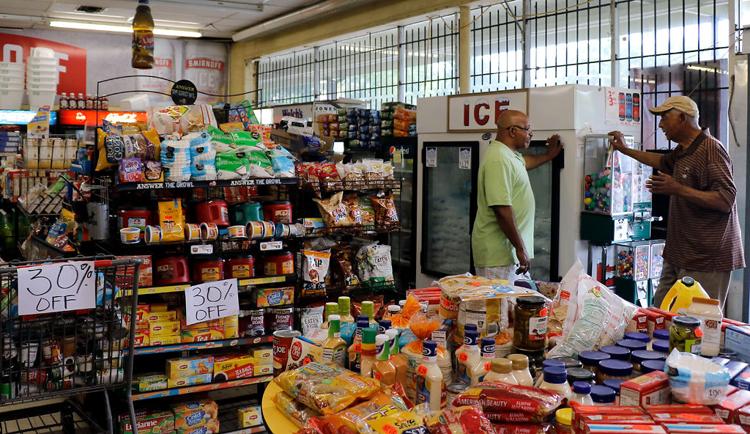 Changes among larger-scale institutions take time. The ongoing reinvention of Feeding America, the nation's largest domestic charitable food network, offers a case study.
In 2012, the network of 200 food banks created a framework with which to categorize and advocate healthy foods, or "foods to encourage" — like fresh produce, whole grains and dairy. The movement marked a departure from the system's original fare: often processed, shelf-stable foods, some of which have now been associated with a higher risk of chronic diseases like diabetes and obesity.
The shift trickled down. Now, more than 60% of the food The Food Bank for Central & Northeast Missouri provides to local agencies each year are those "foods to encourage."
Not only have certain foods gone out of fashion but also certain words. Lately, the team at the food bank in Columbia has been wrestling with rhetoric — how they speak and write about the people with whom they work. They've stopped calling the people served by the pantries "clients." At Central Pantry in Columbia, they've changed their signs from "member" and "household" to "people" and "family."
"A lot of people might say, "It's just the word,'" Eric Maly, director of programs, said. "But I do think that language matters sometimes."
It's a subtle shift, but one that addresses the way people sometimes think about those at the receiving end of charity.
"Let's start viewing people as people," Sean Ross, who manages the pantry, wrote in an email.
Chase Wyckwood works alongside Maly and Ross as the volunteer engagement coordinator, and he's been contemplating the food bank's posture toward volunteers, and vice versa. Words like "community service" and "service learning" carry their own connotations.
"The language ... creates a limit to what we can do and how people see themselves in solving the issue," he said.
Instead, he prefers words that reflect a long-term approach to service, which more accurately represents what's required in addressing food insecurity.
"'Civically minded' is a perspective on life and a paradigm through which they live their life, whereas a 'volunteer' is an opportunity that you take, and you get something and they get something," Wyckwood said. "But civically minded individuals aim to achieve goals in the systemic realm of the issue."
As it turns out, these civically minded people exist not only within the emergency food system, but all over. Their creative models at work in other parts of the state and country are small, local and committed to relationship; they thrive on community partnerships and coming together to a table where all are welcome and around which no room exists for "us" and "them."
Jesus Was Homeless
For close to nine months of the year, Branson swells from a rural community of nearly 11,000 to a vacationers' enclave that hosts tens of thousands of tourists each day. But in January, February and March, the town recedes; during its hibernation, the unemployment rate more than doubles. The housekeepers, busboys, waiters, cooks, technicians, ushers and ticket-takers who work quietly behind the scenes during high season return home, many to extended-stay motels without kitchens, many jobless, to wait for the next surge.
"They are people that have moved to Branson looking for a job and a fresh start, or they are people that have been here for a long time and have just not got ahead," Bryan Stallings, who works alongside these people, said.
Their prospects are further limited by location. Branson sits among the Ozarks; the terrain makes building expensive, so affordable housing — especially housing close to the jobs — is tough to find. To make matters worse, Branson lacks a robust public transportation system.
"From a poverty standpoint or a hunger standpoint, we have the perfect storm here," Stallings said.
Stallings moved to Branson in 1987 — before "60 Minutes" helped make Branson an international destination, before more than 8 million tourists began funneling into the town each year, before the recession hit and growth slowed.
It wasn't until 2005 that he and his wife, as a lesson to their teenage children ("hoping to instill in them that they needed to serve and that they could quit complaining"), decided to help serve a Thanksgiving meal at a local church. Not long after, the church ended up selling its building. The family looked for another opportunity and didn't find one. So, in 2008, the Stallingses decided to host their own.
Once they began passing out flyers, they learned about the extended-stay motels — 25 of them, many with people living there long term. For that initial dinner, close to 50 people showed up.
"We were able to just sit down and talk with them and hear their stories and discovered that they were just like you and I," Stallings said.
The only difference, he found, was that many had a poverty of resources.
He and his wife created Jesus Was Homeless, which became a nonprofit in 2009. They started out with only their home kitchen and a membership at Sam's Club. They picked one motel where they knew people were living and began delivering sack lunches each week. That first year, they passed out 11,000 lunches.
These days, Jesus Was Homeless works to be a relational, people-first and partnership-centric endeavor that uses a sack lunch only as a point of entry — and it serves more than 1,000 of them each week. But food is secondary.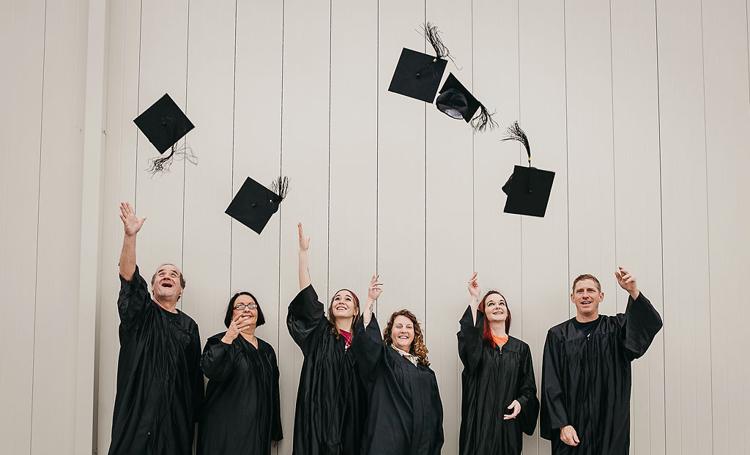 "One sack lunch meal a week is not going to sustain them or eliminate their food insecurity, but it allows us to step into their life," Stallings said.
The bigger commitment is employment.
In 2013, they created a local chapter of Jobs for Life, a faith-based program that teaches people how to be more employable so they can get — and keep — a job. In the classes, which run two evenings a week for nine weeks, they learn everything from interview skills to conflict resolution, resume-building to how to practice good hygiene. New classes begin every 10 weeks.
"The only way for people to climb out of poverty is employment," Stallings said.
And it works. Since 2013, more than 180 people have graduated from the Jobs for Life program. About 3 out of 4 of those graduates now work full time, and more than half have moved from the streets or motels to a permanent home.
One of the central tenets of the Jobs for Life program and others that Jesus Was Homeless offers is the idea that "there's dignity and value in working," Stallings said.
They've created a rewards program where people can volunteer in exchange for points they can then use to purchase goods like food, furniture, shoes and clothing.
"We don't hand things out," Stallings said.
The points come in the form of a gift card, which they can use in the thrift store or cafe that the program operates. About 40 to 50 new volunteers show up each month on the point system.
"We just see, over and over and over again, how their dignity and value stays intact," he said.
The model requires ongoing partnership between community members, and it takes time to build.
"Because trust has to be earned before people will let you come alongside them, it can literally take years before you see any results," Stallings wrote in an email. "It's really hard to watch people self-destruct before they are willing to move forward, and success is far and few between."
As with all nonprofits, finding the money is another challenge — especially a sustainable source of it.
"Unfortunately, what we've learned is that most people have a hard time supporting organizations that try to empower adults, versus kids and puppies," Stallings wrote. "The problem is that, if we don't teach the adults how 'to fish,' they pass it down to the next generation."
The Jesus Was Homeless model, Stallings said, can be replicated anywhere. His advice is simple: "Find a need. Find out what the need is for the folks in poverty, and then start hanging out with them, getting to know them, building life with them, and then start to plug them into job opportunities."
After all, that part — that shared-life part — is what matters most, Stallings said.
"The No. 1 thing we hear is by partnering with them and not trying to fix them, they feel valued and they don't feel judged," Stallings said. "When you can build relationship, it takes a while — it takes trust. It's a win for everybody involved."
Mother Hubbard's Cupboard
A book club isn't normally elevated as a panacea for food insecurity. But "A Readable Feast," which meets four times a year in Bloomington, Indiana, might have the ingredients for one.
It's small and new, with about nine people per gathering; a product of local partnership between the food pantry, which provides the space and cooking material, and the public library, which provides the books. The club also embraces cooking education and meal sharing, so after everyone discusses the book, they make and eat a related food.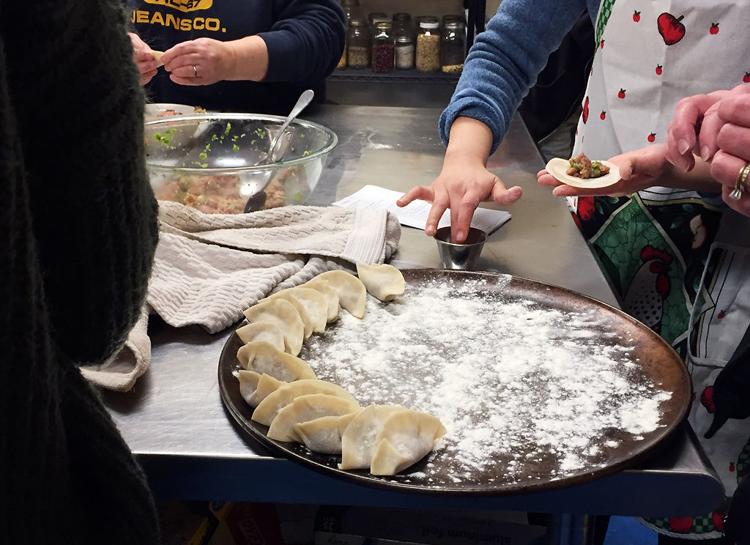 Members walk away with brain and belly fed. The most recent read? "Bento Box in the Heartland," a food memoir by Linda Furiya.
The program is the brainchild of Mother Hubbard's Cupboard, a "community food resource center" with a social justice frame. The "Hub" is guided by the understanding that access to healthy food is a basic human right. It operates a low-barrier, grocery-store-style food pantry, which serves as an entry point into its other focuses: a community garden, a tool-share program that works like checking out books at the library, nutrition education and advocacy.
Most of its programs echo the feeling of the book club. They're meant to "engage with people around food," said Alissa Weiss, education coordinator for the Hub. Not only that, they're meant to be deeply relational. They address a little-discussed component of food insecurity: loneliness.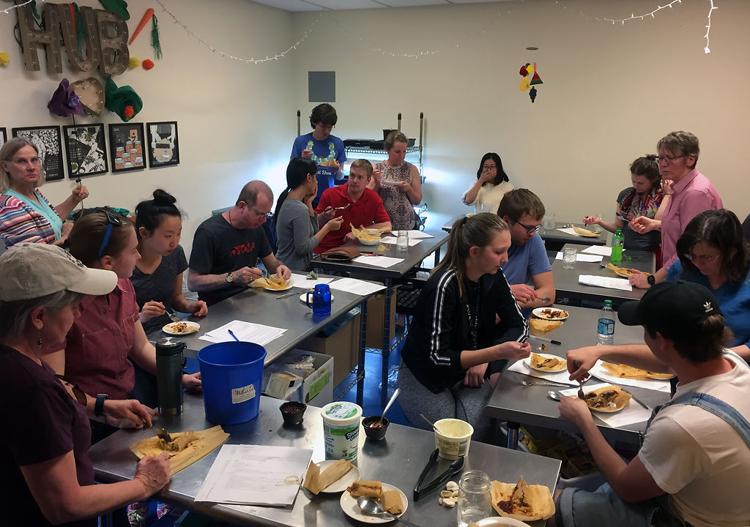 "Strong community relationships protect against food insecurity," said Hannah Lencheck, the Hub's advocacy coordinator. Numerous studies affirm a connection between poverty and social isolation.
Bloomington is the seat of Monroe County in Indiana, which has the second highest food insecurity rate in the state: 16.8%, according to the most recent Map the Meal Gap study.
Like Columbia, it's a college town, home to about 85,000 people. When it comes to food insecurity, Bloomington's story is less about the availability of good food and more about barriers to accessing it. The high cost of living, including less-than-affordable housing prices, can make it hard for locals to regularly come by healthy meals, Lencheck said.
In 2014, the Hub kick-started its advocacy program in an attempt to address those root causes while also creating space for relationship through civic engagement. Since then, though the path included much trial-and-error, it has honed its advocacy focus to a few key programs that take place year-round.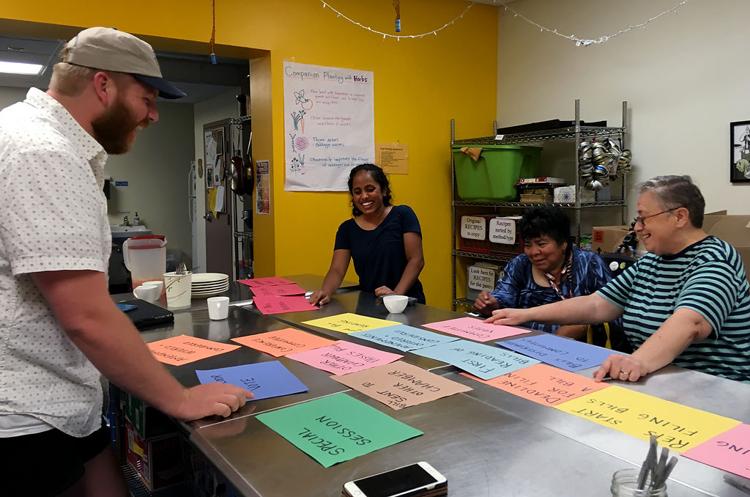 "There's a traditional way of doing advocacy that can be very effective but often perpetuates traditional power structures," she said. At the Hub, they work toward "putting power in the hands of folks who are most directly affected by hunger."
From May to October, the Hub hosts a monthly "farm stand," sort of like a farmers market, where people can set up shop, sell homemade food and crafts and pad their wallets.
Come election season, whether it be local, state or national, the Hub helps people get registered to vote. In 2016, nearly 60 were registered through the advocacy program. In 2018, it was closer to 100.
Then, as Indiana's legislative session gears up, the Hub holds monthly dinners where people can gather to learn about which bills have been filed, how to personally connect with a legislator and how to share their stories in a compelling way, among other lessons.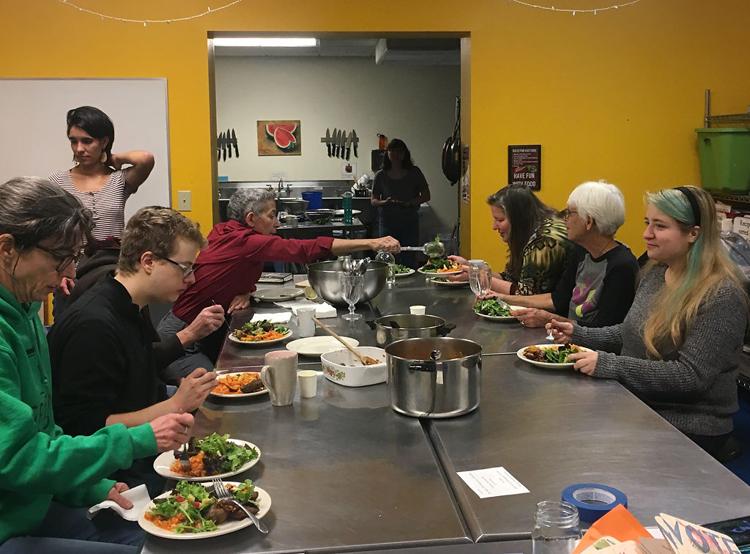 "We do community building and training with folks all in the context of a really warm atmosphere," Lencheck said. "We're sitting down at a table with people over polenta and salad."
The experience is more qualitative than quantitative, so figuring out which measurements of success matter is an ongoing conversation. Rather than focus on the pounds of food they distribute, it uses opt-in surveys and casual conversations to find out if what it's doing is helpful and if it's working toward reducing the need for the pantry.
"Learning to live with a little bit of that ambiguity is part of the process," Lencheck said.
Another part of the process involves listening. It's a posture it takes in all its programming, Weiss said. In addition to the book club, the Hub offers three or four cooking workshops a month, weekly gardening and cooking programs for kids, and other opportunities for nutrition education, like "tabling" at the food pantry. That's where it hands out free food samples and seeds to plant, teach people how to compost or grow microgreens, things like that.
All of these programs are a shared-learning opportunity, Weiss said, because other people "in the room may have information to pass along, and sometimes that's the most valuable experience." And that's how she recommends replicating the Hub's model in other communities — asking questions about the need and about interest then listening to the answers.
"It needs to start with a conversation," she said.
Kanbe's Markets
In his essay "Wide Hats and Narrow Minds," evolutionary biologist Stephen Jay Gould wrote of the wanderings of Albert Einstein's brain, which had been extracted for research after his death. Gould was decidedly unconcerned about its whereabouts and about the results of the science done upon it: "I am, somehow, less interested in the weight and convolutions of Einstein's brain than in the near certainty that people of equal talent have lived and died in cotton fields and sweatshops."
"It's a weird quote," Max Kaniger said, but it gives his work momentum.
If he can help create a system where more people can thrive, he will: "I sincerely believe that there are smarter and more talented people than I am that are just stuck working super hard to put food on the table and are not able to live and succeed. … As a result, we're all worse off."
Kaniger, 28, is the founder and executive director of Kanbe's Markets, a nonprofit food distributor that provides access to healthy foods in Kansas City's food deserts.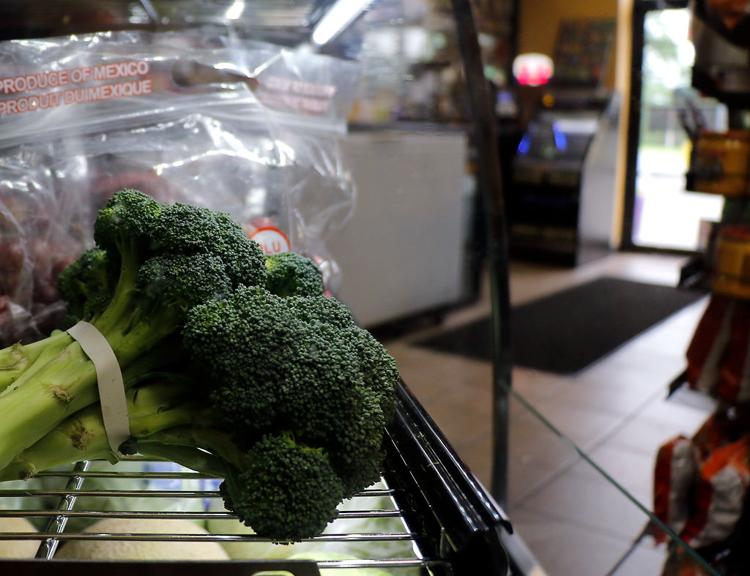 Right now, Kanbe's operates mostly among black communities east of Troost Avenue, where grocery stores and supermarkets are scarce. One local, black-owned store, Leon's Thriftway, closed in May after nearly 51 years in business; to help fill the gap, Kanbe's began operating in a corner store at the end of the block.
The grocery business is a hard industry, Kaniger said, especially in low-income neighborhoods, and especially these days, when competition comes from online retailers like Amazon.
Kaniger's model is simple ... and one he said he hopes to replicate in other communities. Kanbe's provides daily, fresh produce to local corner stores that already exist in these neighborhoods. It started in 2018, and by the time of publication, it's up to 10 corner stores, all of which accept SNAP dollars, formerly called food stamps — with more than 10 on a waiting list.
Kanbe's uses a consignment model, and here's how it works: Kaniger and his team rescue or receive produce from local wholesalers, especially produce that otherwise would've been thrown out. They sort and stock only the best on shelves they've purchased and installed then work with local farmers to compost what's left over. At the end of each week, Kanbe's tallies up what's been sold and shares a portion of the profits with the local store owner.
So far, it's earned each of its stores about $5,000-$10,000 in profits per year.
Because Kaniger's focus is to absorb any risk to the store owners and keep things as simple as possible, the distribution model can be expensive. First, there's the refrigerated truck to purchase (its cost about $35,000, and recurring upkeep like maintenance and repairs adds about $15,000 per year). Gas alone is hundreds of dollars a week.
Ultimately, the truck is one piece in the process.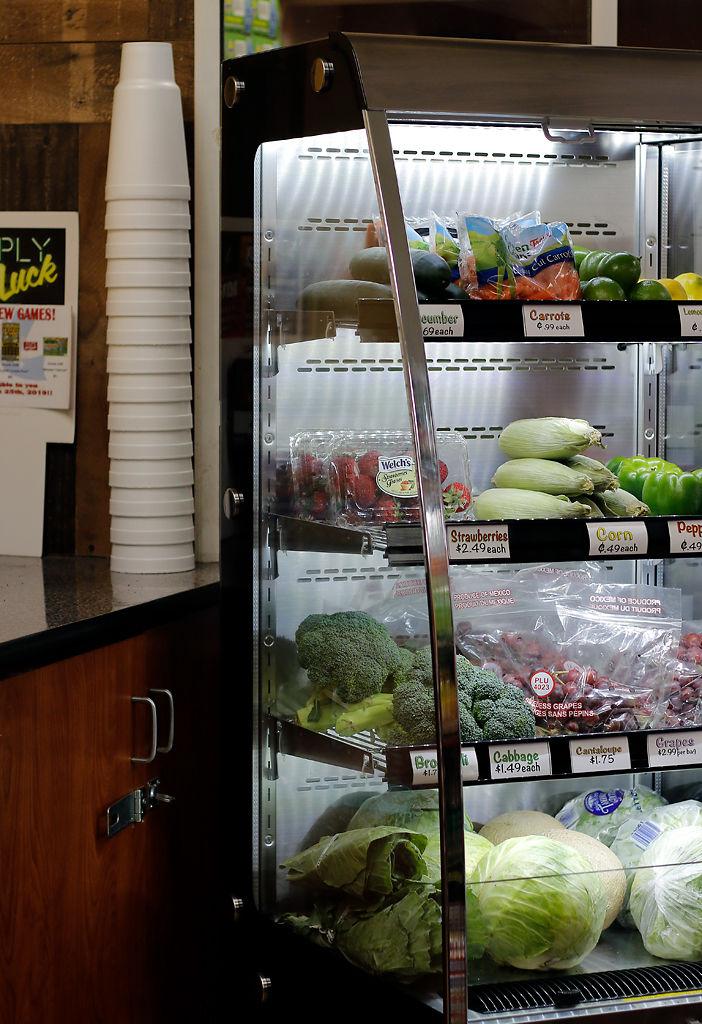 Kanbe's 2019 operating budget is just under $500,000, with around 60% of the funding sourced from grants, 20% from profits split with the corner stores and 20% from donors. The goal is to minimize the money coming from grants and create a sustainable revenue stream from corner store profits and donations.
But the money is, as usual, only one complication. Selling fresh produce is trickier than selling candy, chips and other convenience store staples. The shelf life is short — each piece stays ripe for only so long before going bad.
"Whereas a bag of chips, you just put on the shelves. ... It still will sell eventually," Kaniger said.
Finally, there's buy-in from the local store owners, although as word spreads, that's getting easier. One group that's been especially welcoming is the grandmothers, Kaniger said. They're the ones who know how to cook the produce, and they're the ones who endear Kanbe's to the community: "Elderly women are the best people in the world."
At the end of the day, the cornerstone of the model is local partnerships and letting the people in the surrounding neighborhoods lead the way.
And, for Kaniger, that social exchange that happens around food in a corner store contains the same themes as a Thanksgiving meal. It's relational, intimate, food-centered and barrier-breaking. And that, he said, is "the whole point."
"For me, it's more about food as a tool — as a resource to bring people together."
There are more than 600 of these small corner stores east of Troost Avenue that already accept SNAP. Kanbe's vision statement is to harness enough of their distribution channels so "Kansas City becomes the first city in America where food insecurity is not a problem."
"I do not believe that Kanbe's is the best end-all, be-all to our food system," Kaniger said. "I do believe it is the best end-all, be-all to our food system that we've come up with so far."
Missed Part 1? Read it here.
Missed Part 2? Read it here.