ST. LOUIS — As Keith Beutler was preparing this year for Thanksgiving, he was struck by a nagging question: What was the holiday like for Americans during another major pandemic — the Spanish flu of 1918?
That sent Beutler, a professor of history and political science at Missouri Baptist University in Creve Coeur, on an 18-hour research marathon in which he reviewed more than 1,000 newspaper clippings covering Thanksgiving Day on Nov. 28, 1918.
Thanksgiving came that year near the end of the second, and deadliest, of the flu's three waves nationally, and in some cities, including St. Louis, infections were peaking.
But for many Americans, it was also a time of joy and optimism, Beutler said. Thanksgiving became part of the national celebrations over the end of World War I. Fighting in the war ceased Nov. 11, just weeks before the holiday, ending one of the deadliest conflicts in human history and sparking a desire for patriotic gatherings.
"This year we have special and moving cause to be thankful and rejoice," President Woodrow Wilson said during his Thanksgiving address, in which he made no mention of the flu.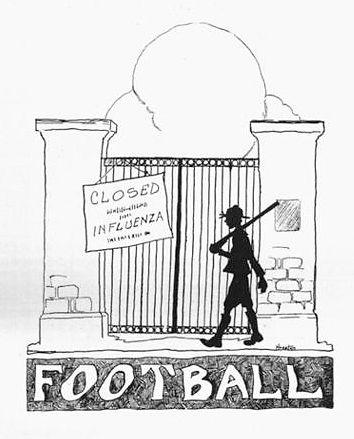 But in some cities, restrictions like mask mandates, limits on events, the closure of schools and recommendations that people stay home on Thanksgiving were covered on the front pages of leading U.S. papers, Beutler said. Those regulations, unlike today, were in some cities commonly enforced through arrests, Beutler said.
In St. Louis, for example, police arrested 22 saloonkeepers that November for violating a city quarantine, including the owner of restaurant that had planned to offer a Thanksgiving dinner, according to a Missouri Historical Society video depicting those times.
Beutler said that type of enforcement was not treated as unusual in the press at the time.
"The way the flu was handled varied a lot from city to city," Beutler said Wednesday. "But in general the influenza was not as politicized as we see today. People also really didn't expect a national response to the pandemic in the way I think they do now. They looked to local leaders and I think there was, in general, a trust in the public health mandates and an acknowledgement of the collective duty to follow them."
St. Louis' response in 1918 is often used as an example for ways public health measures can save lives. Thanks to quarantines that closed all but a few essential businesses in October and November of 1918, St. Louis' death rate was the lowest among the 10 largest cities at the time.
In Philadelphia, which in contrast allowed a massive military parade that became a super-spreader event, bodies piled up on sidewalks when the morgues overflowed. The death rate there was nearly twice as high.
By the time Thanksgiving arrived in St. Louis, however, restrictive quarantines had been lifted and new cases of the flu were surging and breaking records.
According to a Thanksgiving Day story in the Post-Dispatch, churches were allowed to hold celebrations but St. Louis Health Commissioner Max Starkloff announced he would again close schools and not allow children to attend theaters and other places of recreation after spikes in cases among the young.
A large Thanksgiving celebration at the city's armory was also canceled at the insistence of health authorities, the Post-Dispatch reported.
Starkloff had by then limited the number of people standing in streetcars to 20 and told businesses not to "offer special inducements calculated to attract crowds."
A news clipping from the Nov. 28, 1918, edition of the St. Louis Star and Times reported a record number of new Spanish Flu cases and adjustments to the city's Thanksgiving plans.
The flu peaked in St. Louis on Dec. 10 and by Dec. 21 most restrictions were lifted, with exceptions for children who were heavily affected by the flu.
Flu and flu-related pneumonia killed almost 3,000 St. Louisans in the last three months of 1918, but historians agree that deaths could have been far worse if restrictions had not been in place.