COLUMBIA — Missouri Republicans swept the state in the 2016 election, which may mean broad reforms in education, labor and ethics in the upcoming legislative session.
Since 2008, one major roadblock to some Republican legislators' key priorities was Democratic Gov. Jay Nixon and his use of the veto. Although Nixon earned a reputation as one of the most overridden governors in Missouri history, the fact that it required a two-thirds consensus of the General Assembly to overcome his veto kept some legislation off the books.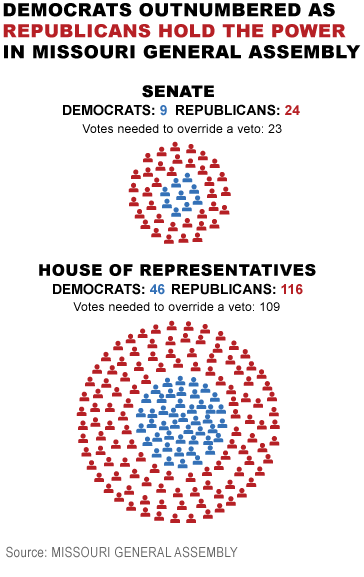 With the election of incoming Republican governor Eric Greitens, GOP lawmakers will be renewing their efforts in areas where they have failed in the last eight years. They point to labor, education and ethics reform as some of the priorities they will champion in the legislative session that begins Wednesday.
"So far, we have every indication that the governor-elect will be very engaged with the assembly," said Sen. Bob Onder, R-St. Charles. "The governor intends to work really closely with the legislature to enact reforms that are needed to get the state going again." 
Missouri Democrats, who saw losses in all statewide races, will be left to work with Republicans in areas of common ground to push their priorities, especially in a focus on ethics reform, which was championed by Greitens on the campaign trail.  
But lawmakers from both parties also will have to wrestle with a tight budget, which will create challenges for funding new initiatives. 
Labor reform and right-to-work
Right-to-work is a term conservatives across the country have used to describe legislation that would outlaw mandated union dues.
Missouri Republicans say that such laws would make unions more accountable to workers and the state more attractive to business.
Unions vehemently oppose such legislation, saying it saps their power by reducing funding needed to negotiate on behalf of their members.
House Speaker Pro Tem, Rep. Elijah Haahr, R-Springfield, believes that Greitens' campaign promise to support such legislation has all but sealed the deal. 
"There's going to be a lot of noise and headlines by the unions," Haahr said. "But we now have a governor that's willing to sign it." 
Greitens' office declined to comment for this story.
Several area Republicans support the right-to-work effort.
"With right-to-work, Missouri will become a more attractive state for many businesses to operate in," said Caleb Jones, who served in the legislature since 2011 and was re-elected this fall, but will instead join Greitens as the governor's deputy chief of staff. "The right-to-work law will protect workers' freedoms, as right to work prevents unions from forcing workers to pay dues as a condition of holding their job." 
Rep. Kip Kendrick, D-Columbia, the minority House whip, said Democratic leadership will remain opposed. 
"They'll likely bust unions sometime within the first couple months" of the legislative session, Kendrick said of Republican lawmakers. "We'll do our best to prevent it, but at this point we don't have the numbers to do it." 
Labor leaders are looking outside the legislature for possible help. Mike Louis, head of the Missouri AFL-CIO, has filed several petitions that would amend the constitution if passed by voters in 2018.
"No existing or future law shall impair, restrict or limit the ability of employees to negotiate, enter into and enforce any collectively bargained agreement with an employer that provides financial support for the representational services their collective bargaining representative performs," proposed language says.
Accreditation and charter schools
Another effort that has been stymied by the Nixon veto is changes to education. After the Normandy School District in St. Louis lost accreditation in 2014 — joining the ranks of the Kansas City, St. Louis and Riverview Gardens school districts — a fierce debate on how to save the districts has produced several bills.
The current state statute forces unaccredited school districts to pay the tuition for students transferring out of the district. This has left Normandy facing bankruptcy, further exacerbating the problem.
To address the issue, Republicans, with some bipartisan support, have pushed legislation that would accredit schools on a building-by-building basis and institute tuition caps. That would allow students to transfer out of failing schools within their district and help alleviate financial stress on unaccredited schools.
Additionally, Republicans have offered private options — charter and virtual schools — as an alternative to public education.
The push for privatization has been the greatest point of contention. Nixon vetoed both bills that came from this process.
The latest effort to address the transfer was met with the veto pen because, according to Nixon, the bill failed to address the school transfer problem and created new problems.
"In its original form, HB 42 focused on the well known problems of the school transfer law," Nixon said in his veto letter. "By the time it got to my desk, it mandated expensive voucher schemes, neglected accountability, and skirted the major, underlying difficulties in the transfer law."
A number of educators across the state hailed the veto as a victory for public education.
And many school districts, including Columbia's, oppose any legislation that would divert funds from public schools. 
Jonathan Sessions, a member of the Columbia School Board, said socioeconomic factors, not faculty, play a larger role in achievement.
"You can't necessarily judge individual schools on the metric of test scores because individual schools have different students and needs," Sessions said. "Transfers take power away from the local school districts that can better address these disparities."
Rep. David Wood, R-Versailles, who sponsored the 2015 transfer bill, said transfer laws and privately run education are distinct issues. The bill he has pre-filed, HB 118, contains no language pertaining to charter or private schools.
"There doesn't have to be a connection between the two," Wood said. "I believe they should be separate discussions."
Wood does say, though, that bills concerning private options for education will most likely get attached. He also says that Greitens is much more likely to sign the legislation as opposed to Nixon. 
Ethics reform
Among members of both parties, ethics reform has been a widely discussed topic leading up to the session. 
"Eric Greitens, I and other Democrats all agree that we need to root out corruption," Kendrick said in an interview shortly after the election. He said he pushed for ethics reform during his first two years in the House. "We will do everything we can to hold the majority party accountable and work with them to make sure we get substantive ethics reform this year." 
"I think one of the things that both parties campaigned on is ethics reform," said Rep. Martha Stevens, D-Columbia. "We really need to make it a priority. It's time to deliver."
Sen. Ed Emery, R-Lamar, opposed some ethics reform bills in the last session. 
"I think that it's somewhat naive to say that we should put government in charge of government," Emery said. "(Ethics bills) put more laws and more regulations on top of the laws that the governing elite aren't following."
Emery believes that the people should be in charge of ethics reform.
"The people who pay attention in elections should be in charge of ethics, rather than putting the government in charge," Emery said.
State budget woes
The state budget will continue to be a priority for both parties as a combination of lower than projected revenues and tax cuts tighten funding.
Currently, revenue is sitting at a 2.6 percent increase, according to a report by Nixon's budget office, although the fiscal 2017 budget was drafted with revenue growth projected at 4.1 percent.
Of the tax cuts, the income tax cut passed in 2014 is the largest. It is projected to cost $620 million over five years starting July 1, 2017.
In response, Gov. Nixon has already blocked $200 million in funding from the current budget by withholding money set aside for certain programs at the beginning of the fiscal year. Funds for public defenders, transportation, Medicaid and education have been withheld in Nixon's attempt to balance the budget. 
Greitens and state legislators will need to cut more after he takes office in January, and nobody has offered definitive answers. 
"All we can do is have our Budget and Appropriations Committee sit down and look for places we can cut," Haahr said. "Everybody think's their money is essential, but we have to prioritize."
Kendrick believes higher education will take the brunt of some of Greitens' budget cuts. But, he said, "We're going to work against any additional tax cuts that basically diminish our ability to fund our priorities in the state." 
Several Mid-Missouri lawmakers pledged to look out for the University of Missouri's interests as budget cuts are considered.
"I'm going to do everything I can to get MU funded as well as possible," said Chuck Basye, R-Rocheport. "It's going to be a tough year, and we'll do everything we can to make sure MU is treated fairly."
Not many state departments can claim they have felt the budget squeeze more than the Missouri Department of Transportation, which, in response, features a presentation on its website called "a citizen's guide to transportation funding in Missouri."
Since 2009, MoDot has seen a $600 million cut in its average $1.2 billion operations budget. This money is spent by the department on major construction projects: large road repair, bridges and interchanges. Due to the cuts, 1,200 employees lost their jobs, and the department sold 124 buildings and 752 pieces of equipment, MoDoT spokesman Bob Brendel said. While money from welfare benefits such as food stamps have been diverted to transportation, it's only enough to maintain roads that are open.
"At our current funding levels, we are able to maintain our roads system as is," Brendel said. "But we can't improve the conditions of the roads."
Missouri bridges are no different. Eight hundred bridges are deemed to be in poor condition, meaning that the department has to inspect them frequently due to structural or surface issues. Sometimes, these bridges fail inspection and are closed. Low funding means it may take years to replace them.
"We're just treading water on bridges," Brendel said. "Every time we replace a bridge, we have to close another."
Social issues
Lawmakers on both sides of the aisle also are proposing changes on social issues, from abortion to racial profiling.
Onder has pre-filed a bill modifying abortion laws; it includes provisions that would prohibit donating fetal remains and would require the Department of Health and Human Services to conduct annual inspections of abortion facilities. Such measures have been strongly opposed by abortion-rights groups.
"A couple of relatively modest legislative reforms need to be made in that area to make sure that women's safety in clinics is protected and that fetal remains are accounted for and not trafficked for profit," Onder said.
Stevens, a Democrat, said she will be watching out for efforts that "stand in the way of addressing social, economic justice issues." 
"Until the session starts and we see what bills are moving quickly, we won't know the true priorities of leadership," she said. "I just know what I'm going to fight for and what I'm going to fight against."
Supervising editor is Mark Horvit.