It's been a long road for Gov. Eric Greitens since news of his 2015 affair broke in January.
And Wednesday afternoon, the gubernatorial turmoil came to a head when the Missouri House committee released its findings. Greitens gave a news conference ahead of the report's release, calling the investigation a "political witch hunt" several times and making it clear he would not resign.
Before Greitens' statement, Democrats in the Missouri House released a statement of their own, calling on the governor to resign "for the good of the state."
Later Wednesday evening, Attorney General Josh Hawley released a statement also calling on the governor to "resign immediately." 
BREAKING: Attorney General Josh Hawley says Gov. Eric Greitens should resign immediately, calling the governor's conduct "certainly impeachable." pic.twitter.com/I3jnQ2HP4z

— Columbia Missourian (@CoMissourian) April 12, 2018
Democratic U.S. Sen. Claire McCaskill also called for Greitens to resign after reading the House committee's report.
I have read the official report from the Republican led Missouri House investigation, including the sworn testimony. It is clearly time to put the interests of the people of Missouri first. The Governor should resign.

— Claire McCaskill (@clairecmc) April 12, 2018
Rep. Kip Kendrick, a Democrat from Columbia, responded with a tweet calling Greitens "scum" after the governor's news conference. "I respect the office. I have zero respect for that guy," he added. 
Let me be clear, Greitens is scum.

— Kip Kendrick (@Kip_Kendrick) April 11, 2018
Other state lawmakers, like Democratic Sen. Jamilah Nasheed from St. Louis, expressed support for the governor's family. As for support for the governor himself, Nasheed tweeted earlier that he is "pathetic and delusional."
My prayer goes out to Eric Greitens' wife Sheena and their family.

— Jamilah Nasheed (@SenatorNasheed) April 11, 2018
Some Missouri residents came to the governor's defense on social media. One from Independence supported letting Greitens "have his day in court," referring to the governor's upcoming criminal trial next month.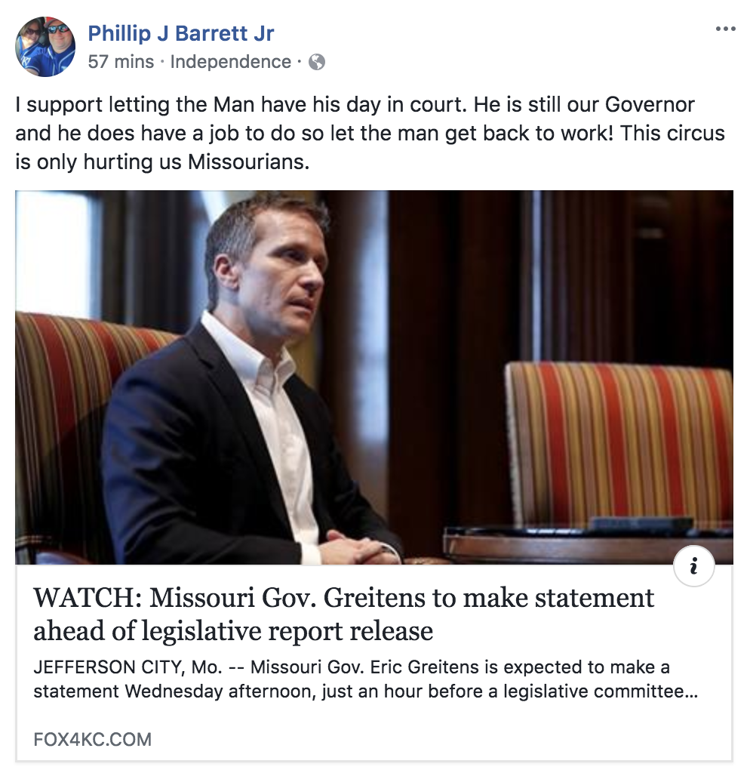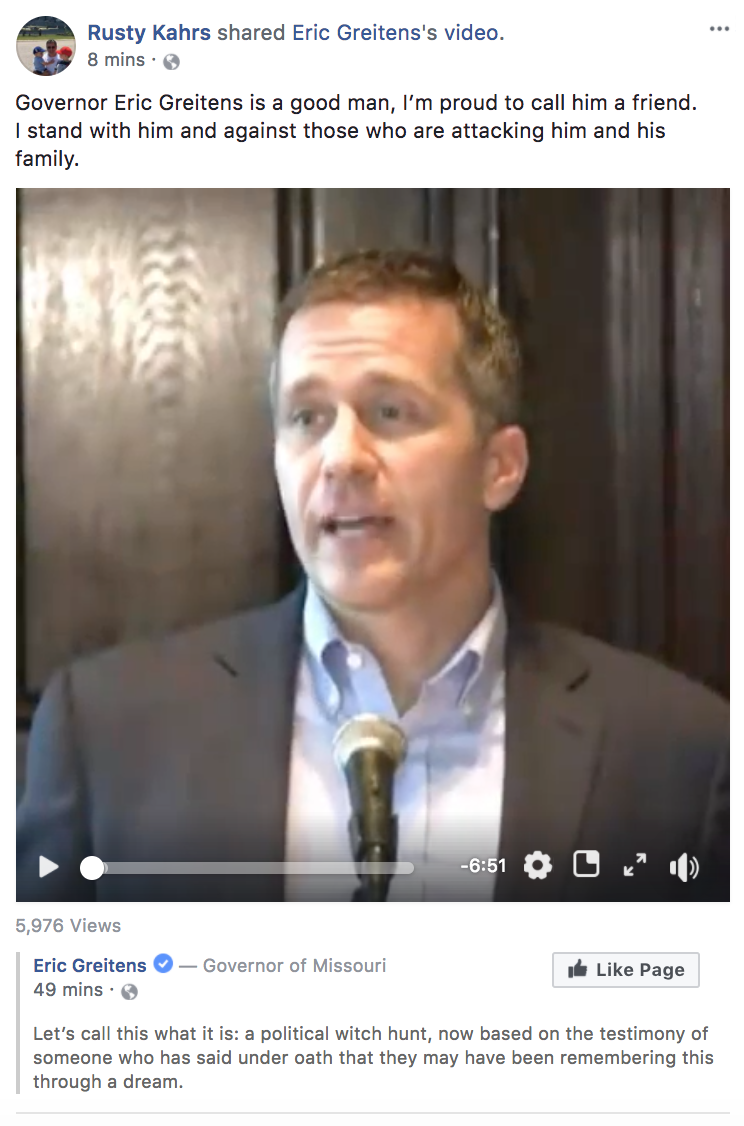 Just saw the #moleg investigative committee's report into Gov. Grietens' affair + blackmail allegations, and let's just say..... The details are graphic and cringy.

— Titus Wu (@tituswu100) April 11, 2018
Keep in mind that, for survivors of sexual assault and relationship violence, the details of the #Greitens report can be difficult to read. Organizations like @SafeConnections are here to listen, to advocate, and to heal.

— Brooke Foster (@lonesometoast) April 11, 2018
After the release of the report, critics quickly called on Greitens to resign or for legislators to start the impeachment process. 
this is so gross and disturbing and his response is even worse. it's not a political witch hunt if you did something so gross and wrong. that's called justice. praying this woman gets peace and lots of deserving $ and an impeachment for greitens! https://t.co/ZEa1bBmaCW

— nicole (@nicole_sutphin) April 11, 2018
Supervising editor is Taylor Blatchford.