Check the milk aisle the next time you go to the grocery store. Is it from Missouri?
Missouri is in a milk deficit. There isn't enough milk to meet all of the state's dairy needs — fluid milk, cheese, yogurt, ice cream. Missouri is already importing milk from other states for consumers, and that trend will only continue as its dairy footprint becomes smaller.
So, for those who care about locally grown food, Missouri milk might not be an option anymore.
Milk knows no distance, said Dave Drennan, executive director of the Missouri Dairy Association.
"For years, milk has come from western Kansas, Illinois, Iowa," Drennan said. "It depends on the time of year, what our needs are and what the demand is."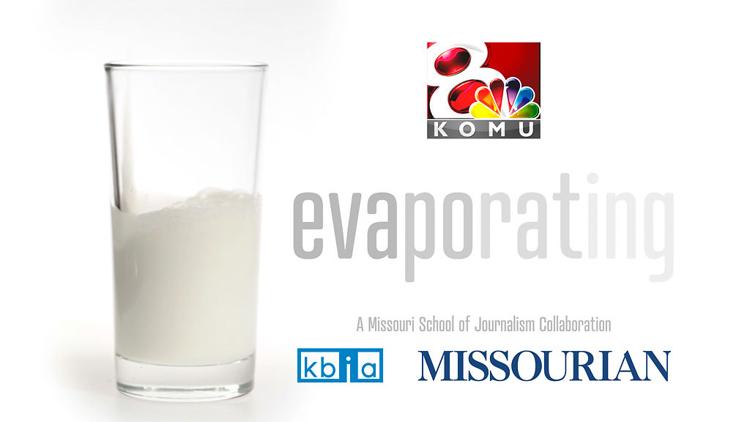 Joe Horner, an MU Extension agricultural economist, said milk moves south and east across the Midwest because of regional supply and pricing. He said that it isn't unusual for Kansas milk to travel to Springfield, Missouri, bottling plants, while milk flows out of Missouri to Arkansas, Kentucky and Tennessee.
"Milk processors, which are mostly cooperatively owned in Missouri, don't worry much about state lines," Horner said. "They just move milk from supply to demand and try to keep the hauling costs as low as possible."
Jay Fogle, a fourth-generation dairy farmer, runs the Fogle Farm with his family in Peculiar, Missouri. They're about 30 minutes away from a Hiland Dairy bottling plant in Kansas City, yet the milk that is produced by the family is shipped to Fayetteville, Arkansas.
Sean Cornelius, a dairy farmer in Hamilton, Missouri, said his milk is shipped to the Hiland Dairy plant in Kansas City, and sometimes to the Central Dairy plant near Jefferson City.
Norris and Annette Sloan, dairy farmers in Mountain Grove, said their milk is shipped to the Dairy Farmers of America plant in Cabool, which is about 15 minutes from where they live. Their milk is actually consumed in the area, they said.
All of these producers' milk travels because of co-ops.
Dairy Farmers of America is one co-op that is available to dairy farmers in the state. It allows producers to market their milk for the best price and to keep the producers from losing profit because of a lack of local market.
"We are owned by the dairy farmers," Randy McGinnis, Dairy Farmers of America's chief operating officer for the central and southeast area, said. "Our primary mission is to deliver value to our members with secured markets."
The Fogles are part of the dairy farmers association, and their milk has recently been sent to Arkansas. That's because there might be a full supply of local milk in the area and the co-op sees demand elsewhere, McGinnis said.
If the Fogles weren't in the co-op, they don't know how they would sell their milk.
"With the oversupply, you're not guaranteed if you leave one plant to find a home for your milk, so it's a tight situation from a farming perspective. It's definitely a buyer's market," said Brian Gould, professor of agribusiness at the University of Wisconsin-Madison.
Missouri's milk doesn't have much of a national reputation, despite its quality. Horner explained that the milk produced in Missouri is better quality than some of the milk that is produced by larger operations.
"Missouri's dairy industry produces a milk quality that's probably better in the eyes of a lot of health-conscious consumers than the regular milk they're buying off the grocery stores," Horner said.
This is because the quality of the state's grazing milk is better than the national average. The milk going into Central Dairy or Hiland Dairy, Horner said, is probably higher in proteins and omega-3 content than the milk coming from confinement dairies in the upper-Midwest or West coast, but Missouri milk isn't being differentiated.
"It hurts me to go to the grocery store and see the grass-fed milk in the grocery store is selling for $5 to $6 a half-gallon, and it's being imported from out of state, and we're not taking advantage of that from a marketing standpoint," Horner said.
Horner and Scott Brown, an MU professor of agricultural and applied economics, said it's up to the consumer to decide if Missouri farmers have to produce the milk Missourians consume.
In 2015, U.S. farmers across the agricultural spectrum sold $3 billion worth of farm-produced commodities directly to consumers. This includes farmers' markets and on-farm stores. Additionally, around $2.4 billion worth was sold to local retailers, according to a 2015 survey by the USDA.
Fogle suggested an idea that could give Missouri producers more of a presence in the grocery store aisles.
Fogle proposes branding Missouri-grown milk and other dairy products and selling it only to Missouri residents. He believes this could provide more opportunity for the dairy producers.
There's still a milk deficit in the state, and Missouri dairy farmers can't keep up with what producers in other states are capable of.
Missouri was producing 1.2 billion pounds of milk in 2017, according to USDA data. But with a population of 6.1 million Missourians who, individually, consume 643 pounds of dairy products each year, the state would need to produce 3.92 billion pounds of milk for its consumers.
Cornelius sighed when asked if Missouri needs to produce the milk it consumes.
"I certainly love being a Missouri producer," Cornelius said. "I guess ultimately it's up to the consumer. If they want to be sure they're getting that local milk supply, I'm more than happy to do it."