Uniting Missouri, American Dream, Missouri Forward, Freedom's Promise — these names paint a rosy picture of groups that stand for a better Missouri. But there is more to them than idealistic names.
They are political action committees, vessels for millions of dollars funneled by special interests into Missouri's elections.
What none of these names conveys is that each has a direct connection to an elected official such as the governor, the lieutenant governor and various legislators.
Missouri law bars statewide elected officials from accepting campaign checks that exceed $2,650, and the limit is lower than that for legislators.
So candidates tell their wealthy donors to give to a particular PAC instead. The PAC, which can accept unlimited donations, then spends the money to support the candidate who raised it.
These partnerships run counter to what citizens of Missouri have voted for three times since 1994: contribution limits. They also make it hard for voters to track the money.
"What lawmakers are doing is finding a way around the law," said Rep. Peter Merideth, D-St. Louis. "And it's kind of gross. But then, if you're in one of the high-stakes races, it's pretty hard to decide not to do that." Such campaigns are like "an arms race that if you don't fight in, you end up outgunned."
Why do we have contribution limits?
Campaign contribution limits have been around on the federal level since the early 1900s, when Congress passed the Publicity Act. According to OpenSecrets.org, back then, contributions were limited to $5,000 to a House candidate and $10,000 to a Senate candidate or the amount set by state law — whichever was less.
Joan Harrington, an expert in social sector ethics at Santa Clara University, said these laws were created to try to even the playing field.
"I think that campaign finance laws were intended to limit how much money private citizens could give to individual candidates, to make sure there was not undue influence," Harrington said.
In Missouri, contributions for state elections have been in place off and on since 1994, when voters approved a measure placed on the ballot by initiative petition. The limits withstood several court tests, but the legislature repealed them — twice. State voters reinstated them in 2016 and approved slightly lower limits in 2018, through passage of Clean Missouri.
Currently that limitation is $2,650 per election for statewide officials such as the governor, attorney general and state auditor; $2,559 for those running for the state Senate; and $2,046 for those running to be a representative. The numbers are adjusted periodically due to inflation.
The Columbia-Boone County chapter of the League of Women Voters has backed contribution limits. In a 2016 statement, the organization's national board said political campaigns should "protect representative democracy from being distorted by big spending in election campaigns" and "ensure transparency and the public's right to know who is using money to influence elections."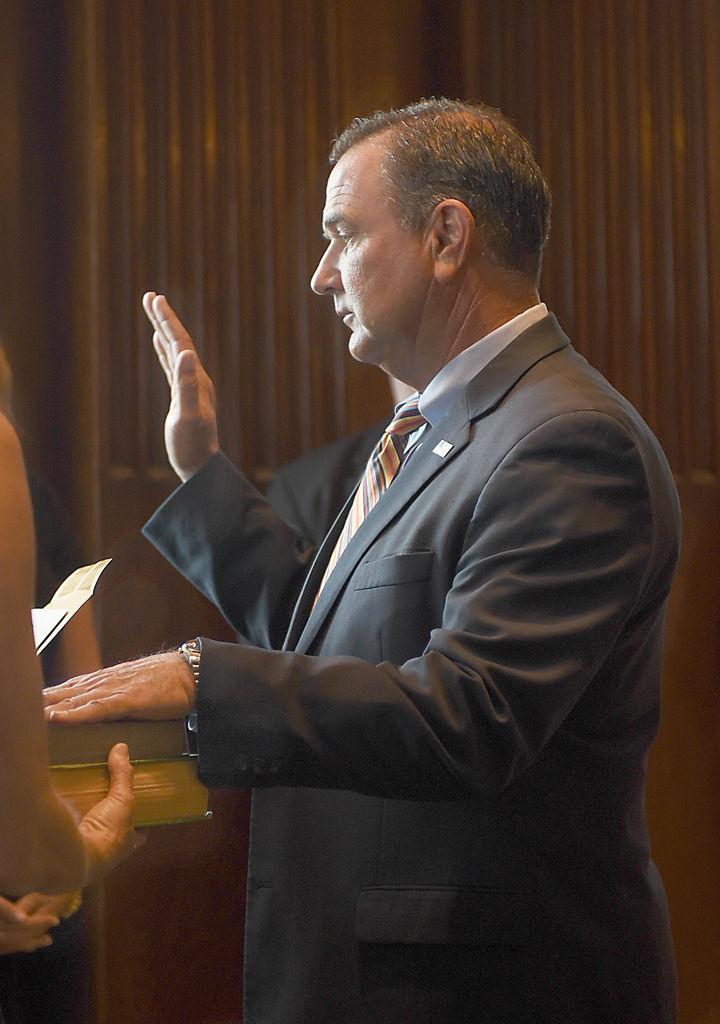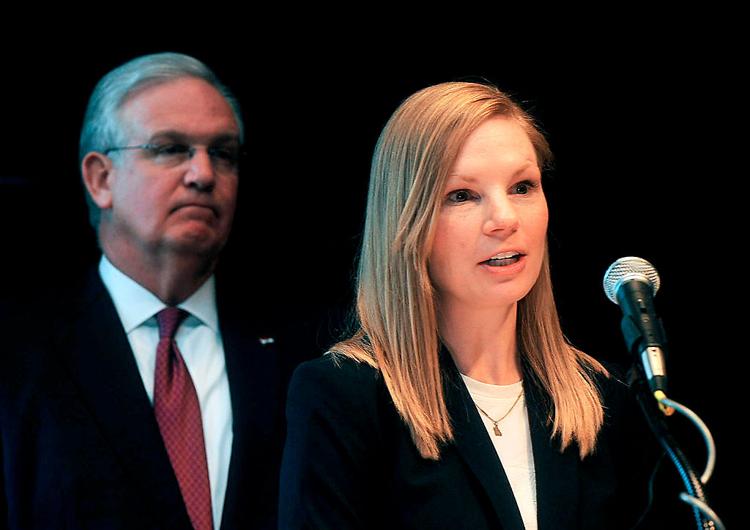 How candidates get around the limits

Even with limits in place, candidates have found creative ways to receive large donations.
Political Action Committees, or PACs, have no limits on the amount they can receive in donations, which makes them an ideal way to collect large checks from millionaires and special interests such as casinos, labor unions and tobacco companies.
John Hancock, a consultant who works for Gov. Mike Parson's PAC, Uniting Missouri, said that without large donations, candidates would have difficulty raising enough money for their campaigns.
"If we didn't have this ability, we would spend every waking moment raising money, which is basically what Congress has to do," he said.
Sen. Andrew Koenig, R-Manchester, receives support from the Freedom's Promise PAC. It was formed in October 2018 by St. Louis lawyer Mark Milton, who is the treasurer for 13 PACs, including Koenig's.
Koenig said he doesn't know how Freedom's Promise spends its money, but he did help raise money for the PAC at a fundraiser last November. Currently the PAC has over $120,000 on hand.
"I mean, they do their own thing," Koenig said. "There's not anything I can do about that. But they've said that they're going to basically spend everything to support me."
Koenig acknowledged that these PACs can lead to a lack of transparency.
"Unfortunately, a lot of the political people kind of know what each PAC does and what they support," Koenig said. "I guess the general public probably has a lot less knowledge on that."
Another candidate with a large PAC is Senate Majority Leader Caleb Rowden, R-Columbia. Missouri Forward PAC was founded in 2017, and Rowden has been heavily involved with fundraising for it since the beginning.
As of March 31, Missouri Forward had over $460,000 on hand while Rowden's candidate committee, Friends of Caleb Rowden, reported a balance of roughly $190,000.
If a direct contribution to his campaign is forbidden under Clean Missouri's limits, Rowden simply directs the donor to give it to his PAC. On his fundraising invitations, there is often the phrase: "Checks should be payable to: Friends of Caleb Rowden" and "Corporate Checks should be payable to Missouri Forward." One of his invitations goes so far as to say: "Contributions over $2,500 should be made payable to Missouri Forward."
Notably, the PAC received a $275,000 donation from St. Louis-based Supporters of Health Research & Treatments on Dec. 31 — which is more than 100 times the amount that can be donated to Rowden's candidate committee — and a $150,000 donation from Missouri megadonor Rex Sinquefield .
Rowden did not respond to requests for comment.
This practice of using PACs isn't limited to one political party.
State Auditor and Democratic gubernatorial candidate, Nicole Galloway, has one of the largest PACs. Her PAC, Keep Government Accountable, had over $930,000 on hand as of March 31; one of the biggest donations came from the United Auto Workers for $75,000.
"Auditor Galloway has championed transparency and accountability throughout her public service career, and will continue to do so throughout this campaign and as Missouri's governor," a spokesperson for Galloway's campaign said. "The contributions we receive are disclosed and conform with state law. Under Missouri law, committees can independently support candidates and causes. Nicole Galloway for Missouri neither directs nor controls their support, which is entirely separate from our campaign."
Merideth, however, said some officials are essentially using PACs as extensions of their campaigns.
"There's nothing illegal about it; it's just kind of frustrating," Merideth said. "It means that we almost made the system worse because it's actually somewhat less transparent than it was when we had basically no restrictions."
Even so, Merideth, who is unopposed for re-election in November, said he hasn't ruled out having a PAC in the future. "I don't need one where I am at right now, but I also don't know if I might have one or not."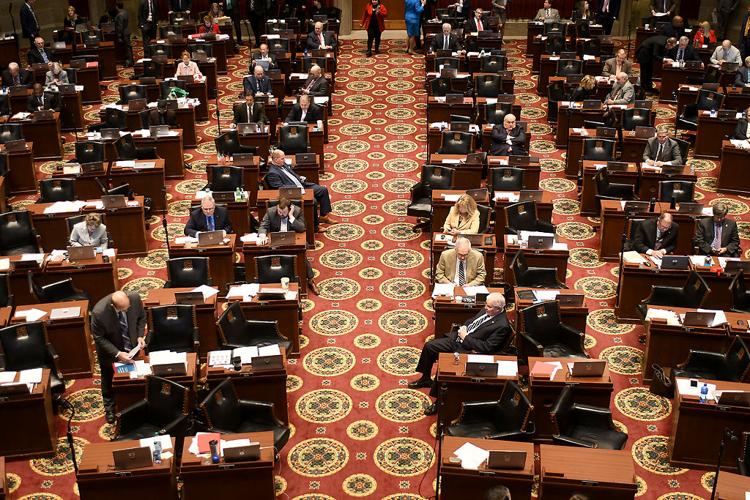 How is this legal?
In Missouri, candidates are allowed to fundraise for PACs, so long as they don't decide how the money is spent.
The Missouri Ethics Commission, which regulates campaign finance, said in an advisory opinion from September 2017 that candidates are not allowed to "form, direct or control the PAC/continuing committee."
"A candidate who solicits contributions for a committee which the candidate knows will ultimately support the candidate (or perhaps a continuing committee/PAC that bears the candidate's name) must ensure that the committee is a true continuing committee/PAC," the commission's advisory opinion said.
This means that so long as candidates remain one degree removed from the day-to-day operations of the PAC, they can still fundraise for it. Rep. Deb Lavender, D-Kirkwood, described it as an "iron curtain" between her and her PAC, the Purple PAC.
The main thing the law is trying to prevent is coordination between these PACs and candidates. The Federal Election Commission defines coordination as "made in cooperation, consultation or concert with, or at the request or suggestion of, a candidate, a candidate's authorized committee, or their agents, or a political party committee or its agents."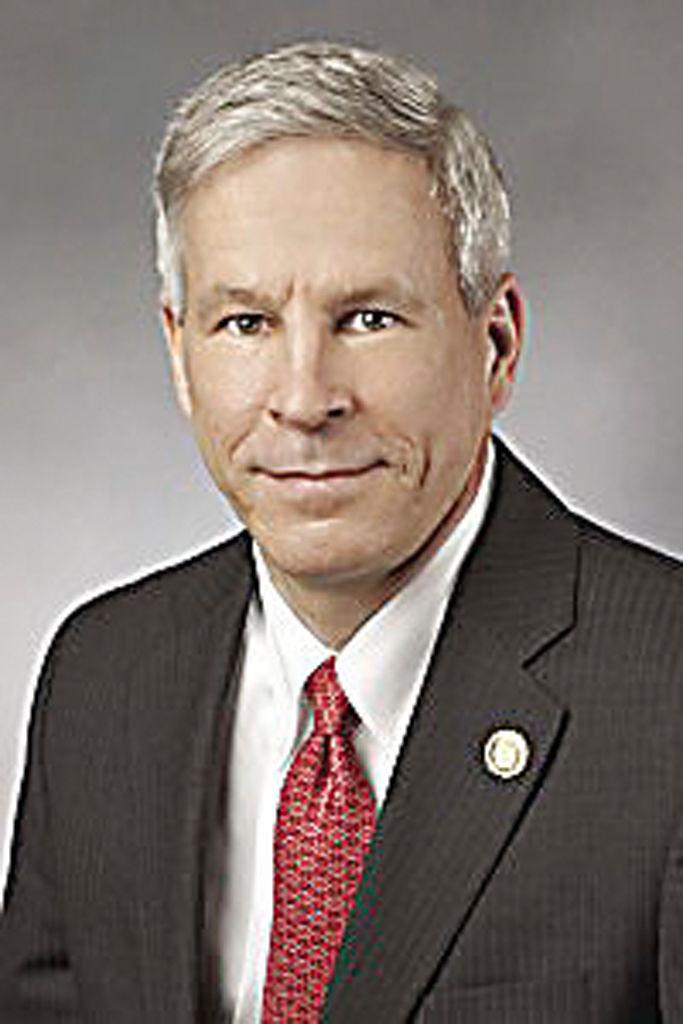 The ethics commission examined coordination in 2018 in a complaint filed by former Sen. Rob Schaaf, R-St. Joseph.
Basically, the complaint alleged that Tony Luetkemeyer, then a candidate for the Missouri Senate, coordinated activities with the Senate Conservatives Fund, a PAC that received larger donations than Luetkemeyer could accept in his candidate committee. Axiom Strategies LLC was the consultant for both Luetkemeyer and the Senate Conservatives Fund.
The commission disagreed that coordination occurred, saying in its dismissal that the Senate Conservatives Fund operates as an independent expenditure committee. Axiom Strategies "utilized an internal firewall policy prohibiting the coordination between candidates and independent expenditure committees it represents..." the commission found.
While the use of PACs by candidates undermines transparency, some PACs are more transparent than others.
Occasionally, a PAC names the candidate being supported on the statement of organization filed with the state ethics commission. For example, the JeffCo Vision PAC is affiliated with Rep. Dan Shaul, R-Imperial, and Conservative Solutions for Missouri PAC was created to help Rep. Mary Elizabeth Coleman, R-Arnold.
In addition, some PAC names, such as the Purple PAC, the Holly PAC and the Crystal PAC, send a message that they are affiliated with certain candidates, namely Rep. Deb Lavender, D-Kirkwood; Rep. Holly Rehder, R-Sikeston; and House Minority Leader Crystal Quade, D-Springfield, respectively.
Lavender, who is running for a seat in the Missouri Senate against incumbent Andrew Koenig, said she is up-front about her relationship with the Purple PAC.
"When people hear the name Purple PAC, they'll probably think, 'Oh gee I bet that's Deb,' but others like my current competitor, Senator Andrew Koenig, who named his Freedom's Promise PAC, make it hard to connect them to it, and it keeps them anonymous," she said.
Lavender said that while it might be better if she didn't have a PAC, she is doing what she has to do to stay competitive.
"I'm sure you've heard the old adage, don't bring a knife to a gun fight. It's the same thing here," Lavender said.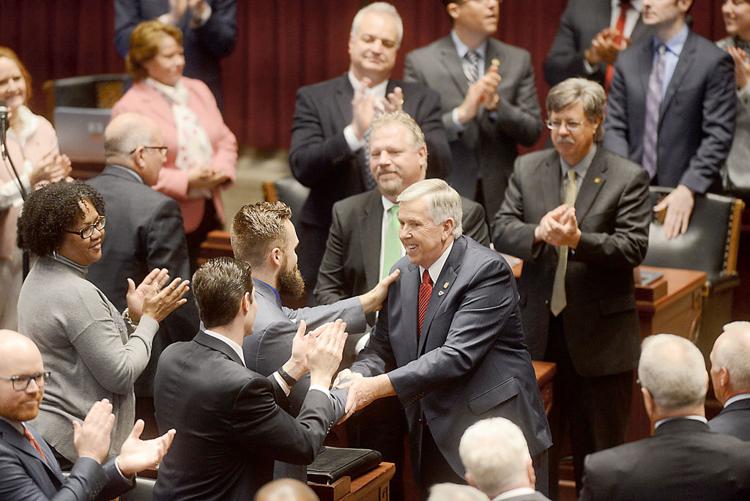 The big players
Though there is no official list, Missouri has well over 30 active PACs that have a confirmed connection to a candidate.
Some, like the Crystal PAC, have only small amounts of money on hand, but others like Uniting Missouri have massive amounts of money.
There are at least 10 PACs in Missouri that had over $100,000 on hand as of March 31, and they are connected to some of the most powerful elected officials in the state.
The top PAC is Uniting Missouri, which is affiliated with Gov. Mike Parson. As of March 31, the PAC had over $3.8 million on hand. In contrast, Parson's candidate committee, Parson for Missouri, reported less than half that amount, or $1.4 million in the bank.
Uniting Missouri's top donor, Rex Sinquefield, contributed $250,000 on March 31— about 95 times the amount Parson's campaign committee could accept.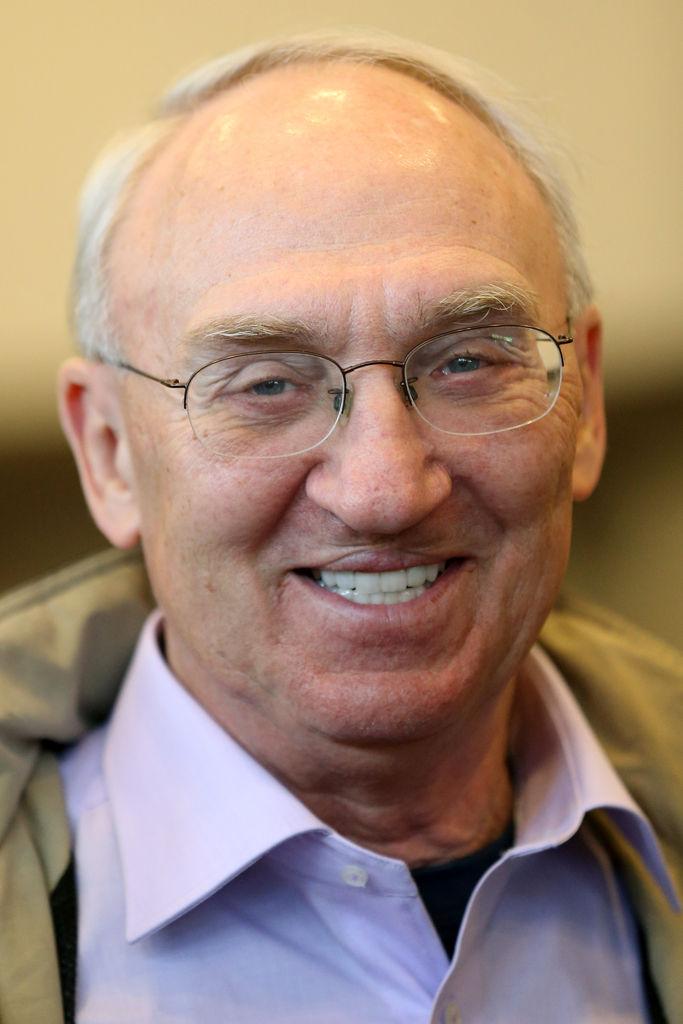 Sinquefield is just one of the wealthy donors from across the state who has leveraged PACs to inject money into the political process and exercise influence that average Missourians don't have. A retired investment company owner who advocates for school choice and tax policy changes, Sinquefield donated over $2.4 million in 2019 to various Missouri PACs. Attorney General Eric Schmitt's PAC, MO Opportunity PAC, received the most: $750,000.
Heading into the August primary and November general elections, some of the largest candidate-affiliated PACs, with over $100,000 on hand as of March 31, are: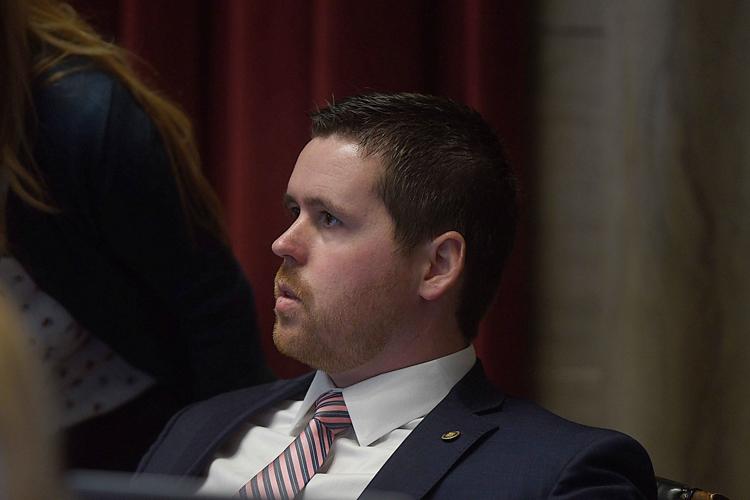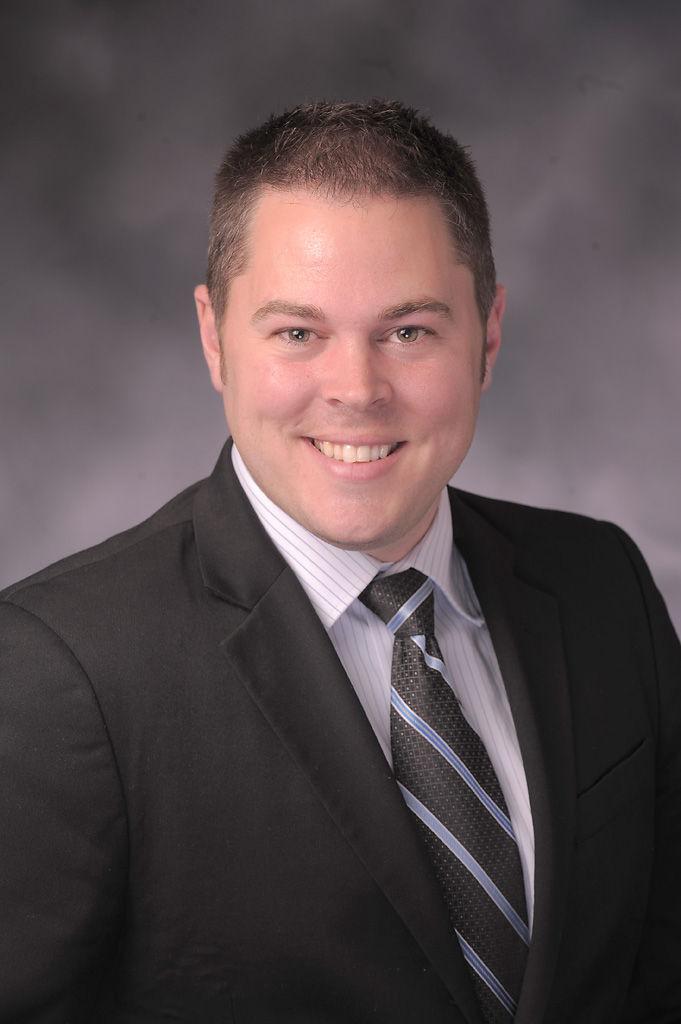 Schmit's PAC, MO Opportunity with $1,659,819.
Galloway's PAC, Keep Government Accountable with $939,573.
Rowden's PAC, Missouri Forward with $461,613.
Sen. Bill Eigel's PAC, Believe in Life and Liberty with $408,217.
Lt. Gov. Mike Kehoe's PAC, American Dream with $276,134.
House Majority Leader Rep. Rob Vescovo's PAC, Mighty Missouri with $159,079.
State Treasurer Scott Fitzpatrick's PAC, Missourians for a Responsible Budget with $135,070.
Speaker of the House Elijah Haahr's PAC, BOLD with $133,382.
Koenig's PAC, Freedom's Promise with $120,978.
Secretary of State John Ashcroft's PAC, Committee for Liberty, with $100,027.
These PACs illustrate how much money candidates can aggregate by having political insiders, including their campaign consultants, operate without worrying about contribution limits.
"I think it just demonstrates the small and chummy world of politics in Jefferson City," said Peverill Squire, an MU political science professor. "Where a network of political operatives enjoys greater access to elected officials than most Missourians do."