COLUMBIA — Missourians lynched 60 African Americans between 1877 and 1950, which makes Missouri the state with the second highest number of lynchings outside of the South, according to new data released Tuesday.
The report is based on research conducted over the past six years and documents 4,084 racial terror lynchings throughout the United States. The majority of the lynchings were carried out in 12 Southern states: Alabama, Arkansas, Florida, Georgia, Kentucky, Louisiana, Mississippi, North Carolina, South Carolina, Tennessee, Texas and Virginia.
The new data reported 341 lynchings that occurred outside of those states. Oklahoma led the list with 76 lynchings. Just behind was Missouri, 60; then Illinois, 56; West Virginia, 35; Maryland, 28; Kansas, 19; Indiana, 18; and Ohio, 15.
The Equal Justice Initiative is a non-profit organization based in Montgomery, Alabama, that primarily works to exonerate wrongly convicted African American inmates who are serving life sentences or are on death row. But the organization has said its research on lynching is intended to help people in every corner of the country gain a deeper understanding of their history and begin to develop a more mature civic identity.
Evan Milligan, a law fellow at the Equal Justice Initiative and one of the researchers who gathered and contextualized the lynching data, said that while it's important for people to celebrate what makes their country exceptional, it's equally if not more important to acknowledge the darker periods of their collective past. What is truly exceptional, Milligan said, is the ability to be reflective and honest about mistakes, and to take intentional steps to learn and grow from them.
"This insistence upon the greatness of America being defined by a constant reference to greatness is disingenuous, and it's dangerous for our communities," Milligan said. "It prevents members of our society from actually understanding who we are individually and who we are collectively."
The Equal Justice Initiative defines lynching as the public murder of an African American for an accused social transgression or crime through methods that clearly underscored the influence of racial hierarchy in a given community. The report's figures are significantly higher than those previously published in reports like a 1995 study by Tuskegee University sociologists Stewart Tolnay and E.M. Beck that catalogued just over 2,400 lynchings between 1882 and 1930.
Milligan said specific county or state numbers vary depending upon the motivation of the organization that gathers them. The NAACP may be more inclusive in its definition of a lynching, he said, because its goal is to capture the full scale of the violence. By contrast, data gathered for legislative purposes may be more limited.
Lynching in Missouri
Rep. Leonidas C. Dyer of St. Louis sponsored anti-lynching legislation after *the East St. Louis Race Riots of 1917, in which an estimated 100 people, many of them black, were killed. The Dyer Anti-Lynching Bill, introduced to Congress in 1918, had the aim of assuring, "persons within the jurisdiction of every State the equal protection of the laws, and to punish the crime of lynching." It was passed by the U.S. House of Representatives on Jan. 26, 1922, but died in the Senate after a filibuster by Democrats.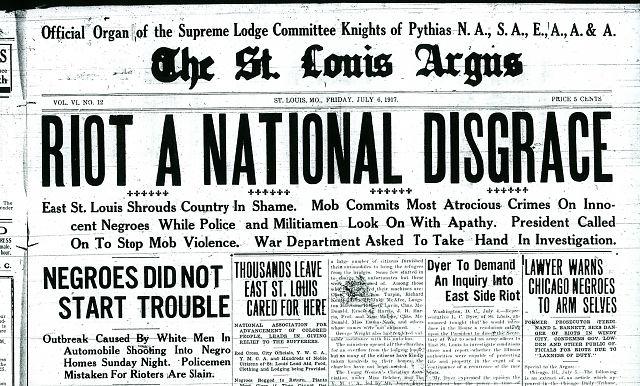 "The decent hard working negroes of the South enjoy every safeguard of the law," Senator Lee Slater Overman told The New York Times in a Dec. 3, 1922 story. "They own property, their children go to public schools, and for such as they this proposed legislation is absolutely uncalled for."
Overman's argument was common among opponents of anti-lynching legislation, whose ostensible goal was to protect states' rights to persecute or not persecute citizens who committed crimes against black people.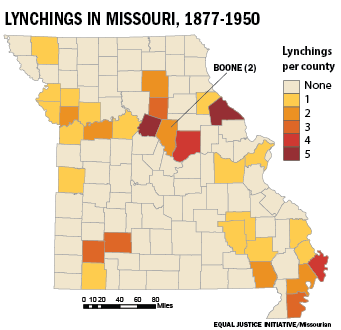 Even proponents of anti-lynching laws were oftentimes more concerned with maintaining their own grip on power than with racial equality, Milligan said. Some were driven by a fear of mob justice and its potential to erode public respect for the rule of law.
That was the attitude of Missouri Attorney General Jesse W. Barrett following the 1923 lynching of James T. Scott near the Stewart Road Bridge in Columbia. Scott was a custodian at the University of Missouri Medical Building who had been accused of assaulting Regina Almstedt, the 14-year-old white daughter of an MU professor.
"I know the people of Boone County," Barrett told Missourian reporters April 30, 1923 in Jefferson City, "and I know that they are not the kind to let this assault upon law and order go unpunished."
At the July 12, 1923, trial of George W. Barkwell, the man accused of placing the rope around Scott's neck and pushing him off the bridge, Assistant Attorney General Henry Davis did not exhort the jury to bring justice for James T. Scott and his family. Instead, he told jurors it was their duty to "send the word out across the state of Missouri that Boone County would not tolerate acts against organized government."
The MU School of Law's Historical and Theatrical Trial Society put on the mock trial to revisit the role of news coverage leading up to the lynching of James T. Scott in 1923.
Barkwell was cleared of his murder charge after 11 minutes of deliberation. Dozens of people then crowded around Barkwell to offer their congratulations and shake his hand, according to Missourian reporting at the time.
Entire communities in slave states like Missouri had been conditioned to regard African Americans as uncivilized dependents who were unable to function on their own, much less govern themselves, Milligan said. Slavery was as much a mechanism of social control as it was a necessary component of the state economy. Therefore, when African Americans were accused — oftentimes wrongly and with malicious intent — of engaging in debauchery or crime, they were simply fulfilling societal expectation, he said.
"When you find people who are accused of rape or murder or kidnapping, that just fits into the narrative of criminality," Milligan said. "Black body equals criminality so dead black body equals safe community."
Journalists of the time were culpable, too, for their understated or tacit adherence to antebellum attitudes about racial hierarchy. Much of the newspaper coverage of lynchings examined by the Equal Justice Initiative researchers had what Milligan called a "celebratory" tone.
The lynching of James T. Scott in 1923 was reported on in radically different ways by Columbia's two newspapers, by an angry editor at the Tribune and two threatened student reporters at the Missourian.
An Aug. 21, 1901 article from The New York Times about the lynching in Missouri of William Godley, who had been accused of the rape and murder of a white woman, was not celebratory of the lynch mob's actions but still failed to condemn the act: "Missouri Mob's Work. Kills Three Negroes, Burns Their Homes, and Drives Every Negro Out of Pierce City." 
Events like the one in Pierce City forced many African Americans to abandon their homes and communities in Missouri. The African American population of Lawrence County in southwest Missouri, where Pierce City is located, declined from 400 in 1900 to 91 people in 1910, according to census records.
'Just like you and me'
The Equal Justice Initiative's lynching report is relevant to many of the issues people in the U.S. face today regarding race and terror, Milligan said.
According to 2013 data provided by the Department of Defense, 44 percent of military recruits hailed from the South, despite that region having just 36 percent of the nation's 18- to 24-year-old civilian population. Milligan said those who are willing to send their daughters and sons abroad to confront terrorism must also be willing to acknowledge and engage with their own history of violence.
"If we're serious about this idea about terrorism and about using political ideology as a pretext for violence, I think that mandates that we understand our own history as it relates to those issues," Milligan said. 
LaGarrette King, an assistant professor of social studies education at MU, said he has noticed a troubling tendency among the public to label perpetrators of racial violence as outliers or bad seeds.
But it is important to remember, King said, that many lynchings were carried out in broad daylight in front of hundreds if not thousands of people. James T. Scott of Columbia, for example, was lynched in front of what Missourian reporter Charles Nutter described as a "big throng of spectators."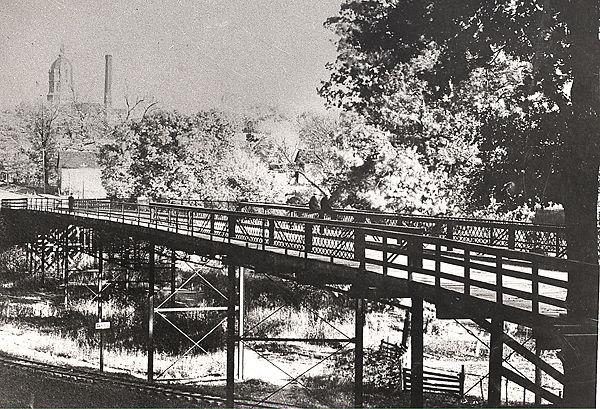 "When we have this notion that only bad people can do bad things we don't really explore race and racism the way we should," King said. "We have to remember that these aggressors were normal people, just like you and me."
Milligan also warned against an over-reliance on assumptions and the dangers of cordoning oneself off from opinions that may contradict a long-entrenched worldview.
"I think if we're able to get to a similar space in which to exchange information, we can have more hope about our ability to find common ground on these contemporary issues," Milligan said. "But it's a lot harder when we have people operating from these very different pools of information and then developing staunch emotional allegiance to them."
One way leaders at the Equal Justice Initiative are hoping to help people achieve common ground is through reaching out to students. Staff at the organization collaborated with teachers from Google for Education to translate their report into lesson plans that present the macabre history of lynching in an accessible way.
"Young people are going to be the ones in charge of our democracy," Milligan said. "We want them to confront (this history) at an early stage in their life, to inoculate them from the allure of prejudice."
King also stressed the importance of imparting knowledge about these events on developing minds. 
"Teachers are teaching young citizens," King said. "If citizens understand this racial history, they can be engaged, critical thinkers that help our society heal."
Memorializing a painful past
The Equal Justice Initiative will also try to involve students and their communities via a project related to their National Lynching Memorial set to open in 2018. The memorial will consist of over 800 corrugated steel columns, symbolic of lynching sites all over the U.S.
Communities that have experienced a lynching at any time in their past are invited to claim a steel column and install it as a memorial to victims of racial terror, Milligan said.
The Equal Justice Initiative will accommodate the transport and fund the installation of the column and also will help to organize an essay writing contest among students from local schools. 
Patrick Huber, a history professor at Missouri S&T, said commemorating episodes of racial violence is especially important in smaller communities like Columbia. The history of racial terror in these places can be uncomfortable to confront because it is personal — the perpetrators of the violence and those who stood by were people's neighbors, friends and coworkers. These communities relegate the violence to time immemorial as a way to protect their moral dignity. That can be dangerous, though, Huber said.
"Ignoring this history blinds people to the kind of racial inequality that continues to plague small towns across the country," he said. "Memorializing these events, then, can do a great deal to spark the kind of conversations that I think need to be had in order for us to move forward and for the nation to live up to its great promise of administering colorblind justice."