JEFFERSON CITY — A $3.8 million funding cut to the University of Missouri System, a punitive legislative action born out of lawmakers' frustration following turmoil at MU last fall, was approved Wednesday after Gov. Jay Nixon signed off on Missouri's fiscal year 2017 higher education appropriation.
The bill allows universities to freeze tuition for next year and includes a 4 percent boost in performance-based funding for all Missouri universities, totaling about $37 million. To receive that funding, colleges must meet criteria including certain graduation and retention rates. Nixon originally recommended a 6 percent increase, which would have totaled $55.6 million.
Next year will mark the fourth time universities have frozen tuition since Nixon took office in 2009.
Nixon signed the bill at Missouri State University.
"Today, I am very proud to mark another milestone for higher education in Missouri and our shared commitment to putting a quality, affordable college degree within reach for more Missouri families," Nixon said.
"Making higher education better and more affordable was one of the five principal goals I laid out when I first took office in 2009, and today we continue to deliver on that commitment with significant investments in our higher education campuses and another tuition freeze for Missouri undergraduates."
Some legislators contend that the UM System's share of the increase, which is about $17 million, would offset the $3.8 million cut. The cut will take effect in July and will be taken from a line item for UM System administration.
How to fund the UM System proved contentious for the legislature this year, and debate stretched nearly two months before legislators reached a compromise. Legislators' frustration stems from turmoil at MU last fall, when UM System President Tim Wolfe and MU Chancellor R. Bowen Loftin resigned in November amid student-led anti-racism protests at MU.
UM System funding: a point of contention
Whether to include the UM System in the performance-funding boost has ignited debate from legislators in past months.
The House voted to deny the four-campus system any performance-based funds, with some lawmakers citing poor university system leadership during the November protests as a reason to exclude the system.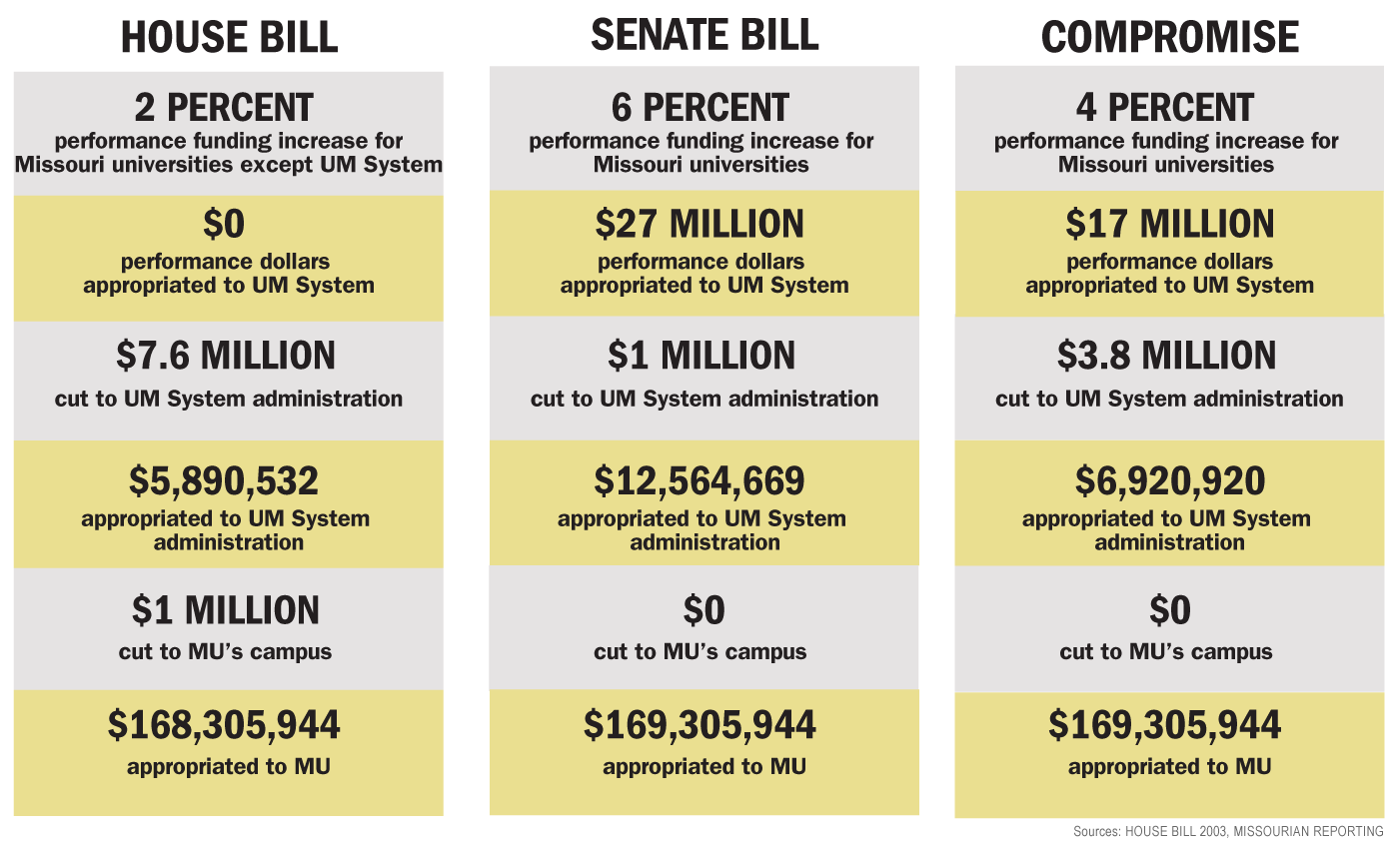 The House approved a 2 percent performance funding increase for all state universities except the UM System, which the Senate upped to 6 percent a month later. The Senate voted to include the UM System in the increase. The House and Senate compromised last week on the 4 percent increase and held with the Senate's decision to include the UM System.
The compromise also included the $3.8 million cut to system administration. A legislative panel agreed to fund the line item for administration by $9.8 million, a halfway point between the House-approved $5.9 million and Senate-approved $12.6 million.
The House's version would have been a $7.6 million cut, and the Senate's would have been $1 million.
Over the past months, legislators have tried unsuccessfully to target cuts specifically toward MU.
In March, the House voted to route $1 million from MU to Lincoln University in Jefferson City. The Senate voted to restore the money in April.
This year's bill appropriates money to the UM System through seven line items, a move not typical for the legislature. Each campus will receive its own appropriation, as will MU Extension, UM System administration and a project for collaboration between campuses. In past years, the legislature has funded the system through a lump sum, which the UM System president then distributed with the consent of the Board of Curators.
Boone County's three Republican House members — Caleb Rowden, R-Columbia, Chuck Basye, R-Rocheport, and Caleb Jones, R-Columbia — voted in favor of the appropriations bill. Sen. Kurt Schaefer, R-Columbia, also voted in favor. Columbia's two Democratic representatives — Stephen Webber and Kip Kendrick — were opposed.
"The University of Missouri was lucky to get the money that they got," Jones said Monday. "They're very lucky they didn't get zeroed out."
Why a cut to administration?
Legislators have denounced how UM System leaders, including the Board of Curators, handled campus protests last fall. Some have offered criticism for the Missouri football team, whose members announced they would boycott football-related activities until Wolfe stepped down. Wolfe resigned days two days after the team announced the boycott.
In February, House budget committee chair Rep. Tom Flanigan, R-Carthage, said cuts targeted toward administration would "send a strong message to the administration without harming our students, who deserve better."
Legislative budget analysts told a Senate panel in April that administrative cuts could affect informative technology services and human resources.
Webber said employees such as maintenance workers will bear the brunt of the cuts.
"This retaliatory cut is not negatively impacting any of the administrators," he said during House debate Thursday. "It is being felt by the maintenance workers and the folks that are actually making the University of Missouri System run."
Schaefer advocated to reduce the cuts, and in March he proposed the formation of a new commission to investigate the efficiency of the system's structure. If passed, the eight-member commission, which Schaefer named the University of Missouri System Review Commission, would review the efficiency of the system's administration structure, diversity programs and research procedures. Schaefer said the commission could adequately identify problems within the system without the negative effects of budget cuts.
MU's response
Interim UM System President Mike Middleton said in a statement last week that he's grateful the legislature included the UM System in a performance funding increase.
"We deeply appreciate that the legislative conference committees appropriated $17.12 million for our performance funding," he said.
"We also recognize that, as illustrated by the reduction of $3.8 million to the UM System administration budget, that much work remains to restore confidence and trust in our leadership, which we will continue to do by being completely transparent, accountable and fiscally responsible in our actions."
In March, Interim Chancellor Hank Foley announced MU would face a $32 million budget shortfall due to an enrollment drop of about 1,500 students. To combat the loss, MU will enact a hiring freeze and a 5 percent budget cut to MU's fiscal year 2017 general revenue budget. The shortfall does not account for the cuts in state appropriations.
New admission standards from Illinois universities and lowered high school graduation rates in Missouri account for about 60 percent of the enrollment drop. Turmoil last fall has also played a role in the drop, Foley has said.
Supervising editor Gary Castor.