In the early 1990s, James Kunz was living along the Illinois River when a friend told him they could collect freshwater mussels and sell them to a broker for $2 apiece.
The mussels were being collected for their shells, and their ultimate destination was the cultured pearl industry. While Kunz and his friend were just interested in a little extra spending money, other collectors were more serious.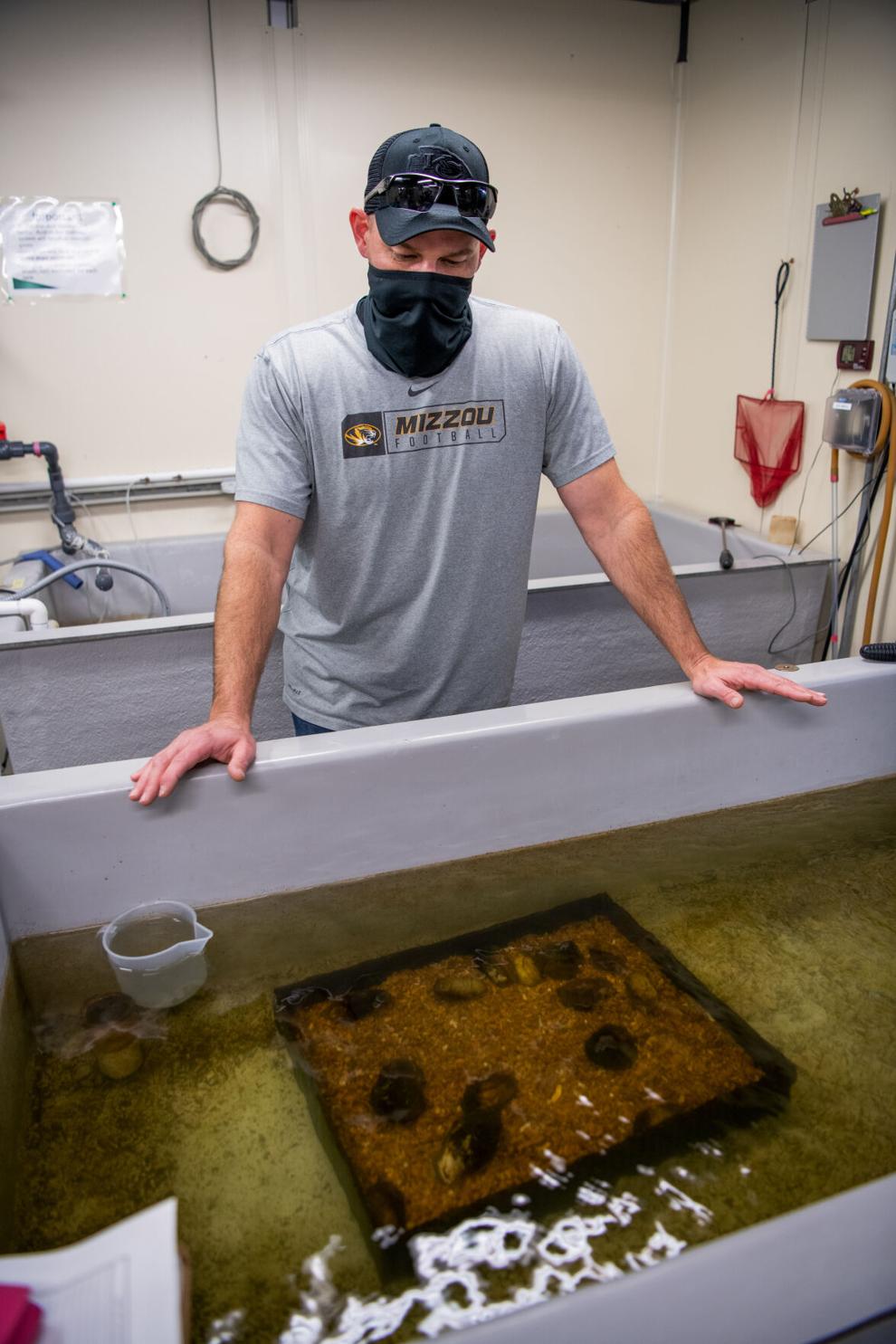 "Out on the river, you would see 50, 60 boats," Kunz said. "They had the full scuba gear, the whole nine yards. They were diving down, getting hundreds of mussels. We were just getting a handful to get some extra money."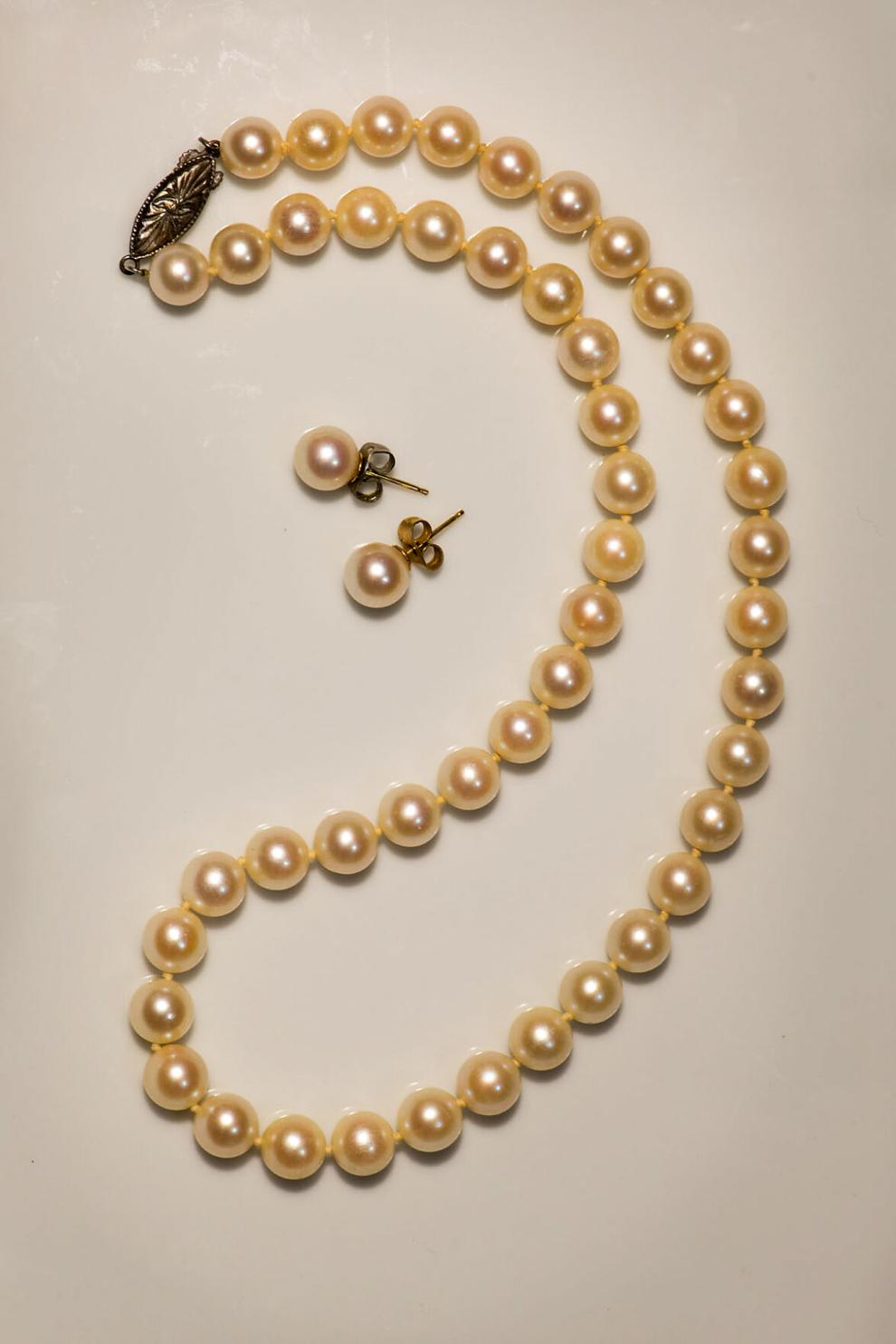 In 2000, he began to work with Ning Wang and Chris Ingersollon mussel research.
He had come full circle in a short time. "I went from harvesting and destroying them to basically trying to help them."
Kunz still works at the research center 23 years later, studying how pollution and habitat changes affect these vulnerable creatures. They are among the most endangered groups of animals in North America, and he hopes to help them make a comeback.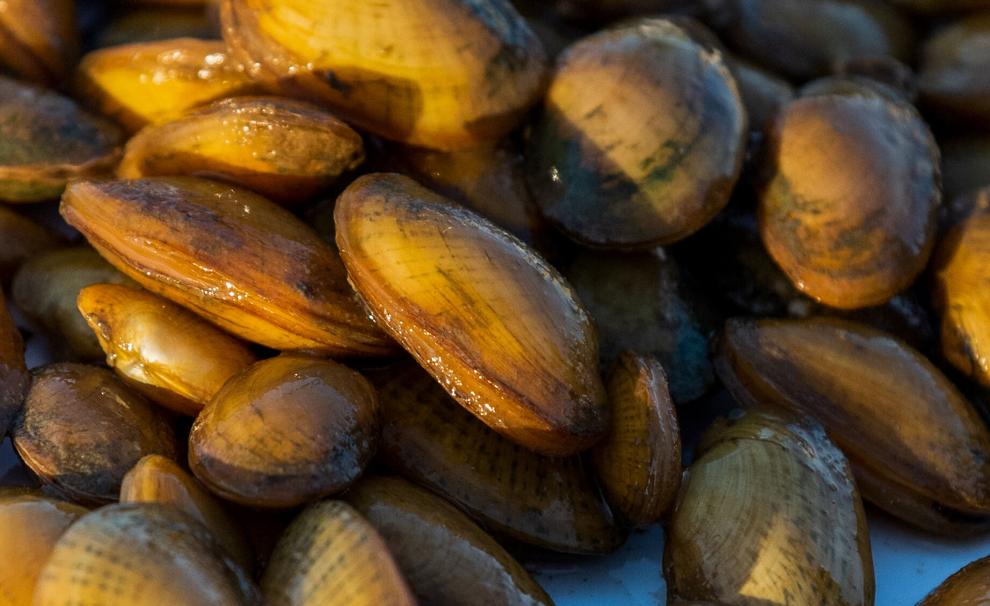 Mussel decline
According to the U.S. Fish and Wildlife Service, more than half of the 78 known freshwater mussel species in the Midwest are either federally endangered, threatened or state-designated as a species of special concern. These vulnerable, faceless fauna have suffered multiple setbacks, which have led to their dwindling numbers.
The first assault began when German immigrant John Frederick Boepple started a new industry in Muscatine, Iowa, in the late 1800s.
Boepple harvested the animals from the plentiful local freshwater mussel beds for the prized pearl-like substance comprising their inner shell. These iridescent shells are known as nacre or mother of pearl. Factories could punch round forms from the shells to make buttons.
This transformed Muscatine into the "Pearl Button Capital of the World," and by 1899, 21,000 tons of shell were harvested, according to a 2004 U.S. Fish and Wildlife Service press release.
Overharvest decimated mussel populations. Facing decreasing supplies of mussels and the advent of plastic buttons, the pearl button industry rapidly declined after 1930.
In the 1950s, the cultured pearl industry caused a resurgence in the mussel harvest.
Kokichi Mikimoto of Japan had discovered that placing a small piece of freshwater mussel nacre inside a marine pearl oyster spurred the oyster to deposit its own nacre, producing a cultured pearl.
Mussels are mostly sedentary, resting at the bottom of streams and lakes, which leaves them vulnerable to changes in the riverbed, increased sediment and poor water quality. Their entire life cycle depends on clean water.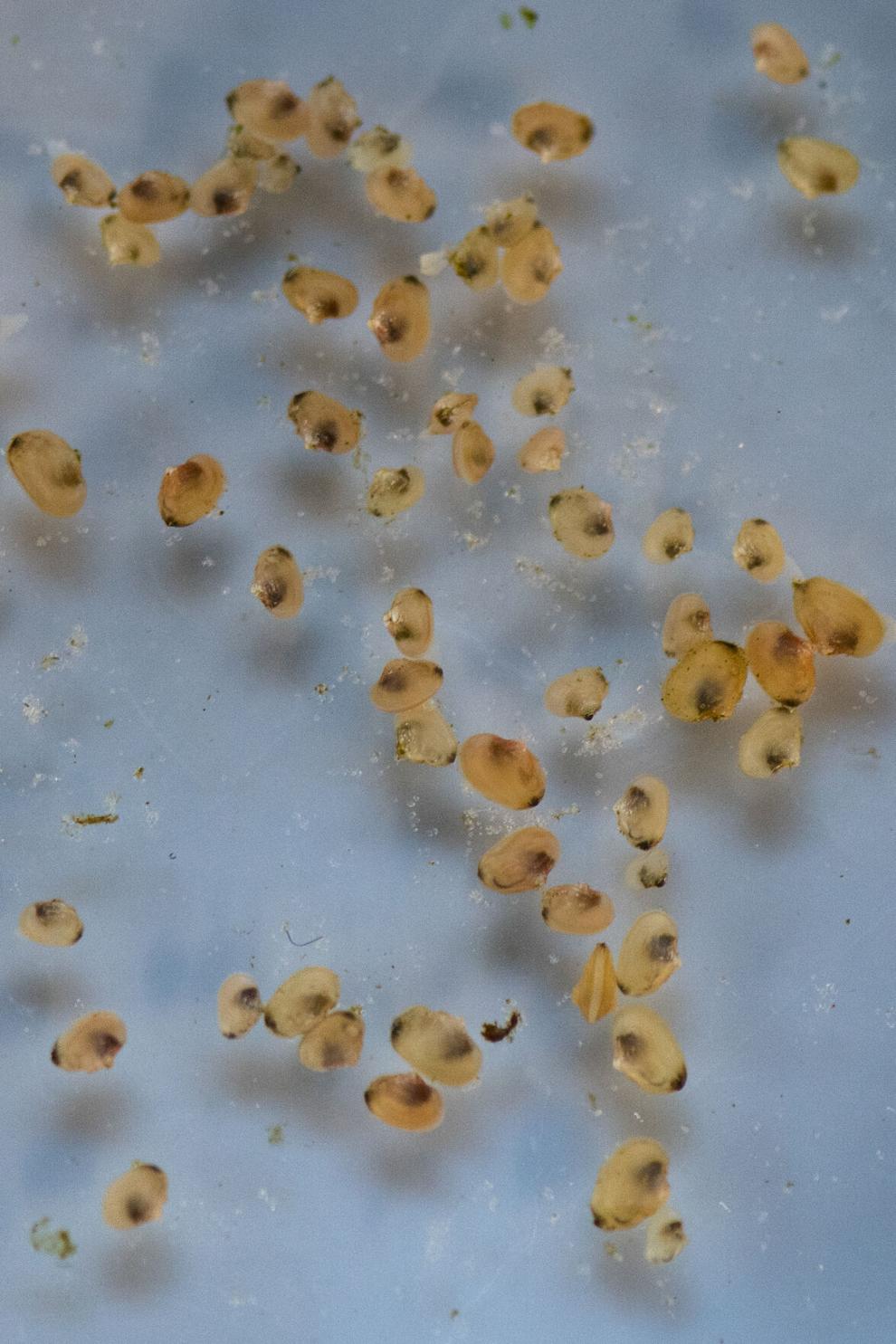 The male releases sperm into the water, which is taken up by the female. Her fertilized eggs develop into glochidia, the parasitic larval stage of the mollusk.
The female then displays a life-like "lure" to attract the specific host fish that mussel species need for the next stage of development. The lures can look like the bugs, plants or small fish that are typical food sources for the host fish.
As the host fish nips the lure, the female spews her young onto the fish, which attach to its gills or fins. Eventually, the glochidia grow and drop off the host fish to start their independent life at the bottom of a flowing stream, all without harming the fish.
Mussels play an important role in the ecosystem. To feed, mussels draw in water and filter out food particles suspended in the water. In this feeding process, they also remove pollutants and sediments.
These natural water filters can process up to 10 gallons of water per day, greatly improving water quality and clarity. This feeding method also makes mussels more susceptible to water pollution, identifying them as an important indicator species or "biosentinel," like the proverbial canary in the coal mine.
They are also a food source for wildlife such as raccoons, otters, herons and egrets.
The science and scientists
The Columbia Environmental Research Center is a complex of housing offices, a mussel rearing facility, large vats for mixing water and tanks holding species such as the pallid sturgeon, an endangered fish.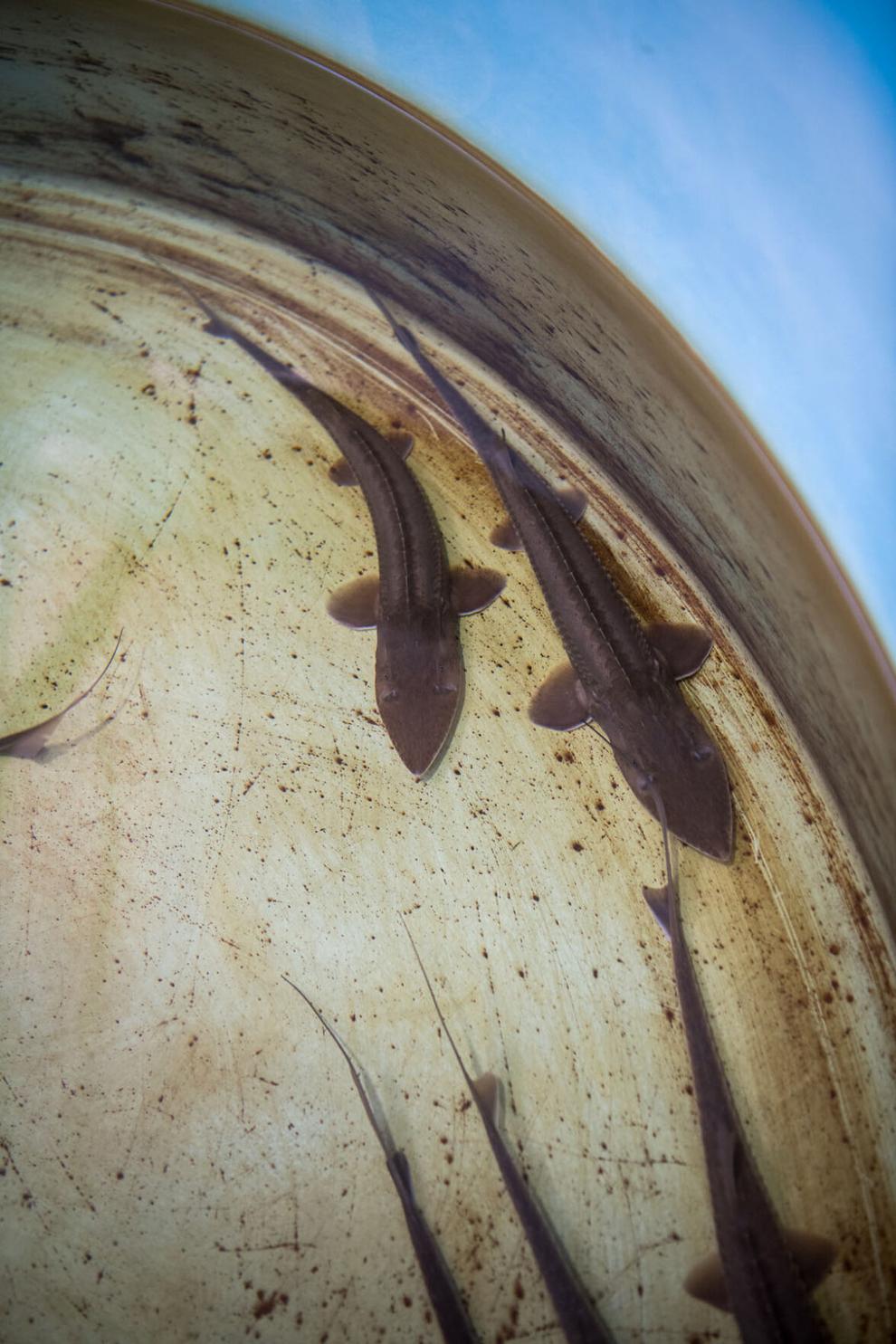 Outside, a series of ponds hold mussels and other species used for research. Built in 1966 to conduct research for the U.S. Fish and Wildlife Service on the effects of pesticides on fish, the facility was sited in Columbia because of its access to good-quality water.
The center can create different types of water, from saline to fresh, to simulate different types of aquatic habitats.
The largest warehouse-like building holds the toxicological testing facility, where scientists use the juvenile mussels reared on site to test the effects of various concentrations of water contaminants.
The Fatmucket mussel is often used in the testing. "The Fatmucket is kind of the 'white rat' for us," Kunz said.
It is an ideal choice for several reasons: It is commonly found in a large portion of the country including the central U.S., it is available throughout the year and it is easy to culture in the laboratory.
Right now, the research center is one of the only labs doing longer-term testing on juvenile mussels.
"It's one of the unique capabilities of CERC, that we are able to use very young, sensitive mussels and run tests up to about two years," Kunz said.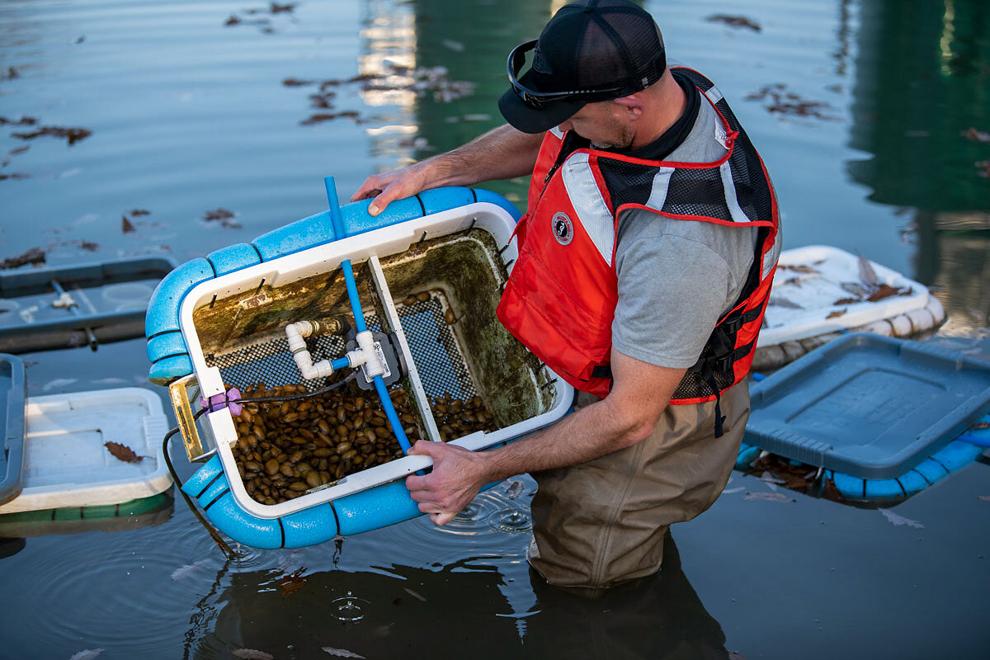 Many mussel species can live for 50 years or more, so developing the capability to conduct longer term tests was important to give scientists better information to protect them.
One key to this capability is feeding the mussels on a regular cycle and keeping the beakers scrupulously clean. The beakers are changed out every two weeks and lined with a clean layer of sand.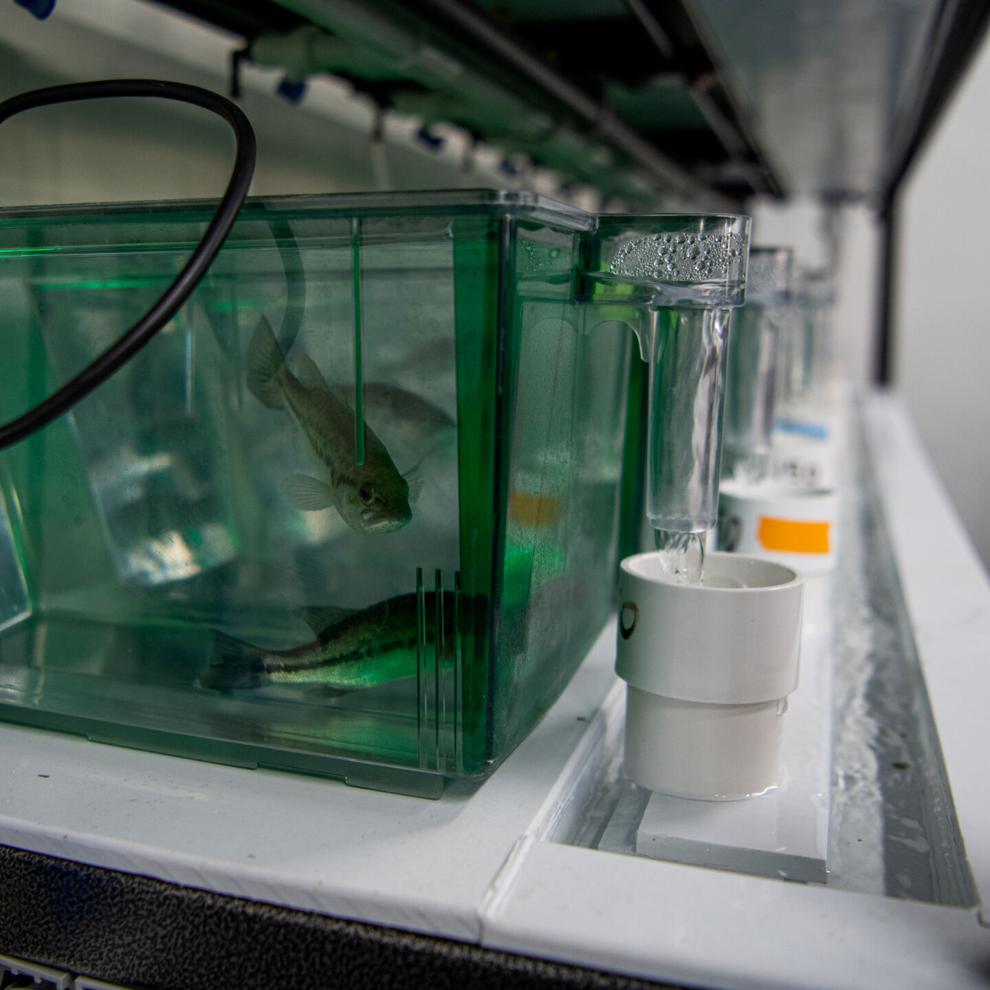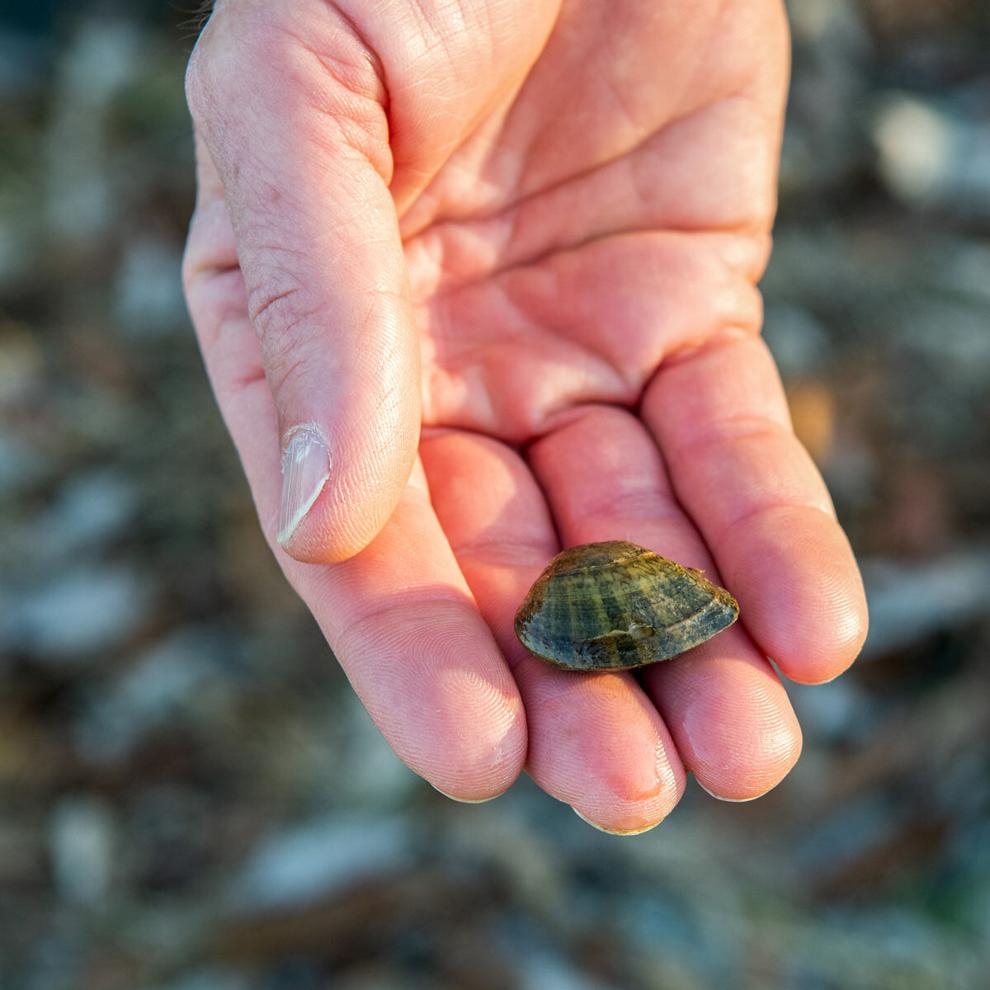 "You want to have enough (food) in there continuously that they continuously eat without being stressed by the excess," Kunz said. "So it's a very fine balance.
"And I think that's something we know well. It's definitely something we've learned over the last six years. We've been able to really refine the system to now get good survival and growth with pretty much every species we've ever tried."
Kunz is also carrying out a special project with the Confederated Tribes of the Umatilla Indian Reservation east of Pendleton, Oregon. The Cayuse, Umatilla and Walla Walla Indians have lived in the Columbia River region for 10,000 years, traveling throughout the area to gather and preserve seasonal foods.
According to Kunz, mussels are part of these traditional "first foods" that the tribe is interested in restoring. CERC is helping the tribe refine ways to rear mussels and restore them to the natural environment as a food source.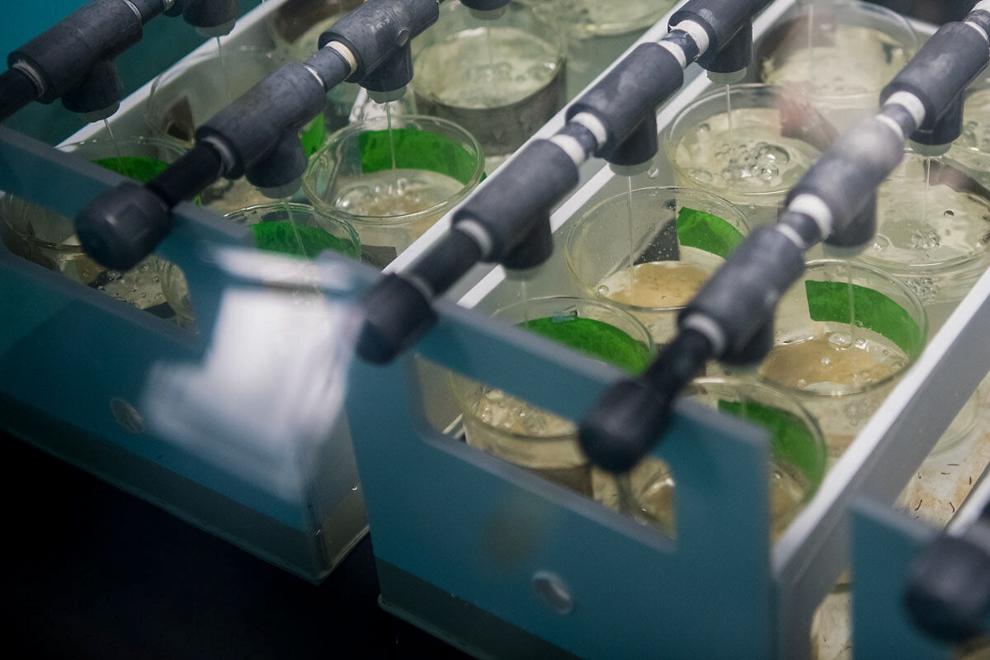 Working in the field
The Buffalo River's crystal clear waters flow for 153 miles through the Ozark Mountains of northwest Arkansas amid forests, glades and stunning limestone bluffs, making it a popular destination for paddlers, hikers and campers.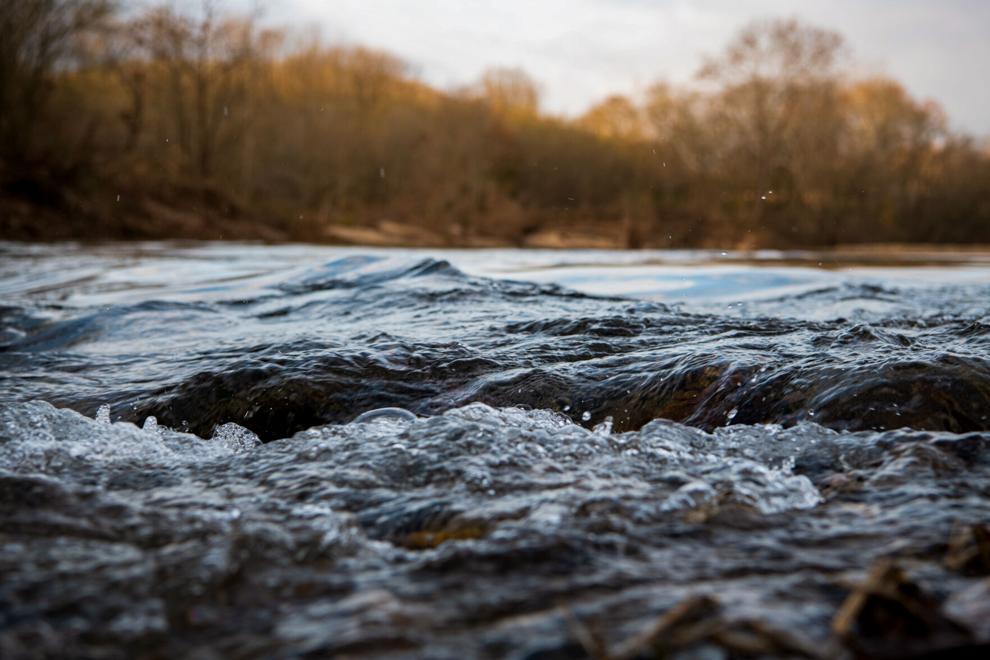 It is such a special place that in 1972, President Richard Nixon designated it as America's first national river. It is administered by the National Park Service.
CERC scientists are collaborating on a project on the Buffalo, which involves a team of scientists from Arkansas State University in Jonesboro evaluating the health of the mussel population and diversity of the species.
One unseasonably mild day in late November found the ASU team, students Anna Pieri and Andressa Alves-Augusto and adjunct professor John Harris, donning their chest waders and snorkeling gear to do their monthly check of mussel test sites.
While Alves-Augusto measures water parameters such as pH and temperature, Pieri and Harris pull up heavy concrete contraptions they have implanted in the river bed to hold test populations of mussels. In snorkel gear, Harris takes samples of water flowing directly above the test sites to check for contaminants back in the lab.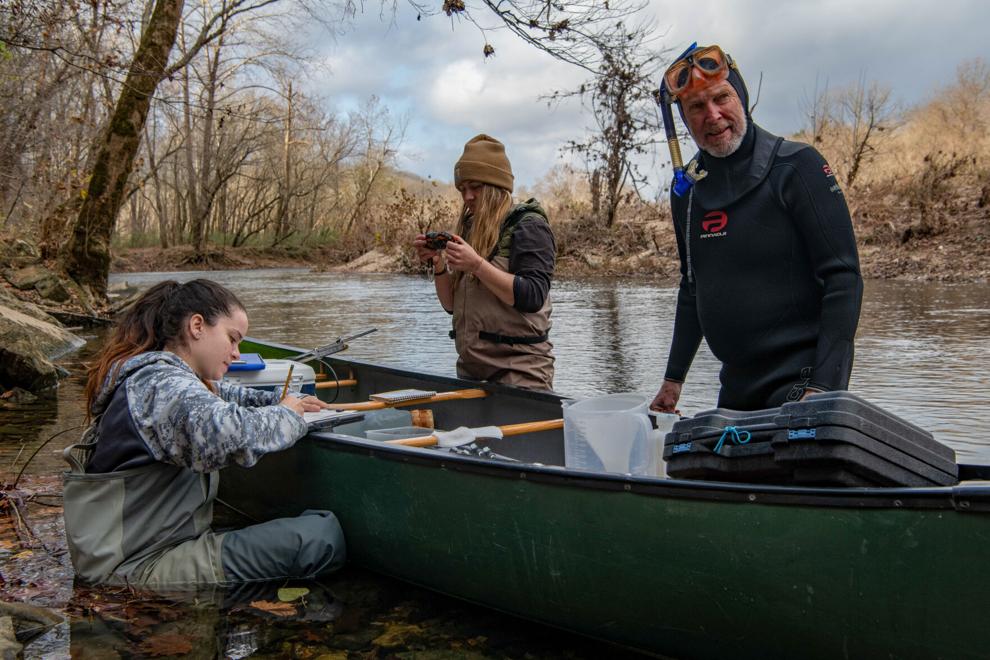 Pieri is a graduate student in biology working with Harris. An earlier job took her to Mexico, where she was able to scuba dive in several rivers hunting for freshwater mussels.
"I kind of just fell in love with looking for mussels," she said. "it's kind of like finding buried treasure."
While in Dallas, Pieri heard about the Buffalo River project and was intrigued. She ended up studying biology in graduate school at ASU so she could work on the project.
Shawn Hodges is the National Park Service aquatic ecologist cooperating on the project. Hodges said the last survey was done in 2004 and 2005. Ideally, he said they would like to do these surveys every 10 years, so they were trying to get back on track with the current efforts.
The U.S. Fish and Wildlife Service is also involved in helping to address declining mussel populations. Andy Roberts and Bryan Simmons are biologists working on restoring mussels in the Osage River basin, among the most important mussel streams in Missouri.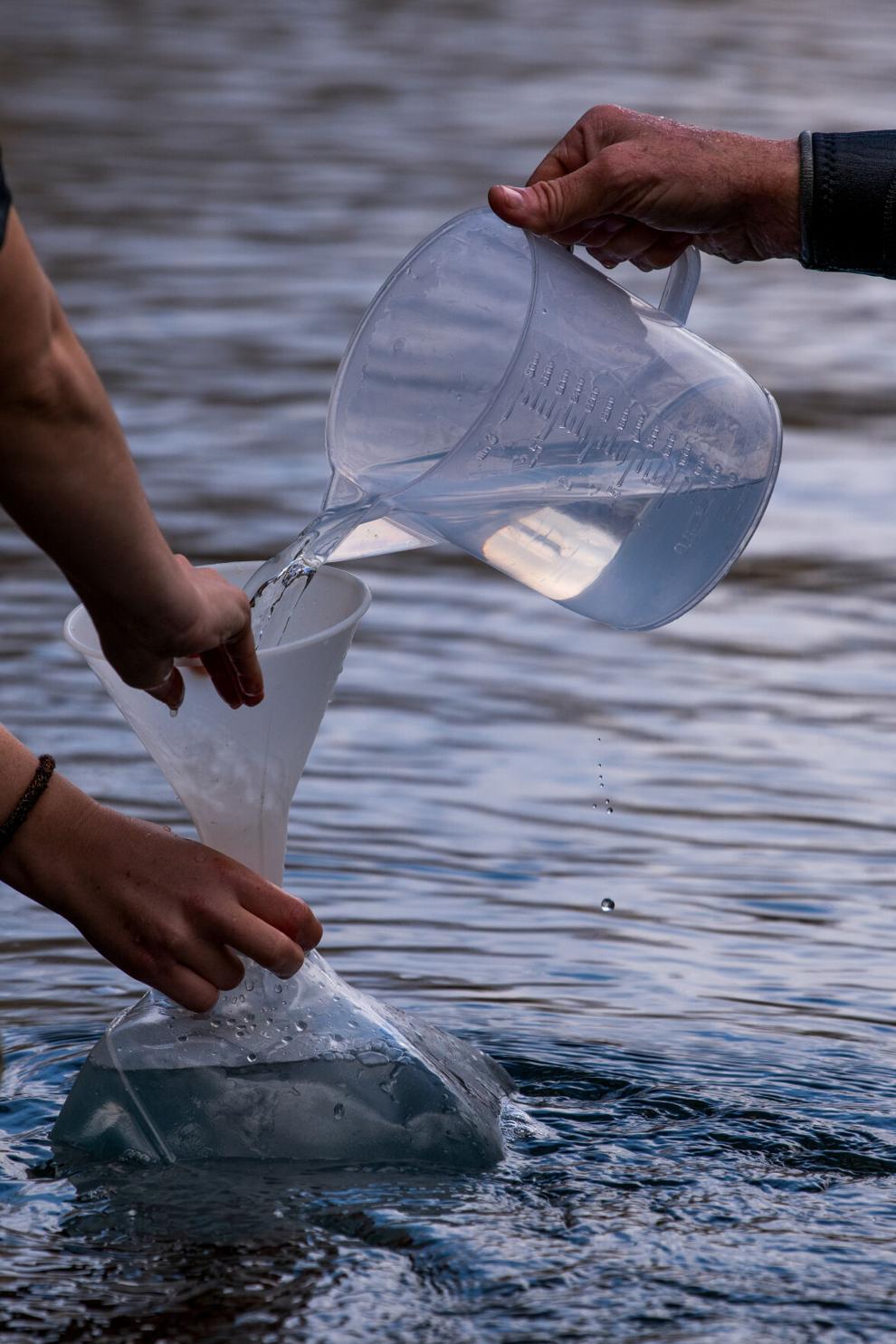 Because construction of Bagnell Dam had negatively affected the mussel population, the agency was able to secure funding for mussel restoration efforts from the dam's owner, AmerenUE.
For the initial efforts in this project, known as the Lower Osage River Protection and Enhancement Plan, Simmons and Roberts have been working to restore Pink Mucket mussels in two locations on the lower Osage.
This involved producing baby mussels in the lab and transferring them to the Kansas City Zoo to be raised. Scientists successfully reared 15,000 Pink Mucket mussels to the size they could be released, engraved their shells with a laser for identification purposes and placed them in existing mussel beds in the river.
Roberts said when they placed the mussels in the river, they were about the size of a quarter. They are now about the size of baseballs.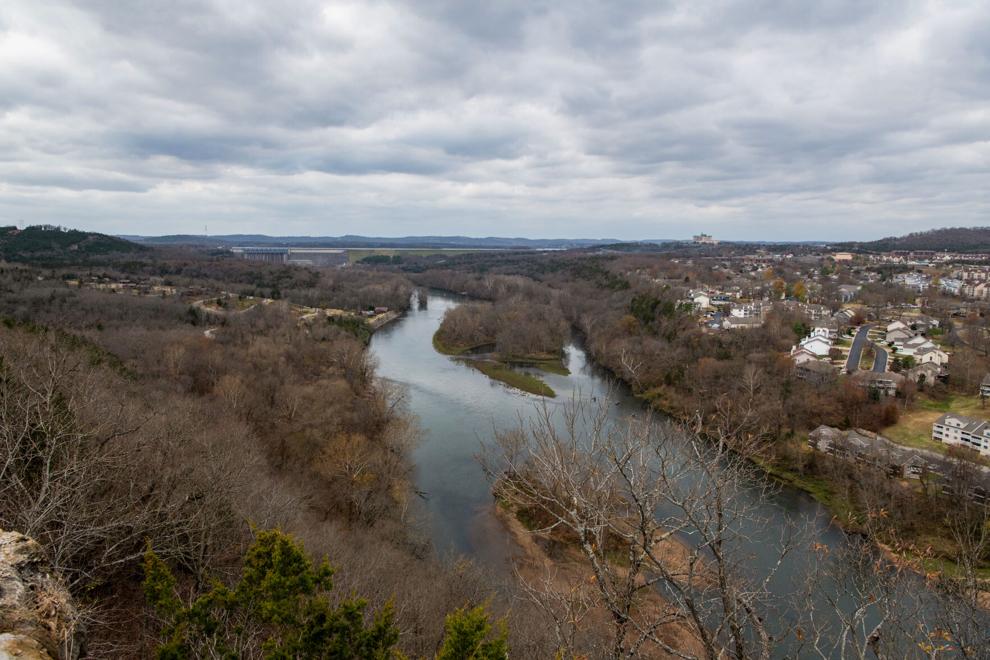 Advocacy
Because they are largely hidden from view and lack the impassioned constituency of many other endangered species, much of the general public may not appreciate the importance these animals have in the ecosystem.
But despite the relative obscurity of the plight of freshwater mussels in comparison to their "charismatic megafauna" brethren like the polar bear and the tiger, they are not without their champions.
The Center for Biological Diversity, headquartered in Tucson, Arizona, with offices throughout the country, works to "secure a future for all species, great and small, hovering on the brink of extinction," according to its mission statement.
Tierra Curry is a senior scientist and director of the center's Saving Life on Earth Campaign based in Kentucky. Commenting on Missouri's biodiversity, she said, "Missouri is awesome, (it) has so many freshwater species, not just mussels but also little fish and crawdads."
A significant facet of Curry's work involves informing the public about freshwater mussels. She has worked with scientists, photographers and others to produce educational materials like posters, videos for social media, and a 130-foot mural along a bike path in Knoxville depicting the reproductive cycle of the freshwater mussel.
Curry said she is always talking about mussels. In leading the center's extinction crisis campaign, she said the communications team had to persuade her to talk about other species.
"They were like, Tierra, you're gonna have to start talking about polar bears and elephants. You can't just talk about mussels all the time," she said.
"But every interview I do about anything else ... I always try to bring in the freshwater mussels ... they're in so much trouble and I think they really have the potential to capture people's hearts," she said. "If people just knew about them."
Leanne Tippett Mosby wrote this story as a student in Associate Professor Sara Shipley Hiles' class on environmental reporting. She made the pictures as a student in the Picture Story and Photographic Essay class, taught by Associate Professor Jackie Bell.