CAMDEN COUNTY — Within Missouri's 13 million acres of woods are small pockets of soil that reliably produce dozens or even hundreds of morel mushrooms every year.
These "honey holes" are so desirable that they're kept a secret from friends and neighbors alike. Knowledge about a good location is shared with only the most trusted sources.
"This is how you're born, and you get told to get up and let's go to the woods," said Shannon Huff, who has lived in the Ozarks her entire life. "I mean, as soon as you can walk, that's how it is."
Her grandmother, Eilene Lissak, introduced the now-44-year-old Huff to mushroom hunting as a small child. Her family had their own honey hole — the local nickname for an elusive enclave of mushrooms — in an abandoned schoolhouse where mushrooms popped up in old books and rotting wood.
Huff said she watched in awe as her grandmother walked through the forest, flipping leaves to reveal a trove of mushrooms. The pair then took them home to cook and eat with the family.
"I would start finding them," Huff said. "Grandma always led me though."
Morels can sell for $50 a pound or more, but Huff has never wanted to sell them. Her family foraged to eat, not to make money.
As she grew older, the afternoons spent hunched over the forest floor became less appealing. When she married and had four children, the tradition completely fell by the wayside.
"You just don't have time to go to the woods," Huff said. "There's no time to even take a bath when you have that many kids."
Then her grandmother became seriously ill.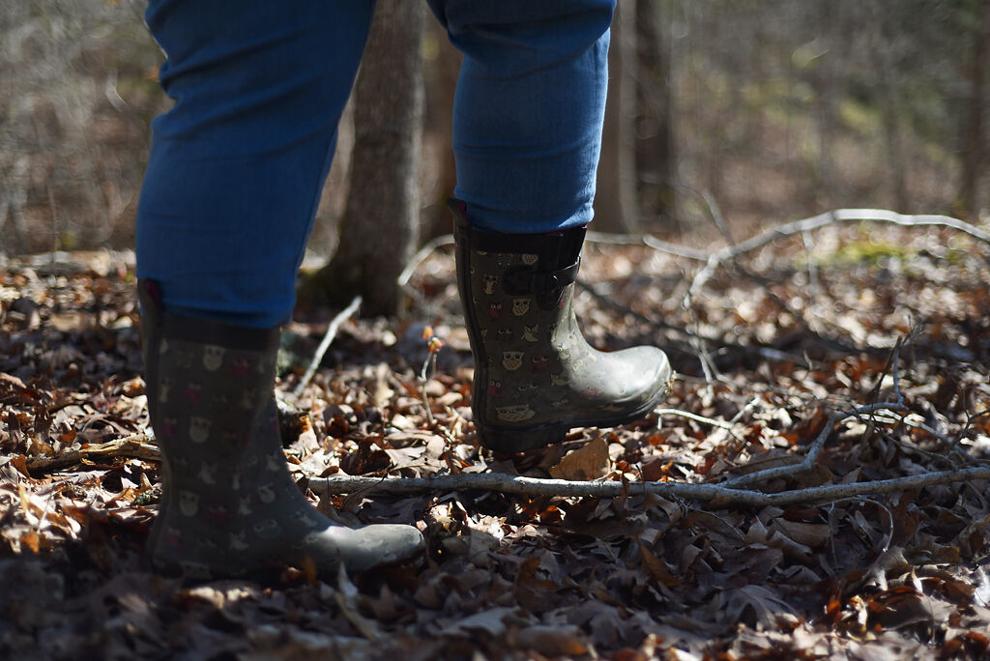 "After she died, I grieved," Huff said. "Once it was over, I realized that I didn't listen to my grandma."
The land that contained the old schoolhouse filled with mushrooms had been sold and, with Lissak's death, a family tradition was at risk of being lost forever.
Huff became determined to find mushrooms once again — and recover her grandmother's spirit at the same time.
"It's pretty intense to recognize and remember that connection when you've lost it for as long as I had," Huff said. "We all have it; we just don't realize we've lost it. I did."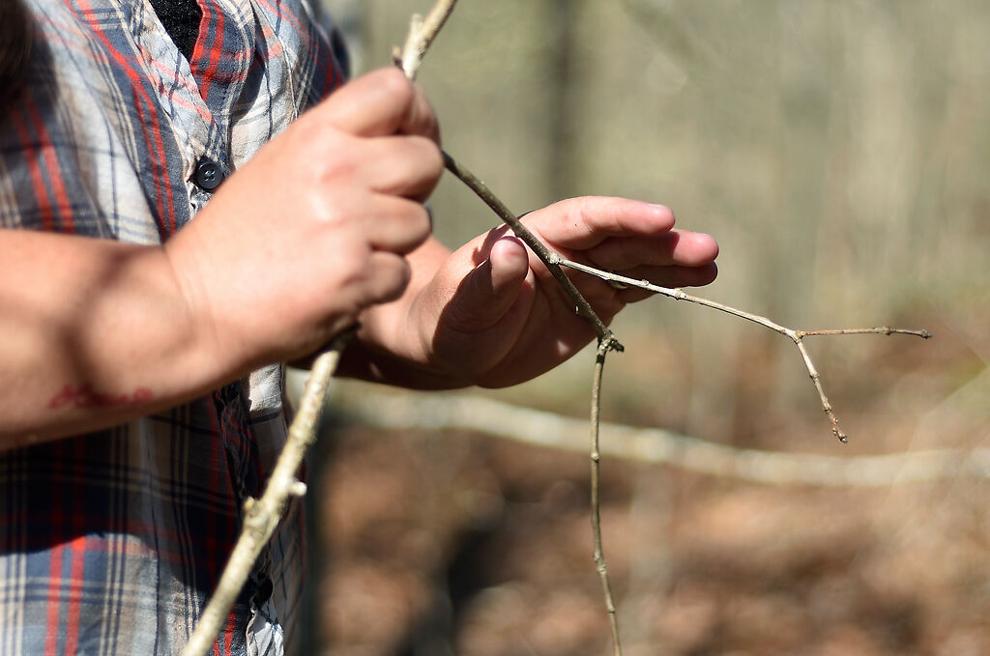 Search: 'Pay attention'
The ancestral knowledge was no longer available, so Huff turned to the next best thing — the internet. There, she found hundreds of people just like her, trying to figure out how older generations were able to find so many mushrooms.
In time, Huff learned to look near downed trees and dry creek beds but with limited success.
"I went into the woods for 10 years, and I found no more than one to two a year," Huff said. "That was it."
Her luck began to change when she found an obscure blog that promised success only with patience and time.
"The year I discovered the blog and went out in the woods and applied that concept of time, I found 32," Huff said, breaking into a broad smile.
"So that was pretty amazing. It was like hearing Grandma behind me going, 'Pay attention, Shannon. Pay attention.'"
It wasn't long before she stumbled upon her own honey hole in the ruins of an old homestead.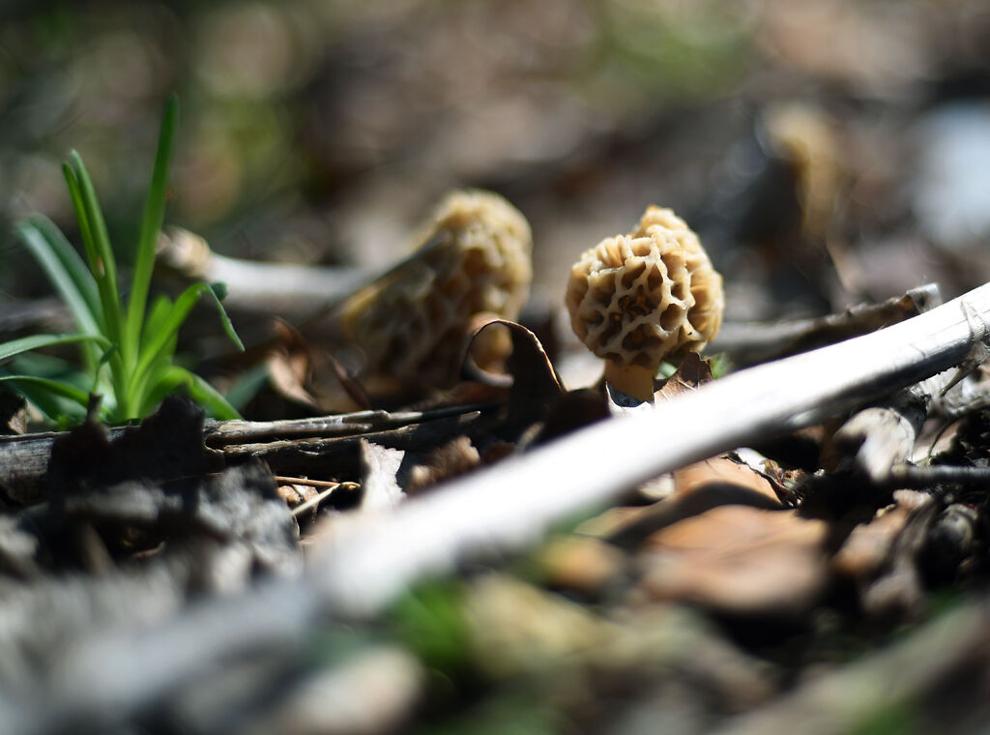 Walking up a hill, a hiker might see a couple of homemade structures, plenty of trees and a layer of trash covering the forest floor instead of leaves. Old shoes and bottles litter the ground where their former owners left them.
Looking closer through a well-trained set of "mushroom goggles," Huff said the mushrooms — usually no taller than 6 inches — can be seen squirming their way through the debris in search of sunlight.
Some of them grow together in a circle, as mushrooms often do. Others are isolated from the group but stand amid the clutter of man-made objects, leaves and branches.
To Huff, it's a treasure trove — and it must be protected.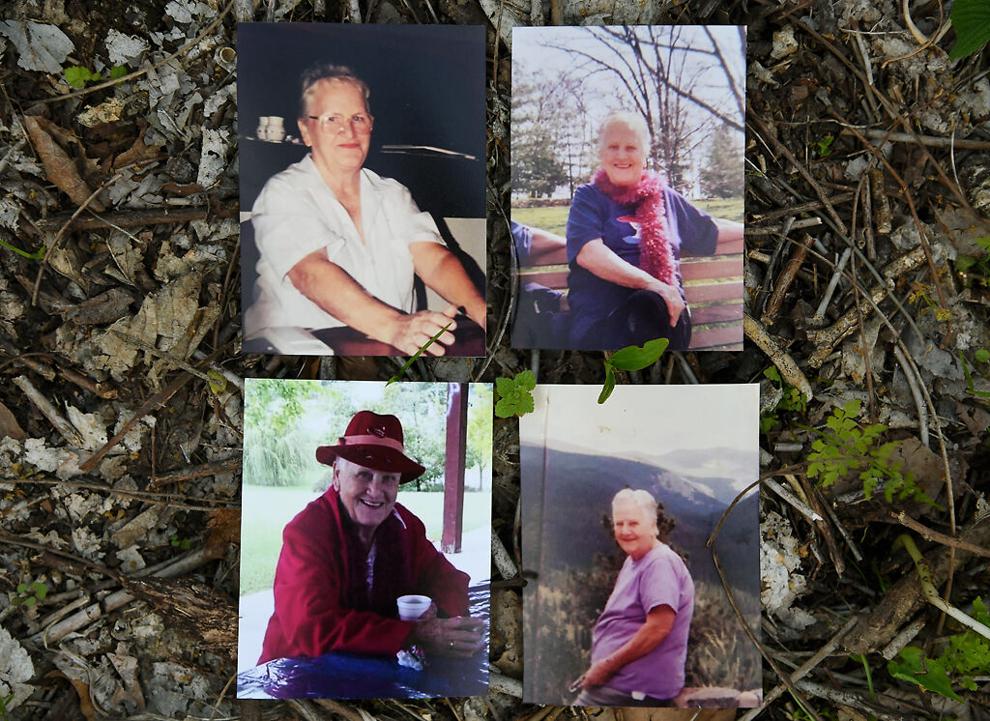 Conserve: "If I'm taking, I'm giving"
Those who search for morels do so for a variety of reasons. The mushrooms have a distinct meaty, earthy flavor that is difficult to find anywhere else.
Foraging comes with rules and restrictions. Here's what you need to know.
The native mushrooms tend to like the humid woods in Missouri. They pop out of the ground in March, April and sometimes May, just in time for a spring walk in the woods.
Malissa Briggler, Missouri's state botanist and part-time mushroom expert, said morels are among the most popular mushrooms to hunt.
"We actually have some really wonderful tasting other edible mushrooms besides morels, but everybody's so familiar with morel mushrooms," Briggler said. "I think that has to do with the time of year they come up,"
To Huff, the mushrooms represent a tradition she wants to pass down and preserve.
"It's something I want to hand down to my kids," she said. "I want my kids to be able to go and my grandkids to be able to go and have the same access that I had."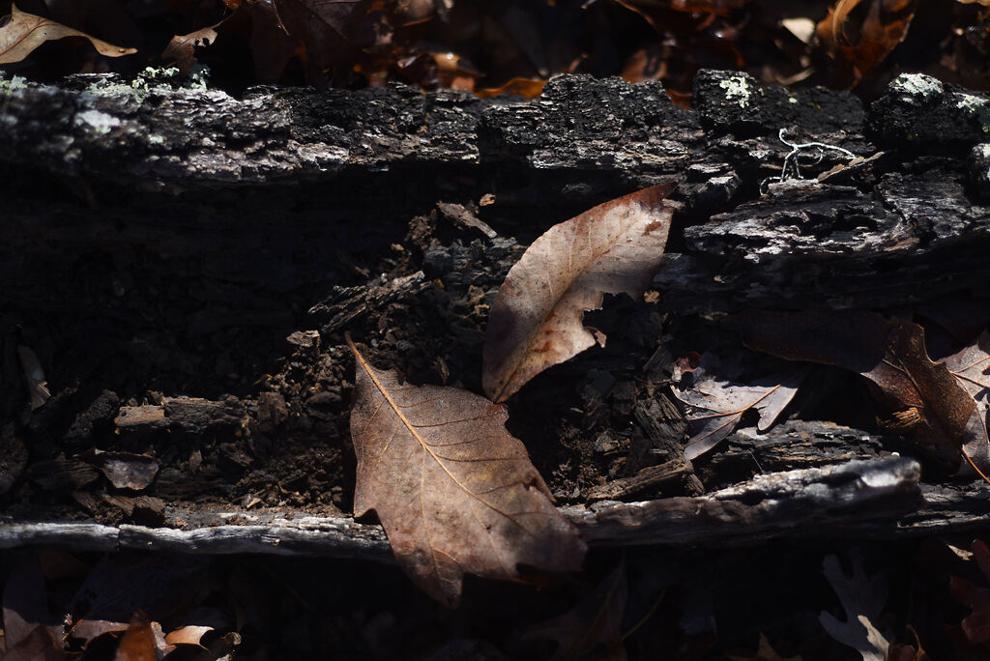 She needs to protect her newfound honey hole from the prying eyes of "poachers" who trespass on land that isn't theirs and steal the mushrooms from their rightful owners.
But she also gives back to the land she takes from, to make sure it continues to produce fruit — year after year.
"If I destroy this, and I take away all my food sources, there's nothing left," Huff said. "There's nothing for my kids, there's nothing for my grandkids. It is our human responsibility — if I'm taking, I'm giving."
When Huff picks a mushroom, she carefully tears the stem, leaving the 'roots' of the mushroom in place so it can continue to grow. She places the mushrooms she collects in a mesh bag, to make sure any spores that come off the mushrooms as she treks through the forest find their way to the ground.
In a couple of years, those spores could produce the mushrooms that feed her family.
"As you gather your mushrooms in a basket or a mesh bag, you're allowing those spores to be released into the environment, and potentially could help fungal growth too," Briggler said.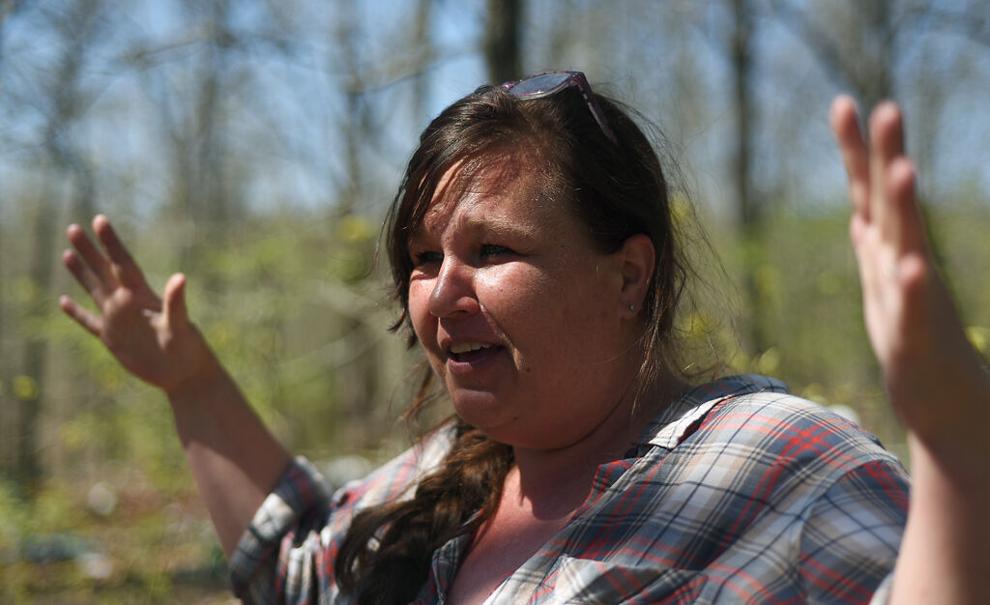 Briggler compares removing the mycellium, or the fungal part of the mushroom, to chopping off the branch of an apple tree rather than just taking the fruit.
"When you pull [the mycelium] out of the ground, you are damaging it," Briggler said.
Mushrooms serve as a bellwether to the health of the environment around them. Seeing mushrooms in a certain area gives Huff information about the land where she lives.
"It lets me know that my forest is happy right now, despite what was in that area," she said. "That's a happy little area right now… Paying attention to mushrooms and the destruction that humans leave behind is kind of crucial to let you know what's going on in the environment."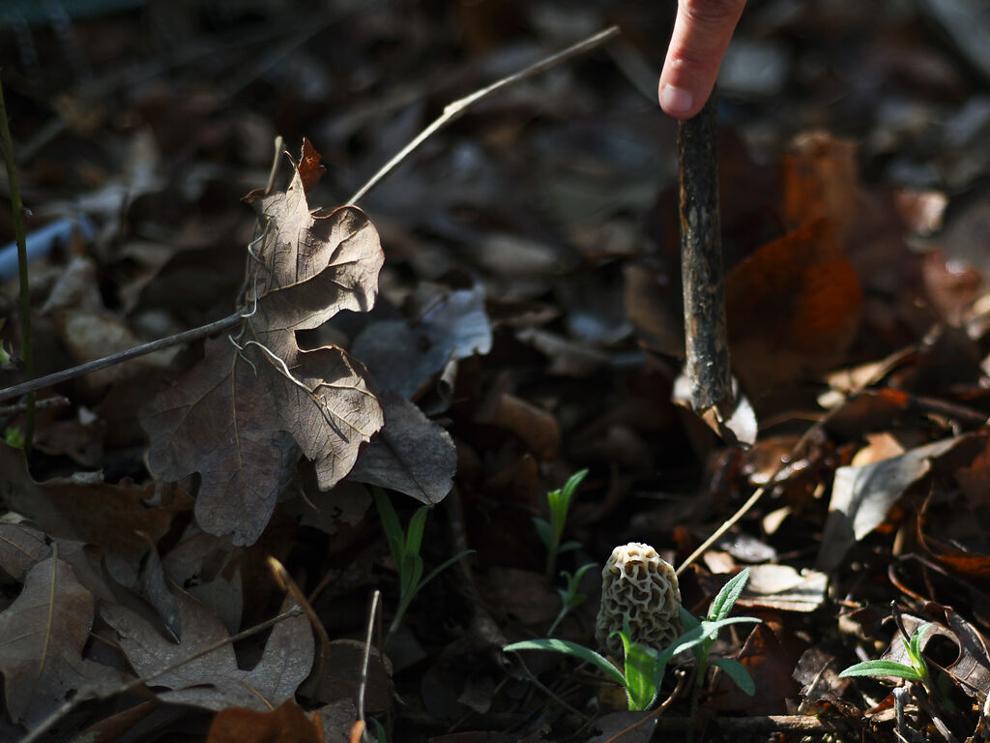 Paved roads, mowing grass and even walking ensure that morel mushrooms rarely grow where people are. Once humans leave, the mushrooms are more likely to emerge from the destruction.
"When the mushrooms come out, you know that your presence there has been minimized," Huff said. "The forest has reclaimed what you have left. I think I think that's a pretty telling indication that we need to pay attention to the mushrooms."