It was the perfect storm.
Strong winds, heavy snow and torrential rain ripped through the U.S. from Minnesota to Texas last March, bringing extremely cold temperatures with them. Soil became impenetrable and runoff had nowhere to go but the Missouri River and its tributaries.
It proved too much for the century-old reservoir system. Ice and water rushed down the Niobrara River and plowed through Spencer Dam in Nebraska, destroying it. The same day, Gavins Point Dam, the farthest downstream dam, had filled to its capacity. Significant damage would be catastrophic for the Missouri River Basin.
Therefore, the flood gates had to open.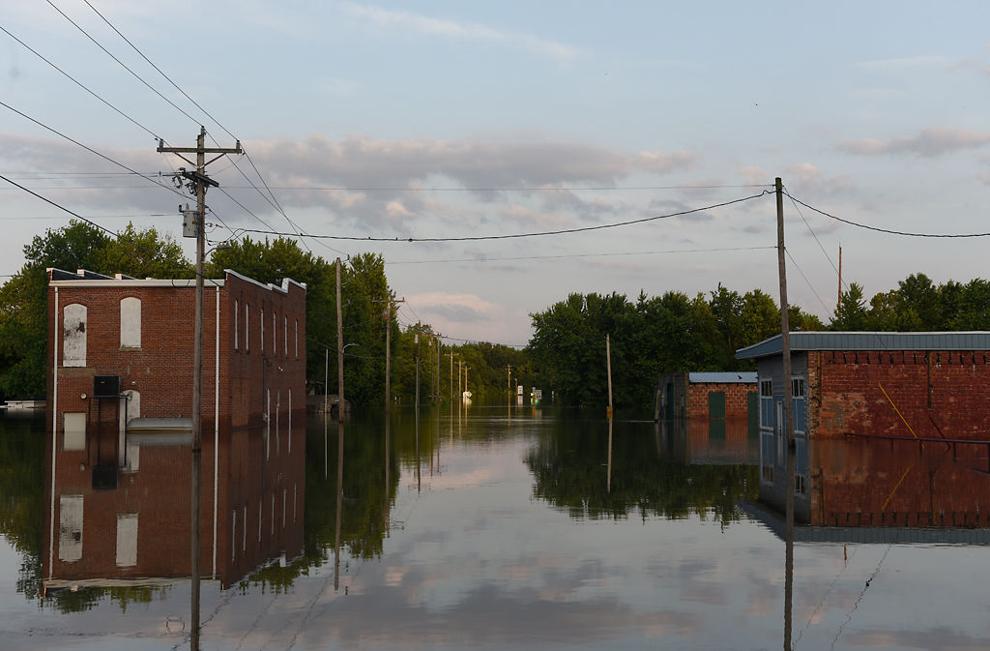 Water released at Gavins Point increased to 100,000 cubic feet per second, the same rate at which Niagara Falls flows, to alleviate pressure from incoming water.
Downstream, conditions only worsened the blow. Precipitation and frozen ground caused water to surge directly into the Missouri River's tributaries at record high rates. And Missouri's levee system paid the price.
Of the levees in the Army Corps of Engineers' Levee Safety Program in the Kansas City Levee District, 45 levees were breached and 65 were overtopped in 2019.
These embankments line thousands of miles of American rivers, helping protect the people, cropland and infrastructure that lie beyond their walls. Uneven regulation and outdated design, however, have brought criticism of the aging system. And while many of Missouri's levees are waiting to be repaired, factors such as climate change, policy debates and predictions of heavy runoff in the spring cast an uncertain future.
Not all levees are created equal
Most of Missouri's levees were constructed decades ago by farmers attracted to the arable soil in flood plains. Today, most are maintained by local levee districts, often composed of farmers, landowners and cities.
While this local control has benefits, a district's neighbors sometimes end up paying the price with more flooding.
There are two types of levees that are a part of the Army Corps of Engineers' levee rehabilitation program and therefore can receive funding in the event of a flood. Federal levees, which were built by the corps and later turned over to district control, are eligible to have the total cost of damages repaired by federal funding.
Nonfederal levees, however, were constructed locally and later applied to be a part of the corps' program. If a nonfederal levee sustains damage during a flood, the program will pay 80% of the cost of repairs, leaving the rest to be covered by other means. Repairs can include filling holes, replanting new grass and, in extreme cases, rebuilding entire levees.
Even with corps funding, the majority of the maintenance and upkeep often still falls to the levee districts.
Consideration for rehabilitation depends on annual inspections that ensure levees meet corps regulations. Additionally, assistance is only provided if the work is "economically justifiable," damage was sustained during a flood and the total cost of repairs exceeds $15,000.
Sometimes the cost of going through the corps' channels isn't worth it, even as a nonfederal levee. John Sam Williamson, a local farmer and president of the McBaine Levee District in Boone County since 1994, chose to do his own repairs after 2019's flood, which included adding dirt to low places and reseeding the grass on top of the levee. Some repairs, such as debris removal, tree trimming and removing animal burrows, were not eligible for corps funding.
Williamson said the actual cost was much lower than the corps estimated.
"Their cost of seeding was $2,000 an acre," he said, "and our cost to seed was $315."
The Kansas City District of the Army Corps of Engineers plans to undertake around 70 levee rehabilitation projects after 2019's flooding. As of the beginning of February, the corps had awarded 12 contracts for repairs.
"One of the big things," Williamson emphasized, "is the timeliness of getting it done."
He was able to repair the McBaine Levee to its preflood state before the corps' work had even begun in other districts.
On the other hand, some levee districts are owned and operated privately and do not have to adhere to the corps' regulations outlined by the rehabilitation program. Even though this disqualifies them from receiving federal assistance, these districts sometimes prefer it that way.
"If you're in a corps program and you want to raise your levee, you have to get their permission," said Stephen Diederich, president of the private Easley-Wilton Levee in southern Boone County. "Since we're on our own, we don't have to talk to anybody."
While the McBaine Levee protects 18 water wells that provide drinking water to Columbia, making repairs "economically justifiable," the Easley-Wilton Levee protects only farmland. As a result, any funding Diederich would receive from the corps would be at the bottom of the list.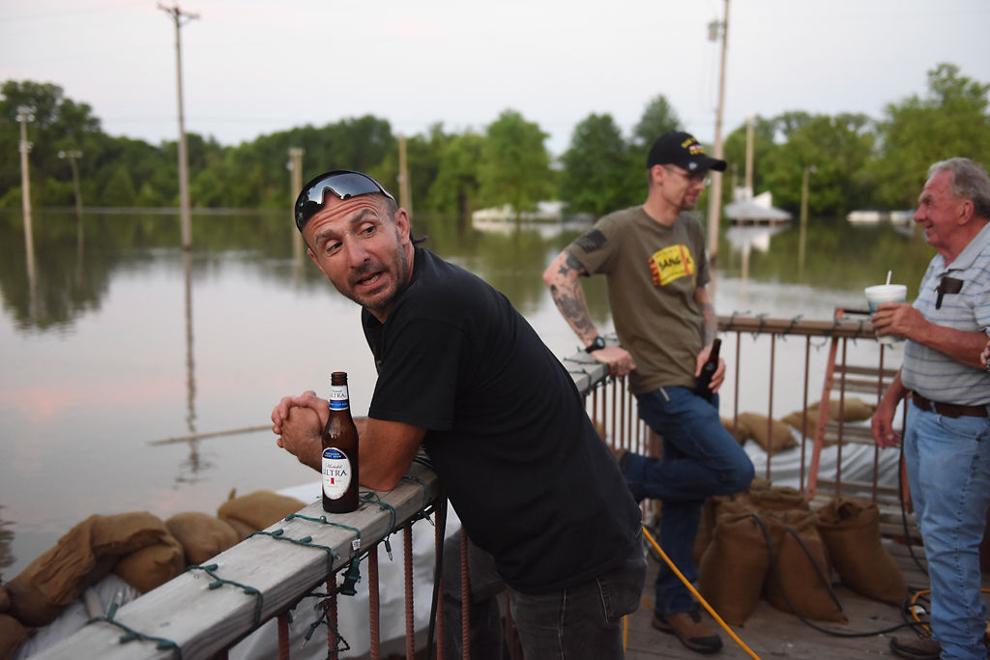 An aging system
Last year's flooding is attributed to the megastorm, known as the "bomb cyclone," that caused the ground to freeze in March and runoff to flow directly into the Missouri River Basin's rivers.
These kinds of extreme weather events are caused by a warming atmosphere, according to the Center for Climate and Energy Solutions. As the planet heats up, the air is able to hold more water vapor that can eventually produce more rain and snow with unprecedented consequences.
The infrastructure isn't meeting the demand of those effects because most of the flood management system in the Missouri River Basin was built before climate change was well documented.
Higher water is faster, and when it overtops a levee, you get more erosion.
Robert Jacobson, a supervisory research hydrologist with the Columbia Environmental Research Center of the U.S. Geological Survey, said these changing factors should be considered when redesigning and rebuilding levees.
"A levee designer is always looking backwards in time to make that decision about how big that levee needs to be," he said. "If the size of the floods are changing, then all those calculations change."
The discrepancies between levee heights, distances from the river and building material can exacerbate the flooding.
While one higher levee protects an area, constricting the river forces water to flow higher and faster. The added pressure can worsen flooding in less-protected areas and make other levees more susceptible to damages and breaches.
Jacobson said the mishmash of institutions controlling levees and specifications they use means, "It's not really a system, and that's one of the problems. It was put together in pieces."
Moving forward
In July, Gov. Mike Parson signed an executive order to establish the Flood Recovery Advisory Working Group. Since August, the group, which comprises government agencies and local levee districts, has met to hear testimony on Missouri's levee system. In January, the group sent an interim report, which included findings and recommendations, to Parson.
One method for improving the levee system included in the recommendations: large-scale levee setbacks.
Levees built farther back from the riverbed allow the river to flow wider and slower. As a result, water has more space to move before it overtops a levee and is less likely to cause damage.
The Atchison County Levee District, which suffered 10 breaches in 2019, is seeking a setback after last year's catastrophic damages.
"This levee system is 67 years old," said Garry Garst, the district's vice president. "And over time, the levees aren't what they used to be."
During a meeting of the working group in December, Jacobson gave a presentation that outlined potential benefits of building new levees farther from the riverbed. Another benefit: They could be built with new materials, making the levees more stable, he said.
For levee districts, the millions of dollars it can take to buy land from private owners can seem impossible to find and will probably need to come from federal grants and other sources. In January, Parson wrote a letter of support for Atchison County's levee setback, highlighting the difficulties of securing funding.
Diederich, president of the Easley-Wilton Levee, said people living and working in flood plains, like himself and other farmers, may be hesitant to give up farmland behind the levee systems.
But Garst said he thinks people will grow to understand that selling their land is the right move. They will realize it's worth it to get a new levee that may not fail, he said.
"I think the key is really making sure that landowners are part of the solution," said Eileen Shader, the director of river restoration for the nonprofit American Rivers.
She also said the working group needs to come up with equitable solutions that will allow landowners to maintain their income and lifestyle.
Whatever the solution, there is a consensus that it should take a systematic and holistic approach.
"Piece-by-piece is not the best way to deal with a levee system," Jacobson said, "because the changes made to levee systems affect systems upstream, downstream and on the other side of the river."
As for projections for the 2020 runoff season, the already damaged system is looking unprepared.
Mike Dulin, an emergency management specialist with the Kansas City District of the Army Corps of Engineers, estimates that damages from 2019's flooding will take around two years to complete. And while water releases from Gavins Point Dam are flowing at twice the normal amount this time of year, the winter weather isn't doing any favors.
"This system is going to be pretty vulnerable to flooding and just wanting to come back in these breaches," Garst said. "So next year is not going to be good either."