For nearly seven years, every application Augustus Tolton sent to a seminary ended in rejection.
He itched to join the priesthood, even though he'd never seen a priest who looked like him. With each additional "no," Tolton began to realize that seminaries in the United States simply would not take a black student.
If he wanted to be a priest, he would have to cross an ocean.
Ultimately, Tolton's friends among the order of Franciscan friars in Quincy, Illinois, used their connections to persuade a seminary in Rome to take him as a student.
He spent six years in Rome, was ordained and returned to the United States to become one of the first Catholic priests of African descent in the country.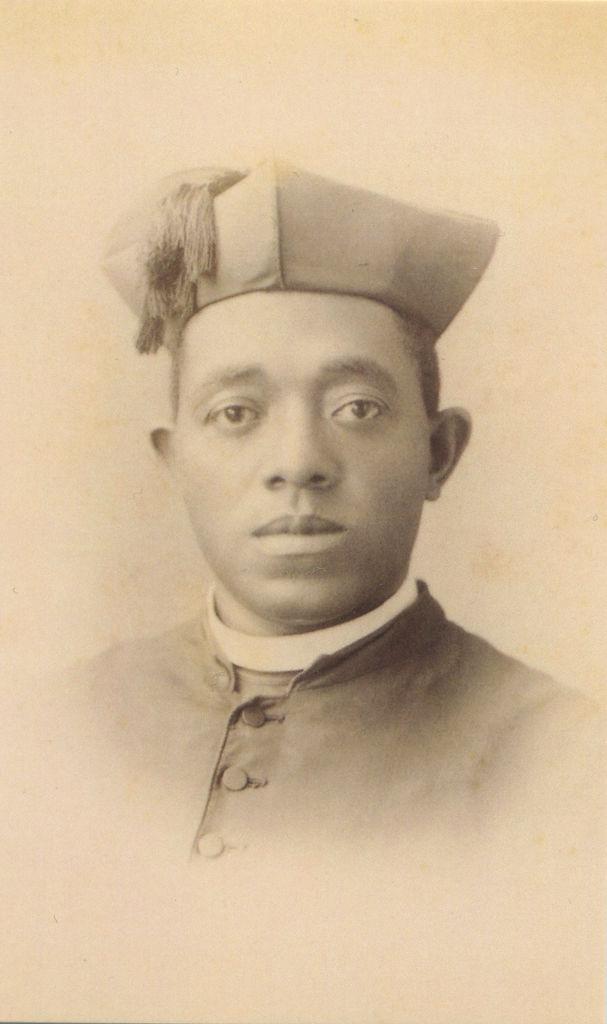 Tolton remained loyal to his holy calling — even when other Catholics stood in his way — until he died suddenly at age 43,  He was often threatened and harassed and ran into ridicule and opposition when his ministry led him to challenge racial norms and serve white parishioners. And yet he persevered all his life.
"The Catholic Church deplores double slavery, that of the mind and that of the body. She endeavors to free us of both," Tolton said in a speech given to the first Black Catholic Congress in 1889.
Now Tolton, whose name is attached to Columbia's only Catholic high school, is on a path to sainthood. He could be the first black person from the U.S. to achieve the recognition given to those who display exceptional virtue during their lifetime.
In early February, a Vatican theological commission affirmed Tolton's virtues and holiness, marking a significant step forward in the sainthood process. Tolton must receive a final vote from the cardinals and archbishops before Pope Francis can approve his cause for sainthood.
If the pope gives Tolton his nod, the black priest will receive the title of "venerable." The next step is beatification, which comes if the church finds evidence that a miracle was caused due to the intercession of the possible saint.
In most cases, an additional miracle is needed for canonization and the formal declaration of sainthood.
Roots in Missouri
Tolton was born on April 1, 1854, to parents who were slaves on the Elliott plantation in Brush Creek, Missouri. Because the Elliott family was Catholic, Tolton was baptized as an infant in a small log church in the northwest corner of Ralls County.
In Monroe City, the Holy Rosary Catholic Church offers cards with an old black-and-white photo of Tolton and a prayer thanking God for the priest and a plea to God to glorify Tolton. Holy Rosary is the parish with jurisdiction over the Brush Creek church where Tolton was baptized.
"If it be your Will, O God, glorify your servant Father Tolton, by granting the favor I now request through his intercession ... so that all may know the goodness of this priest whose memory looms large in the Church he loved," the prayer cards read.
The church in Brush Creek still stands, and the remnants of slavery can be found in the cemetery on the grounds. Behind the church, crumbling headstones bear only the names of white parishioners because slaves were buried in unmarked plots across the field.
In recent years, descendants of the church congregation have carefully researched and identified the locations of over 50 slave graves, marking each with a stone cross. No names are chiseled on the crosses.
Tolton received his first glimpse of the Catholic faith in Brush Creek in a one-room church, where the logs have been replaced by stone.
He and his family lived nearby until 1863, when his mother, Martha, planned her escape out of slavery. She crept out one night in the middle of the Civil War with her three children in tow and headed to the Missouri-Illinois border.
They were seized by bounty hunters near Hannibal, then rescued when Union troops came upon them. Because the family had been caught in free territory, the soldiers set them free to resume their journey out of Missouri.
After reaching the Mississippi River, Martha rowed her children across in a battered boat with only one oar as bounty hunters fired shots in their direction.
The family then settled in Quincy, Illinois, a known stop on the Underground Railroad. Tolton's brother fell ill and died soon after they arrived, likely as a result of the harsh conditions of the escape. Tolton's mother and sister remained in Quincy for many years.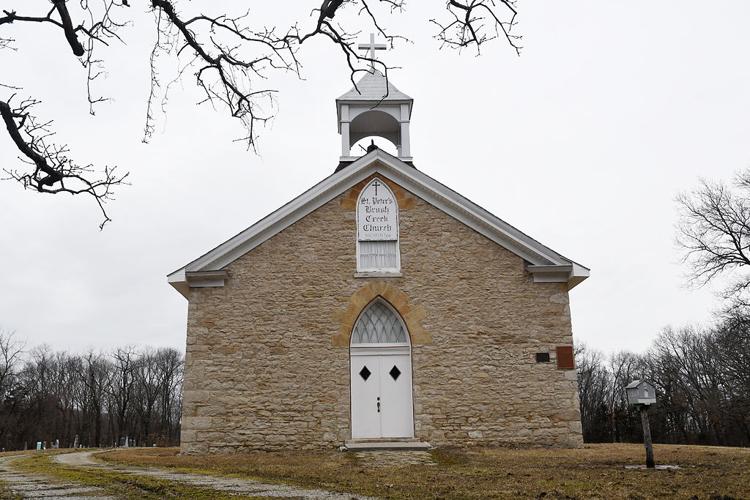 They never saw Tolton's father again. He had separated from his family to join Union forces and died in Arkansas during the war, possibly from dysentery.
Educated in Rome
Tolton attended the St. Boniface School in Quincy before blatant discrimination drove him out of the classroom. But he had caught the eye of a priest at the Church of St. Peter in Quincy who would help ensure his safety at the parish school.
There, the young scholar found mentors and tutors among the parish clergy and local nuns, who taught him English, German, Latin and the catechism. After he completed his parish education, he enrolled in Quincy College to study philosophy and liberal arts on a scholarship from the Franciscan fathers.
Always determined to enter the priesthood, he began to seek a place in an American seminary, but none would accept him because of the color of his skin. In 1880 a seminary in Rome, the Collegium Urbanum de Propaganda Fide, welcomed him after the Franciscans pled his case.
Bishop Joseph N. Perry of the Archdiocese of Chicago has extensively researched Tolton's life in order to further his case for sainthood.
"Rome didn't understand the American problem with race," Perry said about the difference in admissions policies between the U.S. and Rome.
"Tolton remarked that his years there were wonderful years for his own growth and education as a priest. It was just the opposite here."
On the day before Easter 1886, Tolton was ordained. Under the impression that he would be dispatched to Africa, Tolton instead ended up back in the United States.
"They were going to send him to Africa because his superiors in Rome figured he could not be a success here in the United States given our unresolved issue with slavery and race," Perry said.
"But then, one of his superiors there in Rome in the seminary decides, 'Well if the United States considers itself to be so advanced and enlightened and democratic, it should be able to receive a black priest.'"
Moving to Chicago
Tolton was initially assigned to the St. Joseph Catholic Church in Quincy, where he reached across color barriers to attract a diverse, receptive audience.
"He emerges out of all of that rather heroically in terms of his own Christian faith, his own openness to everyone regardless of whether they were white or black," Perry said. "As a priest, people white and black gravitated to his parish."
Fellow clergymen, both Protestant and Catholic, accused him of stirring controversy by blending races in his congregation.
"He was not allowed to have white and black people under the same roof," Perry said. "If it happened spontaneously as a part of his ministry, he suffered for that."
Tolton anticipated that he would be asked to leave Quincy because of the hostility. In 1889, he accepted an invitation to move to Chicago to serve a group of about 30 black Catholics who were worshiping in a basement. As the congregation grew, St. Monica Catholic Church was built to house them.
Tolton remained the local parish priest at St. Monica's until he died on July 9, 1897, at the age of 43. Heading home from a spiritual retreat, he was almost at his doorstep when he collapsed on the street.
Even though the general practice at the time was to restrict blacks from treatment in hospitals, Tolton was admitted anyway. He spent eight hours at the Sisters of Mercy hospital before dying of heat stroke.
He was one of 60 people who died during that brutal spell of hot weather.
Leaving a legacy
Tolton's determination to make a place for himself in the church has inspired black Catholics across the country, as well as the local Catholic community. In Columbia, Fr. Tolton Regional Catholic High School and Fr. Tolton Legacy Society at the St. Thomas More Newman Center both bear his name.
For black Catholics, especially, Tolton has become a role model in this country and a symbol of the church's diversity. There were 74.3 million practicing Catholics in 2017 in the U.S, according to the Center for Applied Research in the Apostolate. But only 3 million of them are black, the United States Conference of Catholic Bishops reported.
"In African-American Catholic circles, he has been known quite well," Perry said. "His name was always enunciated as being a pioneer amongst us, as the first link in a long chain of other African-American priests and religious folk in service to the church."
Tolton is one of six black Americans currently being considered as candidates for sainthood. Although he is considered to be the first black Catholic priest in the United States, there were earlier priests of known African descent.
Tolton, however, was the first to to identify as black and endure the treatment blacks suffered during his lifetime.
His predecessors include the three Healy brothers, sons of an Irishman and mixed-race woman. The brothers had skin light enough to let them pass as white, and they achieved positions of leadership in the church. James Healy, ordained in 1854, went on to become the bishop of Portland.
"Their skin color tone presented them fair enough to move within majority society," Perry said. "They did not consider themselves African-American, they did not move in African-American circles ... the family ignored those terms regarding their own heritage."
Tolton is also revered today for the courage and resolve he displayed while pursuing a calling as a priest against formidable odds.
For the Rev. Greg Oligschlaeger, the pastor at Holy Rosary Catholic Church, Tolton's persistence in pursuing priesthood is uplifting.
"As priests we talk about being that instrument of grace to others and he certainly did that," Oligschlaeger said. "He could be an inspiration for anybody — that you can still show compassion and kindness in the face of adversity."
In Brush Creek, the church where Tolton was baptized is visited by groups of pilgrims every year, according to Oligschlaeger. As Tolton's cause for sainthood advances, the parish expects interest in the site to intensify.
The Fr. Tolton Legacy Society in Columbia is also watching the canonization process closely.
"Our goal is to make it known that the Catholic faith is one that is multicultural, and with Father Tolton, we also look at the fact that he believed that everyone had the right to enter the doors and worship God," said Michele Sisson-White, co-chair of the Fr. Tolton Legacy Society.
"His legacy is that race makes no difference when we come to worship God," Sisson-White said.
Perry said Tolton's sainthood should bring attention to the influence men and women of color have had on the Catholic Church in this country.
"[Tolton's sainthood] would tell people that, yes, African-American Catholics do have a place — they have served our church and served it well," Perry said.
Supervising editor is Jeanne Abbott.