JEFFERSON CITY — It's not every day that Missouri officials get to applaud a well-funded transportation project. But this month, that's exactly what they're doing.
Last week, residents in northeast Missouri voted to dissolve a nearly 12-year-old transportation development district, along with its regional sales tax, after the district paid off the renovation of U.S. 36 three and a half years early. The district will officially disband in June.
The $75.5 million project was completed in 2010 and expanded 52 miles of U.S. 36 between Macon and Hannibal from two lanes to four. Today, many Missouri officials are pointing to the project as an example of how innovation can help fund much needed state infrastructure projects even as Missouri transportation funding continues to run thin.
State officials say the expansion has helped increase safety on the highway and reduce traffic along the much-congested Interstate 70, which runs parallel about 50 miles south. The district is also ending with a $950,000 surplus, which will go back to the participating counties to use on future transportation projects.
Yet what may be most notable — and certainly what officials have touted most proudly — is that even as the state faces budget shortfalls, local communities along the project's four-county corridor came together around a shared goal and opted to increase their own taxes to help pay for it.
"Rural Missouri raised significant revenues to put toward the development of Route 36 and the expansion there, and that was a big part of getting that project done," said Patrick McKenna, executive director of the Missouri Department of Transportation. "You really do get a sense of what the priority of a community is when they're willing to tax themselves to build it."
More revenue, smart investments
Funded by both state and federal efforts, nearly half of the U.S. 36 renovation was financed by a half-cent regional sales tax implemented by what's known as a transportation development district, or TDD.
In the case of U.S. 36, the TDD covered four counties — Macon, Marion, Monroe and Shelby — and was slated to be paid off by 2021. The TDD then borrowed about $32 million from the Missouri Transportation Finance Corporation, using revenue from the new sales tax to make loan payments.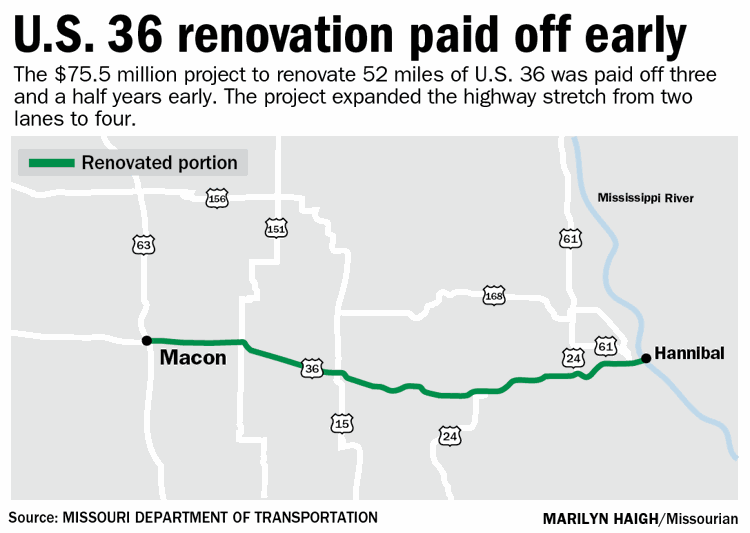 But the sales tax was far more lucrative than anticipated, said Larry Craig, executive director of the project's TDD.
Essentially, Craig said, residents were spending more money than anticipated within their counties and therefore generated more sales tax revenue. The district then invested that money in things like certificates of deposit or government securities, he said.
"That allowed us to build up interest on those funds," Craig said. "All that helped to make this possible and make it so that we could pay off the loan three-and-a-half-years earlier."
Macon Mayor Dale Bagley, who also chaired the project's TDD, said the district began collecting sales tax revenue in 2006 but didn't have to make a loan payment until 2009. Within that time, he said, they were able to create a cushion of more than $3 million.
In all, the district generated a total of $34.3 million, Craig said, through a combination of sales tax revenue and accumulated interest from investments.
"It's been a very good, successful project … and it worked because we told the voters what we wanted to do, we did it, and we paid it off," he said.
Improved safety, economic growth
But TDDs only exist if state voters want them, Bagley said, and for many residents who voted to implement the new sales tax district for U.S. 36, the major selling point was safety.
In Macon County, Bagley said, accidents along two-lane roads had been catching the public's eye over the years as fatal crashes involving students on two-lane roads continued to pepper news reports in the area.
According to data compiled by MoDOT, two-lane roads have a 25 percent higher crash rate than four-lane roads, based on a five-year average of crash numbers compared to vehicle-miles traveled.
Missouri State Highway Patrol data obtained by the Missourian shows that crash numbers along the 52-mile stretch of the U.S. 36 project have remained relatively flat both before and after construction. In 2007, there were 131 crashes, and in 2017 there were 126.
But Kevin James, an assistant district engineer with MoDOT, said that's actually an improvement. MoDOT data shows traffic has increased on that stretch of highway by about 50 percent, James said, so as long as crash numbers don't also go up by 50 percent, that's a decrease in the crash rate.
Will Nixon, who runs Noxin Trucking in Hannibal, certainly sees the new four-lane highway as an improvement.
Nixon said avoiding U.S. 36 is impossible for his employees because it's a main thoroughfare across the state, so converting the highway to four lanes has helped a lot by saving his drivers time and decreasing the chance of accidents while passing slower vehicles.
"Two lanes are nice to go scenic riding," Nixon said. "But the sad part is, they're dangerous."
The increased traffic has also been a boon for the local economy, said Shelbina Mayor Al Dimmitt. Since the expansion, he said, his city of about 1,600 residents has built new gas stations and restaurants to accommodate the extra traffic.
"We're definitely seeing more traffic," Dimmitt said. "It's been a plus."
Limitations of cost sharing
While Missouri has long used this kind of cost-sharing model to fund myriad projects across the state, MoDOT's McKenna said cost sharing could become more commonplace as states could likely face more cost burden under proposed federal budgets.
But other state officials are wary of whether the TDD model, which is designed to address the specific needs of a certain region, can be broadly applied statewide so easily. There has also been criticism that TDDs often operate with too little oversight.
Bagley said the problem with trying to apply regional cost sharing statewide is that different regions have different needs. For instance, he said, a neighboring county may not agree to pay for a new bridge or road repair in Macon if they don't plan to use it often.
That's what happened in Ralls County when the U.S. 36 TDD was originally formed, said John Briscoe, a commissioner for the Missouri Highways and Transportation Commission.
U.S. 36 only passes through about 2 miles of Ralls County, Briscoe said, so when county leaders were approached to join the TDD, they ultimately said no. "I was disappointed," he said. "It would have been good if Ralls participated."
There are plenty of instances of cost sharing working, Briscoe said, like a recent project in Warrenton that's installing an interchange on Interstate 70. But there are still limitations, he said, and he's skeptical smaller, rural counties such as Ralls will sign on to any tax increases.
"It's a rural county," Briscoe said. "People here are very aware of taxes and having taxes imposed on them."