Tyler Driesenga, Eli Hoff, Quinn Ritzdorf​ ​ ​
We are a third of the way through the high school football season. There are plenty of key Week 4 matchups for teams to either win a first game or continue a winning streak.
We've got a preview of all the action, including stories from the Columbia Missourian and special video collaborations with KOMU.
Feature of the Week: Jeff City football star has FBI aspirations
Growing up with CSI: Miami's Horatio Caine as a hero, Brandon Backues has hoped to one day pursue a career with the FBI since he was a kid.
Backues, a stalwart on the Jefferson City Jays' offensive and defensive lines, was captivated by forensics when he started watching CSI: Crime Scene Investigation, CSI: Miami, NCIS, and other similar shows with his mom.
He enjoyed the action and the inevitable plot twists that would come near the end of every episode, but what really stuck out to him was the exact opposite of what the camera would train the average viewer's eye to spot...
For the full story, click here.
Game of the Week: SLUH (1-2) vs Jefferson City (2-1)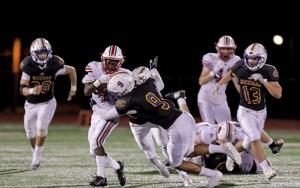 Hickman safety Talin Kemp and cornerback Max Neuhaus tackle Jefferson City running back David Bethune on Friday in Columbia. The Kewpies lost 23-8.
Yehyun Kim/Missourian
What to watch for: SLUH's defense. The Junior Bills have given up nearly 50 points in each of their last two losses. If they are going to win, the defense is going to need to step up against the Jays. On the flip side, Jefferson City's defense has been stout. They gave up only eight points against Hickman last week.
Key players: SLUH senior quarterback Brendan Hannah. Although the Junior Bills only finished with 66 yards last week against De Smet, Hannah finished with 42 of those yards and a touchdown. For the Jays, it's their running backs. David Bethune and Devin White are the main workhorses for the offense.
For the full preview, click here.
Harrisonville (0-3) vs Battle (2-1)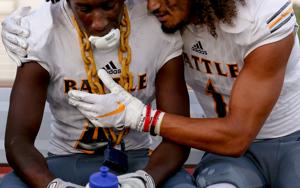 Battle senior cornerback and strong safety Quentarius Vaughn, left, wears the lockdown chain while senior cornerback and running back Trevonne Hicks congratulates him at Smith-Cotton High School on Friday in Sedalia. Vaughn was given the "lockdown" chain after getting an interception and scoring a touchdown on the same play.
Daniel Shular
What to watch for: Battle's defense. In the past two weeks the Bruins have forced five turnovers. That means their "turnover" chain has been in full use lately. Will Battle's chain make an appearance this week? For Harrisonville, the Wildcats need to improve their passing defense as they allowed 331 yards through the air last week.
Key players: Battle's DaleShaun Coleman. He recorded more than a third of the team's total offense as he rushed for 149 yards last week against Rock Bridge. For Harrisonville, it's Jace Reynolds. He led the team with 74 yards on the ground last week.
For the full preview, click here.
Hickman (1-2) vs Smith-Cotton (0-3)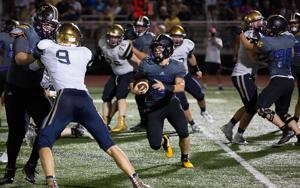 Hickman High School running back Felix Pippenger carries the ball during a game against Helias Catholic High School on Sept. 1, 2018, in Columbia.
Tristen Rouse/Missourian
What to watch for: Hickman coach Cedric Alvis owned up to his offense's struggles and is working to implement an up-tempo no-huddle system. Despite defeating the Kewpies twice last season, Smith-Cotton has a new core of players and is battling the woes of inexperience so far this year.
Key players: The Kewpies expect senior running back Felix Pippenger to return fully from injury this week, which could be a big boost to their revamped offense. For the Tigers, maximizing athleticism across their spread offense will be crucial.
For the full preview, click here.
Rock Bridge (0-3) vs Lee's Summit West (2-1)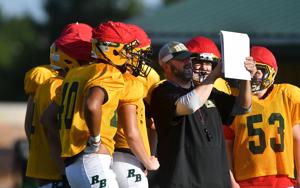 Rock Bridge head coach Van Vanatta briefs a group of players in between drills during practice Wednesday at Rock Bridge High School. The Bruins will travel to De Smet Jesuit in St. Louis for a non-conference game Friday.
Hillary Tan
What to watch for: Sitting a rather surprising 0-3 after 3 games, Rock Bridge will hope to turn things around in a road-trip matchup against Lee's Summit West. Bruins coach Van Vanatta, along with his team's leaders, has upped the intensity of practices. Lee's Summit West is currently ranked No. 10 in its class and has posed difficulties for the Bruins in the past, so improvement is no guarantee for Rock Bridge.
Key players: Rock Bridge must replace linebacker Jaden Lewis, running back/safety Peyton Carr and wide receiver/cornerback Max Vanatta this week, and could be without other players due to stomach flu. After a slow first game, the Titans have scored 82 points in their last two games, led by quarterback Sammy Cooper, who has thrown 6 touchdowns in that span.
For the full preview, click here.
Tolton (0-3) vs St. Dominic (1-2)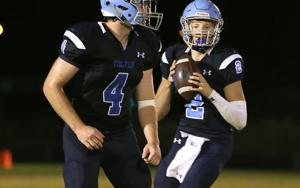 Tolton's Connor Fogue looks to the right as Quarterback Gabe Pfenenger, right, prepares to pass the ball during their game against St. Francis Borgia High School on Friday, Sept. 13, 2019 in Columbia. Tolton's next game is Friday against St. Dominic. 
Tristen Rouse
What to watch for: Tolton has lost the first three games of the season, so Trailblazers coach Michael Egnew has preached confidence throughout this week of practices. Keep an eye on how the players respond tonight. St. Dominic gave up six touchdowns through the air against Cardinal Ritter last week, so watch how it makes adjustments this week.
Key players: Tolton quarterback Gabe Pfenenger is the leader of this team and will be pivotal in helping turn the season around. St. Dominic wide receiver Jackson Dearing was one of the two wideouts with a touchdown last week.
For the full preview, click here.
Enjoy Week 4 of high school football and we'll see you tomorrow morning with a recap of tonight's action.
Love what you're reading? Forward this email to a friend and encourage them to subscribe here.