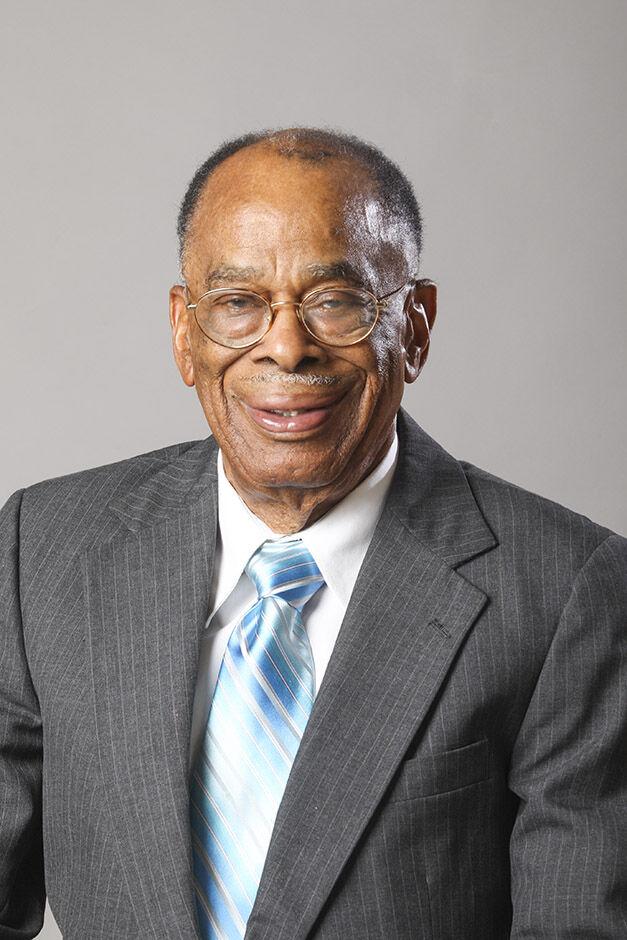 During an era when opportunities for Black people were scarce and fighting against injustice often meant life or death, Dr. Gus T. Ridgel's courage and candor set a precedent for generations after him.
After the NAACP challenged MU segregation policies with a lawsuit against the university, Dr. Ridgel was one of nine Black students admitted. Lack of funds caused him to complete his two-year master's program in just one year, and he became the first Black to graduate from MU.
His historic graduation led to creation of the Gus T. Ridgel Fellowship in 1987. He also received an honorary doctorate from MU in 1996.
"We also have to talk about the fact that this man wanted an education first and foremost," MU alumna Kandice Head said. "We lift these historical figures up, but we don't really talk about how difficult it was to be Black on that campus at that particular time."
Dr. Ridgel died Saturday, Aug. 1, 2020. He was 94.
He was born in Poplar Bluff, Missouri, where he attended Wheatley High School. After graduation, he served in World War II in the Army. Once he was discharged, he enrolled in Lincoln University.
Dr. Ridgel's friend and peer, Donald W. Lyons, said he believes Dr. Ridgel's time in the Army shaped the way he saw the world and people.
"Once you go to the Army, once you go to the military services and travel the world and interact with everybody, then you understand that we all are the same," Lyons said. "We all have equal talent, equal intelligence, equal everything. And I think that may have driven Gus a little more."
After graduating from Lincoln, Dr. Ridgel was admitted to MU to pursue a master's degree in economics in 1950. Although he understood the history-making venture he was embarking on, his focus was on his education.
"He knew when he got in that it was a big deal. But his primary goal wasn't to make history; he wanted a master's in economics," said Dr. Ridgel's daughter, Betty Bolden.
He was able to earn his master's degree, but not without challenges. He was shunned by his white peers and lived alone in a two-person dorm room because no one wanted to share a living space. He was also denied service at various campus restaurants.
Head, who had a chance to meet Dr. Ridgel in her sophomore year, remembered him talking about how dangerous it was for him on campus, including The Shack, a legendary spot where cartoonist Mort Walker was a regular.
"I asked him about The Shack, and he said, 'I didn't even dream about eating in The Shack. I would never do that,'" Head recalled.
"He told me about the Black cafeteria workers who slid food underneath the table and who really took care of him," she said. "The Black cooks looked out for him because there were hardly any places in town where he could eat."
After MU, Ridgel went on to receive a doctorate in economics from the University of Wisconsin in 1957. He taught at schools including Fort Valley State College in Georgia, Wiley College in Texas and Kentucky State College. He also held various administrative positions at universities including at Kentucky State College and Kentucky State University.
During his years as an educator, Ridgel mentored dozens of younger people, his longtime friend Lyons said. He first met Ridgel when he entered Kentucky State University as a freshman and said their relationship continued after graduation. Ridgel was "a big brother and a mentor," he said.
The mentor-mentee relationship grew into a lifelong friendship after Lyons graduated. Lyons worked alongside Dr. Ridgel in numerous councils and organizations.
Bolden also observed his belief in the power of mentoring.
"He understood the value and importance of having someone who has taken the road before you to tell you, 'Watch out for that bump; there's a rut there,' and he was willing to do the same for others," Bolden recalled.
In addition to being an educator, Dr. Ridgel was part of organizations including Alpha Phi Alpha Fraternity Inc. and served on the Frankfort (Kentucky) Economic Development Authority. In all that he did, he continued to work and advocate for Black people.
Lyons recalled Dr. Ridgel being instrumental in the March on Frankfurt in 1964. Before and after the march, he was outspoken about the need for justice.
"He helped his students sit in and demonstrate and fight. He had resigned from a job because he was outspoken with civil rights and in civil rights demonstrations," Lyons said.
Despite the seriousness of his work, Dr. Ridgel had a great sense of humor, friends said.
"He wasn't just an academic. He could be very funny and use that humor with his students," Bolden said.
"They learned to appreciate the fact that they have a rigorous class, but when it came time to be a friend to them and to be a mentor to them, he would inject humor and understanding," she said.
In 1987, MU created the fellowship in his name.
"The fellows program itself is a tangible legacy," Bolden said. "There are going to be future leaders, educators, businessmen, businesswomen, who are going to go out and be productive, and they were financed by a fellowship named for that first African American graduate."
Most important, Dr. Ridgel inspired generations after him to challenge what is considered to be the norm and speak loudly for justice.
Head described the opportunity to meet Dr. Ridgel as "a really pivotal moment for me. It made me rethink and reevaluate my role on campus and the importance and the urgency of disrupting traditionally white spaces."
During her time at MU, Head was involved with organizations including the National Association of Black Journalists, Alumni Association Student Board and Summer Welcome. Head said that her involvement on campus was important to honor the Black students who fought her right to be there.
In a statement released this week by Michael Middleton, Mun Choi and Latha Ramchand, they acknowledge that MU is "forever indebted to Dr. Ridgel."
Because of what Dr. Ridgel experienced at MU, he has inspired generations of Black students to continually challenge the norm and advocate for change.
"People fought for me to have (the right to attend a predominately white institution)," Head said. "Lucille Bluford fought for me to have that right, Gus T. Ridgel fought for me to have that right ... to have the nerve to be a Black girl from Chicago and have the nerve to go to mid-Missouri for my education.
"So we have to fight, because the generation after us relies on the work that we do today."