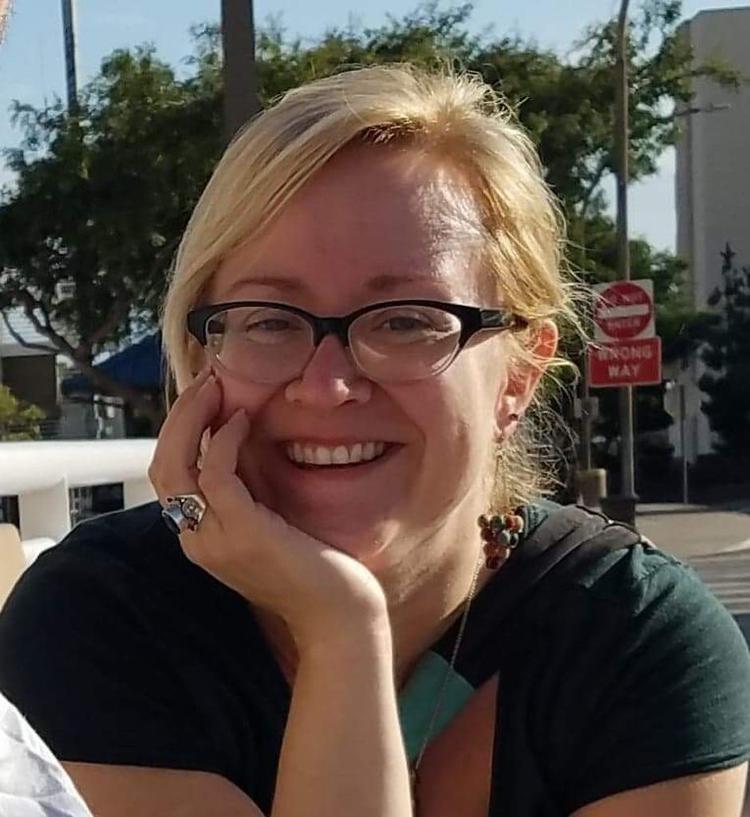 Jordan Hoyt always had the perfect gift up her sleeve. Whether it was a clever postcard from Colorado or a silly fridge magnet picked up during a road trip, Hoyt, Carisa Schuster said, had "a whole section of her closet devoted to gifts for people. She'd practically stockpile things."
Schuster worked with Ms. Hoyt in the MU Office of Admissions and said she treasures a ring Ms. Hoyt gave her.
"It's a gold-colored owl with amber eyes," Schuster said. "She found it at an estate sale, and it's one of my favorite things."
Ms. Hoyt's penchant for gift-giving spoke to her intense generosity and quirky sense of humor, Schuster said.
Ms. Hoyt died Feb. 16 after a crash on West Boulevard. She was 37.
Sarah Catlin met Ms. Hoyt 15 years ago volunteering for Planned Parenthood. At their first meeting, Ms. Hoyt's "irreverent and funny" nature shined through, Catlin recalled. This spirit is one of the many things that drew people to Ms. Hoyt and continues to unite people in her memory.
"She had so many friends," Catlin said. "Nobody even realized how many. They just started coming out of the woodwork."
Michael Hoyt, Ms. Hoyt's oldest sibling, said nobody realized how broad her reach was. "Everybody just felt like her best friend — including me," he said.
Ms. Hoyt reveled in her friendships. She gave herself wholly to them and was "always available and completely emotionally present for folks," Dina van der Zalm said.
Van der Zalm called herself Ms. Hoyt's partner in crime. The two met while they were students in MU's Master of Public Health program. They later worked together at the MU Wellness Resource Center, co-founded MU for Planned Parenthood and spent countless hours watching 1980s rom-coms on work trips. They belted the words to Whitney Houston's "I Wanna Dance with Somebody" in unison, religiously listened to the "John Tesh Radio Show" together and occasionally left inappropriate notes on each other's desks.
Ms. Hoyt was born July 5, 1981, in Columbia and was raised there. She was the youngest of four, and friends of her oldest brother called her "Little Jordan" because of their 19-year age gap.
Ms. Hoyt graduated from Rock Bridge High School in 1999 and from MU in 2005 after earning a Bachelor of Arts in Interdisciplinary Studies. She then earned her Master of Public Health from MU in 2016. Her love for both the MU and Columbia communities extended well beyond her two degrees.
"When you think of all the stuff she's done, it's an exhausting list," van der Zalm said.
Ms. Hoyt was a beloved mentor of MU's Sober in College group, a member of the Rollins Society and president of the Master of Public Health Graduate Student Association and was chosen as an Unsung Hero of Mizzou and an Outstanding Senior Peer Educator in the Rape Education Office. She was a founding member of the MU Status of Women Committee and received the Tribute to Women Award in 2016. From now on, this honor will be awarded in her name.
As a "townie," Ms. Hoyt had roots throughout Columbia and belonged to disparate communities around the city.
"I always told her it was exhausting to go anywhere with her," van der Zalm said. "We would try to duck in real quick and do an errand, and she would know 13 people in the room and stop to talk to all of them."
Ms. Hoyt was a constant supporter of the Columbia Farmers Market and Great Plains Planned Parenthood, where she volunteered for years as a patient escort. She tried to help people live healthier lives, a goal that occasionally took her far from Missouri, to places such as a ranch and organic farm in Oregon's Cascade Mountains.
"She had this way of getting out in the world and living the life she wanted to live but also effecting the change she wanted to see," Michael Hoyt said.
Ms. Hoyt's friends and family remember her spirit of adventure, intense selflessness and innate curiosity, her signature elevator dances and her unwavering love of "Hedwig and the Angry Inch." They remember her "encyclopedic," "witty" and "whimsical" mind that was chock-full of book references and song lyrics.
Survivors include her parents, Terry and Betty (Smajda) Hoyt; maternal grandmother, Elizabeth (Miller) Carpenter of St. Louis, Missouri; brother Michael (Kimberly) Hoyt and nephew Nathan of Ashland, Oregon; sister, Michelle Goetz (David), and nieces Morgan and Isabel of Creve Coeur, Missouri; and brother Jeffry (Amy) Hoyt, niece Natalie and nephew Elliot of Columbia, Missouri.
Her life will be celebrated from 1 to 6 p.m. Saturday at Shakespeare's South, 3911 Peachtree Drive.
In lieu of flowers, donations may be made in Ms. Hoyt's name to the Build This Town Campaign for the Agricultural Park at the Columbia Farmers Market or Great Plains Planned Parenthood.
Michelle Long, a friend from graduate school who recalled feeling "inspired by Jordan right off the bat" encapsulated Ms. Hoyt's boundless love for others and the legacy she leaves behind: "The whole community is at a loss. She was rare in this world."