Why is it important to have businesses with a headquarters in Columbia?
Because companies headquartered in the metropolitan area created 2,600 jobs last year and contributed 4% of the GDP of all the private sectors in the whole area in 2018, according to an MU professor who has studied the effect.
The Columbia metropolitan area, which includes Boone, Howard and Cooper counties, has 44 headquartered firms, Alan Spell, MU assistant extension professor in the Division of Applied Social Sciences, told the Missourian.
In addition to creating new jobs, Spell said, the average annual wage at these companies was $73,000 last year, significantly higher than the $42,000 average wage for the area's private sector firms (which excludes government), according to the U.S. Bureau of Labor Statistics.
That's likely because headquarters jobs include corporate supervisory positions.
"People making $70,000 are going to spend more money in the economy than someone making $40,000," Spell said.
He emphasized that company headquarters not only hire managers, but also other higher-paid jobs in the fields of IT, finance and accounting.
Bernie Andrews, executive vice president of Regional Economic Development Inc. (REDI), said these types of companies can keep graduates from MU and other area colleges.
"These headquarter jobs help us retain some of our brightest students that may have grown up here, and they can stay in the Columbia area for employment instead of having to move to St. Louis, Kansas City, Chicago or other larger metro areas for employment in their fields."
Columbia headquarters companies contributed $265 million in gross domestic product to the area in 2018, about 4% of the GDP of all private sectors in the Columbia metropolitan area, Spell said, according to data from the U.S. Bureau of Economic Analysis.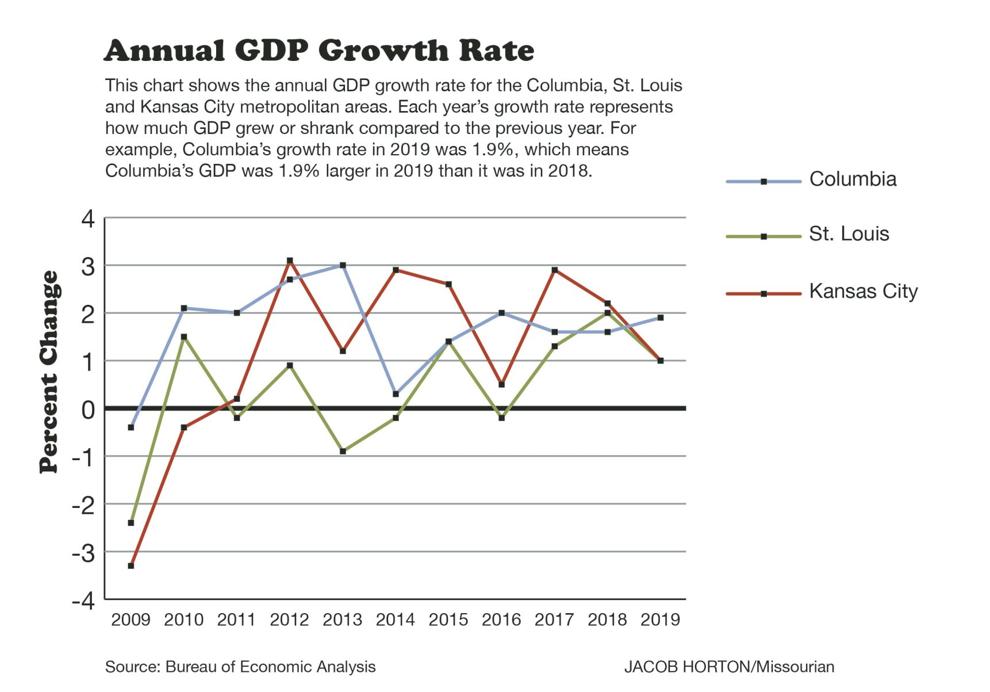 The real GDP of Columbia grew almost 30% continuously from 2002 to 2018, according to the data from the Federal Reserve Bank of St. Louis. Data shows that Columbia is the only area where real GDP growth shows continuity compared to other metropolitan areas in Missouri.
At the same time, Boone County saw a continuous real GDP growth of 32%, according to the same data source.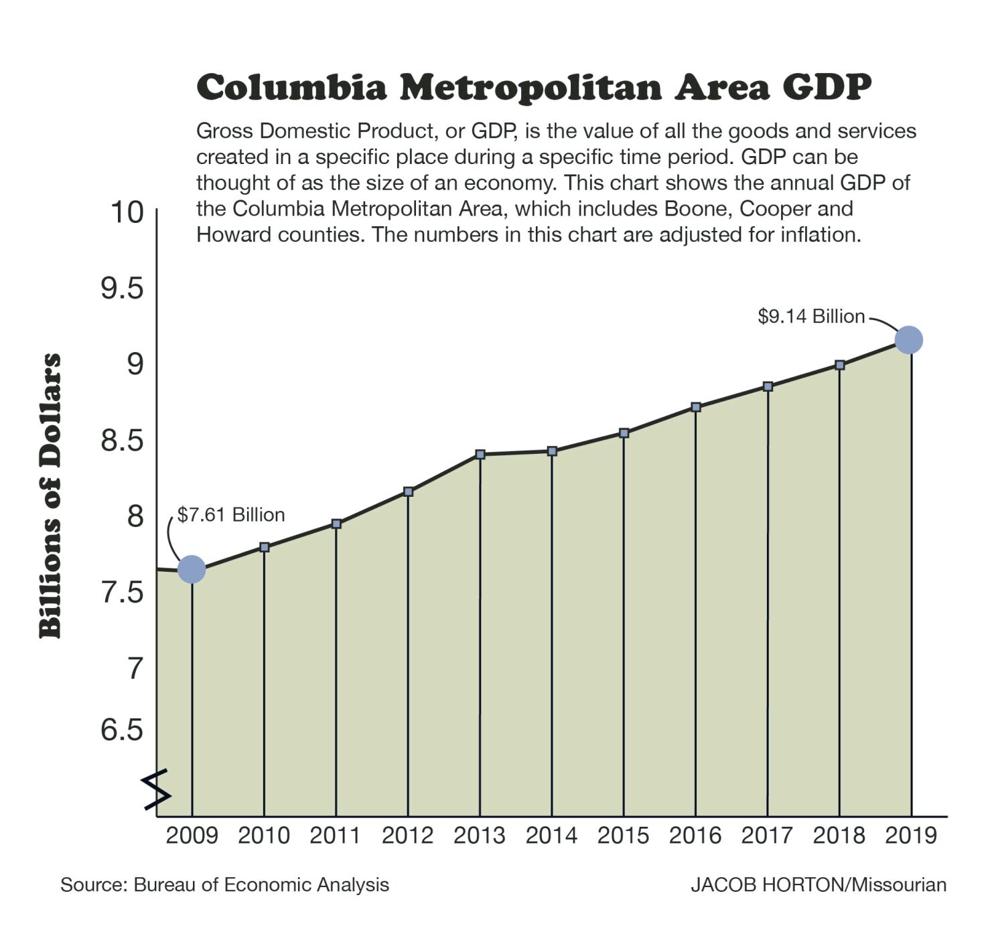 Headquarters have helped diversify the local economy by representing different business sectors.
"Columbia's diverse economy of higher education, health care, insurance and financial services, manufacturing and other sectors allows Columbia to be less impacted during times of recession," Andrews said.
"Headquarter companies are also strong supporters of local charitable organizations, and they do a lot to make Columbia a better place."
The companies also raise the visibility of Columbia for other companies seeking headquarter locations, Spell said.
"It's a signal to other companies that Columbia has a high quality of life," he said.
One of REDI's initiatives is to assist entrepreneurs get companies started and work with other partners in the entrepreneurial ecosystem to help those companies thrive, Andrews told the Missourian.
"Companies don't often relocate, so our strategy is to help companies start here," he said.