Faith drives Cruz Chavez's mission to treat everyone with respect and dignity.
"As a Latino, I know what it is like for somebody to treat you differently," Chavez said. "Here, everybody gets the benefit of the doubt regardless of what they look like, what(ever) their race, ethnicity, religion.
"None of that should matter ... and that ties back to my faith." 
Chavez has just opened Sawdust Studios on Nelwood Drive in northeast Columbia. Sawdust Studios is a community woodworking shop with professional tools that can be used by members 24 hours a day, seven days a week.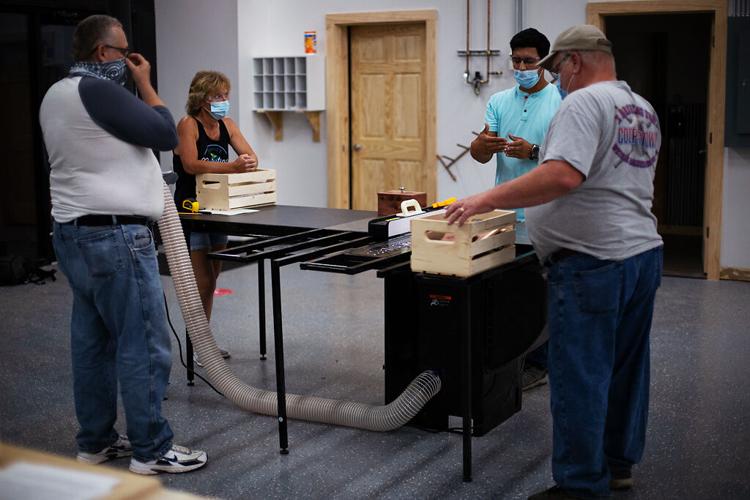 Members of the community can visit the studio and also take classes to learn woodworking. For more experienced woodworkers who pass a safety course, the studio is available any time for personal projects. The cost is $35 for a two-week auto-renewing membership. 
Sawdust Studios is outfitted with work stations around the interior and offers a generous supply of tools for almost any project. The tools range from massive table saws to mallets, routers, planers, lathes and more.
It is the only community woodworking shop of its kind in the Columbia area, Chavez said. It operates much the way a 24/7 fitness studio works.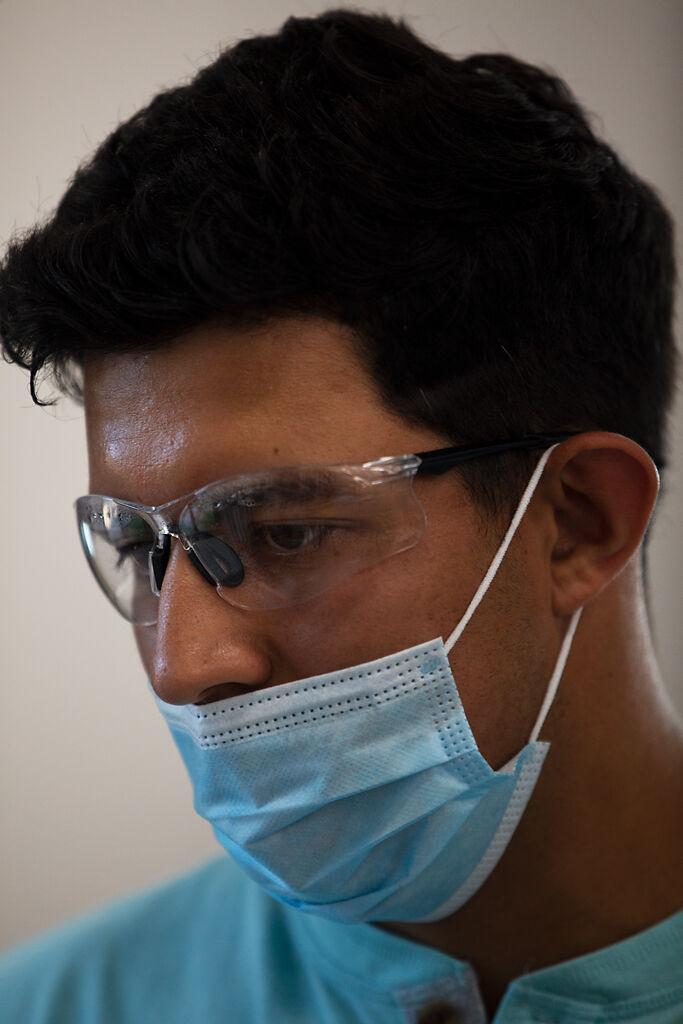 "Once you become a member, you get a key fob on your key," Chavez said. 
A number of woodworking classes are available, from an introduction to woodworking to advanced safety and bar stool-making sessions. Cost varies from $50 to $120, including materials. 
"I was a little intimidated before going to the studio, but Cruz is a great teacher," said client Laura Kloster. "He didn't hover but was always available if I had a question."
"I give them a rough piece of wood, and they feel like they're in over their head," Chavez said. "As we run it through each machine, this piece of wood that's pretty rough suddenly starts looking smooth and pretty. By the end, they seem to be in disbelief that they built it. It truly is a sense of empowerment." 
Opening during a pandemic is not ideal for any business, but Sawdust Studios forged ahead and opened July 15.
"I think people need an outlet, and there's just not a lot of options," Chavez said. "I don't see a reason we should be depriving somebody of an outlet, and this gives you something new and exciting to do."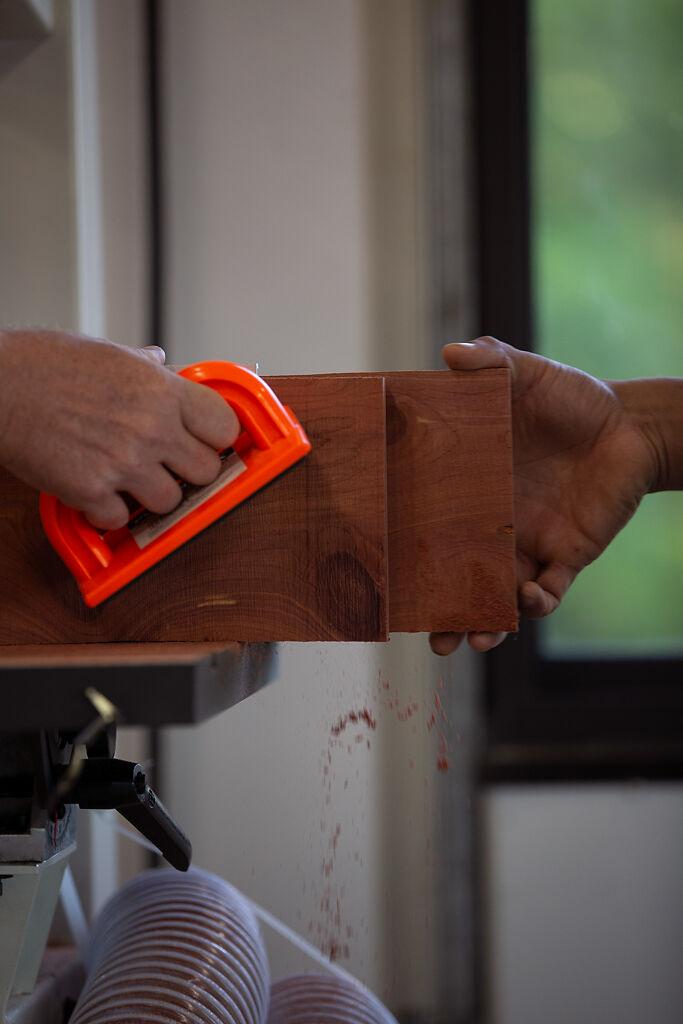 Chavez firmly believes that woodworking serves a purpose greater than simply the ability to build something.
"You really are just stripped down to the bare person that you are," he said. "We're both sweating, we're both just trying to get to an objective and you find a lot more things in common." 
Woodworking also contributes to personal growth, he said. By taking something raw and turning it into a usable product, people create a sense of pride and confidence in themselves.
"It makes you a healthier person and makes for a healthier community when you're self-sufficient in a way," Chavez said. 
"I would tell friends that this is a great opportunity to create something unique," Kloster said. "I really enjoyed learning a new skill and becoming more comfortable using tools."
From a young age, Chavez said he was always curious about wood.
"There was some scrap wood lying around our house, and my dad had some tools that I didn't know how to use," he said. "So from the very beginning, I just wanted to work with wood." 
Chavez moved to Columbia in 2008 from a small rural town to attend MU. He found himself on a pre-med track despite knowing he didn't want to be a doctor. After finishing undergraduate school, Chavez was unsure what the next step in his life would be.
"I was going to give myself some time to figure out what I wanted to do, so I took a job in construction and I was really good at it," Chavez said. "I started working for myself after a couple of years, and I've had my own construction business for a while now."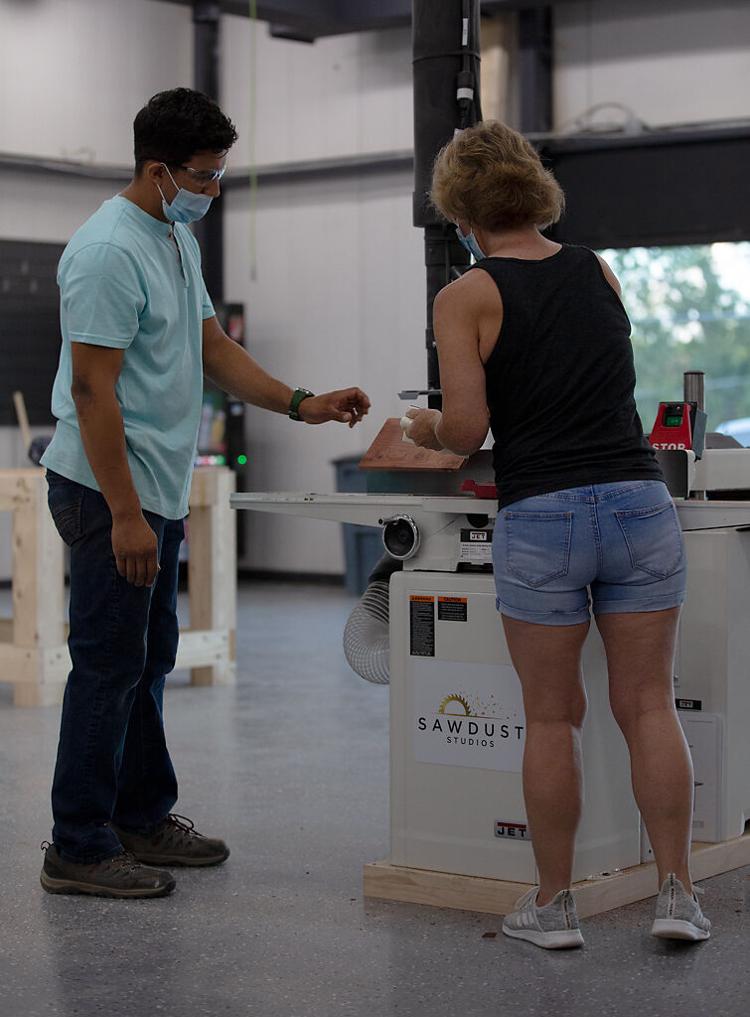 Chavez was looking for a way to share the satisfaction he gets in construction work. Because he owns dozens of woodworking tools, his desire to help the community and the right space becoming available at the right time led to Sawdust Studios.
One of his primary goals now is to find a way to get woodworking to kids.
"Not every little kid has wood lying around or his dad's tools to use," he said. "I would love to introduce kids to woodworking." 
Chavez also wants to see his business grow to 100 members or more and expand to a second location. He is looking to hire employees who share the same excitement he does for the craft while also diversifying his class options.
"There is just something innate about wood, it's almost primal," Chavez said. "I really want everyone to become carpenters because everyone is fully capable. They just don't realize how accessible it is."